Love them or hate them, aluminum sailboats are an excellent option for serious blue water cruising. They're robust and sturdy and can come out of a scrap saying, "But you should see the other guy!"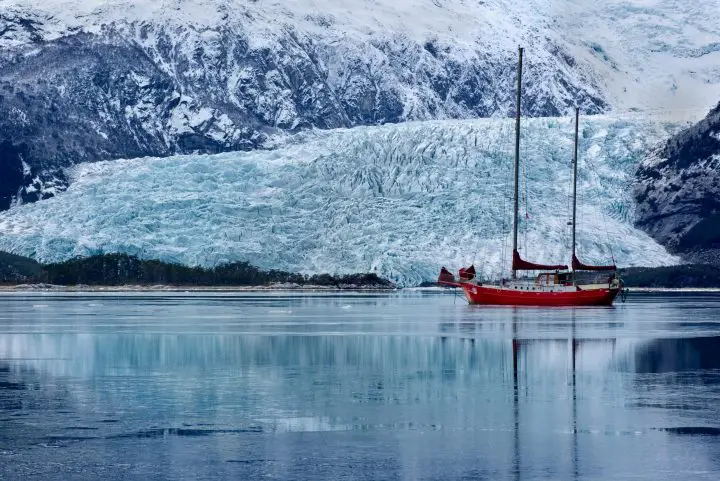 Table of Contents
Why an Aluminum Sailboat?
In one particular niche of the sailboat industry, aluminum is all the rage. They certainly aren't every man's boat. Aluminum sailboats are reserved for high-end expedition-level long-distance cruising.
These boats are literally made to go anywhere and do anything. They're practically indestructible, and they perform well. They can do things that make fiberglass boat owners fear for their gelcoat finish. Beach themselves on rocky shorelines? No problem. High latitude sailing while dodging icebergs? Sounds like part of a perfect cruise for an aluminum sailboat.
While browsing some of the aluminum sailboat manufacturers listed below, you'll notice that many of these vessels look alike. They're built for a similar purpose, after all. They are not charter boats going to the Caribbean—they are expedition yachts serving live aboard cruising couples.
These boats probably benefit from their limited market share. Their extra cost means that the makers don't spend time marketing their boats to other buyers. The result is a sailing yacht that's hyper-targeted to the task at hand—long-distance and long-term cruising.
Nearly all of these boats fall between 30 and 60 feet long, and nearly all of them are appointed for blue water cruising for a couple. In addition, more and more makers are branching into the multihull market, with several new aluminum catamarans coming out soon.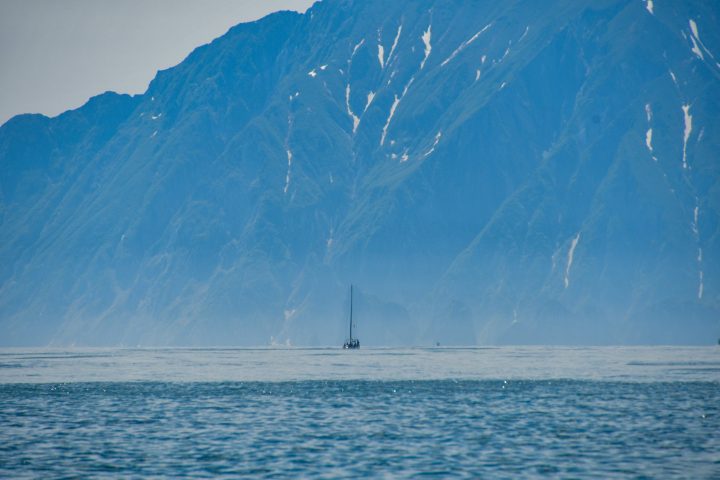 Advantages of Aluminum Sailboats
Once you start researching these boats and understanding the mission they're designed for, their utility and robustness are apparent. For an owner who wants a worry-free vessel that can take on any challenge, it's hard to beat an aluminum sailboat.
Here's a list of just a few advantages of aluminum sailboats.
Lighter than other sailboat materials
Strong and difficult to damage, won't crack
Lifetime hull warranty possible
Doesn't need painting or top-coating
Impervious to water—no blisters
Doesn't rust like steel
More space down below
Many are designed to dry out or sit on the bottom
Lightweight Material
Aluminum is used in many applications. Most aircraft are made of aluminum, so it is obviously lightweight and strong. It's easy to machine into complex shapes and curves, and modern welding techniques mean it can be put together into a completely smooth surface.
Compared to other boat-building options, it is much stronger and thinner than fiberglass. It is lighter than wood, too. Compared to other metals, it is lighter than steel and does not rust.
Strong
The number one advantage of a metal boat is that it is strong. If your boat is made of metal, you don't worry about scraping a dock or even bumping a rock. Gelcoat scratches and chips are a thing of the past. 
Metal boats are difficult to damage and won't crack during an impact. In the worst case, it's most likely that it will dent. Therefore, a hull breach is extremely unlikely. 
Compare this to the ubiquitous fiberglass boat, and the difference is stunning. Fiberglass is, by comparison, fragile. An impact with a sea buoy or a dock piling can easily cause cracking and severe damage to a GRP hull. These things are just in a day's work for an aluminum hull.
Lifetime Hull Warranty Possible
The best aluminum sailboat makers can offer lifetime hull warranties. They put the time and effort into making their boats last a lifetime, and they will stand by that commitment.
No Painting
Love it or hate it, aluminum boats fare best without paint. Over time, the paint will bubble and chip away, so adding paint adds maintenance. As a result, most owners leave their aluminum hulls bare.
Impervious to Water
The fear of every fiberglass boat owner is the dreaded osmotic blister. These blisters form on the bottom of the boat and occur when water seeps into the fiberglass laminates. Of course, it's not the end of the world, and they can be repaired and are preventable. But aluminum boats have no blisters—the metal is entirely impervious to water.
Doesn't Rust
The other common option for vessels is steel. But unlike steel, these boats don't rust. This is why they don't have to be painted.
More Space Down Below
Compared to similar-sized fiberglass yachts, a boat will have more space down below. Since the hulls and bulkheads are thinner, they leave more space for storage and furniture. It might sound like a minor thing, but on a 30 or 35-foot sailing yacht, a few extra inches on each side of the cabin makes a huge difference.
Shallow Draft and Safe to Dry Out
Many of these designs are made to go absolutely anywhere. As such, shallow draft is a desirable feature—and one not often found on ocean-going blue water sailboats. Quite a few of these boats, particularly the French aluminum sailboats, have swing keel designs for getting in and out of skinny water.
For these boats, another great feature is the ability to dry out on their keel and remain upright. For areas with big tidal swings, this means access to harbors that dry on the outgoing tide. It also means easy access to haul-out facilities for repairs—just find a comfortable sandbar and do what you have to do.
Aluminum Hull Sailboat Disadvantages
If aluminum is so grand, why aren't all sailboats made of it? Unfortunately, for as many pluses as these boats have, there are negatives as well. All boats are a compromise, so for all the benefits, you will have to give something up while you drive your boat around the boating world.
Here's a list of a few disadvantages to owning an aluminum sailboat.
More expensive to make and purchase
Extreme care must be taken to avoid dissimilar metals penny in the bilge etc
Subject to corrosion
Harder to add deck fittings
Repairs require specialized welding techniques expensive
More difficult to apply anti-fouling paints
Thinner hulls mean noisier rides and harder to heat and cool insulation is key
Problems with weak welds
Rare finds on the used market
Custom one-off builds have the unpredictable build quality and resale value
More Expensive
Everything about an aluminum sailboat is more expensive. For the manufacturer, materials, labor, and construction time increase costs which they pay particular attention to. These are passed on to the buyer, so aluminum sailboats are nearly always more expensive than a comparable fiberglass yacht.
Dissimilar Metal Corrosion
Aluminum is more or less indestructible, with a few exceptions. What you get in protection from the elements and sturdiness at sea you pay for in routine maintenance and upgrades.
Aluminum quickly corrodes when it comes in contact with other metals. If you look at the aluminum mast of the typical sailboat, you'll find corrosion around practically every stainless fastener. You must take extreme care to avoid dissimilar metals in a metal boat, where every attachment point and accessory presents the possibility of dissimilar metal corrosion.
Stories abound of people who have dropped pennies or batteries in the bilge only to find a hole corroded through the boat. To some extent, these problems are hyped up a little bit too much, but there is no denying that the danger is real.
Subject to Corrosion
While on the subject of corrosion, dissimilar metals are only one possible cause. Aluminum yachts must also be extremely careful of galvanic and electrolytic corrosion. So, in addition, you must take care that the boat's electrical system does not introduce any stray DC currents. The same may be said of marinas and shore power connections, which can also introduce problems.
Harder to Add Deck Fittings
The risk of corrosion and damage to the aluminum hull and superstructure means that accessories or deck hardware are more difficult to add on. Generally speaking, drilling holes and bolting on new doodads is a straightforward task on a fiberglass boat. In the end, what matters is that it is sealed well enough not to allow water into the deck coring or the hull itself.
With these boats, things are a bit trickier. Owners are understandably more hesitant to go drilling holes in their expensive boats because holes are much harder to repair. Furthermore, unless all new hardware is made from aluminum, care must be taken to keep the two metals from touching. This might mean painting the metals or adding an extra layer of an insulator.
Difficult Repairs
Repairs to an aluminum boat require specialized welding techniques. It's already boating, so the word specialized should be a warning—this isn't going to be cheap. While you can pull into any port town in the world and find someone with fiberglass repair skills, a skilled aluminum welder might be a tougher ask. The good news is that it will need far fewer repairs throughout its lifetime.
Anti-Fouling Paint Problems
While regular boats can slap on any anti-foul that their local marine store or chandlery sells, aluminum boat owners need to be extra cautious. Like deck fittings and stray objects in the bilge can cause problems, so can the wrong paint. 
The active anti-fouling ingredient in most bottom paints is cuprous oxide. Copper reacts with aluminum and causes corrosion. So you cannot apply regular bottom paint directly to an aluminum hull. 
There are special paints that are safe for aluminum, however. It is generally believed that these formulas are at least somewhat less effective, which means you might have to reapply them more often or invest in bottom cleanings more often.
Thinner Hull Skin
For the same strength, aluminum is much thinner than other boat-building materials. It also conducts sound well. That means you will hear wave noise and hull slap more down below.
It also means that the boats will be harder to insulate against very hot or frigid weather. Newer boats make up for this with a perfect layer of insulation all around the hull, which should fix these problems. They're still, like all boats, subject to condensation in the winter months.
Aluminum Boat Build Quality Problems
There aren't many aluminum yachts on the market, which means that you are more likely to come across custom, one-off boats as a buyer. These may be works of art, but you'd have to research the shipyard that built it very carefully to determine if they have experience with aluminum yachts. These one-off boats often have unpredictable build qualities and a lower resale value.
For the most part, the production boats, even if they are custom or semi-custom models, have fewer problems. But issues with weak welds do pop up from time to time.
Rare Finds
Finally, if you're in the market for a used aluminum sailboat, you will likely need to search for a while. There aren't many companies making them, and only a handful are built and sold each year. They are out there, but you're going to have a very short list of options.
For example, a quick look at Yachtworld shows that for used sailboats between 30 and 50 feet long, there are currently listed the following.
5,665 Fiberglass or composite boats
322 Wood
133 steel
87 Aluminum
9 Ferro cement
Best Aluminum Sailboat Makers
The original aluminum blue water sailboat was made famous by cruising legend Jimmy Cornell. Cornell did a five-year circumnavigation on Aventura III, an Ovni 43.
Ovnis are centerboard yachts with shallow drafts. They have distinctive double hard chines on the hull and a go-anywhere look that feels as much at home anchored in a French Polynesian lagoon as it does tie to an iceberg in Patagonia.
Ovnis are built by Alubat, a French builder of several types of aluminum boats. They are currently marketing their new aluminum catamaran Ovnicat 48, which will turn a few heads.
Garcia makes expedition yachts between 45 and 60 feet. Their Exploration range of monohulls features raised salons and sleek lines that make them look like production fiberglass boats. Their boats feature centerboards and can be dried out thanks to their protected running gear and double rudders.
Garcia also makes a catamaran, the Explorcat 52, and one-off designs for custom clients. Garcia yachts are built in France.
Kanter is a Canadian builder of top-quality aluminum yachts, both power, sail, and commercial vessels. Their pilothouse sailboats, available in sizes from 47 to 80, are as sleek as any fiberglass boat and built to go anywhere. Several designs come from the table of yacht designer Chuck Paine. 
Futuna, also built in France, makes expedition monohulls between 50 and 70 feet long. Their boats tend to look more like ocean racers, with a focus on performance.
Boreal yachts are unmistakable with their half-dome-shaped dodgers. The Boreal 44 has won numerous "sailboat of the year" awards. Boreal yachts have centerboards and can be dried out.
Meta has a storied past. They built Bernard Moitessier's Joshua, the boat made famous in the book The Long Way. Today they build semi-custom and custom aluminum blue water and expedition boats in both power and sail.
Another popular French builder of aluminum yachts is Allures yachting. Their boats are between 40 and 50 feet in length and feature a similar centerboard design as the Ovni, Boreal, and some Garcias.
Van de Stadt
Van de Stadt is not a boat brand but rather a famous Dutch yacht designer. Many of his plans were built in steel or aluminum, so it's not uncommon to see Van de Stadts listed for sale.
Reinke
Another famous designer of aluminum sailboats was German Kurt Reinke. Many of his boats are smaller and feature twin or bilge lifting keels.
Is an Aluminum Blue Water Sailboat Right for You?
If you're in the market for an expedition yacht, looking at a circumnavigation, or are interested in sailing in high latitudes, an aluminum blue water sailboat is worth a look. Of course, like any yacht, they have their pluses and minus. But the peace of mind you'll get from driving a nearly indestructible go-anywhere vessel is hard to beat.
FAQs (Frequently Asked Questions)
How long do aluminum sailboats last?
If properly cared for, an aluminum sailboat has no particular lifespan. Several manufacturers offer lifetime warranties on their hulls. If the hull is well built and protected from corrosion, there is no reason that it couldn't last forever.
What is the best material for a sailboat?
Most sailboats in the world today are built with fiberglass. It is inexpensive, easy to build with, and easy to repair. In addition, it is strong in its weight ratio and resistant to corrosion and deterioration. But unfortunately, it does not survive impacts well, and it is easily scratched or cracked by docks or rocks. Aluminum sailboats are considered much more robust. A well-built aluminum sailboat does not need to worry about getting scratched or damaged during regular use. Many sailors looking for expedition yachts consider aluminum the best material for these sailboats. Of course, each material has advantages and disadvantages.
What is the best hull material for a sailboat?
Most boats are built with fiberglass because it is generally considered the best overall value. When used to make the hull of a sailboat, it produces a rigid structure and is easy and less expensive to manufacture. However, it is protected by a delicate gelcoat layer, which will deteriorate over time. More expensive yachts favor metal construction for longevity. The best material for sailboats is aluminum, which can last forever if taken care of. It is much less likely to sustain damage like scratches or cracks than fiberglass.
Do aluminum boats last forever?
It is theoretically possible for an aluminum boat to last forever, as long as it is well cared for. Aluminum boats are sensitive to corrosion issues. But with regular maintenance, these boats can easily outlive their crews.