Liveaboard catamaran sailboats are some of the most comfortable vessels on the water for long-term living and traveling. 
The choices when shopping for a cruising catamaran can be daunting, however. So, without further ado, here are some of the best liveaboard catamaran sailboats that are 40-plus-foot and comfortable for long-term offshore cruising.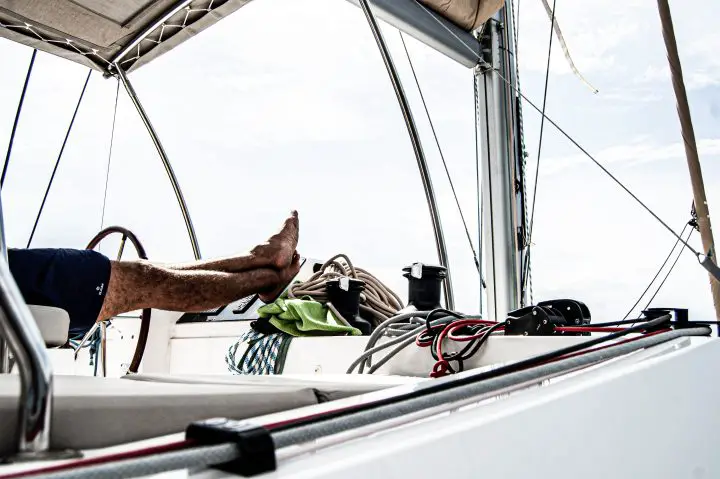 Table of Contents
Best Catamaran for Liveaboard Options — Boats to Look For
Picking the right liveaboard catamaran for your crew is a big choice. This list has been handpicked based on personal experience of years living on the water. 
Are you looking for a smaller, cheaper option? Check out our list of cheap catamarans, including many older and smaller models that can be gotten for a bargain. 
Note that some of these are grouped based on the boat model. Many times, a boat goes out of production, and the hull molds get bought by another yard. They change the name and sell it under their brand. As a result, you will find a lot of boats listed with multiple names.
Antares 44 — Originally built by Canadian builder PDQ, it's now built by an Argentine company. It's one of the few purpose-built yachts for owners and cruisers. They include training with new boat sails and have excellent after-sales support. The boats are gorgeous and some of the most seaworthy and well-appointed catamarans on the market, with high bridge deck clearance and everything to make life aboard as comfortable as possible.
Knysna 440/500 — Knysna is a boutique, semi-custom yacht maker from South Africa. Their boats are extremely well built to a very high standard. The designs came from the St. Francis boats (also really nice options!) but have been updated and redesigned. Knysnas are some of the prettiest cruising cats you'll ever see. 
Leopard 42/43/45/47 (circa 1998–2004) — These early Leopard models had a lot going for them. The 43 is probably the most popular, but the 42 is in the same boat but a few years older. The Leopard 43 was made popular recently by the Gone With the Wynns YouTube sailing channel. What's to like? They've got shaft drives (not sail drives, so less maintenance), good looks, spacious cabins, and lots of living spaces. 
Lagoon 42/46 (circa 2018) — This newer line of Lagoons has a self-tacking jib and sleek, modern design. What we like most is the layouts, which have wide open spaces between the salon, cockpit, and helm station.
Manta 38/40/42 — Manta was a US builder with a great reputation for building quality boats. They only built one model, which started as the 38 and progressively got more and more added to the transoms (sugar scoops). 
Alliaura Marine Privilege 42/435/45/445/465 — These older French boats were built to a much higher quality standard than current charter boats. They're well-designed, even if the layouts are a bit dated by modern standards. There are many offshore cruisers that have been comfortably live aboard Privilege owners for years.
Catana 401/42/431/471 — Catana is a performance-oriented French company. Their boats have distinctive daggerboards, narrow hulls, and asymmetric hulls. Catana now also makes the new Bali line of charter liveaboard catamarans. One of the company's trademarks are the dual helm stations mounted aft on each hull, a really fun place to sail from.
Fountaine Pajot Orana 44/Helia 44 — Many FPs could be on the list, but the 44s are my favorite. They have just the right balance of good looks, useable space, and a workable layout, and it is just the right size. For tours and videos of the Helia, check out the Out Chasing Stars YouTube channel.
Voyage/Norseman 380/400/440/470 — A South African yard from the early 2000s, the Voyage boats have a nice feature set and are built well. Unique for the era, these boats have open cockpits and easy walk-around side decks. Compared to many of today's cats, these have low windage and low-slug decks for a sleek, seaworthy look.
Why a Liveaboard Catamaran?
Whether you want to set off and sail the world or just live comfortably while tied to a dock, catamarans are a great way to do it. The dream of sailing and living on a sailboat appeals to many people until those people see the inside of a typical monohull sailboat. 
You see, the classic sailboat is cramped and dark. Many sailors describe the cabin of their sailboat as a "cave." Windows are limited. Every inch of space in a sailboat has a purpose, so the space is usually packed with furniture, storage lockers, and need-to-have items. The outdoor space, called the cockpit, is crammed around the sailing controls and the helm or wheel. Getting between the cabin and cockpit requires climbing a steep ladder. The deck space is taken up with lines and sails, with no room designed to stretch out and enjoy yourself. 
And then you step on a catamaran. Catamarans first became popular with charter companies because they had more space to sleep more people. But something else became apparent quickly—non-sailors liked them. While they have all the parts and equipment to sail, they also have more space for guests to spread out. Everyone can have a private cabin, and there's tons of space on deck to lounge where ever you like.
What's more, the space on a catamaran feels different. The salon, the main living area in the cabin, is up high on the bridge deck. It has large windows that let in lots of air and light. A sliding patio door opens directly into a large cockpit, usually with bench seating for up to ten people and a dedicated large table for meals. All of this is separate from sailing controls and the helm, which is nearby but not in the way.
The difference between a regular monohull sailboat and a catamaran is night and day. If you look at pictures of the two, the monohull is undoubtedly a boat. But the promo shots of a catamaran could be a seaside cottage or tiny house. It's more comfortable and more approachable for the non-boater. And for boaters, it represents a huge step up in space and comfort.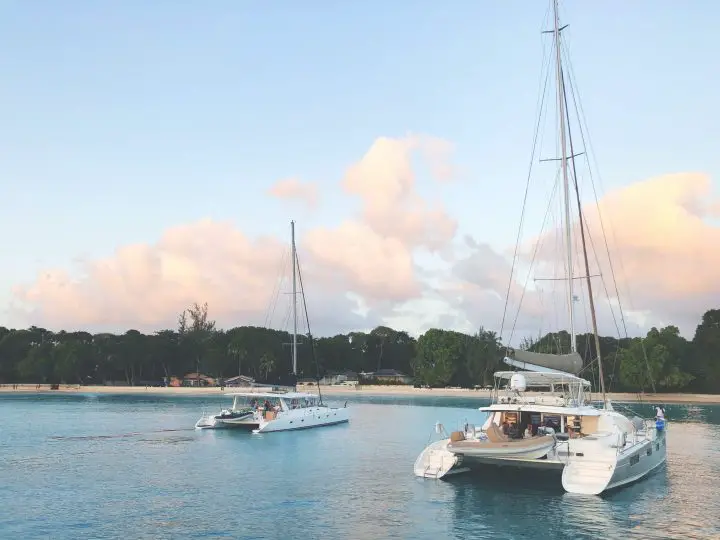 Features of the Catamaran Liveaboard
For liveaboards, a few layouts and features set catamaran designs apart from one another. 
Owners vs. charter layouts
Galley-up vs. galley-down design
Open transoms vs. closed cockpits
Owners vs. Charter Layouts
Since many catamarans were designed and built for charter use, their layouts often feature as many staterooms as possible with en suite heads (bathrooms). This enables groups of couples to pool their resources and travel on a boat but still have personal space and privacy. It also allows hiring a crew to work the boat for your charter and for everyone to have separate accommodations.
The result is a pretty common layout found in many catamarans that features four cabins and four heads. The 4/4 will have a bunk on each end of the hull, each connected to a small bathroom and shower. If the catamaran is under 40 feet, it might be a 4/2 with only one larger bathroom in each hull. If you assume two per bed, and the salon settee converts into a fifth bunk, this boat could conceivably sleep ten. 
A private owner probably doesn't need or want this many bunks. Most boats are owned by cruising couples that occasionally have friends visit or small families with one or two kids. Two bunks are plenty.
For this situation, the owner's version layouts are much better. In this case, the owner's stateroom takes up an entire hull. There's extra storage space, a very large head, and a more spacious cabin. Plus, you usually get a very roomy separate shower that feels like home. All that extra space can make an office space or room to install amenities like a washing machine. The other hull shares the same layout as the charter version, with a smaller cabin on each end and one or two bathrooms in between. So, the owner's version is either a 3/2 or 3/3.
Owner's versions are slightly harder to come by and usually more expensive. However, many go into charter service despite the name, so they are out there. They're more desirable and have higher resale value. On the other hand, the charter versions are often the cheapest liveaboard catamaran options because they're common and less desirable in the resale market.
Galley Up vs. Galley Down
The next feature is how the boat is laid out with the galley. Most modern charter cats have adopted the galley-up layout, which has the galley in the upper salon. That way, it's right next to the indoor and outdoor dinettes, and the cook can be part of the social action.
A galley-down design has the galley tucked into one of the hulls. It's more common on smaller boats where the upper salon is too small for the galley. But having the galley down is a safer and easier arrangement if you are cooking at sea, where the chef needs to brace themselves against a counter to get things done. 
Galley up or galley down? It's a matter of personal preference. Some like being up with the views and fresh air while cooking, while others like the counter space and useability of a well-laid out galley down layout.
Open Transom/Traveler Up vs. Closed Cockpit
One big difference between modern charter catamarans and early models (and older monohulls) is the cockpit's layout. On catamarans, the cockpit is open and easy to walk around. You can step out onto the boat's transom or side deck without stepping over any seats or deep coamings. 
This is a much more comfortable arrangement for living aboard. But, if you're crossing an ocean and the weather turns ugly, being tucked inside a deep cockpit with a tall coaming is pretty comforting. 
A common feature to look for is an arch or hardtop over the cockpit. The main sheet, the line that controls the mainsail, attaches to a control called the traveler. If this is on the deck at the back of the cockpit, it's very hard to work around it. But if this is on top of a hardtop or arch, the cockpit will feel more open and spacious. Many older Lagoons and FPs had deep cockpits with the traveler on deck. Leopard catamarans were among the first to put it on an arch and open up the cockpit.
Again, it's a matter of personal preference. But you definitely want to consider what you like and why before purchasing a catamaran because these are not features you can easily change. 
Picking the Best Catamaran for Liveaboard Life
There's a lot to look at when thinking about catamaran liveaboards. Here are a few things to consider as you browse Yachtworld, Sailboat Listings, and Catamaransite.
Performance Cats vs. Cruising Cats
Cats are unfairly divided into two groups, but it's often oversimplified. All catamarans are built for cruising once they're above a certain size (about 35 feet). At the same time, all catamarans are built for some amount of performance. The trick is figuring out which manufacturers balance these two things the same way you do.
Cruising catamarans are generally charter cats from companies like Lagoon, Leopard, Fountaine Pajot, and Bali. These boats lean on the side of having bigger hulls, stub keels, and easier-to-sail rigs. They still sail well, though. Unless you're a racing sailor, know that most owners are very happy with how these catamarans sail. 
There are also a few companies making cruising cats that are aimed at private owners. Antares and Knyesna are two examples of spacious cruising catamarans perfect for living aboard. These are built semi-custom and are more likely to have space dedicated for storage, workspace, and offices.
Performance catamarans usually have smaller accommodations and sleeker profiles. They are also likelier to have daggerboards than stub keels, narrow hulls, and more sail area. Brand examples include Catana, Outremer, Maine Cat, and Gunboat. They're built as lightly as possible out of the best materials and aim for the highest speeds and the most miles sailed per day. Boats in this category are much more expensive due to their higher construction costs and more advanced features.
More and more companies are spouting up with their own balance of performance vs. cruising space. No company picks one or the other; they all make compromises somewhere.
Size—What's Too Small and What's Too Big?
Picking the right size for your catamaran is important. If you've been boating on a few types of vessels, you might have some ideas. But if you're shopping online, it is almost impossible to tell. 
As a rule of thumb, the smallest liveaboard catamarans are usually between 35 and 40 feet long. This isn't just about accommodations, it's about weight-carry capacity. It's very easy to overload a catamaran, affecting both its performance and stability. If you're a couple and want to go long-distance cruising, a 38-foot-class cat is best. This has space for you, your stuff, and an occasional guest or two.
If your budget allows, a 42 to 44-foot class boat is superior in a few ways. If you often have guests or more kids coming with you, this size boat is about right. They also carry more load, perform better (more miles per day), and ride better in a choppy sea.
Of course, there are couples cruising out there who couldn't possibly do it on anything less than 65 or 70 feet! The size of your boat is a personal choice based not only on your budget but what you are comfortable with.
You really won't know where you fit until you get on some boats. Visit a major boat show to get aboard some boats. Even if they don't have the exact models you like the most, you can probably get an idea of what sizes work. If you're close to buying, you can also enlist the services of a buyers broker to show you around some boats and help you pick the right size for your trip.
However, It must be said that bigger boats come with bigger price tags—for as long as you own it. Just looking at asking prices, you'll quickly see that they leap at intervals as the boats become more complex. A nice, sail-away-ready 38-footer can be found for $250,000, but a 45-footer in similar condition will likely be over $400,000.
But everything is more expensive on a bigger boat, not just the purchase price. Dock space, boatyard fees, and most labor tasks (waxing, bottom paint, rerigging, etc.) are priced based on the boat length, not time. It is always beneficial to buy the smallest boat you're comfortable on and save the extra money for longer cruises and future boat projects!
Build Quality and Longevity
When shopping for a catamaran, it's really important to gauge the build quality of the boat. This can be a daunting task for first-time buyers as you learn about how these boats are made and the differences between manufacturers. 
The bottom line is this—since catamarans are built for speed and performance, they are built lightly with modern techniques and materials. Unfortunately, most boat builders aren't paying much attention to how that boat will last after ten or twenty years of pounding across oceans. Stress and flexing issues on these boats are real, as are manufacturing issues that don't appear until years later.
If you're looking to buy a used boat, you want to ensure it's been built by a reputable builder and has been taken care of. Therefore, a survey from a professional who knows about catamarans is really important. 
Which Is the Best Catamaran for Liveaboard Cruising?
The good news is that we live in a time when catamarans have become mainstream. They're exceedingly popular and more exciting new models are coming out each year. We've moved past the years when the only boats to choose from were built for charter. There are now great choices aimed at liveaboards and cruising families. 
Best Catamaran for Liveaboard FAQs
What is a good size catamaran to live on?
For most cruising couples, the smallest catamaran they'd want to consider is in the 35 to 38-foot range. Small families prefer a slightly bigger boat, from 40 to 42 feet, while those with older kids or more people on board like something in the 45-foot range. Everyone is different, of course, and you'll find families of 4 or 5 living happily on 35-foot cats and couples that could never live on anything less than 60. 
Are catamarans good in rough seas?
Yes and no. Most catamarans 38 feet and over are certified for offshore sailing and can safely handle any conditions—so long as they are sailed conservatively. In general, as long as you reduce sail early and travel carefully, catamarans are safe at sea. 
But are they comfortable in rough seas? This is a question for which everyone has a different answer, and a lot depends on the model of the catamaran. Catamarans are built light in order to move quickly over the waters. Unfortunately, the two hulls mean that the boat is slammed by each wave twice. In some conditions, this makes for a choppy ride that makes some people seasick quickly. 
Can you sail a 40-foot catamaran by yourself?
Yes. Most catamarans are set up for short-handed or single-handed sailing. Much of it is simply how the boat is rigged and whether or not all the control lines are led to the helm. Even if a boat isn't set up this way, it's usually fairly straightforward to make it so.
What is the minimum size of a liveaboard?
People live on all sizes of vessels, so there's no minimum. It's a personal choice and depends on how you like to live. The most common size for liveaboard boaters is between 35 and 45 feet. These boats are small enough to be easy to drive, store, and maintain while still having enough space to live comfortably.