Many sailors balk at the idea of leaving their boat in the water at a marina. Slip fees are expensive, and maintenance bills get bigger the longer you leave a boat in the water. However, if you want a boat under 30 feet long, there are trailerable sailboats that will fit the bill.
Like any boat purchase, you'll need to analyze precisely what kind of trailer sailer you want. Will a simple weekend sailboat suffice, or do you really need the best trailerable cruising sailboat you can find? 
Here's a look at some of the pros and cons of the best trailerable sailboat. Plus, we'll look at how to compare them for your purposes.
Table of Contents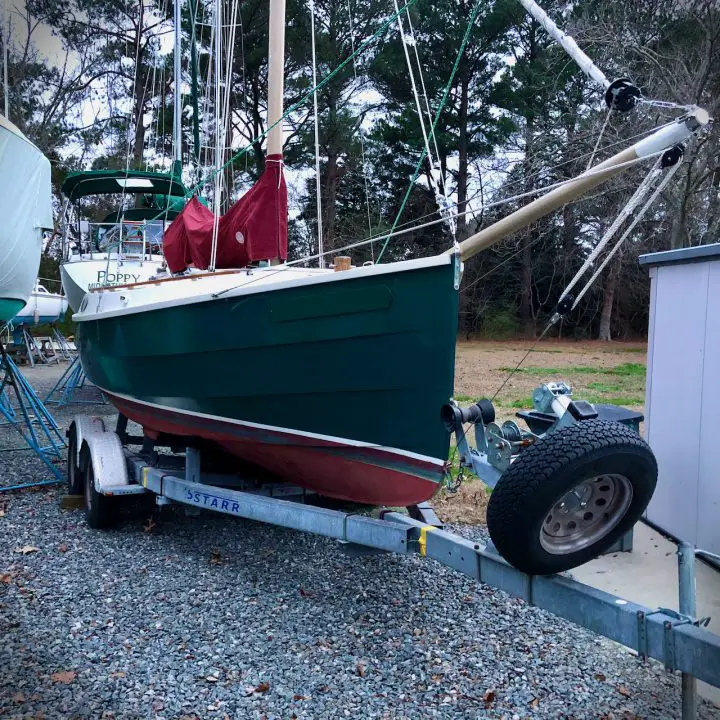 What Is a Trailerable Sailboat, Exactly?
Before you can really classify a sailboat as trailerable, you need to evaluate and narrow your search criteria. Truthfully, 50-plus-foot ocean-going sailboats are regularly put on trailers. But that's done commercially, on a big rig, with special permits for oversized loads, and even led cars.  
That probably isn't what most people mean when they think of a trailerable sailboat. But what is the priority here, the trailerable part or the sailboat part? Compromises are going to have to be made somewhere. 
If you're looking at the 20-foot-and-under sailboat crowd, finding a trailerable example should not be hard. Most the sailboats this size are designed for trailers anyway since they aren't the sort of boats people want to pay to leave in a slip year-round.
Things get more interesting when you look at the 20 to 30-foot boats. In this class, there are stout ocean-going cruisers with deep keels and lightweight centerboard trailer sailboats designed from the get-go to be trailered by the average car or SUV. The differences between these boats are night and day.
For this article, the priorities for a trailerable sailboat are:
Easy to launch
Require minimum setup to launch and store
Lightweight enough to be towed by the average vehicle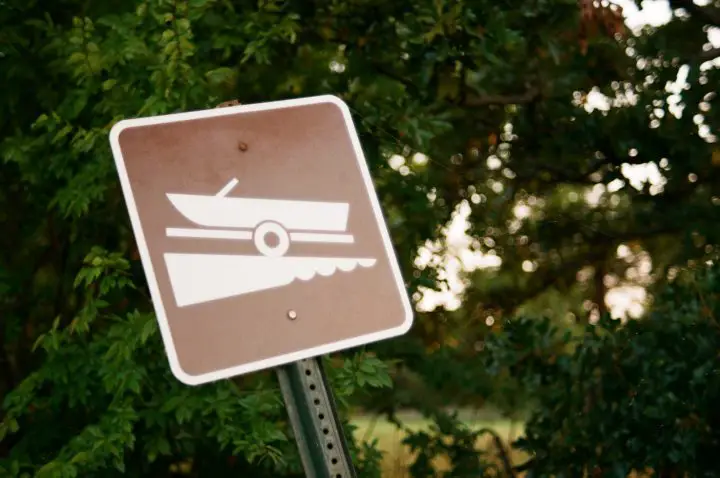 Easy to Launch Trailerable Sailboats
Sailboats often have a hard time at boat ramps. First, deep keels mean that the trailer must extend farther into the water than the average boat ramp allows. This means the ramp needs to go back far enough, and the trailer tongue needs to be long enough not to swamp the car. 
If you have a boat like this, you'll need to find the right boat ramps. Unfortunately, not all ramps are created equally. If your boat draws more than two or three feet on the trailer, you're going to be limited to steep, paved, and high-quality boat ramps. Unfortunately, those aren't standard features, so your cruising grounds are going to be limited.
Usually, ramps aren't built steeply because they are often slippery. Your tow vehicle will need excellent traction and torque to pull your fully loaded boat out of a steep ramp. The steeper the ramp, the more trouble you'll have. 
The alternative to finding steep ramps is to use a trailer tongue extender. This lets you get the trailer into deeper water without swamping the tow vehicle. But it also means that the ramp needs to extend deep enough. Many ramps end abruptly. Allowing your trailer to sink off the edge is an excellent way to get stuck or pop a tire.
Pick a boat as easy to launch and retrieve as a similarly sized powerboat to remove all of these boat ramp problems. The soft chines of most sailboats will always require a little more water, but a swing keel and the hinged rudder raised mean that the boat can sit low on the trailer bunks. That way, you only need one or two feet of water to launch, an easy feat at nearly every boat ramp you can find.
Quick Setup Time
The next consideration for a sailboat to be portable enough to call it "trailerable" is the amount of time it takes to step the mast and get it ready to cruise. 
To accomplish this, you need a mast that can be stepped by a two-person team–maximum. Ideally, it will have some tabernacle hardware to enable one person to do the task for solo sailing.
There is an entire family of pocket cruisers that could ideally fit on trailers. But you won't find the Fickas or the Falmouth cutters on my list, simply because they aren't easy to launch or easy to rig. But, of course, they're also too heavy for most vehicles to tow, which leads us to the final point of excluding them this trailable pocket cruiser's list.
Towing Weight
One of the most significant financial burdens the trailer sailer faces is their tow vehicle. You are all set if you already drive a two-ton dually diesel pickup truck. But if your daily driver is an SUV or light pickup, you need to think long and hard about the math of the towing equation. 
Whatever boat you buy cannot exceed the towing rating limits of your tow vehicle. If you don't have a tow vehicle, you'll need to buy one. This will double or triple the cost of getting a trailer sailer in most cases. For the same money, you may want to look at a boat that stays in the water at a traditional boat slip. For the cost of a trailer sailer and a tow vehicle, you can probably step into a nice boat that is larger and more comfortable than any towable.
If you have a tow vehicle, you need a light enough vessel for it to tow. Most modern SUVs tow less than 2,500 pounds. Anything more than 5,000 will require a full-size pickup. Remember that the tow weight isn't just the boat's displacement—it's the empty hull weight, plus the weight of the trailer and any extra gear you need to pack into the boat. 
Finding a vessel that fits these limitations on weight isn't easy. If the manufacturer's goal is to make it towable, immediate limits are placed on the materials they can use. This means less seaworthiness since boats are built light and thin. As far as stability goes, lead keels are generally out, and water ballast systems or centerboards might be used instead. It doesn't mean these boats aren't safe and fun, but they aren't designed for rough conditions, crossing oceans, or living on in the water full-time.
What Do You Want Your Trailer Sailer To Do?
After you've settled on how you will tow and launch your trailer sailer, now it's time to dream about what you want it to do. Where will it take you? 
The beauty of a towable boat is that you can travel anywhere. A boat in the water might take weeks or months to move a few hundred miles. But if you can attach it to your car and do 65 mph on the interstate, you could sail on the Pacific on Monday, the Gulf of Mexico on Wednesday, and the Atlantic on Friday.
We can divide our trailerable sailboats into three groups – daysailers, weekenders, and cruisers.
Daysailers
These are designed with open cockpits and no space to sleep. This is a majority of the sub-22-foot boats on the market. They are designed to be launched, play for the day, and return to the ramp or dock.
Weekenders
A weekender will have rudimentary sleeping facilities. Think of it as a floating tent—it's not a five-star hotel, but you can sleep under the stars or get out of the rain. Conceivably you could stay aboard indefinitely, but it doesn't have much room for gear. So most people are ready to get off after a day or two. 
Long-Range Cruising Boats
A cruising boat has sleeping, cooking, and toilet facilities built-in. These might be small and simple, but in any quantity, they mean you can disconnect from shore for a long time. Unfortunately, squeezing all of this into a tow-friendly package isn't easy, and very few boats do it well.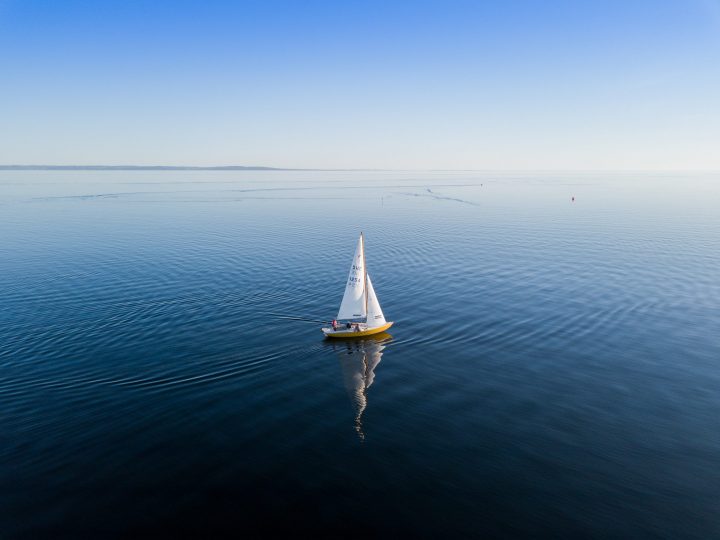 7 Best Trailerable Cruising Sailboats
There are more trailerable sailboats out there than you might imagine. Here's a look at seven popular options of all shapes and sizes to give you a taste of what you might want to take to sea.
The boats here are selected for their storage and living space. With these boats and a little outfitting, you can spend weeks gunk-holing in the Chesapeake Bay or island hopping the Bahamas. If you broaden your scope to include daysailers with no cabin space, there are countless more options.
Catalina 22/25 "Pop-Top"
One of the worst parts of a small trailerable sailboat or pocket cruiser is the lack of stand-up headroom. One clever solution that you'll find on some weekend sailboat models is the pop-top. 
The pop-top is simply an area around the companionway hatch that extends upward on struts. So when you're at the dock or anchor, you get standing headroom down below—at least right inside the pop-top.
You can build a canvas enclosure for your pop-top to use it in all weather. A pop-top makes your boat feel much larger than it is and allows you to move freely to cook or get changed down below or even do a nice boat bed area. 
Later models of the Catalina Sport 22 and Capri 22s lacked this cool pop-top feature, so if you want it, you'll need to seek out an older model on the used market.
Com-Pac Horizon Cat for Classic Coastal Cruising
Com-Pac has been building small sailboats since the early 1970s. They currently sell two lines, each with various-sized boats. All are well built, and a majority of their boats are trailerable. 
Most interesting at the Com-Pac traditional catboats. The rigging is more straightforward than modern sloops, with only one large mainsail. Com-Pac boats come with a unique quick-rig system to make getting on the water fast and simple.
The Horizon Cat Coastal Cruising has a displacement of 2,500 pounds with a 2'2″ draft when the board is up. She has a separate head forward and space to lounge either topside or down below. The smaller Sun Cat has slightly few amenities but shaves off a few feet and pounds, making it easier to tow and it is one of these amazing small sailboats. Com-Pacs features stub keels, so their centerboard and hinged rudder do not take up space in the cabin.
On the sloop rig side, the Com-Pac 23 comes in a 3,000-pound traditional sailboat or a very interesting pilothouse. Both are incredibly livable for their size, with shallow two-foot-long fixed keels and high-quality construction.
Marshall Sanderling — Small, Portable, Classy
Another option if you like catboats is the Marshall Sanderling. This salty 18-footer oozes traditional charm, all while being easy to sail and easier to tow. And while she has wooden boat lines, she has a modern laminated fiberglass hull.
The Sanderling has a 2,200-pound displacement, so tow weights will be around 3,000 pounds. At only 18-feet, she's on the small side for cruising. The cuddy cabin has no galley, and the portable toilet is not enclosed. But that small size means a simple boat that's easy to maintain and take anywhere. 
An electric motor package is an exciting option on this weekend sailboat!
West Wight Potter 19 — The Tiny Go-Anywhere Sailboat
You can't mention tiny trailer sailers without touching on the famous West Wight Potter. These 15 and 19-foot pocket cruisers have earned a worldwide reputation as the ultimate go-anywhere coastal cruiser.
The West Wight Potter 19 offers the most living space for staying aboard and cruising. So even though its dimensions are diminutive, this little boat packs a lot in. There's a single burner hotplate and sink and a porta-potty tucked under a cushion. Yes, it's tight—but the company claims the little boat can sleep five people. Any more than two will feel pretty crowded, however.
The boat comes standard with a mast-raising system that a single person can manage alone. It has a daggerboard for a shallow draft of a half-foot when the board is up. The total towing weight is around 1,500 pounds, which means nearly any car can tow a West Wight Potter.
Seaward 26RK with Retractable Lead Keel
This little-known trailer sailer is produced at the same Florida factory that makes Island Packet Yachts. That should give you a little bit of an idea of what sort of boat it is—trailerable, yes, but also high-quality, beautiful, and built for cruising. In other words, it's one of the nicest all round pocket cruisers and it feels like a much larger boat.
The Seaward is easily the saltiest boat on this list. It's beefy and seaworthy. Instead of a lightweight centerboard, Seaward fits the RK with a bulb-shaped retracting keel. Other big-boat items include a Yanmar diesel inboard motor and an enclosed head. The spacious cabin of the boat features a double berth and is ready for salt water cruising.
According to sailboatdata.com, the tow weight of the 26RK is 6,000 pounds. With the keel up, the draft is 1.25 feet.
Corsair F-24 Trimaran – Sporty Sailing
Multihull sailors need not feel left out from the trailer sailer club and the pocket cruiser. Beyond the ubiquitous beach Hobie Cat, there are not many options for catamarans. But trimarans are uniquely suited to be towed.
Why? For one thing, performance oriented boats like trimarans are based on it being built light. There is no ballast—a trimaran's stability comes from its two outer hulls. Additionally, the living space is entirely housed in the central hull–the outer floats are small and sometimes foldable. Finally, there are no keels on tris, so they are extremely shallow draft and perfect for trailering.
If you're looking for adrenaline-pumping sporty and fun sailing, it's impossible to beat what a trimaran will offer. Let's not beat around the bush—most of the trailer sailers on this list have hull speeds around five knots. The Corsair has no such limits, routinely sailing at 15 knots or more.
The new Corsair 880 trimaran has an unloaded weight of 3,659 pounds. It is trailerable behind a big SUV or small pickup and is probably the most fun sailing option that is trailerable at all.
An even more portable option is the older Corsair F-24. It has a light displacement of under 2,000 pounds—so nearly any SUV can tow it.
MacGregor 26M — Maximum Speed Meets Maximum Living Space
MacGregor owns the market on trailerable motor sailers since they more or less created the product to fit the bill. The MacGregor 26 is not like other boats. The design combines a planing powerboat with a centerboard sailboat. Imagine scooting along at 20 knots or more when the wind is down or enjoying a sporty sail on a breezy day–in the same boat.
The entire boat is built from the ground up for towing and long-range sailing. So if you want a big sailboat that you can tow behind pretty much any SUV, the MacGregor has to be on your list. 
Depending on the model, the 26-foot-long boats have incredibly light dry weights of between 1,650 and 2,350 pounds. Considering the massive volume of the roomy cabin, the ability to tow such a large vessel opens up an entire world of opportunities for owners. 
It's not all good news, of course. MacGregor owners love their boats, but they are built light and are not ideally suited for offshore cruising or rough weather. But in bays and for coastal sailing on nice days, few boats can get as much use as a MacGregor. 
The motorboat capability of the 26M and 26X might not appeal to hardcore sailors, but for those looking to maximize their use of the boat depending on the weather, their mood, or location, it makes a lot of sense. 
MacGregor shut down in 2015, but the daughter and son-in-law of the original owners took over production and renamed the boat the Tattoo 26. The company will soon release a smaller version, the Tattoo 22.
If the 26 is a bit big to make your list of best trailerable small sailboats, consider the smaller Powersailer 19. It's nearly identical to the 26, just smaller and lighter.
What's the Best Trailerable Sailboat for a Cruise?
The best trailer sailor for your adventures will depend on many factors. Like any boat, whatever you decide on will be a compromise – boats always are. But there are plenty of choices out there, no matter what size your tow vehicle is and no matter what sailing adventures you have in mind.
Trailerable Sailboats FAQs
What size sailboat is trailerable?
Even large yachts are routinely transported by towing across land, so the question is more of how big a sailboat can you tow? Your tow vehicle will be the limiting factor. The upper limit for most large SUVs and trucks is usually a sailboat around 26 feet long.
Sailboats are generally very heavily built, with ballast and lead keels. Sailboats specifically made to be trailer sailers are lighter. They may use drainable water ballast tanks instead of fixed ballast and have fewer fixtures and amenities.
To find the best trailer sailer, you need to balance the total tow weight, the ease of rig setup at the boat ramp, and the boat's draft. Shallow draft boats with centerboards are the easiest to launch and retrieve.
Is a Hunter 27 trailerable?
No. The Hunter 27 is a one of those fixed-keel larger boats built from 1974 to 1984. The boat's displacement is 7,000 pounds, not including trailer and gear. That alone makes it too heavy to tow by all but the beefiest diesel trucks. 
Furthermore, the fixed keels had drafts between 3.25 and 5 feet, all of which are too much for most boat ramps. In short, the standard Hunter Marine 27 is too big to tow for most people.
On the other hand, Hunter has made several good trailer sailers over the years. For example, the Hunter 240 and 260 were explicitly designed for trailering. They have drainable water ballast and shallow keel/centerboard drafts less than two feet. 
Is a Catalina 22 trailerable?
Yes, the Catalina 22 is easily trailerable and makes a wonderful weekend sailboat. In fact, there were over 15,000 Catalina 22s made and sold over the years. 
The boat's displacement is 2,250 pounds, which means your total tow weight with trailer and gear will be under 3,000 pounds. This is within the capabilities of most mid to full-size SUVs and light trucks. Be sure to check your vehicle's towing capacity, of course.
The centerboard on the Catalina 22 is another factor in its easy towing. With the board up, the boat draws only two feet. This makes it easy to float off the trailer at nearly any boat ramp. You should avoid fixed keel versions of the 22 for towing unless you have access to extra deep ramps.