It is often said that a boater's dinghy is like their car. When traveling between ports, you will often only have a land vehicle if you rent one. But your dinghy comes with you, and it's an essential link to shore. Unless you dock your boat every night, your dinghy gives you the ability to go out to dinner, go to the store, or find a secluded beach to call your own.
Dinghy boats come in an assortment of shapes and sizes. So how do you choose between a hard dinghy that rows well or a fast dinghy with motor? Let's look at the options and see if we can't find the best dinghy for your and your crew.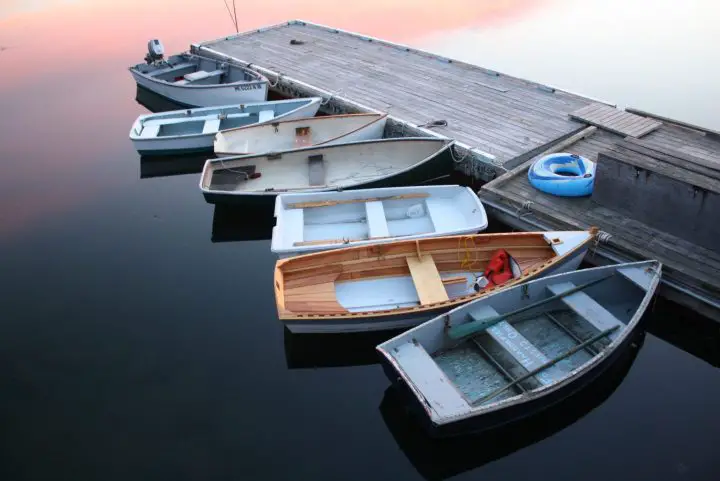 Table of Contents
What is a Dinghy?
A dinghy is a small boat. But there are two primary dinghy meaning uses that you should be aware of.
Sailing dinghies
Dinghy boats as yacht tenders
Sailing Dinghy
Firstly, a dinghy is a small sailboat usually used for racing. So you might hear about "dinghy races" or "dinghy sailors." These are the sorts of little boats that kids would learn to sail, but they're also raced in the Summer Olympics.
Optics are the classic sailing dinghy. Its purpose is to sail and have fun. They usually carry one or two people and nothing else.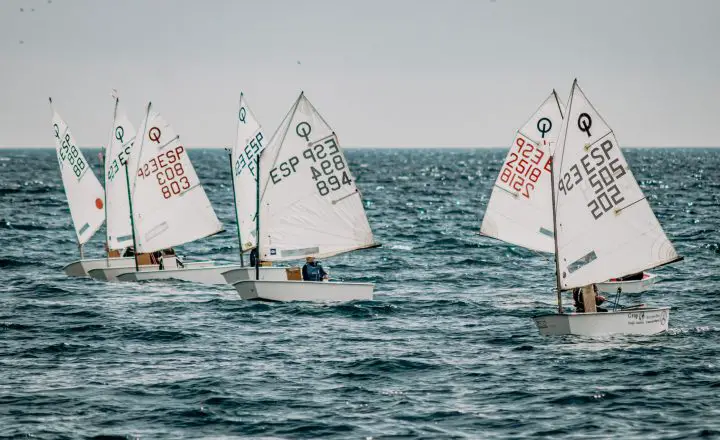 Dinghies as Tenders
Secondly, a dinghy serves as a tender to a larger boat. In cruising and living aboard, this is the most commonly used definition. Your dinghy is like your car. Your boat is like your house or RV, and you park it somewhere comfortable. Maybe a scenic, quiet, and protected anchorage. Then you hop in the dinghy to explore the area or go into town for supplies.
A dinghy allows you not to have to pull up to a dock. Anchoring is usually free, and mooring fields are cheaper than taking a slip. Plus, living "on the hook" is more fun–there are fresh breezes, and your neighbors aren't right next to you. You have more privacy and your own little slice of the ocean.
But to live like this, a good dinghy is important. It has to be safe in most conditions and be able to haul you and your gear. In addition, it should be able to handle the occasional provisioning run–meaning it needs room for lots of groceries.
Many cruisers affectionate call their dinghy "the dink" or some other fun name. In the US, a motorized dinghy will need to be state-registered.
Fun fact–RV owners who tow small cars refer to them as "dinghies." They are cheaper to operate and easier to maneuver once they get where they're going, so they're used in the same way that boaters use dinghy boats.
Dinghies as tenders come in many forms.
Rowboats
Kayaks or canoes
Sailing dinghies
Hard boats with small motors
Inflatable boats that row
RIB (Rigid Inflatable Boats) with motors — these can be slow or very fast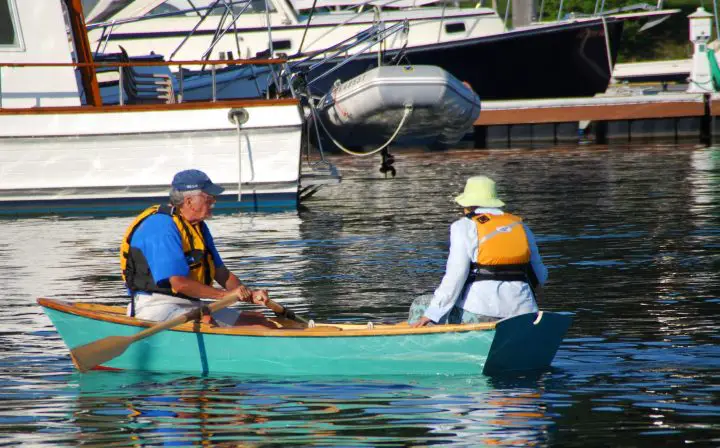 Dingy Dinghies – What is a Dingy?
Dingy (adjective) – dirty, unclean, shabby, or squalid
Dinghy (noun) – a small boat carried on or towed behind a larger boat as a tender or lifeboat…

Definitions from Marriam-Webster Dictonary
So if your dinghy is a dingy boat, you should invest in some good boat soap and clean it.
Why is a Dinghy Important?
The dinghy is your primary method for getting ashore for cruisers traveling far from home or for liveaboards who aren't tied to a dock. Having a good dinghy means you don't have to get a dock every night. It means you can anchor in quiet coves in between towns. If you have a dog, it means they can get to shore morning and night for "shore leave." And if you want to explore shallow creeks or go fishing, it'll do that too.
The importance of a dinghy depends entirely on your cruising style. Some people don't want to anchor–they'll be at a dock every night no matter what. Those rare evenings between destinations when they do anchor for an evening, they don't go ashore. A dinghy isn't very important for them and won't get used much.
On the other hand, some people live via their dinghy. The big boat gets them between destinations, but the dinghy is their "daily driver."
What Are Some Uses for a Dinghy?
The easiest way to explain how cruisers use their dinghy is by example. So here is a look at how boaters visiting the Bahamas usually use their dinghies.
You find a cozy island where you want to hang out and drop the hook in a protected cove. Then, you launch your dinghy and go to town, find secluded beaches, or just go exploring. Maybe you'll want to find some coral reefs for fishing or snorkeling or see the tiny islets and rocks that protect the anchorage. Some islands have hiking trails or miles and miles of beaches.
Marinas are few and far between the islands, and the best and quietest spots are far from them. Most towns don't have big docks–just small dinghy docks where you can tie up for free and walk to the store. In the Abacos, several of the most popular towns have harbors full of mooring balls and several small dinghy docks that make it easy to visit the town.
In these instances, everything you need for your boat will get there by way of the dinghy. You'll take your trash to shore in the morning and bring home groceries. You might also take your propane tanks in for a refill or get some jerry cans filled with freshwater or diesel.
Finding the Right Dinghy For Your Boat
With so many choices, finding the dinghy for you can be a daunting task. Make it easier by learning about your choices, understanding how you will use it and what you will carry, and planning for where you will keep it on your boat.
Basic Types of Boat Dinghy
Dinghies come in as many different designs as big boats do. You can pick between hard, inflatable, or RIB for the hull. A RIB (rigid inflatable boat) has a hard hull surrounded by inflatable tubes – so it's kind of a hybrid.
For locomotion, you can have oars, a sail, a motor, or any combination of those. Motors used on dinghies are usually small and portable, although go-fast RIBs can have larger 15 to 25 horsepower motors installed.
It should also be noted here that dinghies are relative to the size of the "mothership." For a 100-plus-foot motor yacht, the dinghy might be a 40-foot center console with triple 300 horsepower engines. So in dollars, their "dinghy tender" might cost quadruple what the rest of us spent on our "big boats."
Dinghies should be suited to their purpose. For example, cruise ship dinghies ferry passengers to and from shore at destinations without cruise terminals. They're passenger ferries and hold 30 or 50 passengers for the journey. For cruisers, a suitable dinghy usually means something that will get them to shore and back–the distance will vary. It must carry two to four people and a week's worth of groceries.
Lifting Ability and Storage When Underway
Your choice of dinghy depends radically on the boat that will be carrying it. How will you deal with your dinghy when you're underway? If it's an inflatable that can roll up and store in a locker, life is easy.
But what if you want a hard dinghy or a RIB? Below are the most common options for lifting a bigger boat aboard. No matter how you get your dinghy aboard, once it's on deck it must be lashed upside down to ensure it remains secure even in heavy seas.
Towing
Towing is often done but never recommended. Towing a dinghy limits the maneuverability of your big boat, making docking in tight spaces tricky. Plus, it opens up your dinghy to a world of possible disasters, including coming loose and being lost, or flooding and capsizing due to high winds or waves (or other boater's wakes). Keeping your dinghy in the water also means more maintenance since you'll have to scrape its bottom regularly. Most dinghies do not have bilge pumps, so bailing after every rainstorm will become a thing.
Underway, the load on the tow lines is high, and if you must tow, make sure to do so with a proper towing harness and bridle. Also, always remove your outboard before towing–it's safer on the big boat.
If there is one advantage of towing, it is that your dinghy will be ready to go–it is already launched when you get where you're going.
Also, note that a towed dinghy makes an easy target for theft in the anchorage–an important consideration in some parts of the world. It's an easy thing for a thief to come along and cut the line while you sleep. The dinghy will drift away silently, and you won't be any the wiser until morning.
Davits
Many cruising boats install davits on the transom. These provide lifting points that hoist the dinghy out of the water. Davits are an excellent upgrade because they allow you to keep the dinghy out of the water while traveling and hoist it up every night. Your dinghy will be cleaner, and you can take the plug out to let rainwater drain out. It's safer too since you can easily lock it to the boat for long-term storage.
As handy as davits are, they can also be a pain. Getting the lifting harness and equipment just right can be a hassle. Dinghies on davits are prone to swinging in wind and waves, which can quickly chafe lines or even an inflatable's PVC or Hypalon. If the dinghy is heavy or has a large outboard, the swinging can quickly get out of control to the point that it will damage the davits. Strap your dinghy down so that it doesn't move at all, even when you're in quiet anchorages. You never know when a ferry boat will throw a big wake your way!
Finally, the location of davits on the stern is less than ideal. Most boats don't balance well with too much weight that far aft. Furthermore, should you take a wave over the stern during an overly boisterous passage, you can probably kiss your dinghy–and maybe even your davits–goodbye. Most salty sailors store their boats on the foredeck when at sea, even if they do have davits.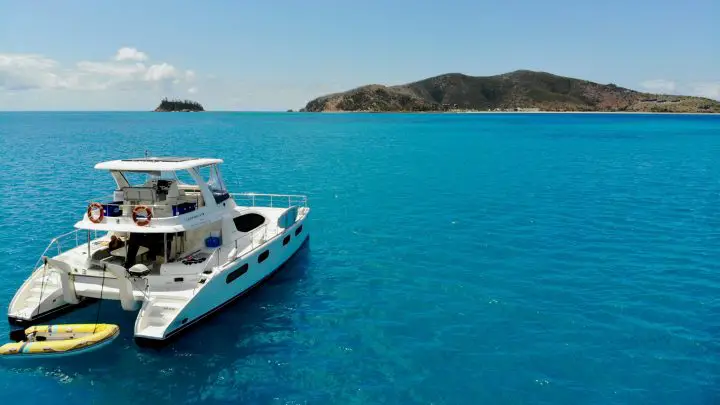 Foredeck or Rooftop Hoists
Powerboats usually have motorized hoists that lift their dinghies onto the high deck. Traditional trawlers can use their mini mast and block and tackle to do the same job. Sailboats use their mast and rigging to hoist a dinghy onto the deck. This can be a good way to get inflatables up to deflate them for storage, or to move a hard boat into position to be strapped down.
Once aboard, the dinghy can be sat on the deck in cradles or flipped over and sat upside down. How it stores will depend entirely on your boat and how much space you have–and where you have it.
Hard Dinghies
Hard dinghies have rigid hulls, just like regular boats. Many are made of fiberglass, but there are also molded plastic ones. There are also a handful of classic or homebuilt wood dinghies out there.
Hard dinghies come in all sorts of sizes and shapes. Some are beautifully designed by the world's best yacht designers, like Lyle Hess's Fatty Knees. Others are functional, floating, plastic bathtubs, like the Walkers Bay 8.
Rowing Dinghy
Rowing dinghies are paddled with oars and a center-mounted seat. This limits the space on the boat considerably. The rower sits facing aft, which is awkward to maneuver the boat from but provides lots of power into each stroke.
Nearly all dinghies are made to be paddled, to some extent. But if rowing is a big part of your plan, you need to research carefully. Many dinghies row poorly. Flat and wide boats are difficult to control and hard to get to track straight in any wind or chop.
On the other hand, proper rowing dinghies are a pleasure. Look for classic designs that have a dominant keel line and soft chines.
Some cruisers and solo sailers use plastic kayaks as rowing dinghies. So long as it holds enough supplies and gets you where you need to go, it's a great idea. Best of all, kayaks are much easier to maneuver in strong winds than rowboats, and faster too. In the world of dinghies, a kayak is like riding a bicycle.
Some cruisers want to know about the functionality of using standup paddleboards (SUPs) as a solo sailor's dinghy. The truth is, SUPs make terrible dinghies. They have no gear carrying capacity, and they are impossible to lock up once you get to the dinghy dock. To make matters worse, they're difficult–if not impossible–to paddle into strong winds or choppy conditions.
Sailboat Dinghy
Adding the ability to sail your dinghy moves it from the tool category into the toy category. We all like to have water toys, and if you can practically turn your dinghy car into a water toy, too, that's pretty cool.
But, sailing a dinghy comes with an entirely new set of problems. It will need a sail rig, a keel of some sort, and a rudder to sail well. This will not work on any dinghy–it will need to have been designed from the get-go to sail.
Nice dinghies don't come cheap, and adding a sail kit usually makes it substantially more expensive. But for purists who love the freedom and peace of real sailing, there are not many things that are more fun than skirting around the harbor silently in your sailing dinghy.
Hard Dinghy with Motor
You can add a motor to most dinghy designs as long as you follow the manufacturer's guidelines and do not overpower or overload it. Engines are heavy, and adding all of that weight to a tiny boat's transom can quickly cause trouble.
Hard dinghies that are a suitable size for cruising boats seldom plane. A planing dinghy goes fast–so you can expect that most dinghies in the 8 to 12-foot range are going to be slow. The exception to this is the RIB–a hybrid hard-inflatable dinghy. For more details on RIBs, see below.
What's left is the fiberglass or plastic dinghies that can't get on plane–they have displacement hulls. They are usually rated for between two and five horsepower. Adding more horsepower does not necessarily make the dinghy go faster. The engines can be gas, propane, or electric.
Once you get into slightly larger boats, in the 15 to 18-foot range, there are a few that will get on plane. But these boats are so large and heavy that you cannot lift them on most cruising boats. For example, Boston Whaler has made a series of tenders and small tenders, like their 130 Super Sport. But, with an engine and fuel, this little boat weighs over 1,000 pounds.
Pros and Cons of Rigid Hard Dinghies
Pros
Indestructible–much more robust than inflatable options
Can be very good looking
Always ready to go
Options for rowing or sailing
Cons
Tippy–much less stable than inflatable boats
No way to store in a small space–can't roll up or deflate
Low weight carrying capacity
Generally limited to low-horsepower motors
Cannot plane (go fast)
Can be very heavy and bulky
Best Hard Dinghy Brands
West Marine sells a few models of rigid dinghy. They are made of molded plastic, extremely tough, and can be oared or powered by a small outboard. Unfortunately, none of the West Marine models come with a sail kit.
The West Marine Classic Dinghy is similar to a popular model known as the Walkers Bay 8. These can often be found on the used market and have many great options. They have a sail kit and a tube kit that converts them almost into a RIB.
Porta-Boat makes a unique, folding, rigid boat design. The boat panels fold together into a flat case that looks a little like a surfboard. You can unfold the Porta-Boat on your foredeck and launch it. When lightly loaded and given a big enough outboard, Porta-Boats are fast enough to plane–a rare find in rigid dinghies.
The unique looks of the plastic Portland Pudgy betray its biggest plus–it is designed to serve as a lifeboat. For a cruiser outfitting their boat for crossing oceans, liferafts are expensive and take up a lot of space. So having a dinghy that could potentially serve that purpose could save you several thousand dollars–plus the liferaft packing service cost every one to three years.
The Pudgy is a cute dinghy, virtually indestructible, and equipped however you like. It's made of roto molded polyethylene, just like a plastic kayak. You can row it, motor it, or sail it. The survival kit adds liferaft supplies and a canopy for emergencies. Best of all, the various pieces fit inside compartments built in the hull.
Fatty Knees, Trinka, Sam Morse Cherub, etc.
There are a handful of really classy classic dinghies out there, but you have to do a little research to find them. Usually, they result from a professional yacht designer answering a cruiser's problem. For example, when Lin and Larry Pardey were sailing around the world on their Lyle Hess-designed Serafynn, Hess designed them a dinghy that fit perfectly on their boat. That little dinghy eventually became the well-loved Fatty Knees.
Dinghies of this class look great, and they usually row and sail beautifully. Most will accept a tiny outboard for power. None will get on plane, and space and hauling capacity are not as much as with a RIB. Some of these dinghies are still made, while others are rare finds on the used market.
The selection of small rigid boats that make good tenders is surprisingly limited. If you're a hand person, you might consider building one from a plywood kit. Several suppliers of such kits, but Chesapeake Light Craft in Annapolis is the biggest. Their boats range from tiny rowing prams to motor and sailing yachts.
This type of boat building is known as stitch and glue. Panels of marine-grade plywood are stitched together and then glued together with epoxy. The result is a robust design that is lightweight and can last decades with proper care.
A nesting dinghy is one particularly interesting design that you can make from plywood. These are built in two or three sections, each stacking neatly in the other. So on your deck, the dinghy is small–only five or six feet long. However, when assembled, they can be 12 or more feet long.
Inflatable Dinghy Boat Options
Inflatable boats also come in a variety of types. The only universal feature is the inflatable tubes surrounding the boat, but the interiors and floors vary. Besides the cost of the boat, the deciding factor usually comes down to storage space and setup.
Roll-up floors are made of the same rubber as the hull but with wood slats that make it sturdier. Some are entirely flat and made of plywood or aluminum panels–these are generally called solid-floor boats. Next, there are inflatable floor boats with a high-pressure floor that you can stand on, like a paddleboard. And finally, RIBs have fiberglass or aluminum hulls surrounded by the inflatable tube.
Inflatables are probably the most popular dinghy option because they are easy to come by and easy to store. Once inflated and on the water, they are very stable and difficult to capsize. In addition, they hold an insane amount of weight, so you never have to worry about overloading it with your groceries or supplies.
Inflatables are sold with oars for rowing, but they make terrible rowboats. They blow around on the water and are difficult to control. With no keel, they don't track and make terrible leeway in wind or chop. Some do have an inflatable keel, which gives the hull and little shape and greatly improves handling.
RIBs are easier to paddle since they have a keel and do track better.
Most inflatable or RIB owners will opt for engine power eventually, even if they like rowing. Inflatables can be quite fast, and some are designed to get on plane. In my personal experience, you need a minimum of 8 horsepower to plane a RIB, although 9.9-horsepower motors are even better. If you carry more than two people aboard or have a lot of gear, consider a 15-horsepower engine as the minimum.
Rigid Inflatable Boats
Making hybrids tends to not work out very well with many things in life. The results often take on all the disadvantages of each thing and few of the advantages. But with rigid inflatable boats, this isn't the case. Luckily, these boats really are the best of both worlds.
The advantages are that RIBs are lightweight yet supremely stable for their size. Large inflatable tubes all around the hull provide a dry ride and are very difficult to capsize. They can be loaded for bear and carry lots of people and supplies.
The hard bottom of the boat gives it a solid keel and good handling characteristics on the water. If you want to get on plane, a RIB is your best bet. All you have to do is buy one that will safely handle a large enough outboard motor.
The complexity of a RIB's design is proportional to its cost. The simplest boats are small, with a single floor. In other words, the floor you stand on is also the outer hull. It slopes down to the keel, making it harder to stand on than a flat floor. They have no built-in storage options. They'll have seating on the outer tubes or a simple bench seat.
One step up is the double-floor RIB. These have a flat floor attached to the hull, so there is space below. These boats usually have some storage under the floor, near the bow. They're easier to stand in, but they are also much heavier and more expensive.
Larger RIBs may have built-in seats and possibly a wheel-style helm. This looks comfortable, but it takes up a lot of space and weight that might be handier for extra people or more groceries.
The first rule is that if you have the space and budget for a RIB, you should get the RIB. You might be able to fit an air floor roll-up boat, but you'll never like it as much. Some of them are very nice–but they aren't RIBs, and they never will be.
If you absolutely, positively can't fit or afford a RIB, then there are still plenty of options. But the remaining types of inflatables will always feel like a rubber toy boat more than a solidly built vessel.
Material – PVC vs Hypalon Dinghies
The vinyl material that makes up the tubes of an inflatable comes in either PVC or Hypalon. PVC is cheaper and the most common. Unfortunately, PVC is broken down the quickest from the sun's UV rays.
Hypalon is the solution for areas with intense sun exposure. Hypalon will last twice as long as PVC boats. But, of course, it does come at a cost–it's much more expensive than PVC. It's also important to note that you cannot use PVC patches and repair kits on Hypalon boats–so repairs and even the glue for a Hypalon craft will cost more. Hypalon is also called CSM, or chlorosulfonated polyethylene (CSPE) synthetic rubber.
You also need to consider the size of the tubes and how many air chambers they are dived into. The larger the tube, the greater the boat's reserve buoyancy and the better its handling and carrying capacity is. The more air chambers it has, the safer it will be should one chamber spring a leak or get punctured. A cruising sailors dinghy should have a minimum of three air chambers, but four is even better.
Rigid Hull Construction Material – Fiberglass or Aluminum
The rigid hard bottom of a RIB can be made of fiberglass or aluminum. Aluminum is an attractive option since this type of robust design was popularized by AB and now Highfield. Aluminum is strong and lightweight. It can still be dented and scratched, but the chances of it getting holed are very low.
Fiberglass boats are less expensive and heavier. But, just like any fiberglass vessel, they can be chipped and cracked by impacts with rocks or docks. Luckily, fiberglass is extremely easy to fix, whereas aluminum would require welding. It's also easy to modify a fiberglass dinghy. If, for example, you wanted to add a cleat to the transom for towing, you could do so easily. That sort of modification is harder to do correctly with aluminum.
Small Dinghy Seating Capacity, Storage Space, and Load Limits
No matter whether you're looking for a RIB dinghy boat with motor, a sailing dinghy, or a kayak, your choice always comes back to what exactly it is you need to carry. Small boats like these don't have a lot of extra buoyance to spare when you overload them. If you sometimes need to carry an extra person or two, but your dinghy is too small, that could pose a big problem. If you need to ferry new house batteries out to your boat, but all you have is a kayak with 50 pounds for cargo–that's not going to happen.
Whatever boat you like, take a look at its maximum loading capabilities. Thanks to the official US Coast Guard capacity plate, most dinghies will have this marked on them. This will rate the vessel for a maximum number of people, a maximum amount of weight, and maximum engine horsepower.
Pros and Cons of Inflatable Dinghies
Pros
Can roll up or deflate for smaller storage
Lighter than hard boats
Enormous weight carrying capability
Extremely stable–won't flip even if you stand on one side
Can carry more horsepower and go faster than hard dinghies
Since they store smaller, you can usually fit a larger inflatable on your boat than you can a rigid boat
Cons
Material degrades in the sun from UV damage
Tubes can be punctured by rocks or chaffed bylines in extreme circumstances
Best Inflatable and RIB Brands
West Marine earns a place on the list for simple ubiquity. West Marine dinghies are rebranded versions of those built by other companies – usually Zodiacs. Most, if not all, are made in China.
But the advantage is in their availability – most coastal areas of the US are near a West Marine store, and most stores have a few dinghy models in stock. You can go and see them in person, and you can pick them up and take them home on the same day. Pretty much every other option on the list will have to be ordered sight-unseen.
West Marine sells a selection of inflatable dinghies, from roll-ups and slat-floor models to top-of-the-line RIBs. They keep parts in stock at most stores, and the better boats are available in either PVC or Hypalon.
Highfield is best known for its hard-wearing Hypalon aluminum-hulled RIBs. These sharp and sturdy boats are found on most charter boats since they last the longest. The company also makes PVC roll-up models. Highfields are pretty much the hottest ticket in RIBs right now–their boats look and perform marvelously.
Their boats range from the tiny 6'7″ RU 200 roll-up to the SP900–a 30-foot, 900-horsepower center console powerhouse. The most popular dinghy tender is the Classic 310. If you need something lighter, the Ultralight line is excellent as well.
Zodiac is a French maker of inflatable boats. They have a full line, from small roll-ups to large professional rescue RIBs. Their boats are divided among different product lines. Cruisers will want to look into the Cadet line of dinghies, which come in roll-up and RIB versions.
If you're looking for a boat with a helm, the Yachtline has four size options. These boats have built-in seating for up to nine people and engines up to 90 horsepower.
AB started as Antilles Boatworks–as you might imagine, their target market is the Caribbean. They make hardy Hypalon RIBs with aluminum hulls built for life in the tropics, plus jet boat yacht tenders and professional SAR and law enforcement RIBs.
Achilles makes roll-up, slat-floor, and RIB dinghies in various sizes.
What's the Best Dinghy for Your Cruising Boat?
Like the mothership you call home, your dinghy is uniquely yours. No two boaters will make the same choices – everyone has different priorities. For the couple driving a classic wooden boat, nothing will do but an equally classic wooden dinghy. On the other hand, speed and comfort requirements dictate a go-fast RIB for the ultra-modern motor trawler. There's never a one-size-fits-all answer to boating, so research carefully and think about how you're going to use your dink. The good news is, there's an active used market for dinghies out there–so upgrading and trading until you get it right is an option.
Dinghy Boat FAQs
Is it dinghy or dingy?
A dinghy is a small boat, usually used by a bigger boat to carry supplies and people to shore and back. For example, "The yacht's dinghy brought the crew to shore, where they went shopping."
Dingy is an adjective meaning dirty, unclean, or squalid. For example, "After two weeks at sea, the dingy sailor desperately needed a shave and a long, hot shower."
Why is a boat called a dinghy?
The English word "dinghy" comes from a similar Hindi word that describes small rowing boats used on the rivers in India. According to Merriam-Webster, it first appeared in English around 1810. It likely became a loanword during the times of British India.
What is a dinghy for a boat?
The most common type of dinghy is a small boat used as a tender. It runs back and forth to shore, tending the needs of the larger vessel. For example, it might take passengers ashore, pick them up, or just pick up and move supplies.
Sailing dinghies are small racing sailboats, like those used by sailing clubs to teach sailing and racing skills.