Cutter rigs are often more prevalent in boating magazines and theory than they are in your marina. Most cruising sailboats are Bermuda rigged sloops with just one permanently attached headsail. So, are two headsails better than one? Or, are they double the trouble?
Table of Contents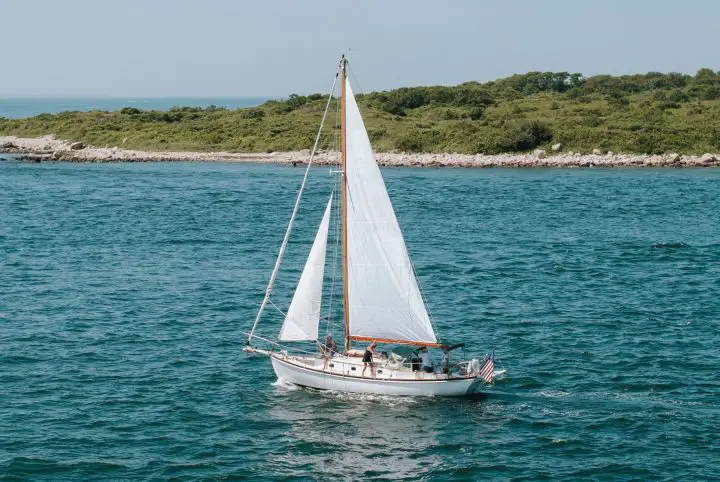 History of Cutters
Cutters became popular in the early 18th century. These traditional cutters were decked (instead of open) and featured multiple headsails. Smugglers used cutters to smuggle goods, and the coast guard used cutters to try to catch the smugglers. 
Various navies also used the cutter rig. Navy cutters featured excellent maneuverability and were better at sailing to windward than square-rigged ships. 
Navies used cutters for coastal patrol, collecting customs duties, and "cutting out" raids. These "cutting out" operations consisted of a boarding attack. Fast, maneuverable cutters could stealthily approach an enemy vessel and board it. This type of attack was common in the late 18th century. 
US Coast Guard ships, now powerful, fast, engine-driven, steel vessels, are still called cutters today as a nod to their past.
What is a Cutter Rig?
A cutter rig sailboat has two headsails instead of just one. The jib is located forward and is either attached to a bowsprit or the bow. The inner sail is called the staysail and is attached to an inner forestay. 
Traditional cutters were built for speed. Today, cutter rigged sailboats are popular with ocean-crossing sailors, cruisers, and sailors looking for an easy to manage, versatile rig for all conditions.
It's important to distinguish cutters from other types of boats with a single mast. Cutters regularly fly two headsails on nearly every point of sail. Many sloops are equipped to fly different-sized headsails, but it is unusual or unnecessary for them to fly more than one at a time.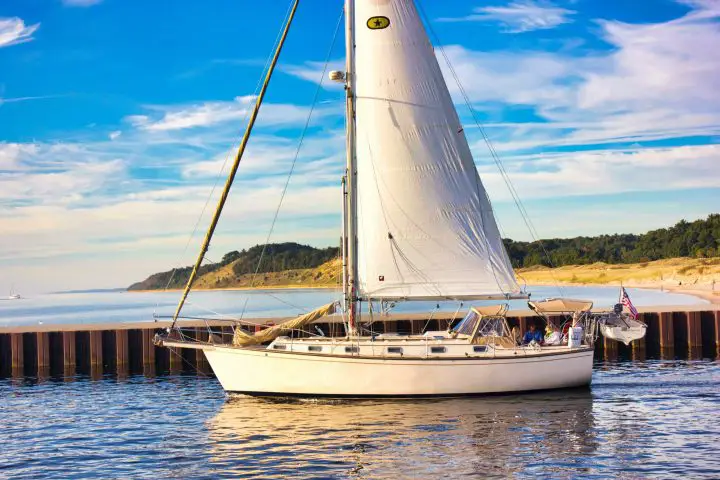 Solent Rig vs Cutter Rig
A solent rig is traditionally called a slutter–a little bit sloop and a little bit cutter. This configuration features two large headsails mounted close together. The solent rig is good if you do a lot of downwind sailing. You can pole out both headsails and go wing-on-wing, with one headsail on the starboard side and one on the port side. 
If you are on any other point of sail, you can only use one solent rig headsail at a time. If you use the inner sail, the wind flow is disrupted by the furled forward sail. And, if you use the forward sail, you'll have to furl it to tack because there's not enough space between the forestays.
The solent rig is a way to add more sail options to a standard sloop. Most solent stays are not required rigging to keep the mast up, so owners remove them when not in use to make tacking the primary headsail easier. 
Advantages of a Cutter Rig
There are a lot of reasons to like a cutter. A cutter rigged boat has redundant rigging and spreads the sail load across its rigging. And a cutter rig offers increased sail options–it offers increased sail area in light winds and easy and efficient ways to decrease sail area in heavy weather. 
In heavy weather, a cutter will drop or furl her larger headsail – usually a yankee or a genoa. That leaves just the smaller inner staysail. This arrangement is superior to the standard sloop, which sails in high winds by reefing her headsail. The staysail, however, lowers the center of effort on the sail plan and maintains draft over the reefed mainsail. That makes the boat more stable, maintains performance, and reduces stresses on the rig. 
If you imagine the sailor going to sea and needing to reef, it's easy to see how many more choices they have than the sloop sailor. While each sailor can reef their mainsail, a cutter skipper has full control over both headsails as well. 
Because a cutter rig spreads the load across two headsails, it's easier to manage. There might be more sails, but each sail is smaller and has smaller loads on it. That makes cutters the preferred option for sailing offshore when short-handed, as are more cruising couples. 
Lastly, it has to be added that there's something appealing about the traditional looks of a cutter. 
Disadvantages of a Cutter Rig
While there are many benefits of a cutter, there are drawbacks and disadvantages too. 
Sailors will have more lines to manage and more processes to think through. More sails mean more halyards and sheets. And when it comes to maintenance and upkeep, a cutter will have more standing and running rigging to replace, along with one more sail. 
Cutters are also harder to tack. You'll be dealing with two headsails instead of just one. Many designs deal with this problem by making the staysail self-tacking. This has fallen out of favor, but it's a great advantage if you find yourself short-tacking up or down rivers.
Regardless of whether you need to tack both headsails or not, getting the larger sail to tack through the slot and around the inner forestay is sometimes a challenge. Many skippers find themselves furling the headsail, at least partially, to complete the tack. 
Cutter Features
Cutters need extra foretriangle room, which can mean adding a bowsprit, moving the mast back, or both. 
Cutter Rig Position
Looking at a cutter rigged sailboat diagram, you might see a bowsprit depicted. Often, cutters fly their yankee from a bowsprit. Bowsprits allow boat designers to increase the fore triangle's size without making the mast taller. Other cutters don't use a bowsprit and mount the yankee sail on the bow. 
Sail Load
A cutter sailboat might seem like more work. After all, there are two sails to trim and manage. In addition, you'll have to perform maintenance on two sails and purchase and maintain double the hardware. 
However, the two headsail arrangement can be easier to manage when the sails are under load. Instead of having one jib or genoa to trim, the weight and pressure are spread across two sails. 
Mast Location
Today's modern boat designers often focus on providing living space in the cabin. Designers often move the mast forward to create a larger, more open saloon. When the mast is forward, there's less space to mount two headsails. A cutter sailboat needs a decent foretriangle area. 
A cutter rigged sailboat is also more expensive for boat builders. The deck must be strong enough to handle the inner forestay's loads. Between the additional building costs, saloon design issues, and customers' concern over increased complexity, boat builders often favor a single headsail. 
Easier on the Boat and Crew
Since the loads are distributed between two smaller sails instead of being handled by one large genoa. This means there's less pressure on attachments points and hardware, and therefore less wear and tear. In addition, because there are separate attachment points on the deck for each sail, the load is distributed across the deck instead of focused on one spot. 
Because each headsail is smaller, the sails are easier to winch in, so the crew will find it easier to manage the sails.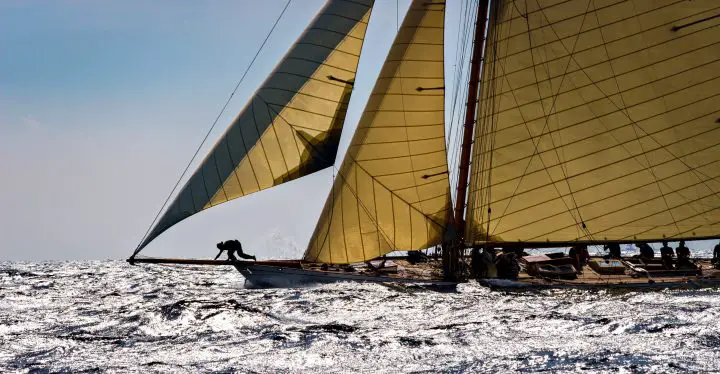 Cutter Rig Options
There's nothing cookie-cutter about a sailing cutter. From the cut of the jib to the configuration of the staysail, each cutter sailboat is unique. 
Yankee, Jib, or Genoa
Traditional cutters have a yankee cut headsail along with a staysail. The yankee is high-cut and usually has no overlap. The high cut improves visibility, and a yankee has less twist than a typical jib. By sloop standards, it looks very small, but on a cutter it works in unison with the staysail. 
A jib is a regular headsail that does not overlap the mast, while a genoa is a big jib that does overlaps. The amount of overlap is measured in percentage, so a 100-percent working jib fills the foretriangle perfectly. Other options include the 135 and 155-percent genoas, which are popular for sailors in light winds. 
The problem with using a big jib or genoa with a staysail is that there will often be a close overlap between the two headsails. If flown together, the air over the staysail interferes with the air over the outer sail, making each one slightly less efficient. In these cases, it's often better to drop the staysail and leave it for when the wind pipes up. 
Roller Furler, Club, or Hank-On Sails
Sailors have many options to manage and store their cutter's sails. Sailors can mix and match the options that work for them. 
Roller Furler vs Hank-on Sails
You can have both sails on roller furlers, both hanked on, or a mix of the two. 
Buying and maintaining two roller furlers is expensive, but it makes the sails easy to manage. You can easily unfurl, reef, and furl both headsails from the cockpit without having to work on the deck. 
Hank-on sails are fool-proof and offer less expense and maintenance. You can use a hank-on staysail, either loose-footed or club-footed, depending on your needs. Hank-on sails make sail changes easy and they never jam or come unfurled unexpectedly. 
The most common setup on most cutters is to have the larger yankee or jib on a furler, and the smaller and more manageable staysail hanked on.
Club-footed Staysail
A club-footed staysail is attached to a self-tacking boom. Since there is only one control sheet to handle, there's a lot less work to do to tack from the cockpit. It tacks just like another mainsail. You can tack the yankee while the club-footed staysail self-tacks. 
Island Packets and many other cutters feature this arrangement, which makes tacking easy. 
However, a club-footed staysail takes up space on the foredeck–it's always in the way. It's harder to get to your windlass and ground tackle. In addition, it's harder to store your dinghy on the foredeck under the staysail boom. The boom also presents a risk to anyone on the foredeck, since it can swing during tacks and jibes and is even lower to the deck than the mainsail boom.
Loose-footed Staysail
Keeping a loose-footed staysail on a furler clears space on the deck. Without the boom, you can more easily move around the foredeck, and you'll have more space when you are managing the anchor. In addition, you can more easily store your dinghy on the foredeck. 
However, the staysail loses its self-tacking ability. You'll now have to have staysail tracks for the sheet's turning blocks and another set of sheet winches in the cockpit. When it comes time to tack the boat, you'll have two headsails with four sheets and four winches to handle. Most owners choose to furl the outer headsail before the tack. Then, they can perform the maneuver using the staysail alone.
The good news is that most offshore boats are not tacking very often. If you're on a multi-day passage, chances are you'll only tack once or twice on the whole trip.
Downwind and Light Air Sails
There are a number of light air sails that will help your cutter perform better when the wind is light. Popular options include the code zero, gennaker, and asymmetrical spinnaker. 
Adding one of these sails to your inventory can make it a dream sailing machine. A code zero can be flown in light air. Since the cutter is already well equipped for sailing in heavy air, a light air sail really gives you the ability to tackle anything.
Sloop Rig, Ketch, and Yawl
While some describe a cutter as a cutter-rigged sloop or a sloop cutter, a modern sloop has one mast and one permanent headsail. 
But you'll also find the cutter rig used on a ketch or a yawl. A cutter ketch or yawl offers a cruising sailor increased sail area and choices by adding the mizzen mast and sail behind. 
Sailing a Cutter Rigged Sailboat
Sailing a cutter rigged boat is not that different from sailing a traditional sloop. Sailors will have to pay close attention to trim and tacking. 
Sailing a Cutter Rig to Windward
A cutter usually can't point as high as a sloop when sailing to windward. The yankee hinders the staysail's airflow, and the staysail starts to stall. 
Tacking a Sailboat Cutter
If you need to short tack up a narrow channel, and both your sails are loose-footed, you can roll up one of the headsails and just use one headsail to tack. Many staysails have a boom and are self-tacking. This means you can tack the yankee, and the staysail will take care of itself. 
Reefing a Cutter
A cutter sailboat has more options to easily get the right amount of sail. You can add a reef to your mainsail, then furl or reef the yankee a little, and then add another reef to the mainsail. As the wind increases, you can take the yankee in all together, and sail with a double-reefed mainsail and the staysail. Finally, you can add the third reef to the mainsail. Some staysails can be reefed, too.  
A cutter rig offers many options during heavy weather. For example, you may end up taking the mainsail down altogether and leaving the staysail up. Or, you might choose to replace the staysail with a tiny storm sail. 
Adding a storm jib on a sail cutter is much easier than a standard sloop. On a sloop, you'd have to remove the large genoa from the bow and then add the storm sail. This operation places the skipper in a challenging situation, which can be avoided on a cutter. 
On a cutter, you can remove the staysail and add the storm jib to the inner forestay. Working a little aft of the bow will give you increased stability while managing the staysail's smaller load.  
5 Popular Manufacturers Making Cutter Rigs
While many modern sailboats are sloop-rigged, cutter-seeking sailors still have options. 
While many new yachts have ditched the sturdy offshore cutter rig in favor of greater simplicity, Rustler is making a name for themselves by bringing it back. It's still one of the best options for offshore sailing, and it's great to see a modern yacht company using the rig to its full potential. 
The Rustler doesn't need a bowsprit to accommodate its cutter rig. The Rustler is set up for single-handed and offshore cruising with all lines managed from the cockpit. Their smaller boats are rigged as easier-to-sail sloops for coastal hops, while the larger 42, 44, and 57 are rigged as true cutters with staysails and yankees.
Cabo Rico built cutters between 34 and 56 feet long. They aren't currently in production but often come up on the used boat market. They are beautiful, semi-custom yachts that turn heads where ever they go. Of all the cutters the company built, the William Crealock-designed Cabo Rico 38 was the most long-lived, with about 200 hulls built. The second most popular design was the 34. The company also built a 42, 45, 47, and 56—but only a handful of each of these custom beauties ever left the factory. Most of the larger Cabo Ricos were designed by Chuck Paine.
Cabo Ricos have bowsprits, and the staysail is usually club-footed, although owners may have modified this. Cabo Ricos are known for their solid construction, beautiful teak interiors, and offshore capabilities. 
Pacific Seacraft features a full line of cutters. Pacific Seacraft boats are known for their construction, durability, and overall quality.
Just a few of the best-known cutters built by Pacific Seacraft include the following.
Flica 20
Dana 24
Mariah 31
Pacific Seacraft/Crealock 34
Pacific Seacraft/Crealock 37
Pacific Seacraft 40
Island Packet boats are probably the most popular cutter design available today. Designer and company founder Bob Johnson created beautiful cutter-rigged full-keel boats with shallow drafts that were very popular around Florida, the Bahamas, and the east coast of the US.  
Island Packets are known for their comfortable, spacious layouts. Older models could be ordered from the factory as either sloop or cutter-rigged. The result is that you see a mix of the two, as well as plenty of cutters that have removed their staysails to make a quasi-sloop. 
Island Packet is still in business today, but now favors solent-rigged sloops with twin headsails. 
Hess-Designed Cutters
Lyle Hess designed several famous cutter-rigged boats, including the Falmouth Cutter 22 and the Bristol Channel Cutter 28. These gorgeous boats are smaller than most cruising boats but are a joy to sail. Lyle Hess' designs were popularized by sailing legends Lin and Larry Pardey, who sailed their small wood-built cutters Serraffyn and Taleisin around the world multiple times.
These beautiful cutters have a timeless look like no other boats. They have inspired many other designs, too. You'll find them built from both wood or fiberglass, but a variety of builders and yards have made them over the years.
It Takes Two to Tango
Cutter rigged boats offer cruising sailors a flexible sail plan that's perfect for offshore sailing. Sailors can adjust the amount of sail according to the current wind conditions. Traditional cutters were known for being fast and agile, and today's cutters carry on the tradition with pride. 
Cutter Rigged Sailboat FAQs
What is a cutter rigged yacht?
A cutter rigged yacht features two headsails. One headsail, usually a high-cut yankee, is all the way forward, either on a bowsprit or the bow. The staysail is smaller and attached to an inner forestay.
What is the advantage of a cutter rig?
A cutter rig offers cruising sailors more flexibility. They can easily increase and decrease the sail area and choose the optimum combination for the sailing conditions. While there are more lines and sails to handle, each sail is smaller and therefore easier to manage.