Swing keels are an often misunderstood sailboat feature. They stand unique as a capable offshore sailboat with good windward performance – but they also can provide access to places that few other sailboats can venture.
What is a swing keel, and what makes it so unique? Let's look at a few examples and weigh the pros and cons.
Table of Contents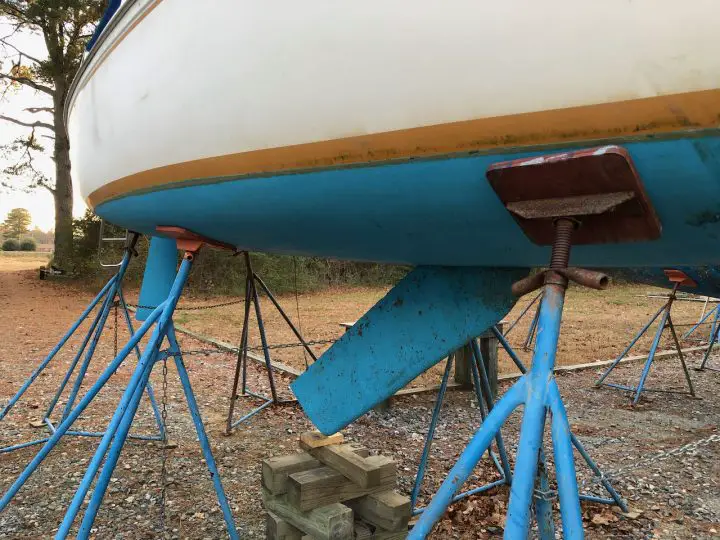 What Exactly are Swing Keels? And What Are They Not?
There's a lot of misinformation out there about what a "swing keel" is—so let's start by clearing a few things up. Swing keels are a rare feature found on larger cruising boats. It's an expensive and specialized item that a boat buyer has to seek out if they want one!
A swing keel is a weighted fin keel that pivots up into the hull of the boat. It can be adjusted from a deep-keel design for optimum sailing performance to a flat-bottomed boat with no keel at all for "drying out" on a sandbar or motoring in extremely shallow water.
In short, a swing keel sailboat gives you the best of all worlds—excellent sailing performance, even upwind, and shallow water access to get in and out of virtually any anchorage or marina in the world.
To be effective, these yachts have very heavy keels. You cannot lift them manually—a proper swing keel requires an electric or hydraulic lifting mechanism. The keel is shaped like an airfoil for maximum performance and is cast out of lead or iron. They usually weigh as much as a couple of automobiles.
Swing keels are effective for two reasons. First, they are ballasted, so they provide righting momentum and stability for the yacht. Secondly, they are shaped like an airfoil, so the water moving over them creates a hydrodynamic force like a regular fin keel does.
There are currently only two major manufacturers of true swing keel yachts—Southerly (now owned by Discovery Shipyards in the UK) and Sirius Yachts from Germany. In 2020, Jeanneau announced a new swing keel version of their Sun Odyssey 410. However, it's unclear as to precisely what type of keel it features.
The confusion isn't helped by many sailors using multiple terms interchangeably. The truth is, swing keel sailboats are so rare that most sailors have never even seen one in person! Additionally, some manufacturers use many terms to misdescribe their products as swing keels, adding confusion and taking advantage of the ill-informed.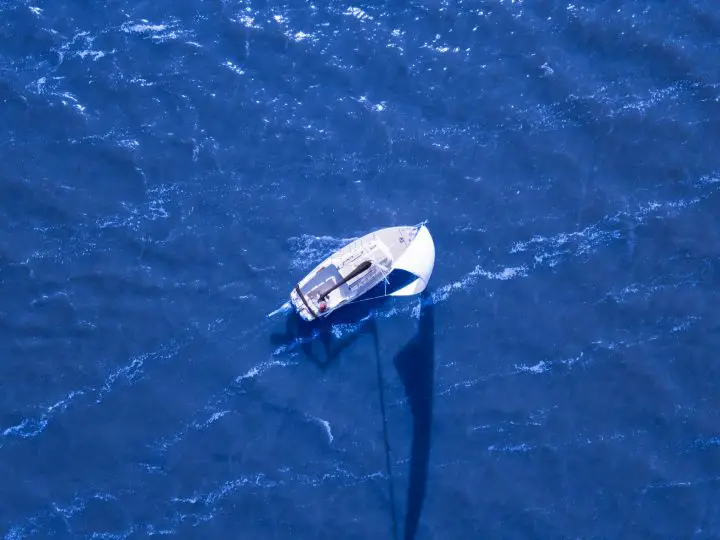 Swing Keels Versus Centerboards
First, and perhaps most importantly, a swing keel is not a centerboard. The two may look similar, but their likeness ends there.
Centerboards are extremely common on small sailboats, especially trailerable sailboats. A centerboard sailboat has a flat bottom and a simple board that pivots back into the hull.
The centerboard itself is usually lightweight and lifted with a simple cable and winch system. More often than not, it's a flat board made of fiberglass. The effectiveness of a centerboard comes entirely from the pressure of the water moving over it since its light design does not provide any righting momentum of its own.
Some larger and very capable cruising boats do have centerboards. However, these boats are usually fitted with internal ballast to improve the boat's stability beyond what only the centerboard could provide.
There are many monohull fiberglass boats with centerboards, some of 40 feet or more. Usually, the centerboard option is a less common option from the factory for people who want to use the boat in very shallow water. On bigger boats, the board is usually retracted into a ballasted stub keel that doubles as the centerboard trunk.
The Gemini 105MC Catamaran has a pair of centerboards, each of which can be lifted with its own winch. This setup enables Geminis to operate in shallow waters, even by catamaran standards. The Gemini is a lightly-built coastal cruiser from the US.
Some other interesting examples are the Alubat Ovni and Allures aluminum sailboats made in France. These two companies produce different takes on the rugged "go anywhere" sailboat. To that end, they focus on using a centerboard to reduce the draft to make beaching the boat easy. Both of these boats are capable world cruisers.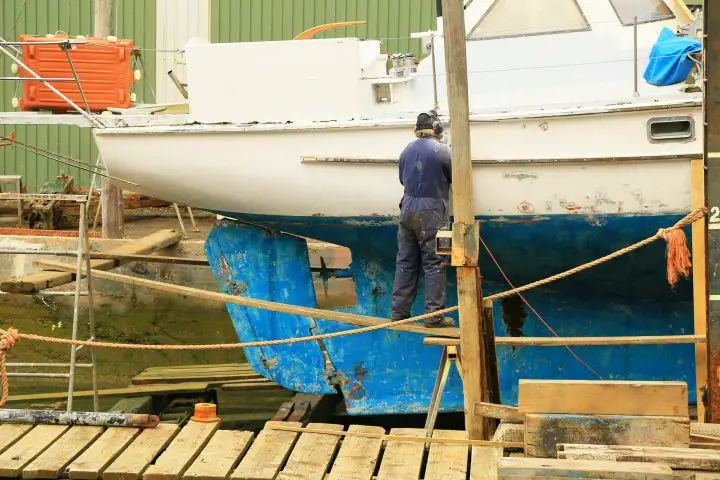 Swing Keel Versus Lifting Keel
Lifting keels look like a conventional fin, bulb, or even wing keel, but they have one significant design difference. Using a high-power motor, they can lift vertically up into the hull. This allows the yacht to have a conventional ballasted fin keel that adjusts in draft.
With this arrangement, the yacht can squeeze into shallow slips or even shoaly anchorages. But, with the keel fully extended, it has upwind sailing performance similar to a full keel version.
Lifting keels are very rare since the cost of manufacturing the lifting mechanism is so expensive. Plus, the interior of the boat must be designed to accommodate the trunk the keels lift into.
Compared to swing keels, lifting keels are more susceptible to damage from a hard grounding. A swing keel will simply pivot and retract partially. A lifting keel, in contrast, can easily damage the tracks and lifting mechanisms.
Swing Keels Versus Canting Keels
Another term that is often batted around is "canting keel." A canting keel is found only on the most cutting-edge ocean racing boats. They swing not aftward, like a swing keel, but instead side to side.
Why would you ever want your keel to swing to the side? Their purpose is to flatten out the boat when sailing upwind. By getting a flat-hulled racing yacht to sail level, its hull will perform better and overall speed will be increased.
Other Shallow-Draft Designs to Consider
The list above is just a few ways that boat builders have found to reduce the draft of a sailboat. Depending on the purpose, there are other ways to do the job.
Bilge Keels
Bilge keels boats are most common in the UK. They are sometimes called twin keels because they feature two shorter keels mounted at slight angles below the hull. The main advantage of a bilge keel is that the boat can be allowed to "dry out" in areas of big tidal swings. In other words, the boat can stand on its own after the tide goes out.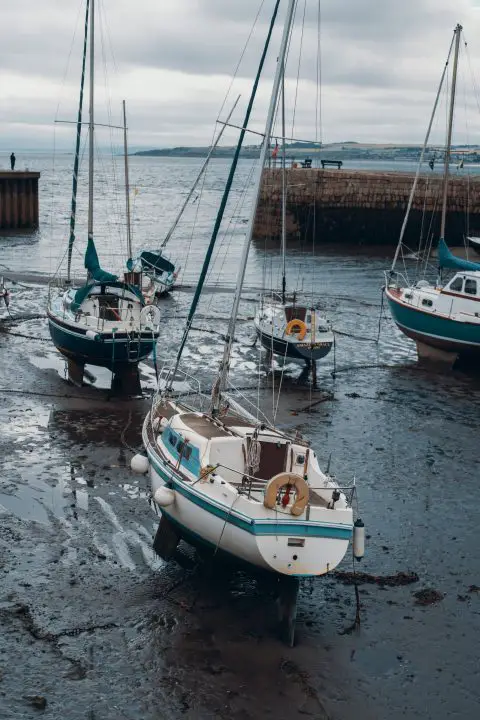 Shoal Draft Cruisers
Boat design is all about the give and take. While one buyer might want the ultimate in offshore performance, another might say they want a decent sailing boat that can fit into their slip—which only has four feet of water on the approach. What to do?
If yacht designers were allowed to draw their boats without considering shallow areas, most would attach deep, high-aspect-ratio fin keels. Then the boat would be limited to areas with seven or more feet of water. In some parts of the world, like The Bahamas or the Chesapeake Bay, that limits the number of places they can visit.
So boat builders often make at least two conventional keel versions of a boat. One has the best performance characteristics and a deep draft. The other has a slightly reduced draft and a few design tweaks to make it work. Often, the amount of ballast will be increased to compensate for the change in lateral resistance.
A fixed keel shoal-draft version of a sailboat does have a few advantages over other options. It is just as sturdy as any other keel design and has no moving parts or expensive lifting mechanisms.
Leeboards
Small boats that use centerboards have a few other options. Leeboards are a traditional design that uses pivoting boards mounted on each side of the boat. The classic Herreshoff Meadowlark is a good example.
Daggerboards
Daggerboards are similar to centerboards, but instead of pivoting, the boards move directly up and down. Also, like centerboards, the daggers are not ballasted.
This arrangement is used on many sailing dinghies, like the Sunfish. For bigger cruising boats, they are popular on performance cruising catamarans like the Maine Cats, Outreamers, and Catanas.
Advantages of Swing Keel Yachts
Simply put, a swing keel yacht will allow you to go places that nothing else will. If you eliminated lightweight centerboard designs from your list of options, there are very few shoal-draft ocean-going sailboats to choose from.
Most centerboard designs are inadequately designed for bluewater sailing. Those built heavier and mounted on larger vessels tend to be mounted in stub keels. While they certainly have a shallower draft than other similar-sized vessels, they are still a far cry from "shoal-draft." As a result, the list of true bluewater centerboard boats is extremely short.
Swing keels are robustly designed, heavy enough, and stable enough to handle ocean crossings. At the same time, they fold up to access very shallow water. That allows the skipper to get into pretty much any anchorage or marina—even places that other sailboats can't get into.
There are also times when sailing that the variable draft feature will have its plusses. When sailing downwind, for example, having the keel in the fully lowered position makes little sense. By reducing draft slightly, you might be able to sail fast under spinnaker.
It also enables some swing keel sailboats to be dried out. This is standard practice in some harbors with big tide swings. In other places, it means that you can perform maintenance on a sandbar in the right conditions. And that means fewer trips to the boatyard!
Maybe one of the neatest tricks that will make those with fixed keels jealous is what happens if you run aground in one of these boats. First off, bumps are unlikely to damage the keel. The keel swings on its pivot point. The skipper can then just reduce draft a little, and carefully proceed.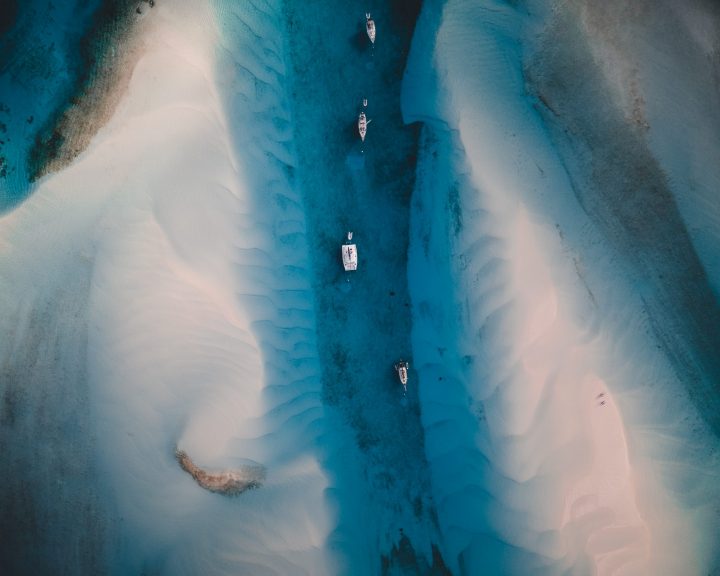 Disadvantages of Swing Keels
It's not all good news, of course. If swing keels didn't have some minuses, chances are there would be a lot more of them out there.
While sailing performance is very good on these boats, it does not match a hull with a full-depth fixed fin keel. The design of the swinging keel does not allow for the same distribution of weight, so the balance of the boat will always be a bit different.
The system required to raise and lower an enormous and heavy keel is not trivial. It is a complex system made up of expensive parts. Experienced boaters will immediately understand the problem with this. It means that it will break one day, and when it does, it will be difficult and expensive to repair.
Routine maintenance is not a burden, however. Beyond checking the hydraulic level, keel threads, and swing keel cables occasionally, there is little to do.
The other significant disadvantage of this system is the initial purchase cost. These boats target a very niche market and only sell a few boats a year. As a result, they're hard to find, which means that good examples are expensive to purchase. If you're building a new yacht, then a swing keel system is a costly option.
There are also slight day-to-day considerations with a swing keel. As with any complicated boat system, the keel lifting mechanism will require occasional maintenance. The entire system will likely need to be overhauled by the yard every 20 or 30 years.
Finally, the interior of the yacht must be designed to accommodate the lifted keel. Southerly often solves this by featuring a raised salon area where the central dinette sits higher, on top of the keel enclosure.
Is a Swing Keel Right For You?
While swing keel sailboats are pretty rare, this is no lack of information available about them. The trick is to make sure that the boat you are looking at and talking about is indeed a swing keel and not something else.
Luckily, one of today's most experienced and knowledgeable cruising couples has several decades of experience on Southerly swing keel sailboats. Paul and Sheryl Shard of the Distant Shores television show have documented their experiences extensively. They have cruised Europe, the Caribbean, and North America and made at least five Atlantic crossings various Southerly sailboats.
Clearly, these boats are not for everyone. Most people don't need the extra expense or complexity of a swing keel. But if you want a boat that can access shallow water while at the same time not sacrificing offshore or sailing performance, then swing keels should be on your shortlist.
FAQ – Questions About Swing Keel Sailboats
Are swing keels good?
As with all things boating, the answer is, "It depends." Swing keels are an expensive feature to add to any boat, and as such only well-built boats will bother putting it in.
A swing keel is a good option if you're looking for a shallow-draft sailboat that does not sacrifice sailing performance. And unlike most centerboard-equipped designs, these boats are bluewater-capable and very robustly built.