Sea Ray is one of the best-known brands of powerboats on the market. The company has been in business for many years and has produced many different models. As a result, there are many Sea Rays out on the water.
For the most part, the brand makes what are called sport boats. These come in a variety of styles, ranging from 16 to 30 feet in length. They are generally powered by inboard/outboard (I/O) stern drives. They are generally more prevalent on lakes and protected bays, and they excel for towing skiers or wakeboarders while enjoying days on the water. They're comfortable to hang out on, entertain, and swim off of.
Sea Ray has also built larger cabin cruisers over the years, ranging from 25 to 50 feet in length. Currently, they are not making the larger models, but many are still available on the used market. The larger boats are popular options for liveaboard cruisers. They have comfortable living accommodations, plenty of storage space and can usually cruise at 20 knots or more.
Table of Contents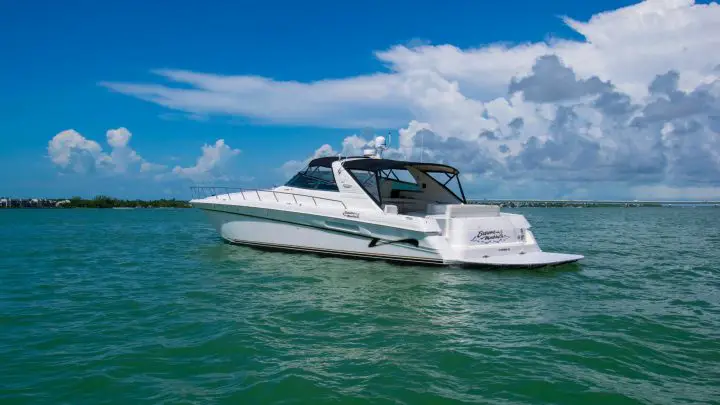 Current Sea Ray Sport Boats Lineup
Sea Ray boats currently sells four different model lines.
The classic Sea Ray model lineup is the Sundancer line. At this time, three models are made, each between 32 and 40 feet long. Some come with stern drives, while others are now equipped with outboard motors.
Sundancers are designed for weekend cruising. They aren't quite spacious enough to make a comfortable liveaboard, but the bigger ones come close. Instead, these boats are designed to be a weekend home away from home. They have comfortable accommodations and a spacious cabin below decks, including a functional galley and a head with shower. The cockpit and foredeck have lounge seating to make comfortable cruising or hanging out while at anchor or the dock.
The remaining three model lines of the Sea Ray boats family are made up of sport boats and deck boats. The larger examples have cabins to change clothes or sit out of the sun or rain, but they do not have overnight accommodations. Instead, these boats are built for day tripping and water sports. The space saved means more room on deck for more people to enjoy cruises or playing during those long summer days on the water.
The other lines are called the SLX series, SPX series, and SDX series. Like the Sundancers, they are available with either stern drives or outboard power. The smallest boat in their current lineup is the SPX 190, a 19-foot bowrider sport boat.
Sundancer 370 Promotional Video
SLX 260 Promotional Video
SPX 230 Promotional Video
SDX 270 Product Walk Through
Sea Ray Boats Company Background
The Sea Ray brand was founded in 1959 by C.N. Ray. It was based in Michigan, with a factory in Oxford. it was the first of the sport boat brands to make fiberglass hulls, and later they innovated the swim platform. In 1972, the company continued growing and opened a major production facility in Merritt Island, Florida.
In 1986, the company was purchased by Brunswick Corporation. Brunswick also acquired another large and well-known boat brand—Bayliner. The two brands made them the largest maker of pleasure boats in the world.
The company grew over the decades. At one point, it was making 20 boats each week, with average prices for each one between $200,000 and $500,000. Unfortunately, the Great Recession of 2007/2008 took a heavy toll on the company and significantly reduced production.
In the years following, Brunswick decided to specialize the brand on sport boats and discontinued many of the larger luxury yachts that Sea Ray had been making. Today Sea Ray has headquarters in Tennessee and factories in Tennessee and Florida.
Brunswick has grown over the years, however, and the company now oversees a diverse lineup of some of the best boating brands in America. Besides Sea Ray, the company also owns Boston Whaler, Bayliner, Mercury Marine, Attwood, Mastervolt, Quicksilver, and the Freedom Boat Club.
Sea Rays Compared to Chaparral Boats and Others
So, are Sea Ray boats good? Much like shopping for a new car, a lot has to do with the name-brand recognition that Sea Ray has built up over the years. While the brand is often touted as one of the few well run boat builders, there are certainly better boat options on the market. But on the same token, other boats might not offer the same boating experience and features that a specific model Sea Ray does. Most owners of Sea Rays are very happy with their boats.
And just like with cars, boat owners have strong opinions about which brand is best and which ones you should buy. Internet forums are full of narrow answers about which one you should buy and which one you should steer clear of.
But if you spend the time and research Sea Ray boats reviews, you will find little that differentiates Sea Ray from its competitors. It is a middle-of-the-road boat brand that builds and sells a lot of boats. As a result, it has a lot of fans and a lot of noisy critics.
Sea Ray's strong competition in the sport boat and cabin cruiser market comes from Chaparral, Regal, and Formula. These companies make similar sport boats that range from small trailerable boats or bowriders to larger cabin cruisers. And all of these companies have transitioned from selling purely sterndrive models to both sterndrive and outboard models in recent years.
If you break the model lines down, Sea Ray's larger cabin cruisers and small motor yachts have more competitors than you might realize. In this category, the company competed with Cruisers Yachts, Meridian, Carver, and many others. https://www.divein.com/boating/cabin-cruiser/
On the other end of the spectrum, Sea Ray has more competition in the smaller sport boat market. Four Winns, Monterey, Yamaha, and Nautique. Additionally, many brands known for making fishing boats also make bowriders, dual consoles, and small cuddy cabin boats that cross lines to make great sport boats. Options include Scout, Grady White, Boston Whaler, Sea Fox, and many others.
Of course, these are just the companies that are still making boats in this market. If you're shopping for a used boat like a Sea Ray, there are tons of other options out there.
All of these companies differentiate themselves based on either price or quality. Boats are expensive items, but generally, quality will decrease as the price comes down. A company that mass produces boats quickly to reduce the price will invariably have quality control issues that boutique and small-batch builders have less trouble with.
However, it can also be generalized that boats are made of very similar components, regardless of the builder. The engines all come from the same companies. Sterndrives and inboards are either Mercruiser, Volvo, or Yanmar, while gas outboards come from Mercury, Yamaha, Honda, or others. Hatches and portlights are only made by a few companies, as are helms and control components.
The boat makers' job is to put all those separate parts together into a functional and beautiful hull of their own design. For the boat buyer, it becomes more about picking the suitable layout and arrangement to suit their needs. When you buy an SUV, nearly all SUVs of the same size are similar. But layouts of sport boats and cabin cruisers can be drastically different.
How Good Are Sea Ray Boats Built?
When comparing boat brands, there are some clues you can use to gauge how well the company puts its products together.
At its core, the job of a boat builder is to put the fiberglass pieces together. Fiberglass is not a complex material to work with, but some construction methods stand the test of time better than others.
Many boat structures have cored construction. A cored composite is one that has a structure underneath that is encapsulated in fiberglass. The original coring material was plywood, but that has generally been replaced with either balsa wood or plastic foam. Another option is to have no coring material at all, but it must be very thick to make fiberglass strong enough. That causes problems for powerboats, which depend on lightweight construction to go fast.
Cored boats are prone to water intrusion. This is a spot where you can analyze how carefully the boat was built. If the deck or hull of a boat is made with cored fiberglass, does the manufacturer take the time to plan out every piece of hardware that gets installed? If they do, each fitting will be mounted through solid fiberglass, not through the coring material. Bolts or screws that pass through the deck and into the core provide an opportunity for water to get in. Eventually, water will saturate the coring material and begin rotting it.
On older boats, it's essential to analyze cored decks and hulls for any signs of water intrusion. It might not come from where the maker installed a fitting but could also appear after the previous owner installed something. You can repair bad coring sections, but it's time-consuming and expensive.
How does Sea Ray do it? In the past, Sea Ray has run afoul of many in the marine industry because they have used balsa-cored fiberglass sections in the bottom of the hull. This is problematic because water can easily break down the balsa wood if the boat has any damage to the outer skin or is repaired poorly.
Another commonly called-out problem among Sea Ray owners is the wiring. Tidy and organized wiring is a hallmark of a quality boat builder, but it's a rare find in any mid-level production manufacturer. On the wiring front and many others, Sea Ray is a middle-of-the-road choice. It might not be the best out there, but the brand represents a value for most customers.
The fact is that Sea Ray boats have problems, as do nearly all of the other makers of boats. Each make and each model has its quirks and peculiarities. For the boat buyer, the most sensible thing is to engage the services of a buyer's broker who is familiar with the type of boat you're seeking. And before purchasing, enlist the services of a qualified surveyor to inspect the boat for any issues.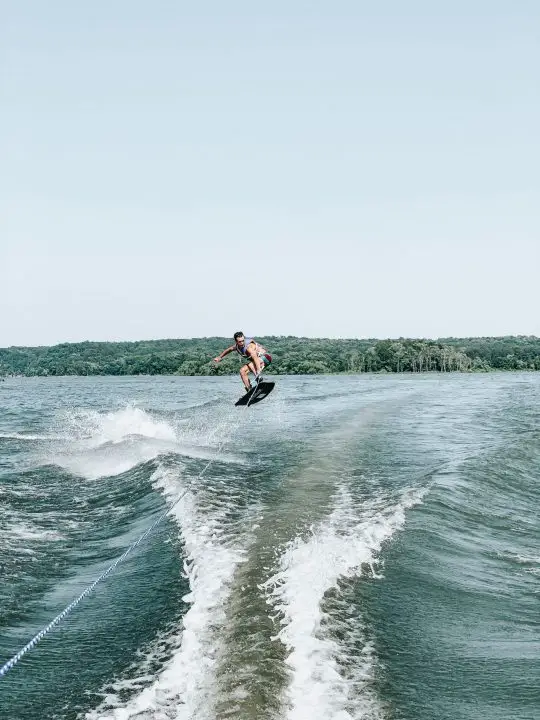 Is Sea Ray a Good Boat?
Sea Ray is like many other manufacturers out there today—they make some excellent boats and some boats that are less than ideal.
Boat shopping is about a lot more than brand name recognition. It requires stepping aboard different boats and seeing how it suits your needs. Sometimes a boat looks great on paper, but it is actually too small, too large, too cramped, too spacious, too plushy, not plush enough, etc.
Every boater has different needs, which is one of the great things about boating. The trick is finding the boat with the right mix of practicality, affordability, and appeal.
Sea Ray Boat Review FAQs
Are Sea Ray boats seaworthy?
Seaworthy is a relative term that can be tricky to define. When asking if a boat is seaworthy, it's best to take an honest assessment of what sort of conditions you need to operate the boat in. The word gets batted around a lot on boating forums and even in boating publications, but has the word's overuse reduced its meaningfulness?
Sea Rays are designed for pleasure boating in good conditions—they are not all-weather, all-condition passage-making boats. They're great for operating on protected lakes and bays, and with care and weather planning, coastal hops are no problem. You can operate them offshore in calm conditions, and moderate seas or swells are no problem for the larger cabin cruisers.
But of course, you should not operate an open powerboat like a Sea Ray in rough conditions offshore.
Why are Sea Ray boats so cheap?
Cheap is a relative term. There are undoubtedly many Sea Ray boats on the used market that you could describe as cheap. But of course, you must carefully evaluate the condition of any used boat. A vessel priced below others may be "cheap" because it needs significant engine or hull repairs, among other issues. These project boats are typically not good investments since repairs and upgrades will often cost more than just buying a well-maintained boat would.
On the new market, Sea Rays are priced and produced to be a mid-range offering. They are of average price and build quality. In other words, they are cheap compared to other builders who spend more time building each boat but also priced more than builders who make lower quality boats more quickly.
Which is better Sea Ray or Chaparral?
Both Sea Ray and Chaparral share a very similar market profile. Both make similar lineups of sport boats and power cruisers. In terms of price and quality, both makers are in the middle of the market. There are cheaper options, but there are more expensive brands out there, too.