Living on a tugboat is one of those idyllic and romantic visions we have of boat life. It's also one of those things that you either get, or you don't. If you're asking, "Why on Earth would anyone want to live on a tugboat?" then you're probably in the latter group. 
But tugboats can make great liveaboard vessels, so much so that there's an entire class of motorboats that embrace the tugboat look. 
So, would you like to buy an old working tugboat and fix it up, or set out on a unique trawler designed to look like a tug? Let's look at living on a tugboat and whether or not it's right for you.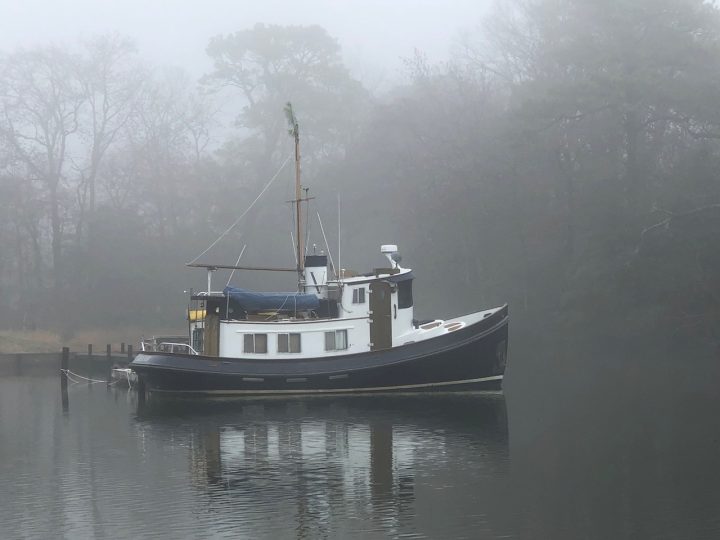 Table of Contents
Living on a Tugboat — Is It a Thing?
In general, living on a tugboat conjures two seemingly opposing visions for people. One is a salty old commercial tug that has spent its life working hard, pushing or pulling ships and barges all over creation. Some old tires might be involved, and maybe a significant amount of diesel smoke and soot. It's probably made of steel, and it probably has an engine with thousands of horsepower.
The other version is a comfortable live aboard vessel that sort of looks like that salty tug described above. It's probably fiberglass, and it's made to have accommodations befitting a recreational cruising vessel, not a commercial work boat. If it has any tires hanging off the sides, they're purely for effect and not made of black rubber that could mar the gel coat. 
If you're in the second camp and want a comfortable boat that you can live on, then a tugboat-style trawler is perfect for you.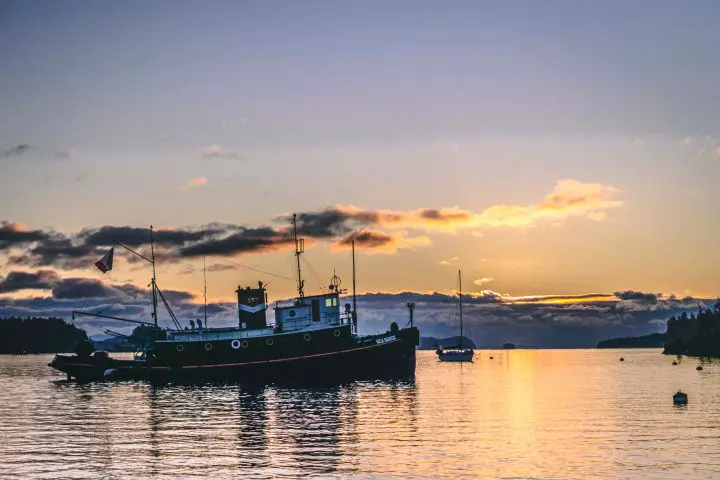 What Is a Tugboat?
First, let's define what a tugboat is. Technically, it's a vessel that's designed to push or pull another boat. They range in size from tiny work tugs to enormous ocean-going tugs. They're a staple around any major port, as tugboats are used to help ships on and off docks and moorings. They're also used to move barges, a major part of shipping along rivers, canals, and even along coasts. 
Tugboats have a typical look to them. Since they are work boats, they're built beefy, with a tall bow and very tall gunwales. They are usually made of steel, so that they aren't easily damaged as they bump up against ships and piers. 
While a working tugboat has to be powerful to haul a big load, it doesn't have to be fast. They have full displacement hulls, meaning their speed is roughly limited to how long they are. No matter how much power they have, they cannot exceed a certain speed, and that means that they are usually pretty slow. A big ocean-going tug might be able to make 15 or 20 knots, but most smaller ones are limited to around 10.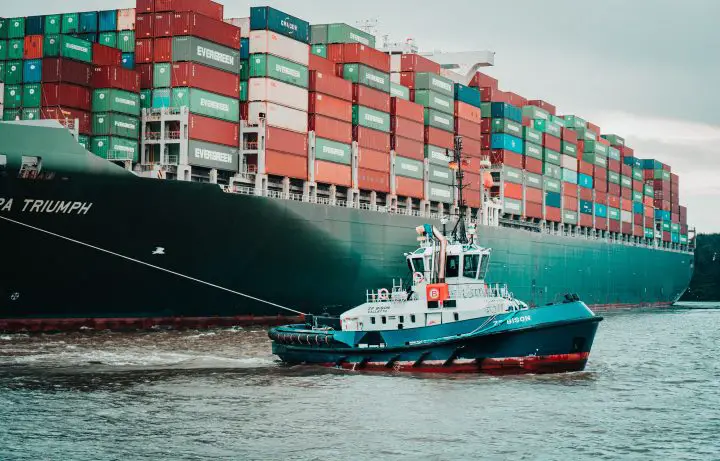 Do Tugboats Have Living Quarters?
As you might expect from a workboat, their interiors are pretty sparse. If the tug is designed to have a crew on board for days at a time, there will be cabins and a galley. But many inshore boats will have the most rudimentary of accommodations.
Here's an example of a project tugboat where the owners have taken the hull and completely redesigned the living space. They have converted it into a beautiful home on the water.
Can You Live on a Tugboat?
Yes, many people live on tugboats. Some are retired working tugs that have been outfitted for living aboard. If you're looking for a blank slate to renovate from scratch, a tugboat like this might work. 
Inside its superstructure, you'll likely find four blank walls and regular furniture that you can move around. Many times, you'll have a galley space big enough to accommodate regular home appliances and a stateroom that can take a regular platform bed. Compared to fiberglass boats, the actual outfitting for living aboard could be quite easy.
In many ways, living on a tugboat is a lot like living on a narrowboat in the UK. Like those canal boats, the tugboat was built as a blank slate to be used by working crews. That leaves you with plenty of space to customize as you wish.
The bigger problems will come in the form of maintenance and upkeep. As a workboat, soundproofing wouldn't have been a very big deal when they built the boat. You'll also have to deal with a pretty utilitarian machinery space. There will be a lot of little things like this that you'll want to fix up to make it more comfortable for cruising and living on. 
Of course, none of these issues are big problems, and depending on what kind of deal you get for the old hull, a lot of things can be fixed with amazing results. But buying an old tugboat to live on is one of those things that might not be as great as it sounds. It is, in every sense of the dreaded phrase, a project boat. 
Project boats should never be taken lightly. They will always take longer and be much more expensive than you ever imagined them to be when you start. In many ways, every boat is already a project, so taking on a project boat from the beginning should be approached with extra caution. One final observation here: many project boats are left in boat yards all over the world, abandoned when their project-minded owners run out of motivation, money, or both. 
Tugboats You Can Live On — 5 Tugboat-Like Trawlers
If you're not into the major refit project boat, but you love the idea of living on a tugboat, then a tugboat-like trawler might be perfect for you.
These are fiberglass pleasure vessels that are simply made to resemble a tug. They have smokestacks (often not functional), big pilothouse windows, a tall bow, and usually some cute round portlights to top it off. But, unlike working tugs, they're built of shiny fiberglass and have comfortable living accommodations. They come in bright colors and sometimes resemble a cartoon drawing of a tugboat. When you see a really nice one, it's hard not to smile.
It's also worth noting that these boats often feature semi-displacement hulls that allow them to move quicker than a traditional tugboat. All of these boats are some of the best boats for the Great Loop adventure around eastern North America.
Most of these tugboats are about 40 feet long. Some have an upper flybridge, which is a nice place to hang out and drive when the weather is nice. But the advantage of the tug is really the well-protected pilothouse, which makes driving in all weather possible. 
Generally, these boats have a stateroom in the prow of the boat, with the pilothouse midships. Aft of the helm, you'll find a salon and galley that has plenty of big windows and great views all around. The back of the boat usually has a small deck that's big enough to rest on and enjoy the fresh air on nice days. You'll be amazed at how much space these boats have, especially when you compare it to living on a sailboat.
Ranger Tugs
Ranger Tugs are built in Washington state. The original models looked more like classic tugs, with square pilothouse windows, inboard diesel engines, and lots of character. The newest models are powered by outboard motors and have a sleeker, modern design that more closely matches a typical motor cruiser. 
Ranger Tugs were made to be trailerable. The first models, the R-21 and R-25, were small and lightweight. But the interior accommodations of the 25 felt like a boat much larger, and these boats quickly became very popular. Models now range from 23 to 43 feet long.
Nordic Tugs
Nordic Tugs are small American-built trawlers built with some tugboat-looking features. Inside, they're equipped for living aboard and cruising. They aren't quite as flashy or luxurious as other motorboats on the market, but a lot of folks really like that fact. Unlike the smaller Ranger Tugs, Nordic Tugs are built heavy and not designed to be trailered. Models include the tiny 26, 34, 44, and the flagship 54.
American Tugs
Another brand of heavy, ocean-going cruiser tugboat is the American Tug. Models range from 36 to 43 feet long. These tugs are beefier than some others and a little harder to find since fewer are built. They are available with or without flybridges. 
Transpac Eagle Trawlers
The last two boats on our list are no longer produced, but both come up for sale on the used market occasionally. The first is the Tiawanese-built Transpac Eagle. 
This boat isn't marketed as a tug, but looking at its profile, it's easy to classify it as one. It's a low-slung pilothouse trawler with a tall bow and sweeping shear line, complete with faux smokestack. The Eagle came in 32 and 40-foot versions—the Eagle 40 is the preferred liveaboard version. At her recommended cruise speed of around 8.5 knots, the Eagle only burns about 2.5 gallons per hour and has a range of over 1,350 nautical miles.
Lord Nelson Victory Tug
This boat is fairly rare, as only a handful of them were built. When you see one, however, you'll know immediately that it must be the ultimate small liveaboard tug. There is an active LNVT owner's group for the boat, which includes rosters of owners and maybe even the occasional for-sale listing.
The Victory Tug was built in 37, 41, and 47 foot versions. The 37 is the most common, with about 86 hulls made in Taiwan.
So, Do You Think Living on a Tugboat Is Crazy or Genius?
Tugboats are one type of trawler that draws people in and makes them smile. Whether it's their cartoon good looks or the functionality they offer, cruising and living on a tugboat makes a lot of sense. People who own these boats are fanatics about them, and they turn heads at every marina they stop at. 
Living on a Tugboat FAQs
Can you cross the ocean in a tugboat?
Some tugboats are capable of crossing oceans, but most are not. For any motorboat, the limiting factor is the amount of fuel they can carry. Some tugboats that have been converted into cruising trawlers with large fuel tanks can easily cross oceans.
What are the cons of tugboats?
If you're looking for a cruising boat, tugboat style vessels like the American Tug or Nordic Tugs are great choices. Their biggest con, if you can call it that, is that they favor cruising at slower speeds. While this means it takes you longer to get there, it also means that you'll spend a lot less on fuel.
Can you cross the Atlantic in a tugboat?
If the tugboat has enough fuel capacity to make the trip, you can cross the Atlantic. Most, however, do not carry enough fuel for the journey. The size of the tug matters as well—you'll want something capable of handling offshore conditions and any amount of wind or wave that you might encounter. Many tugs are coastal cruisers that are not really designed to take such a voyage.