If your boat is looking a little tired, you might think a fresh coat of gel coat or paint will spruce it up a bit. But re-gel coating a boat is no small job—it usually involves spraying the finish after removing all of the fixtures and preparing and fairing the surface.
The good news is that many boats can be restored to their factory-new shine by simply compounding and waxing the existing gel coat.
But if the relatively soft surface has deteriorated and worn away, you'll need to either paint or re-Gelcoat the boat. So how much does it cost to gelcoat a boat? The answer probably won't surprise you—quite a lot!
Table of Contents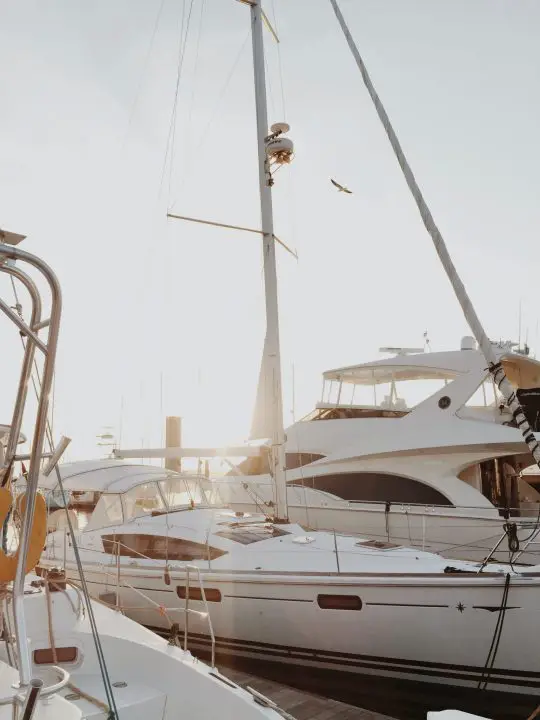 What Is Gel Coat?
Gel coat is the outer surface that you see on a fiberglass boat. It is usually white, although sometimes it is colored on the sides of a boat's hull, and some manufacturers use a beige color instead of bright white. Gel coat is a smooth, waxy surface that protects the fiberglass underneath from UV sun damage and water.
Gel coat is a two-part polyester resin that is applied inside the mold when the manufacturer makes the boat. As a result, it makes fiberglass surfaces perfectly smooth, and everything on the boat is attached on top to it.
Gel coat lasts a very long time, but it doesn't last forever. The sun eats away at it over the years, and if not properly cared for, it can start to absorb dirt, grime, and salt. It can be restored by compounding, but that will eventually wear down the thickness of the gel coat until not much is left.
When the gel coat gets thin, and the fiberglass is showing through, something will have to be done to protect the boat. At that point, you can either re-gelcoat the boat, or you can have it painted.
Don't Confuse Gel Coat With Bottom Paint!
One common misconception is that gel coat is waterproof and will protect the hull of a boat stored in the water. Unfortunately, this is not the case.
Boats left in the water, like liveaboard sailboats or powerboats, need to have several protective coatings applied to their bottoms. They first need a barrier coat, which is completely waterproof and keeps water out of the fiberglass boat. When water gets inside the laminate, it can cause osmotic blistering.
Secondly, a coat of bottom paint must be applied to reduce the growth of marine life and algae on the boat's bottom. Depending on the temperature and nutrient levels in the water, a boat's bottom can get severely fouled in as little as a month. Growth on the bottom of a boat causes increased drag and resistance, which will slow you down and cause your engine to overheat. Growth in propellers and running gear can significantly reduce their effectiveness.
Even with good anti-fouling bottom paint, boat bottoms need to be cleaned regularly by a diver to knock off all that nasty growth. The bottom paint prevents some growth and makes the bottom of the boat easy to clean. Allowing bare gelcoat to become fouled with growth will be very difficult to clean off and could permanently damage the boat.
The only boats that can get away without bottom paint are those stored on trailers or lifts out of the water and washed clean after every outing.
How Is Gelcoat Different Than Topside Paint?
Wooden boats and some fiberglass boats have paint instead of gelcoat. Compared to paint finishes, gel coat is higher gloss and much harder. While it can be scratched and scuffed, it can easily last 20 or 30 years if well cared for. Most paint jobs struggle to last ten years, and many last less than that.
Gelcoat is a thicker, three-dimensional coating compared to the thin applications of paint. That means that if you scratch or gouge gelcoat, you can usually patch it will a gelcoat repair kit.
The big problem with making minor repairs to the gelcoat is getting it to look right. Gelcoat fades over time, so new patches must be color-matched to blend in perfectly. The readily-available gelcoat kits are usually available in buff white and white. You can also get color kits and mix your hue for colored hulls.
Prices pulled from the Amazon Product Advertising API on:
Product prices and availability are accurate as of the date/time indicated and are subject to change. Any price and availability information displayed on [relevant Amazon Site(s), as applicable] at the time of purchase will apply to the purchase of this product.
Professionals have all the tools and colors down to spray repairs and blend them in with the existing gelcoat. When they're done, they'll look like new.
While the project isn't beyond the abilities of the average DIY boat owner, most people struggle to get the gelcoat to look just right. There's an art to it, and it's one of the few jobs where hiring a professional will consistently provide you with better results than you can do on your own.
How to Restore Tired Gelcoat
The first sign that the gel coat on your boat is beginning to fade is when it becomes chalky and has a matte finish. If water no longer beads up, all the wax is gone, and the surface is oxidizing. The sooner you catch this, the longer you can keep your gelcoat looking new.
Wax is crucial for your boat because it helps keep grime and water out of the gelcoat. Once the wax is gone, gelcoat absorbs quite a bit of gunk. Tired gel coat can even retain enough moisture to start to get moldy and mildewed. It can also begin chipping and breaking like a cracked eggshell.
Start restoring your gel coat by washing the boat thoroughly and removing all stains from the gelcoat, including any mildew spots. Use oxalic acid cleaners for stains. Regular boat soap works great for general cleaning. Rinse it clean with lots of fresh water.
If your rinse water comes off white, that means that the gelcoat has oxidized and is deteriorating. The only way to restore it is to remove the oxidization layer, polish, and wax it. This can be a lengthy process, but it can take a tired-looking boat and make it gleam like it just left the factory.
It's not possible to do the job without a strong power buffer. The first step is to get the oxidization off with a good quality compound. Different grits are sold for different purposes. If your gelcoat is severely oxidized, you'll need to use a restoring compound or perhaps wet sand the entire surface.
After compounding has restored the shine, the boat hull is protected with high-quality paste wax. That should hold you over for another six months to a year, but applying wax (and possibly compounding) is an annual task at a minimum.
When Is There No Other Option Than Re-Gel Coating a Boat?
If the gelcoat has worn thin or been damaged by something, there are few choices. If it's a widespread problem and cannot be remedied by localized repairs or spraying, re-gel coating a boat is the only option to get it back to its factory finish.
Large-scale re-gel coating of an entire boat cost is hard to estimate. It's nearly always done by professionals with spraying equipment.
Gelcoat cures quickly and is temperamental to temperature and humidity changes. Professionals who deal with it day in and day out are familiar with the exact ratios to use and how to coat the surface just right to avoid sags and drips. Plus, they've got spraying equipment that can handle such a thick substance.
How much does it cost to re gelcoat a boat? Nearly all of your costs for a project like this are in labor, but gelcoat isn't an inexpensive substance. Most boatyards charge $100 per hour or more for skilled painters and fiberglass boat repair workers. The price of labor varies dramatically depending on where you are getting the work done. $100 per hour is on the low end, with more yachting centers in the US averaging more like $150.
But before you use that number to start calculating, don't forget to include the cost of time to prep the surface. The quality of a gelcoat job is mostly preparation. First, deck fittings and fixtures are removed, which is time-consuming. Then the entire area is sanded and faired, with any cracks or imperfections fixed along the way. The actual spraying will only take a few hours, but the preparation can mean weeks spent in the boatyard.
Suffice it to say, on a moderate-sized cruising vessel the average cost is easily $5,000 or much more to re-gelcoat the deck. But, on the other hand, the boat hull sides might be done for less with no fixtures to remove.
It is possible to reduce the cost to re-gelcoat a boat by doing much of the prep work yourself. You can even experiment with rolling and tipping to get a glossy finish without resorting to professional spray equipment.
Painting Instead of Re-Gelcoating a Boat
But when you consider the cost to re-gel coat a boat, many owners decide on painting for their refinishing. Painting is simpler and more economical. Several well-regarded types of marine paint will hold up for years and will look great. They'll provide even color and a lasting, bright finish. The two most popular brands of professional paints are Awlgrip and Imron.
Another advantage of paint is that it is much easier for the DIY boat owner to do it themselves. A majority of the cost of a paint job is preparation. If you can sand and fair the boat smoothly, chances are you can apply premium topside paint too.
Rolling and tipping is a painting technique resulting in a glossy finish that comes out very close to professional spray application. Yacht finishes are available in either one or two-part solutions. Two-part paints are more difficult to apply and much harder and will last longer.
No matter what sort of finish you choose, it's best to pick a brand and stick with its system. You do not want any adhesion or compatibility issues to pop up along the way, which can quickly ruin a lot of work and money. Furthermore, you must follow their complete instructions, including drying and curing times and the use of primers and thinners.
One final note about painting over gelcoat however. If you ever want to apply gelcoat in the future, you'll have to remove all the paint. So generally, most boaters stick with paint once they've gone down that road.
Be Finished With the Finish
Re-gel coating a boat ranks up there with the biggest boatyard projects. It's a lot more complicated than applying a coat of paint, and it's temperamental stuff that you'll want to get some practice with. It's not impossible to DIY Gelcoat projects, but only if experienced with epoxy, resins, and other fiberglass boat projects.
If you're new to boating and thinking of re-gelcoating your new boat, consult with your local boatyard to pin down the scope of the project and average cost before you dive in.
FAQs (Frequently Asked Questions)
How much does it cost to paint and gelcoat a boat?
Paint and gelcoat are two different products used as boat finishes. Gelcoat is the two-part resin applied to boats inside their molds when they are built. Nearly all boats come with gelcoat. However, when the gelcoat wears out, some owners have it reapplied, and others opt for paint. Regardless of which one you choose, how much to gelcoat a boat? It's a big job that can cost thousands of dollars. Most yards will charge a flat rate based on the square footage of the surface and then bill hourly for all the prep work required to get ready to paint or gelcoat. The rate can be wildly different depending on where you are in the world. 
How much does it cost to gelcoat the bottom of a boat?
Unless the boat is going to be out of the water most of the time, there is not much point in reapplying gelcoat to the bottom of the boat. A better solution would be an epoxy barrier coat to keep the fiberglass safe from osmotic blistering and then an anti-fouling bottom paint to protect the boat hull from marine growth. Gelcoat is used to protect the fiberglass from sunlight and UV damage and therefore is not necessary under the waterline. If the boat does not stay in the water for long periods, you can apply gelcoat as you would to the topsides.
How much does it cost to resurface a boat?
Just like getting a car painted, it can be tough to estimate how much it cost to gel coat a boat. Boat finishes require a lot of prep work to get them cleaned up and ready for paint or gelcoat. As a result, much of the cost is spent on preparation and skilled labor—and every job is entirely unique. Most boatyards will quote an estimate based on the square footage to be resurfaced, plus an hourly rate for any prep work. This can easily cost $5,000 or more for a typical cruising or liveaboard vessel.