Who doesn't want to travel and enjoy life a little more once they retire? Isn't that why we retire? Boat life appeals to many retirees all over the world. In the UK, one type of retirement plan has been gaining popularity: life on a narrowboat. 
Narrowboats are unique British canal boats that have an entire culture surrounding them. Many people in the community live aboard full-time, and the low costs appeal to many looking for a new lifestyle for their golden years. 
Here's a look at narrowboat life in the UK. Is it a good way to save money? Is it right for everyone? Is it easier than sailboat life?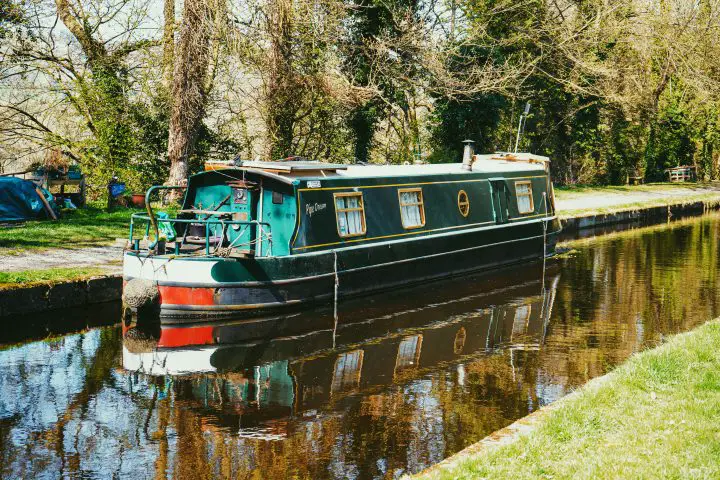 Table of Contents
What Is a Narrowboat?
A narrowboat is a regional name for a canal boat in the UK. It's narrow because some parts of the UK canal system are quite old, and a vessel with less than a 7-foot beam and under 56 feet long is the ideal size. 
A seven-foot beam is narrow by any boat standard. For example, most sailboats and motorboats of that size would have much roomier beams of 16 feet or more. Even standard motorcoaches and vans have wider widths. The result is that while narrowboats can be quite long, they feel cramped yet cozy inside. 
Most narrowboats have been made very comfortable to live on thanks to updated interiors with beautiful wood paneling, wood stoves, and updated appliances. Browse YouTube or YachtWorld, and you'll find tons of amazing narrowboat layouts—it's easy to see the appeal of these tiny homes.
Narrowboats are a very specific class of vessel that combines the UK canal boat and a houseboat. Their long cabins house everything you need: bedroom, bathroom, kitchen, and living room. Small diesel engines usually power them and have an exterior aft cockpit with tiller steering. Most are built of steel from modified barge hulls.
Narrowboat vs. Canal Boat
In the UK, narrowboat and canal boat are interchangeable terms. Of course, there's some nuance since plenty of canal boats in the country are more than the 7-foot width of a true narrow boat.
The term canal boat, however, is used worldwide to describe a boat built for inland canals. In France, for example, canal boats are very common—vacation rentals from Le Boat range from 3 to 4.5 meters (10 to 15 feet) wide.
So, while boat terms mean approximately the same thing, narrowboats are specifically UK canal boats. 
Where Can You Take a Narrowboat in the UK?
The UK's canal network dates back hundreds of years and was initially conceived for moving goods from town to town. Over the years, canal commerce was slowly replaced by rail and trucking, so only a few of the biggest canals are still used for commercial purposes.
Instead of falling into disrepair and fading away, however, a new use for the canals became apparent: recreation. Several companies offer canal boat rentals, and many people own a canal boat and travel the country. 
There are over 4,700 miles of canals in the UK, and 2,700 miles of those are connected to the main system. Most of these connected canals are part of a network that joins the cities of Bristol and London, Liverpool and Goole, and Lancaster and Ripon. These systems include river estuaries, broad canals, and narrow canals.
The canal system includes a bunch of fascinating engineering feats, including aqueducts, boat lifts, inclined planes, and locks. Many of the locks on the UK system are self-service and manually activated. 
Traveling by canal boat in the UK requires having a mooring, be it long-term or short-term. As with other types of boating, there are a limited number of mooring spots—especially residential moorings, and they may cost more than you expect. Costs vary depending on region. Narrowboats are also licensed by the Canal and River Trust (CRT), and a home residential mooring must be declared. If you don't have one, you're considered a "continuous cruiser," you are monitored to ensure you keep moving.
Is Narrowboating Good For Retirement?
Many people dream of traveling more and living more adventurously once they retire. Many are drawn to the warmer climates of the Mediterranean or Caribbean, and sailing off into the sunset is on many people's bucket lists. But you don't have to travel so far to enjoy boat life and traveling by water—narrowboating is an accessible alternative that is, in many ways, much easier than setting out on the sea.
Can You Live Permanently on a Canal Boat?
Many folks live full-time on their narrowboats and love the experience. But you must do a lot of research, understand the cons that come with the pros, and fully educate yourself on the rules that apply to residential narrowboaters.
If you enjoy the narrowboat lifestyle and living on a boat full time, chances are the hassles will be worth it. If you're feeling a little pressed down by the effort of living on a boat, the hassles will pile up quickly, and you'll be aggravated and unhappy in no time.
No matter what type of boat is in question, most people do not live aboard for the long term. Just like with sailing or cruising adventures, narrowboaters tend to liveaboard for a few years while traveling and maybe a few more years at a residential mooring. After that, most want to sell and move on to the next adventure.
The Narrowboat Lifestyle—Is It For You?
Retirement living on a narrowboat, therefore, is a mixed bag. If you're looking for a few years of travel and adventure, and you're up for the challenges that come with the fun, it could be the ticket. If, however, you're looking for less expensive accommodation than land and just want to relax in peace, it might not be the right choice.
Here are some of the pros and cons of the narrowboat life. Some of these are general pros and cons that come with any kind of boating, like living on a sailboat. Others are more specific to life on the UK waterways.
Narrowboat Pros
Cheaper to purchase a narrowboat than a land house or flat
Nomadic lifestyle gives you the freedom to choose your adventure—cruise and travel or stick close to dry land by living on a boat at a marina
Domestic/UK alternative to European travel options with Brexit worries
An excellent way to make new friends and be part of a close-knit community of boaters
Cons of Narrowboating
Limited availability of residential moorings and vague—but enforced—rules for continuous cruisers
Mobility issues as you get older—getting on and off the boat, and moving around in general, is much harder on any boat
Family and support systems may be farther away when traveling
More exposure to the weather than when living in a regular house
Greater potential for accidents—boat life can be a hard life
Boat living doesn't suit everyone — cramped spaces, things breaking, engine maintenance, daily hassles, and everything takes extra effort, etc.
Winter heating and condensation problems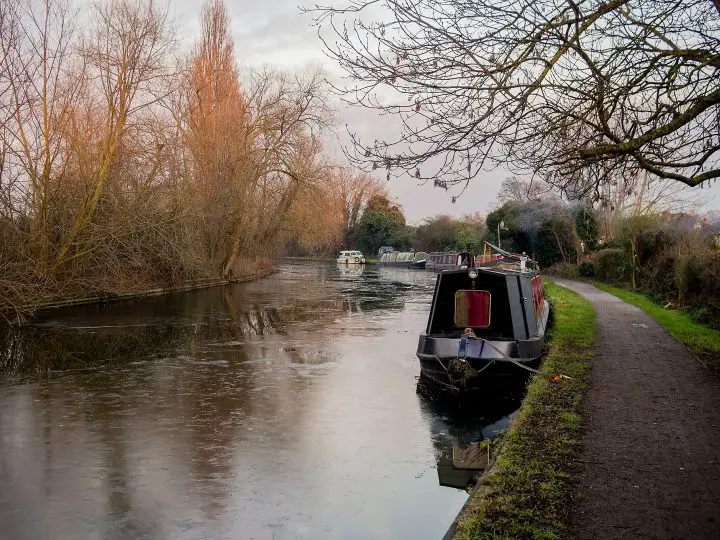 Renting a Canal Boat Should Be Your First Step
If you're intrigued about what it's like to live life on a narrowboat, your next step is easy. Rent on for a week or more! Companies like Waterways Holidays offer hire a narrowboat service all over the UK, with destinations and routes to suit anyone. This small investment can save you a fortune in heartache later on.
And while you can hardly get a feel for everything that could go right or wrong in a week, it's still a great way to sample the lifestyle and see if it's for you.
Narrowboat Retirement FAQs
What attracts people to narrowboating?
Narrowboating offers a way to travel and see the countryside unlike any other. Imagine it somewhere between living on a boat by the sea and van life or RV-ing (caravaning). The navigation is easy, the routes pass through rural towns and countryside, and there's plenty of solitude and opportunities for adventure. 
How much does it cost to live on a narrowboat UK?
It's generally said that narrowboat living is cheaper than land life. Older narrowboats in good condition can be had for less than $75,000US/£50,000. Utility and fuel costs are also very low. That said, there are still many costs associated with the lifestyle, like long-term moorings. 
How much does it cost to rent a narrowboat in England?
Hiring a boat for one week costs between £1000 and 1500 or $1250–1900US. Several companies hire out narrowboats and let you explore the UK canal system. Waterways Holidays is one. Their site lets you explore prices and availability, which depend on your party's size, the boat's size, and where you want to tour.