The Great Loop is one of North America's best long-term boating adventures and maybe even the entire world. This 6,000-plus-mile journey is the boater's equivalent to a cross-country RV road trip. You see the countryside from a new perspective while transiting seaways, canals, and rivers at a leisurely pace. 
Here's a look at the best boats to take you on the journey.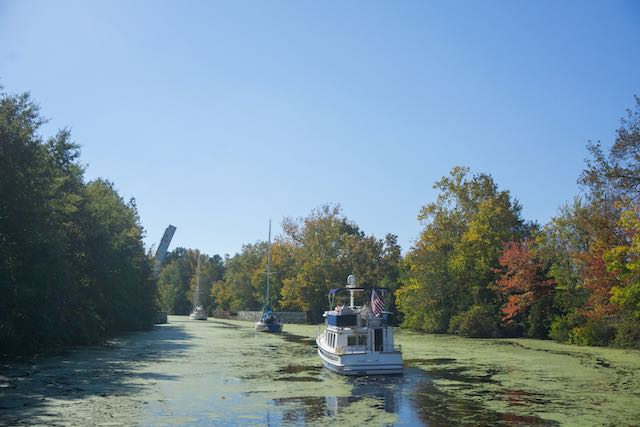 Table of Contents
What Is the Great Loop?
The Great Loop is an adventure for recreational boaters that takes you on a giant circuit of the eastern half of the United States and Canada. It's the joining of many smaller waterways, open water stretches, rivers, and canals to make an entire journey that's about 6,000 nautical miles long. 
Where you begin and end your Great Loop journey usually depends on where you buy or keep your vessel. Here's an overview using Norfolk, Virginia, as the starting point.
Norfolk northbound through Chesapeake Bay, through the C&D Canal, and seaward on Delaware Bay to Cape May, New Jersey.
Northbound along the Atlantic coast of New Jersey to New York harbor.
North on the Hudson River to upstate New York. From here, you have several choices depending on how one wants to transit the Great Lakes and how much of the Canadian Heritage Canals one would like to cruise.
Westbound through the Erie Canal.
West through the Great Lakes to Chicago.
South from Chicago through the inland rivers to the Gulf Coast.
Eastbound along the Gulf Coast to Florida, then southbound on the Gulf Intracoastal Waterway.
Either through the Okeechobee Waterway in south Florida or around the tip of the state, through the Florida Keys.
North from south Florida on the Atlantic Intracoastal Waterway (ICW) back to Norfolk.
What Is Involved with the Great Loop Boating Adventure?
There are many choices to make the Great Loop your own adventure. Loopers usually put between 5,000 and 7,000 miles under their keels while making the trip. However, it's not a race, and there are plenty of opportunities to make side trips and adventures off the main route.
For example, the Downeast Loop is an extension that adds Maine, Nova Scotia, and Prince Edwards Island. The St. Lawrence Seaway will then take you west to the Great Lakes by way of Montreal. Another good example is extending your trip on the south end by adding an adventure in the Islands of The Bahamas.
For the most part, the Great Loop is a motorboat adventure. There are many open water spaces where you might sail, but it's often constrained to a narrow navigable channel, making sailing much less appealing. In other words, even sailboats wind up motoring for most of the trip. 
Furthermore, the trip transits canals and waterways with many bridge spans, both fixed and opening. The fewer bridges you have to have open for you, the easier your trip. Many fixed bridges mean you'll have to take the mast off for long sections of the trip.
The trip spans many rural areas, interspersed with small towns and a handful of big cities. Many nights you'll be anchored or docked in the middle of nowhere. Other times, you'll have a new city to explore and check out. 
Your boat should suit both styles. You will want the best family boat that is comfortable to live on, with sleeping, bathroom, and cooking facilities that you and your crew find comfortable. Yes, you can do the Loop in an open go-fast boat–but you will miss what many consider the best parts of the Loop. 
What Features Make Good Looper Boats?
So, how do you ever choose the right boat for the Loop? Here are some thoughts on what features make the best Looper boats. 
Great Loop Size Limits
The limits for your perfect Looper boat will be based on its physical dimensions. According to the Loop Cruiser's Association, the average looper boat is 39.5 feet long, with more than half between 35 and 45 feet. But this doesn't tell the whole story, as you must consider each vessel's dimension.
Air Draft (Bridge Clearance or Height Above Water)
The most limiting fixture on the Loop is a fixed railroad bridge in Chicago that will block any vessel taller than 19 feet, 6 inches. 
But, if you want to do the entire Erie Canal, two bridges offer only 15 feet, 6 inches. Another bridge in downtown Chicago is 17 feet. So, the Loop has lower limits, but most can be gone around by bigger boats. 
Draft
Four feet or less of draft is ideal and will mean the fewest problems–although caution is still warranted in many areas. Draft is how deep the hull sits in the water and dictates the minimum water depth for a boat. Any deeper than that, and you will need to be extra cautious. Boats with six-foot drafts have reportedly done it, but few recommend it.
Beam
The width of your boat is usually limited to about 16 feet due only to marina slips. 
Catamarans with 23 feet or less can make the trip but require T-heads at most marinas. As a result, finding slips on this trip will be difficult, and finding a place to haul out for boat maintenance is even harder. In addition, there are sections where you'll need to take a slip occasionally, so anchoring isn't always an option. 
Length
There's no limit to length. Some yachts up to 70 feet have made the journey, but it's a tight fit and most boats that long won't make it under the bridges. Most Looper boats are under 50 feet, after all, for many reasons.
Comfortable Cabin Aboard and Long-Term Living Space
Think of the Great Loop as an RV adventure where you're taking your home with you. To that end, realize you'll be spending a lot of time living aboard your boat. Therefore, the boat should be comfortable, with indoor and outdoor living space and all the amenities you'd want or need. 
Here's a list of things most people want their boat equipped with when they set off on the Great Loop. Many of these are similar to the considerations people make when living on a sailboat, but some are quite different.
A comfortable bed, usually an "island queen" (not a v-berth)
A large galley (kitchen) with plenty of cooking space and the appliances they're used to (fridge, microwave, coffee maker, stove, oven, etc.)
A comfortable living room (salon) that has a good view, lots of light, and plenty of ventilation
An outdoor patio (cockpit) area for open-air dining, socializing, and relaxing
A descent-sized bathroom area with a separate shower
Air conditioning and heating (which may require a generator if you plan to anchor overnight extensively)
Inside and outside helm positions (upper deck on a trawler)
Tankage
Tankage refers to your boat's storage space for liquids–water, fuel, and sewage. The larger the tanks are, the longer you can stay away from marinas for refills or pump-outs. 
The Loop has several long stretches through the inland river system that go hundreds of miles between facilities and services. Therefore, your boat should have a fuel range of at least 450 nautical miles and hold enough water for at least a week. 
Engine Choices: Gas vs. Diesel, Single vs. Twin
Some river stretches have fewer gasoline sellers, meaning gas-powered boats need a greater range than diesel boats. They'll need about 450 miles of range, whereas diesel boats can get by with less.
Beyond that, gas and diesel engines will both work fine on the Loop. Generally, the most popular trawlers and boats of this size come with diesels, which are praised for their longevity and reliable, simple operation. In addition, diesel is safer on a boat because it is less explosive, which could lower your insurance premiums.
Likewise, having a single or twin screw boat is a matter of preference. Single-engine boats can make the journey without problems, but two engines give you redundancy should something go wrong with one and better maneuverability in tight spaces. But, of course, operating and maintenance costs are higher with two engines.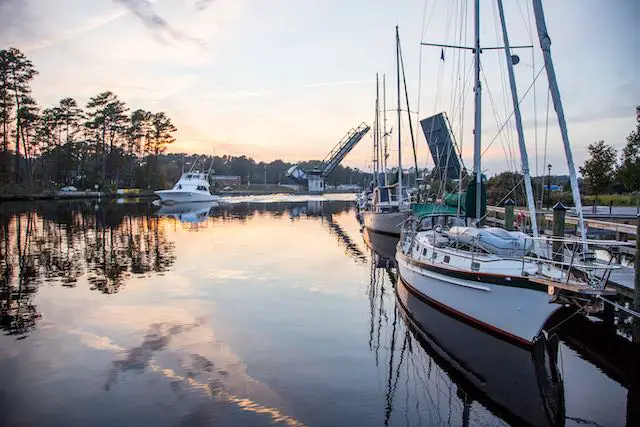 Six Best Great Loop Boat Options By Type of Boat
There are too many makes and models of boats in the world for anyone to make a specific recommendation here. Instead, here is a list of six types of boats you'll find doing the Loop and what makes them well suited for this particular adventure. 
Remember, this is anything but an all-inclusive list. There are hundreds of boat makes out there, hundreds more that aren't built anymore but can be bought used, and even more when you include custom and one-off designs. These lists are provided simply as a starting point for your research!
Classic Trawlers
The classic trawler is basically the power version of a sailboat–slow-moving, heavy, and economical to operate. They have been around forever; tons were built in the 1970s and 1980s, many in Taiwan. That means that the design is time-tested–they are good-looking and seaworthy. Plus, you can readily find them on the used market for reasonable prices. Most have a maximum speed of about 10 knots.
The popular cruising blog Scho and Jo have set out and completed the Loop on their Albin trawler. Check out their Great Loop expenses for information on the adventure and how it's done. For more about their boat, check out their boat tour.
Examples of Classic Trawlers:
Fast Trawlers and Downeasts
The fast trawler is a classic one with a modern hull. Thanks to their improved hull design, they're capable of faster speeds but use a lot of gas going fast. The best thing about them is probably the simple fact that they can do both comfortably–go slowly and economically or cruise faster (about 15 knots) while still giving a nice ride.
Examples of Fast Trawlers and Downeast Boats: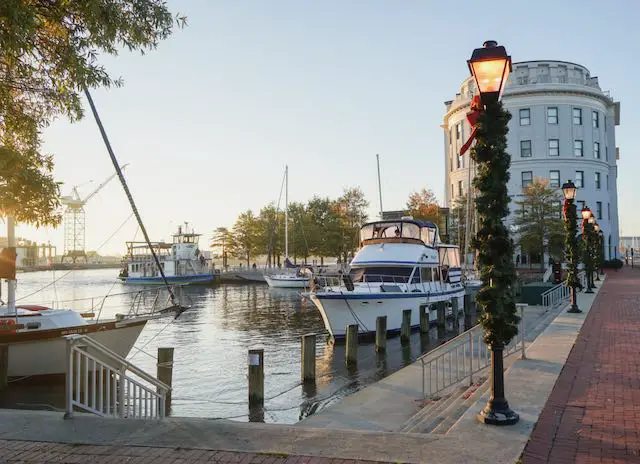 Tug Style Trawlers
What was once a unique niche in the boating world has caught on, and quite a few companies are now making tugboat-looking trawlers. They're sportier than the traditional trawler and have an aesthetic that looks right at home on the rivers of the Great Loop.
Examples of Tugs Include: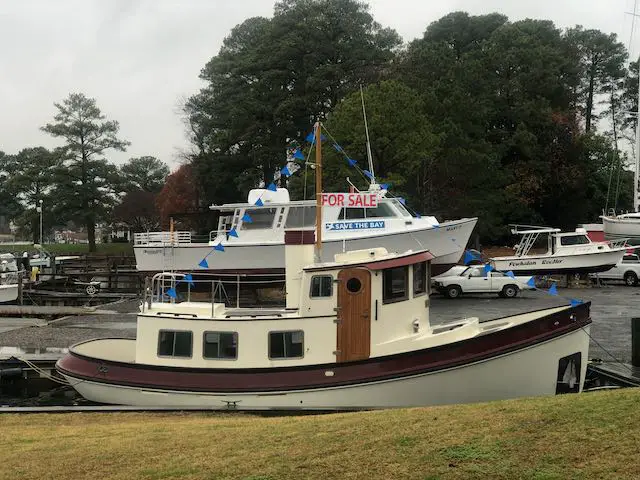 Cruisers and Motor Yachts
A cruiser is built on a planing hull to go faster. That means more miles per day, fewer nights at anchor, and more fuel consumption while doing it. 
There are many sizes and styles that are appropriate for the Loop, so the key is to find the layout that is most comfortable for you. The two most popular styles include express cruisers and aft-cabin cruisers. 
Examples of cruisers and motor yachts include:
Sea Ray (many of the best models for the Loop are no longer made)
Bayliner Motoryachts (no longer built)
Hatteras Cruisers (no longer built)
Power Catamarans
Power catamarans are popular for the same reason that sail cats are. Thanks to their increased interior volume, two hulls make for a more comfortable living space. Your beam should be less than 23 feet, as the Trent Severn Waterway in Canada limits this. Still, that leaves several interesting power cats that would make fantastic Loop boats. 
Examples of power cats that would be good when boating the Great Loop:
The Boat You've Got
Finally, it has to be mentioned that the best boat is always the boat you've got. Lin and Larry Pardey once famously said, "Go small, and go now." If the Loop is on your bucket list, it's better to find a boat you can get your hands on that will suit you well enough to travel and enjoy the ride. Don't spend years saving up for a "maybe adventure."
Examples of unconventional Looper boats:
Jet skis that camp along the way
Open runabouts, sport boats, and fishing boats
Sailboats–just take the mast off and motor like a trawler!
Trailerable boats that do it in sections–a trailerable boat lets you do a section and then tow the boat to the next section to cruise at your leisure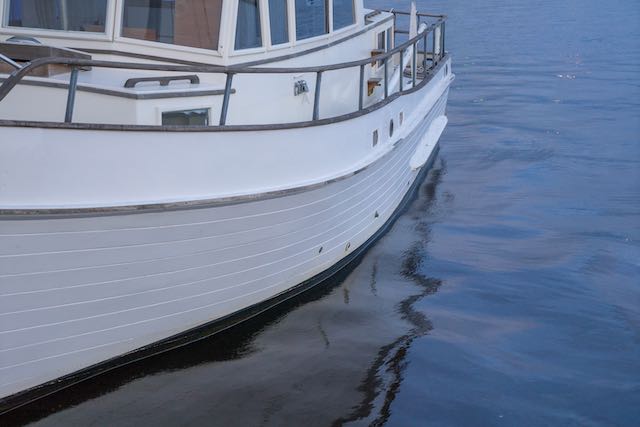 Which Is Your Best Boat for the Great Loop?
Hopefully, this article has provided some ideas and examples of what your best Great Loop boat might be. Beyond a few hard limitations, it's a matter of taste and style. There's no right or wrong answer–you'll often see many unexpected vessels doing the Loop. 
If you're considering the Loop, check out the America's Great Loop Cruisers Association for more details.
Best Boat for the Great Loop FAQs
What size boat is best for the Great Loop?
There's no set size limit for length, but all boats looking to complete the Loop must pass under a low fixed bridge in the Chicago area. If your boat is more than 19 feet, 6 inches above the water, thou shall not pass.
What is the largest boat to complete the Great Loop?
Some people have reported that boats as long as 70 feet have completed the Loop. But taking a vessel of this size is not recommended, as you must navigate numerous tight locks and low bridges along the route. Most Loopers choose boats less than 50 feet long.
What is the smallest recommended boat for the Great Loop?
The smallest boat is the one that you're comfortable on. Jet skis have completed the Loop, but they're limited to staying in hotels or camping. It's best to have a boat that will be comfortable to live on for the better part of a year. Most people want a boat at least 35 feet long to do that.
What is the average time to complete the Great Loop?
Most cruisers take about a year to do the Loop. Several factors affect this plan, and it's always an individual choice. Generally, you'll be northbound in the spring to be westbound through the Great Lakes in the summer. Then you "fall down" the rivers in the autumn so that you can over-winter in Florida. But many people take breaks, leave their boats in storage, and complete the Loop in sections. Furthermore, many folks want to take their time and enjoy the scenery. It's not a race, after all.