When nature calls, you don't want to be out of sight of land. 
Unless you're prepared, of course. Many boats come equipped with facilities. You know what we're talking about – bathroom, restroom, loo, WC, lavatory, powder room, toilet, potty – or head, if you want to sound nautical. 
But what about open-deck boats? Do pontoon boats have bathrooms? Are there any models of pontoon boat with bathroom and kitchen out there? Let's take a look at your opinions when nature calls and you're out on the water.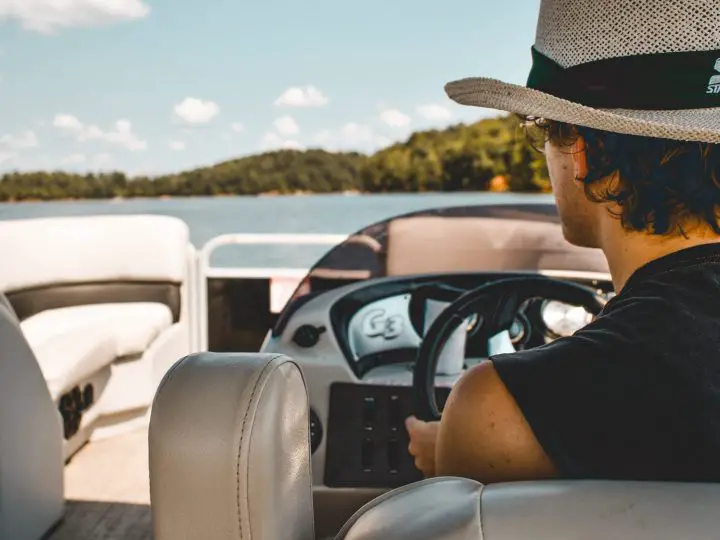 Table of Contents
Why Do You Want a Pontoon with Bathroom?
A majority of small, open deck boats like pontoons do not have any enclosed space at all. This keeps the boat smaller, cheaper, and easier to take care of. 
And most of us don't go out on the boat for hours at a time. Usually, we hop on for an hour or two of cruising, then head to the dock-and-dine for lunch or head back home for sundowners. 
Are pontoons with bathrooms necessary? The answer entirely depends on how you use the boat and what sort of access you have to other facilities. For example, are you never more than 15 minutes from a dock with a five-star restroom? Or do you head out into the boondocks, fishing and sandbar hopping into the wee hours? 
The Problem with Using Nature's Facilities
And, of course, there's an important element of personal preference. Are you happy to raise the water level in the lake, or will your shy bladder force you to hold it all the way home?
In addition to personal preference, boaters should consider the legal and environmental concerns of disposing of liquid waste. It is illegal to dump sewage overboard in most inland waters. While men may find it easy to use nature's facilities, women usually prefer more privacy and real facilities. 
Even if it isn't illegal to use nature's facilities, consider your swimming enjoyment and the enjoyment of those around you. It is usually hard to get privacy when using nature's facilities. In addition, using nature's facilities can increase the likelihood of falling overboard. 
If you are using your boat for more than a few hours or simply like the privacy and convenience of a restroom on board, consider looking at a pontoon boat with bathroom. 
Three Types of Pontoon Boats with Bathroom
Let's say you've decided that you need a pontoon boat with toilet on board. You have three choices. You can go all and find a cabin pontoon boat with a proper head. Alternatively, you might be able to find a normal open pontoon but with a small porta-potty installed. Finally, if you've already got a pontoon or small boat, it is possible to add your own. 
Cabin Pontoon Boat – The Ultimate Party Barge
If you're considering overnighting on your pontoon, you want to look at those with a cabin. This type of pontoon boat features much more flexibility than an open boat will—it will really make the transition from a day boat into a mobile apartment on the water. 
When you have conveniences like sleeping, cooking, and restroom facilities, you can enjoy long weekends on the water and feel like you are getting away from it all. 
Of course, pontoon boat cabins come in a wide variety of shapes and sizes. Some are little more than cuddy cabins, which are great for giving you a place to change, a spot out of the sun or rain, and some privacy to use a porta-potty. Some call them the hybrid recreational vessel.  
On the other end of the spectrum, however, are those luxurious condos on the lake that have all the amenities of home. This type of luxury pontoon boat is common in many parts of the world, where folks like to take weekend trips and spend all of their time on the water in an apartment floating on the lake. 
A pontoon boat with restroom like this will be much like your home facilities. You might even have a shower stall or bathtub! You'll have running water, a kitchen, sleeping accommodations, and a toilet. The head itself will be plumbed and require you to get a pump-out at the marina to empty it.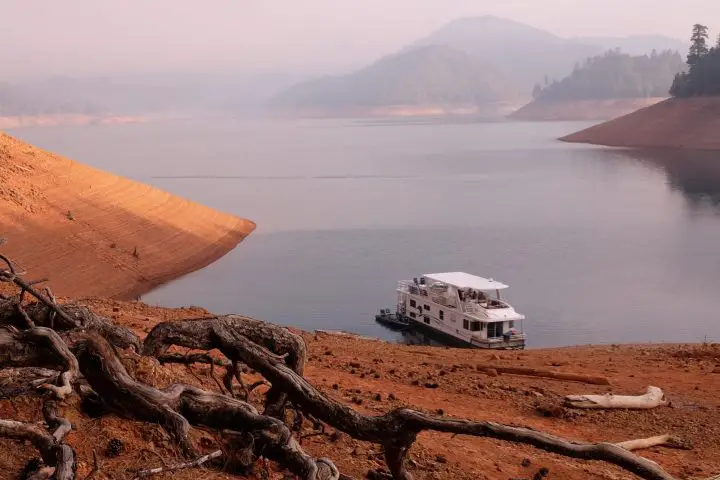 Open-Deck Pontoon Boats with Portable Toilets
Such large boats aren't the best pontoon boats for most people. A couple of pontoons on the market come equipped with small sheltered areas where you can tuck a portable potty. This doesn't take up much space, but it also doesn't provide the most comfortable using experience. 
Pontoons are built on flat decks, so any enclosed area will take up a lot of space. Usually, this feature is saved for the bigger, fancier models. Sometimes the cuddy is cleverly disguised, like under the fiberglass dash panels Sometimes the toilet compartment is just a seat that flips up to hide it. In these cases, you'll still need to work out a collapsable changing room to make it a secluded bathroom.
This setup is pretty typical on boats other than pontoons, like fiberglass deck and fishing boats. But on those boats, a small cuddy cabin can extend below decks and down into the hull. That will provide enough room to make it more useful. 
DIY Pontoon with Toilet
On small pontoons, the only way to get a toilet onboard is to sit it next to the other chairs. But, of course, you might not want to use it out in the open. So the next task would be to set up some privacy curtains so that you can powder your nose in peace.
Marine Sanitation Devices – The Law and Your Pontoon Boat Head
Believe it or not, toilets on boats, whether pontoon boats with bathrooms or sailboats with proper heads are subject to a slew of Federal, State, and local laws. But, for the most part, every effort is made to ensure that waste is not discharged into the water. 
The US Coast Guard classifies boat toilets as Marine Sanitation Devices (MSDs). The USCG recognizes three legal types of MSD. Only the third type, the Class 3, is common on small vessels like pontoons with bathroom.
Class 1 MSD – A treatment system that can sometimes be pumped overboard.
Class 2 MSD – A treatment system commonly found on commercial vessels.
Class 3 MSD – Untreated waste is held in a holding tank, and pumped out back shore at the marina.
The story's moral is that it is illegal–practically everywhere–to dump sewage overboard. This is especially true in the inland and nearshore waters, where you might take your pontoon with bathroom.
If you're in the ocean, in some cases, you might be allowed to dump your holding tank if you are more than three nautical miles offshore. But even then, you need to ensure that you are not in a special preservation area, marine sanctuary, or any other type of no-discharge zone.
Since you can't dump it overboard, knowing how to empty your toilet legally is your priority. If you have a portable toilet pontoon boat with bathroom, you simply carry the tank home with you and pour it into your home toilet. Alternatively, many marinas, boat ramps, and campgrounds have porta-potty dump stations where you can empty them.
On the other hand, if you've got a boat with a proper Class 3 MSD holding tank built in, you'll have to find a marine pump-out station. Many marinas and fuel docks have these, but sometimes you have to hunt around. They are free in some areas, but in some places, they cost $20 or more per pump out. 
The pump out toilet is exactly what it sounds like—an enormous pump that attaches to your holding tank. The waste is pumped ashore and into the shoreside sewage system. 
To use a pump-out station, you'll usually pull up to the fuel dock. Request a pump-out, and the dockmaster will assist you. You'll want to wear gloves for this operation. Usually, you will be handed a long, flexible hose. Unscrew your waste tank fitting. Attach the pump-out hose. The dockmaster will turn on the hose. You'll watch the waste through a clear inspection port on the hose. When everything is pumped out, you'll rinse the hose in freshwater before handing it back to the dockmaster. 
Make a Pontoon Boat Bathroom With a Portable Toilet
So, you don't have a pontoon boat with head, but you want one. How do you go about setting it up? 
Portable Toilets
The first step is to figure out what facilities you want to have on board. The easiest thing to do is to add a camp toilet.
Camping toilets come in many types, from a toilet seat that fits on a standard five-gallon bucket to elaborate electric systems that bag the waste for you. 
The happy medium is the porta-potty. These are used on many small boats—not just pontoons – and they are easy to use, empty, and clean. 
The toilet is self-contained with two tanks – one fresh water tank for flushing and one waste tank. The top of the toilet looks very much like a standard toilet you'd have at home. 
To use these toilets, you usually open a valve or door that allows the toilet to empty into the holding tank. The fresh water can be pumped to clean the bowl if needed. That's it!
The holding tank comes off and is designed to be carried without sloshing or leaking. There is usually a long, no-spill spout installed to make emptying the tank into a home toilet a no-stress event. 
Porta Potti 92306 White Thetford Corp
VERSATILITY: Award-winning, top-of-the-line portable toilet, suited for RVs, boats, trucks, vans, healthcare, camping and even off-the-grid lifestyle
Prices pulled from the Amazon Product Advertising API on:
Product prices and availability are accurate as of the date/time indicated and are subject to change. Any price and availability information displayed on [relevant Amazon Site(s), as applicable] at the time of purchase will apply to the purchase of this product.
Pontoon Boat Toilet Enclosure or Privacy Curtains
The last step to setting up your pontoon boat bathroom is figuring out a little privacy. Again, you don't have to reinvent the wheel here – campers have figured this stuff out many times over. What you need is a collapsible changing room.
If you have a bimini or hardtop on your boat, you might be able to work out an enclosure using nothing more than a beach towel. If you want to get fancier, you can find pop-up shelters for showering online. They're designed for use at land-based campsites, but there's no reason they wouldn't work perfectly on a pontoon boat. 
The most significant consideration is simply to find something that you can either set up or take down quickly. Alternatively, you could pick something that you leave up all the time. If that's your choice, make sure you can secure it to the boat, so it doesn't fly off when you get up to speed or a sudden wind gust comes through.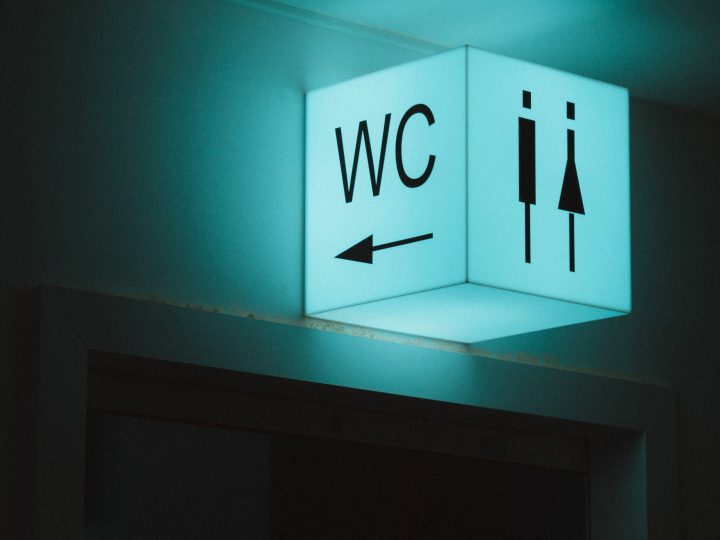 Tips for Using Portable Toilets Porta-Potties on Boats
Portable toilets like those you find in a pontoon boat bathroom can be a little intimidating if you are unfamiliar with them. However, even skippers of luxury yachts with proper heads will tell you that toilets are the number one question and problem that guests have!
But using camping and portable toilets isn't a big deal. And as the skipper, cleaning and emptying them is easy too. 
Pontoon boats aren't the only place where these porta-potties come in handy. They're great for long road trips with small children, car camping, tent camping, or just for having your own facilities where ever you go. 
Some of the benefits also include:
Inexpensive
Small and portable
Contain odors
Easy to keep clean
Don't require power or outside plumbing 
Comfortable to use
Sanitary—keeps waste out of waterways and camp areas
Types of Camp Toilet
When shopping for a portable toilet, you'll find several different types in the camping section. Not all are great as a pontoon boat head, but they will work in a pinch when nature calls. Technically and legally, from the Coast Guard's point of view, all of these are Class 3 MSDs.
Bucket toilets – as simple as it sounds, but at least it has a comfortable toilet-like seat. Many users add sawdust as an absorbent inside the bucket. 
Collapsible toilets – These fold the smallest but also take the most setup. Under the toilet seat are plastic bags that catches the – well, you get it.
Portable flushing toilets – These are the most complex and most expensive, but also the easiest to use and most sanitary. That makes them the best portable toilets for boaters. They use waste tanks, so you can empty them in any regular toilet or waste dump site.
5 Tips for Using a Porta-Potty Onboard
1. Practice the setup and emptying with water only at first.
These toilets have many moving parts, so it's best to do as much tinkering as you can before officially christening your new commode. Fit it in the space where you want to keep it and make sure there is sufficient room to move around. Also, make sure you have a stable enough platform and that the operation doesn't feel precarious.
Perhaps most importantly, familiarize yourself with the emptying process. It's straightforward, but to prevent splashing, you'll want to practice removing the waste tank from the toilet, carrying it, and then pouring it into a toilet. It's not hard, but it's nicer to practice with water!
2. Empty it every chance you get—preferably outside
Once you start using the toilet, empty it every time the opportunity presents itself. The same rule applies with pump-outs on a regular marine head. There's a limit to how much the waste tank can hold, and you do not want to find that limit. Nothing feels worse than passing up a dump station only to discover that you need one a few hours later. 
3. Use the right TP
Portable toilets are not subject to getting clogged up like regular marine heads are. Within limits, you should be able to use whatever toilet paper you want. But remember, you will be dumping the entire tank into something else—so make sure you don't overload whatever that is. This is especially true if you use a regular toilet to flush the waste tank. The waste tank will require several flushes. 
Many boaters like to keep paper separate from the toilet anyway. If this is the case, part of your separate bathroom needs to include a lidded wastebasket that's easy to use. If you like to use a lot of paper, this is how to minimize problems.
4. Find an enzyme or treatment that works for you
There are many treatments and scents available on the market to deodorize the toilet. Generally, these aren't strictly necessary if you're only using your toilet for day outings. However, they might become more critical if you're going on overnights. 
Remember to find RV, boat, or portable toilet safe chemicals. Spray fragrances like Poo-Pourri probably won't do much in a portable toilet since they require a toilet with lots of water. 
Usually, you only need to add a few drops of treatment into the empty tank with some water to get it working. This is because portable toilets have very small tanks.
Prices pulled from the Amazon Product Advertising API on:
Product prices and availability are accurate as of the date/time indicated and are subject to change. Any price and availability information displayed on [relevant Amazon Site(s), as applicable] at the time of purchase will apply to the purchase of this product.
5. Add the comforts of home
Some portables have a holder for your TP and deodorizer, which is a nice touch. However, you might want to rig something easier to access and use. Also, don't forget a way for guests to wash their hands. Hand sanitizer works in a pinch.
Everything You Ever Wanted to Know (And Probably More!) About a Pontoon Boat Bathroom
Adding a bathroom to your pontoon boat means you can stay out and enjoy your time on the water instead of rushing home every few hours. If you boat with your family, this will be a huge upgrade. 
There are multiple ways to add a restroom to your pontoon boat. You might look into upgrading to a new pontoon boat that already has facilities built-in. Or, you can look into buying a mid-range boat that has a small private restroom facility. Finally, you can add a porta-potty and privacy system. This can be as simple as a towel or pop-up tent. 
However you decide to add a bathroom to your pontoon boat, you'll love the added convenience. 
Pontoon Boat Head FAQs
Where do you poop on a pontoon boat?
An open-deck pontoon boat usually does not come with a bathroom or a "head." Instead, some owners choose to rig a portable toilet behind a privacy curtain if they're going to be out very long. 
Larger pontoon boats with cabins will have enclosed bathrooms. They'll either have a portable toilet or a proper built-in toilet, known as a Marine Sanitation Device (MSD).
What are boats with bathrooms called?
The bathroom on a boat is called the head. The name comes from the 1700s or earlier. The "head" was always located at the bow or head of the ship, where the wave action would wash off the hull when underway. 
Thankfully, this isn't the case today, as most marine toilets store the waste so that you can safely pump it out onshore. But the term has stuck, and no matter what sort of boat you are on, the bathroom is referred to as the head.