My wife and I were lucky enough to live the catamaran cruising lifestyle for four years on our Lagoon 380. We met many other cruising couples doing the same thing. Cruising catamarans are enormously popular with those looking to travel in comfort. They're spacious, easy to sail, and more comfortable to live on than any other type of vessel.
When we did our shopping, we researched our decision endlessly. We settled on the Lagoon after seeing a lot of other boats—and it wasn't our first major boat purchase. In other words, we made our decision carefully. The boat suited us, but it didn't take long to realize that there were many other choices out there than the limited number of makes and models we knew about. 
These are just a few of the things we learned along the way during our catamaran cruising sabbatical. Now that we've spent years around these boats, I'd like to point you towards some underdogs—some of the best cruising catamarans that no one ever talks about.
Table of Contents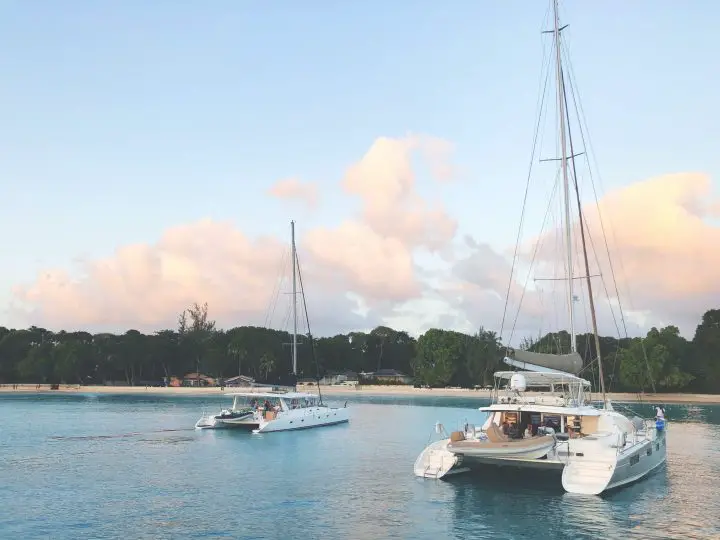 What's So Great About Cruising Cats?
Take one step onboard a well-laid out cruising cat, and you'll quickly understand the appeal. Cruising catamarans are all about living space—and not just more of it. The space is different than other boats and especially different from other types of sailboats. 
Here are just a few reasons why cruisers love catamarans.
Quality living space
More space to spread out
Lack of heel-level sailing
Higher cruise speeds
Quality Living Space
The tall bridgedeck with expansive panoramic views is unlike anything you'll find on a cruising monohull. Many monohulls are described as feeling like caves. You climb down into the cabin, which often has only a few very small portlights. 
Compare that to the wide-open spaces of a catamaran. Most have walk-through cockpits with large tables for entertaining. A sliding glass door connects to the main indoor living area, which is usually a combination kitchen and living room. It's bathed in light and fresh air, with huge windows all around. 
In short, catamarans make even landlubbers dream of traveling the oceans. Monohulls turn many people off – they are usually small, cramped, and damp. But a cat is like your own private waterfront condo that also happens to sail.
More Space and Privacy
To each side of the bridgedeck are steps going down into each hull. Each side has one or two separate private cabins. It's easy to imagine sharing the space with others—another dramatic departure from monohull living. Everyone has their own stateroom and sometimes even their own private heads on a catamaran. 
And all of those staterooms and lockers mean plenty of space to store your stuff. Moving onto a boat requires everyone to downsize, but you'll have a lot more leftover if you move onto a catamaran. 
This isn't without its problems. Keeping the weight down and the boat light is critical to getting the best performance out of a catamaran. So while you can fill every locker with your antique coin and LP record collections, should you? 
All that space has other benefits, too. Catamaran owners mount 1.5 kilowatts or more of solar panels to their boats, and some have have enough solar and battery capacity to run big power consumers. Imagine having air conditioning for those hot breezeless nights, or a nearly unlimited fresh water supply!
Lack of Heel
Monohulls heel over when the wind hits the sails. The more wind and the closer you're sailing to the wind, the more heel there. Monohulls have deep keels full of thousands of pounds of lead ballast to remain stable. They may heel, but they're not going to tip over.
Catamarans do not heel. When it comes to sailing, this has some minuses. But most people, especially non-sailors, love it. It makes the boat easier and safer to move around at sea, and it is less tiring to sit on for hours (or days) at a time.
Unfortunately, many people put too much emphasis on this fact. There are too many blogs out there that say that you can sit at a dining table drinking champagne from glass stemware in the middle of the ocean. The overall impression you get from the things you read on the internet is one of comfort all the time.
Nothing is farther from the truth, unfortunately. There are few ways to make yourself less comfortable than moving on a boat—any boat. Just because catamarans sail more or less level doesn't mean that the boat isn't getting knocked around by waves and producing an uncomfortable and tiring ride. Things still slide off of your table all the time if you're not careful.
More Speed
When compared to a similar-sized monohull, even cruising catamarans are faster. Their narrow and closely spaced hulls are not subject to the same physics of theoretical hull speed that monohulls are. Plus, they're much lighter and will move faster, especially in light winds. 
This isn't universally true, of course – and anything that mentions the words "speed" and "sailboat" in the same paragraph needs to be taken with a grain of salt. Most affordable cruising cats are still under 9-knot cruise speeds, some well under. So when compared to what a performance or racing cat can do, these boats are slow. Not as slow as monohulls, but slow nonetheless.
What's Not to Love about a Cruising Cat?
If you're sitting in your monohull reading this article, you're probably thinking that the grass seems pretty green over there in multihull land. But don't worry, there are downsides too. Every boat is a compromise, and catamarans are no exception. 
Motion at Sea
Everyone talks about the lack of heel, but one characteristic not discussed enough is the ride quality on a catamaran. Unfortunately, this is very hard to describe. Even if you could put a name on it, what one person finds comfortably might frighten the wits out of another. 
If you imagine a monohull sailing into rough seas, you might imagine the bow pitching up and down as it fights through a chop. Heading to weather, this is precisely like a catamaran.
What about when swells hit the boat on its beam? The monohull rolls dramatically from side to side, its mast carving a huge arc across the sky. The catamaran will not do this—the wave will hit one hull, and then the other, and the boat will fight it all the way. The ride will be jerky and unpredictable, and the wave's motion will be imparted into the boat twice—once for each hull.
Some people will love this because the boat remained relatively level through it all. Others will find the unpredictable motion unsettling. Some people are more prone to seasickness on catamarans than on monohulls. 
Every boat rides differently, and even the same make and model's ride will change depending on how it's loaded and the point of sail. In short, it's impossible to tell how you'll like the ride until you try it. 
Increased Costs for Everything
Surface area-wise, a catamaran is like having three boats. Imagine waxing the hull—there are two hulls, each like a separate boat—and then the enormous bridge deck connecting them. Painting the bottom for another season? You have to do that twice—once for each side. Changing the engine oil? You guessed it, two times the fun! 
What about something that shouldn't change, like replacing the rigging or sails? Actually, catamaran rigging is beefier than monohull rigging and will likely cost more. The sails are usually larger than a similar-sized monohull, too, which will cost more. 
In general, slips at marinas are harder to find and more expensive. End docks (t-heads) are almost always priced higher than inside slips. Due to the boat's width, some marinas may not be able to take you at all. Those that can are in higher demand and have higher prices. Even things like haul-outs for maintenance cost more since you'll have to find boatyards that have extra-wide Travelifts or catamaran trailers.
Build Quality Issues
First, it must be said that there are plenty of poorly-made monohulls in the world too. But multihulls seem to have more than their share of troubles. 
Since they need to be built lightweight, they are often made with as little material as possible. And then, to make them as affordable as possible, some manufacturers work on ways to make them quickly and cheaply. The companies that make a bunch of them for the charter market are experts at producing boats quickly and on budget—and in doing so, there is a sacrifice in quality.
None of these issues in themselves make a vessel unseaworthy. Instead, they increase the cost of ownership by making a longer list of repair projects for the owner and making a boat more likely to need more frequent repairs. Here are a few examples of common problems cruising sailors have with production cruising catamarans.
Fiberglass delamination and voids in the layup
Gelcoat blistering (above the waterline)
Bulkhead separation issues
Poor fit-and-finish of the joinery and furniture, resulting is squeaking and rubbing while underway
Thin hulls that are easily damaged and that flex
Leaky windows and portlights that need regular rebedding
Lack of robustness in construction—for example, lacking deck cleat backing plates or properly sealed deck hardware
Simple rigs that lack redundancy
Low-quality hardware – for example, some builders favor dezinced brass for underwater fittings – it has a five year lifespan in saltwater, unlike bronze which can last indefinitely
Be sure to research the model you are most interested in and speak to current owners. Every boat has its quirks, but some production catamarans have enough of these issues built up to really shrink your "cruising kitty" fast. Getting a catamaran fixed up might cost tens of thousands of dollars. It's a big boat, after all.
Features to Consider When Catamaran Shopping
Cruising Catamarans Versus Sailing Performance Cats
Even within the narrow grouping of cruising catamarans, you will find many variations. The performance of the boat under sail is one of those variations.
Catamarans destined for the charter market do not put a premium on sailing. Sailing is low on their priority list if you think about it. These boats need to be inviting and comfortable for a large group of people on vacation. Those people are not usually hardcore sailors. If the wind is up or out of the wrong direction, chances are they will run the motors and pound into it until they get where they're going.
You shouldn't discount boats designed for charter, but it's worth investigating some of the brands on the outside of that market. Boats made for individual owners have a lot more variety. There are high-end boats that are pushing the technological limits. The Gunboat 62 is a pure-breed high-performance catamaran that can make 20 knots without breaking a sweat. When most people think about sailing catamaran speed, that's a Gunboat they're dreaming of. But it's also a spacious and comfortable liveaboard cruiser.  
Dozens of other manufacturers fall between the two on the spectrum of sailing. However, if you're looking for a unique feature, like excellent windward performance, a high bridgedeck clearance, or a forward cockpit, give the performance-oriented brands a look.
Charter or Owner Version
Most catamarans are offered from the factory with two layouts. The most common layout is the "charter version." These designs maximize the number of cabins and separate heads, making them more appealing for charters. Three or four couples can charter the boat for a week, and everyone gets their own private space. This often means a four cabin layout with two or four heads. Try that on a monohull!
Alternatively, the boat could be designed for an owner to stay aboard. An "owner's version" dedicates one entire hull to be a private stateroom, head, and walk-in shower. There is often a desk or sofa for lounging, as well. Cruising couples prefer this layout because it provides spacious accommodations for daily living, lots of storage space, and separate cabins in the other hull for kids or guests. 
Bridgedeck Clearance
This design feature gets a lot of discussion on internet forums—perhaps a bit more than is warranted. A high bridgedeck has always been a staple of the offshore cruising cat. It supposedly reduces hull slap and improves the ride.
Hull slap is the tendency for the occasional wave to smack the bottom of the bridge deck. The lower the bridge deck, the more often it happens. This isn't a common occurrence since the wind angle and sea state need to be right. But when it happens, it does get your attention. And if it's happening often, it's pretty uncomfortable for everyone involved. 
Galley Up vs Galley Down
In most cases, the galley up design is the preferred option. But a few models feature galley down, and those have their pluses as well. 
The galley up puts the cook right in the social center of the boat. It also exposes the galley to the most moving fresh air, which cools the boat down faster and keeps the oven from making too much heat buildup on hot summer days.
The galley down is favored for cooking at sea, however. Like in a monohull, a galley down provides more ways for the cook to brace themselves. Most galley down designs have low walls to the salon for passing food through, so the chef is not completely cut off. 
Saildrives or Shaft Drives
Saildrives are the favored modern way to install a sailboat engine. They're even used on many monohulls. They make engine installation and alignment pretty painless. But they are also aluminum cases stored for their entire lives in saltwater. They're highly susceptible to corrosion and marine growth. 
For whatever reason, they are also plagued with problems. They're expensive to maintain—and they require a lot of maintenance. Most painfully, any maintenance problem that needs addressing will require the boat to be hauled out of the water. 
A handful of cats that have traditional shaft drives, and I put a premium on these designs. They're not without problems, but their problems are minuscule compared to those of a saildrive.
Walk-Through Cockpit and Helm
Nearly all modern catamarans have a walk-through transom design that allows a person to walk from the salon, through the cockpit, to the stern of the boat without stepping over any seats or even climbing stairs. Bonus points go to boats that allow you to access either side of the stern this way, and the winner goes to a boat that will also allow you to access the helm from the cockpit or the deck. 
You'll find some older designs with very deep cockpits that require you to step up and down. You'll usually find yourself walking over the cockpit seats, which is always awkward. However, the advantage of these designs is that they feel very secure at sea. High cockpit coamings are very cozy when it seems like the sea is trying to grab you off of your boat.  
Dinghy Storage
Catamarans typically have a beefy set of davits mounted on the transom for carrying your dinghy. This should be considered a minimum requirement. However, davits are not without their irritations. It's nearly impossible to get a dinghy to sit securely on davits, and getting the dinghy not to swing or rub always requires an artful arrangement of tie-down straps and plenty of trial and error.
An alternate and nifty design lifts the dinghy into sterndeck cradles via a boom-mounted hoist. It's not quite as quick as davits are, but you can still do it every night, and the dinghy will be perfectly secure while you are underway. Learn here how to choose the best type of dinghy for your boat.
Engine Access and Location
You get into the engine spaces for maintenance one of two ways – either you access them from under the bunks in the rear staterooms, or you go from the outside and access them from hatches on the boat. 
If the access hatches are outside, you want to analyze how easy they are to use at sea. How easy are they to get in and out of? If you have a problem at sea, will it be easy to get there, or will it be a harrowing experience? If the hatches are on the transom steps, can you get in and out while at sea safely?
Some models place the engines aft of the rudders. This means that the prop wash will not pass over the rudder during low-speed maneuvers. That usually works because catamarans can use their two engines to spin within their length. But if you ever find a situation where you need to dock or pick up a mooring with one engine failed, lacking the prop wash over the rudder puts you at a disadvantage.
Daggerboards or Fin Keels
Finally, there are a few distinctive keel designs in the catamaran world. Charter catamarans come with the most straightforward option – the short fin keel. They require no work, and they protect the bottom of the boat, saildrives, and rudders in the event of an accidental grounding. Some designs have the fin molded into the boat, while others added them on later in the production process.
If the boat is geared towards performance cruisers, it's more likely to have daggerboards. Daggerboard boats will sail better upwind, but the crew will have to position the boards for various points of sail. They'll have an even shallower draft, though, and can access the skinniest water anywhere. On the downside, daggerboard catamarans often have no "protection" for their running gear and rudder. So if you run aground in these boats, it's much easier to do severe damage.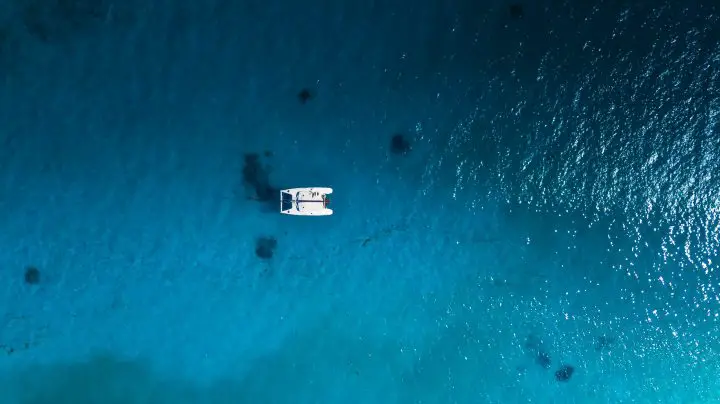 6 Personal Favorites — Cruising Catamarans Under $300,000
The " big three " manufacturers dominate nearly every list of best cruising catamarans—Lagoon, Leopard, and Fountaine Pajot. These companies put out so many cats that they dominate the market. And that's a shame because it means that beginning sailors don't hear enough about the other great boats out there. 
If you're looking for the best cruising catamaran to fit your budget, here are some cruising catamaran reviews about boats that you might not have heard of.
Prout 38
Before France and South Africa honed in on the modern charter catamaran design, the go-to country of origin for multihulls was England. Many great designs and builders from the 1980s and early 1990s came out of the UK, but the most memorable designs are still crossing oceans today. The most successful was a series of small cats built by Prout. 
The first boat of note was the Snowgoose, which was steadily lengthened over its production lifespan. With dozens of circumnavigations under their belts, these stout and seaworthy cutter-rigged cats are far more nimble than many give them credit for.
In 1998 Prout updated the design with a modern aesthetic. The Prout 38 is a unique blend of seaworthiness and comfort that cruising sailors appreciate. The cutter rig means a manageable main and lots of options for heavier weather. And the aft-mounted mast is located where you can reach all sail controls from the cockpit, so there's never any need to go forward. It's a unique sail plan that is well-suited for a sail offshore.
After 2005, the boat was sold by Broadblue in the UK and marketed as the 385. The 385 is still in production, currently as the 385 Series 3.
PDQ Altair 32
In the late 1990s, Canadian-built PDQ catamarans were some of the nicest in production. But, unfortunately, not many people are familiar with the name today. It is associated with the now Argentine-built Antares 44 or the smaller PDQ 32 Motoryacht. But the Altair 32 is a superb boat that packs a lot of punch into a small and economical package. 
The 32 features excellent visibility with large forward-facing windows and an open design with a large galley down. Most versions are powered by twin outboards mounted under the bridge deck, a feature that is just not becoming more appreciated by buyers. Outboards are easy to replace and cheaper to work on when compared to expensive inboards. The less-common LRC models did have inboard diesels if you so desire. 
The larger 36-footer might be the better choice if you require a little more square footage, but I like the layout and the open feeling of the 32's layout. As reviewer John Kretchmer points out in his review of the 36, PDQs were built for the cruising couple or voyaging family—so the builder blissfully did not pack an excessive amount of staterooms and heads on board these boats. The result is a more pleasant layout for cruising than many other cats provide. 
Maxim/Voyage 380
There's a slew of South African-built cats from the late 1990s and early 2000s that look remarkably similar. If you trace their lineage, many come from the design desk of Alexander Simonis. Although the Maxim brand was short-lived, many of the designs found success built by Voyage Catamarans.
The Maxim's were exceptionally well-built compared to other yards of the day. Like many designs from that period, the Maxim has skeg-mounted rudders and sturdy construction. The Maxim uses a boom lift to sit the dinghy on the aft platform unlike many other cats. It also features a walk-through cockpit with connecting stern deck. The traveler is up on a molded arch and out of the way. Compared to similar-aged French designs, the Maxim was lightyears ahead of its time.
Inside, you'll find the Maxim much better appointed than other similar boats like the Leopard 38. The two queen-sized berths are forward and mounted athwartships, leaving the rear of the hulls open for the heads. If anything, the boat feels like a slightly smaller Leopard 42 (circa 2000), another great Simonis design, and one of builder Robertson and Caine's most popular catamaran offerings.
Manta 38/40/42
Manta catamarans were built in Florida, and they have one of the best reputations of any catamaran available. The original design was extended over the years, with the last model being sold being the Manta 42 Mark IV. Manta owners love their boats—and for good reasons.
The Manta was available in either a charter or owner version. Of the several unique features you'll find on these boats, the distinctive molded crossbeam will surely catch your eye. Most boats also ditch the roller furling headsail in favor of a traditional hanked-on sail stored in a turtle bag on deck.
Maine Cat 38
You'd be forgiven for not having heard of Maine Cat. They're a small builder out of—you guessed it—Maine. Their boats are an interesting combination of value, performance, and cruising readiness that you can't find in many others. 
Unlike most other boats on our list, the Maine Cat uses daggerboards for better speed and performance. Most versions of the boats have open bridge deck designs under fixed hardtops. Some owners have had these enclosed, either with glass or plastic panels. However you shake it, the views from the bridge deck are airy and expansive. 
The ME 38 is built light for max performance. New boats can be delivered with electric power, certainly a tempting option. Most original boats, however, came with outboard power. 
There are also smaller (ME Cat 30) and larger (ME Cat 41) versions of the design. Each has plusses and minus, but they are neat boats built to be fun to sail and easy to maintain. Unlike most balsa-cored multihulls, Maine Cats use only composite foam core materials.
Lagoon 37 TPI
Before Lagoon and Groupe Beneteau committed to mass-producing cats for the charter market, they carefully dipped their toes in the multihull waters. Designers Marc Van Petegrhem and Vincent Lauriot Prevost worked with Tillotson Person Inc, or TPI, in Warren, Rhode Island. The result is a Lagoon in name only. TPI built both a 42 and a 37—that's right, these are US-built Lagoon catamarans.
Compared to later Lagoons, the 37 most notably lacks the distinctive wrap-around vertical salon windows. The boat is also powered by shaft-drive engines and features a galley-down layout. But the 37 is reportedly much better built than later models. The yard only made 50 or so of these boats.
Like many French-designed cats from the 1990s, the 37 features a deep bathtub-like cockpit. Getting in and out means climbing over the seat molding, but it certainly gives a safe and secure feeling at sea.
Cruising Multihulls Worth a Look
If your dream is to sail off into the sunset, a catamaran is a wonderful platform to do it. They're comfortable at anchor and the dock, and the living space is open and airy. So much so, in fact, that even non-sailors love traveling long distances on these boats. 
If you're thinking about the catamaran lifestyle, consider finding yourself a dedicated catamaran buyers broker. There's a lot to consider when purchasing any vessels, and someone knowledgeable in this type of boat can bring a wealth of knowledge to your search.
Cruising Catamarans FAQs
Are catamarans good for long distance?
Catamarans are popular with long-distance cruisers and voyagers. They're especially popular choices for families since their separate accommodations provide enough space for everyone to spread out. Nearly all catamarans are built to CE/European ocean-going standards. With the right equipment and outfitting, nearly all can be considered well-founded bluewater cruiser boats.
What is the smallest cruising catamaran?
The smallest catamarans to practically be able to cruise are around 32 feet. Cats are very sensitive to weight, so a smaller boat is unlikely to carry enough supplies to support long-range cruising. Shorter catamarans are also more likely to offer a rough ride at sea, with a greater tendency toward "hobby-horsing."
Three examples of boats in this category are the Gemini 105M, Maine Cat 30, and the older PDQ Altair 32.
How fast are cruising catamarans?
Like all sailboats, the speed of a catamaran depends on the amount of wind blowing. Generally, cruising catamarans are slightly faster than similar-sized monohulls. A 40-foot cruising catamaran will usually use 7 to 8 knots as its planned passage speed. A 50-footer might use 9 to 10 knots. A few brands of performance-oriented cruising cats perform better, but their speeds are very dependent on loading, sea state, and wind speed. Catamarans perform best when as lights as possible, so any amount of gear loaded for cruising will reduce performance considerably.