What comes to mind when you think of a speed boat? Obviously, it's fast. But is it big enough to sleep on? Is it the guy on your local lake who's tricked out his pontoon? Or is it a gleaming bootlegger running the famous Poker Run in a 50-foot Cigarette boat? All of these things are fast, and all of these things could be considered speed boats.
If you're buying new, these boats are typically around $1 million or more, but if you don't mind getting an older boat, you can pick one up on the used market for less than six figures. 
While you could easily drop $1 million in your quest to be the fastest, the good news is that there are plenty of options out there. If you look at speed boat price listings online, you'll see lots on the used market and many different styles. Here are just a few that stand out.
Table of Contents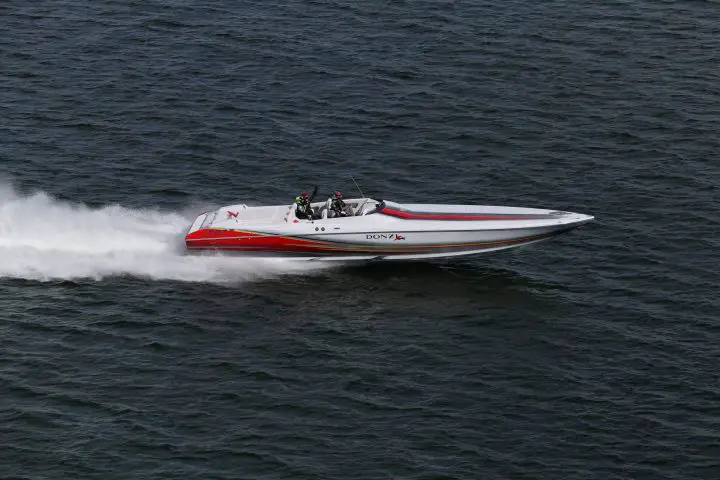 What Is a Speed Boat?
Before we can dive in and answer how much to buy a speed boat, we need to define precisely what a speed boat is. For boaters, the term is a little bit ambiguous. A speed boat is a fast boat, but is it big enough to live aboard? Is it purpose-built for racing, or is it built for getting fishermen out to their glory holes in record time during a tournament? 
The only thing that ties all these boats together is that they are powerboats and not sailboats. Although, if you start looking at sailing catamaran speed, you'll see that even wind-powered boats can be pretty fast.
List of the Types of Speed Boats
Cigarette-style monohull racing boats
Go-Fast racing catamarans
Drag boats
Ski boats
Offshore fishing boats 
Express cruisers
Bass boats
Pontoon boats
Jet boats
High-Performance Speed Boats for Racing
When most people dream of a speed boat, what comes to mind is a long and thin "Cigarette boat." These inboard speed boats have been made famous in movies and television, and you can hear their screaming engines from miles away. They're fast, no doubt, but today's fastest production boats are catamaran designs that can squeeze out even more speed for their horsepower.
Cigarette Boats and Racing Catamarans
The fastest category of speed boats is the racing boats that can really move. They come in either monohulls or catamaran designs, with the cats being the fastest. In this category of boats, you're not really going unless you're going more than 100 miles per hour. 
Many of these boats are known collectively as "Cigarette" boats, but in truth, Cigarette is a name brand. So like Kleenex is now universally used for all facial tissues, the term "Cigarette boat" has been adopted to mean any of these super high-performance go-fast designs.
How much is a speed boat like this? These are hardly cheap entry-level vessels, and while you might be able to afford their incredible sticker prices, it would be best if you keep some savings for when it comes time to fuel it up! If you're buying new, these boats are typically around $1 million or more, but if you don't mind getting an older boat, you can pick one up on the used market for less than six figures. 
One specific example is the 50-foot Cigarette Marauder SS. It's powered by 3,100 horsepower and cruises out at about 135 mph. But if you want one, this one has a speed boat price to match its impressive specs— the Mercedes-AMG version goes for $1.2 million. If you need the land equivalent to get you to and from the marina, the boat is the perfect match for your 503-horsepower Mercedes-AMG GT.
Drag Boats and Record-Setting Jet Boats
The fastest boats in the world—like the fastest cars—aren't really for sale on the open market. The current world record holder for the fastest boat is the Spirit of Australia, which set the record of 317.6 mph back in 1976. Boats in this class are one-off designs, usually powered by turbine engines—basically floating jet planes! These vessels are the water equivalent of Formula One race cars.
If you want just a little taste of that sort of raw power, you've got to check out the Mystic Powerboats C5000. This turbine-powered speed machine can reach about 250 mph. These boats have 1,850 horsepower and are made entirely of lightweight carbon fiber. Best of all, they've got air conditioning for all six passengers. You can pick them up on the used market for under $1 million, in some cases as low as $345,000.
Other Types of Fast Speed Boats
Those go-fast boats might steal the spotlight, and if your need for speed is all-consuming, they might be the boat for you. But most of us have to balance our thirst for more mph with other adventures in our boat. Maybe it's fishing, hanging out at the sandbar, or spending time without family on the lake. Whatever it is, chances are there's a fast version of the perfect boat for you.
Ski boats
Ski boats are speed boats that are designed for fun on the water. They are generally small, between 16 and 27 feet long, and rigged to tow skiers or wakeboarders. Classic ski boats have inboard engines mounted far forward, allowing for good balance and quick planing. However, inboard/outboard (IO) powered ski boats are also typical, and more and more of them now have outboard motors. 
Ski boats can be quite fast, especially when lightly loaded. They're made to plane, and depending on how they are rigged, they can make a huge wake for boarding tricks or a smooth ride for skiers. So how much are speed boats for towing skiers and wakeboarders? One the new market, expect this kind of boat can be anywhere from $30,000 to over $150,000.
Offshore Fishing Boats
Fishing boats have come a long way in the last few decades. However, for offshore adventures, nothing beats the utility of the center console. Center console fishing boats are go-fast outboard-powered boats that come in any size you would like. Most range from 17 to 45 feet or more.
The classic center cockpit is built on a deep-vee-shaped hull that is excellent at cutting through a rough chop. There are so many of these boats out there that you can find one in any price range. Entry-level brands, like Angler or Sea Fox, reduce the price of speedboat acquisition considerably. Premium brands like Grady White, Scout, or Yellowfin offer a better fit and finish and better ride—but speed boat prices for this type of vessel can get expensive fast.
Most of these companies also make variations on the deep-vee offshore design. In addition, there are shallow vee hulls for flatwater and bay or lake cruising. Some manufacturers specialize in twin-engine catamaran designs. There are also cuddy cabin or walkaround cabin boats with some amenities for staying on board. Boats on the larger end of the spectrum have cabins and overnight facilities for longer trips.
So why do these fishing boats need to be so fast, anyway? In the competitive tournament fishing world, getting out to the good fishing grounds and back again as quickly as possible means more time to fish, and therefore more time to land the big ones. So a fast outboard speed boat suits and some of the fastest outboard center consoles can break the 100 mph mark.
Express Cruisers
If you like the idea of a fast speedboat, but you're also into luxury, you likely would be interested in an express cruiser. Where center consoles and other fishing boat designs are built to be easy to clean and loaded with angling gear, cruisers are made for the enjoyment of being out on the water. Where a fishing boat might have plain white vinyl seats or molded-in benches, a cruiser is likely to have plush upholstery, tables for dinner, and lots of cup holders.
They're also built from the keel up to be perfect for spending time aboard. There will be better walkways through the boat, wide swim platforms, and the engines can be inboard, inboard/outboard, or outboard.
On larger models, expect the cabin down below to be just as plush, with a functional galley (kitchen) and a full-sized head (bathroom). The stateroom (bedroom) will likely have private doors and a comfortable mattress. Express cruisers usually aren't big enough to live on, but you can go on a week or more trip and be pretty comfortable.
The price of speedboat designs like an express cruiser depends on two factors—its size and the brand name. The premium name in this type of boat is Sea Ray. They make a wide variety of express cruisers in their Sundancer series of boats. The top of the line boat is the 40′ Sundancer 370 Outboard. It has a cruising speed of just under 35 mph and a wide-open throttle of 51.4 mph. The average speed boat price for the Sea Ray Sundancer 370 Outboard brand new is about $782,000.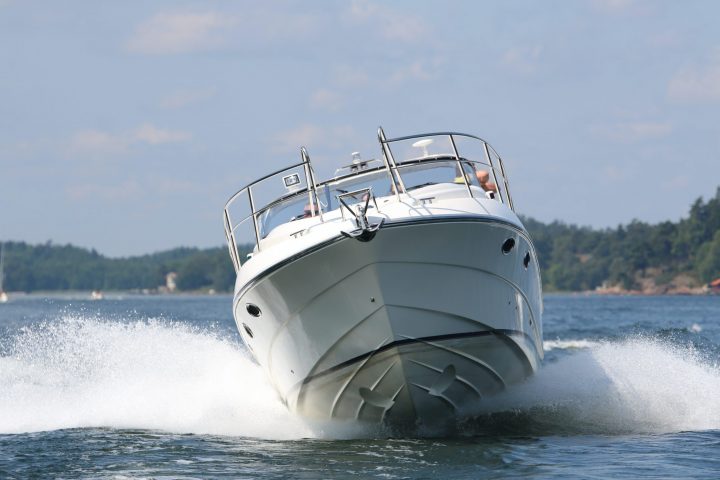 Bass Boats
Cruisers and fishing boats can be multitaskers that can do quite a lot, but there are also purpose-built machines. For example, bass fishermen like to stalk their prey from shallow-vee bottomed go-fast boats. These machines are usually less than 22 feet and are easily trailerable boats, and their hunting grounds are usually limited to large lakes and others spots of flatwater. Bass boats are typically lightweight and powered by a single outboard.
Ranger, Nitro, and Triton make the fastest bass boats, among other brands. On the tournament scene, speed is an essential advantage. As a result, these smaller speed boats are zippy and fun–plus they fit easily on a boat trailer.
How much does a speedboat cost if you're after bass? The Ranger Z521L Comanche features a 300-horsepower outboard and can cruise at a tear-jerking 70-plus mph. Their advertised national price is $86,295 in 2021. The boat is brand new, but the previous version with the 250-horsepower Mercury outboard topped out at an impressive 67.1 mph (58.3 knots).
Pontoon Boat
Pontoons are popular deck boats used on lakes and rivers. Their small float pontoons on each side come in various sizes, and the open deck space provides lots of opportunities for entertaining and hanging out. Pontoon speed boats are typically powered by a single outboard, and due to their lightweight design, they can be very fast.
Pontoon boats are associated with lazy days on the lake or pulling up for a drink at a sandbar more than with speed. But on Lake of the Ozarks, one owner has modified his deck boat with three 350-horsepower outboards and clocked it at 114 mph.
That's well and good, but what can you go out and buy and what is the cost of a speed boat like that? According to Pontoonopedia, the fastest production pontoon is the PlayCraft PowerToon X-Treme 3000. It's 31 feet long and powered by twin V-8 Mercury Verado 450s. Together, those beefy powerhouses push this pontoon to 78.1 mph or 67.9 knots. How much to buy a speed boat by PlayCraft? It could be yours for only $229,000.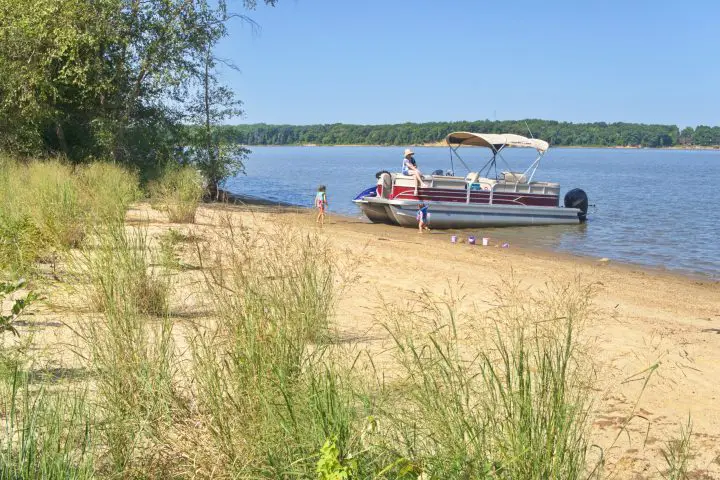 Jet Boats
Jet skis and wave runners (collectively known as personal watercraft or PWCs) are hardly speed boats. They're very fast thanks to their jet drives and lightweight, but comparing them to serious boats would be like putting a street bike up against a Corvette.
But did you know that they make jet boats, a full boat powered by the same sort of power plants? Scarab, Vortex, and Yamaha are the best-known name brands. They all make open bow-rider and wakeboarding boats in the 20 to 25-foot range. These are great inboard boats that are perfect for all types of water sports–and they're fast too.
The biggest jet boat is the Yamaha 275SD, which can tip its speedometer past 50 mph. According to BoatTrader.com, the average price of the 275SD is $141,899.
5 Other Cost of Speed Boats You Might Not Have Considered
Looking at speed boat prices is one thing, but don't forget that the cost of a speed boat is about more than just the purchase price. Fill-ups aren't going to be cheap, plus there are some other costs that you might not have thought about.
Fuel
One of the most significant components of speedboat cost is the fuel costs. Want to fill up the 50-foot Cigarette Marauder? That will be 294 gallons of 91-octane premium unleaded gasoline. With an average marina gas price in South Florida of about $5.90 per gallon, that top-up will cost you about $1,734.
Maintenance
And then, there's the maintenance. With higher performance engines comes more maintenance, so much so that you will put a sizable percentage of the speed boat cost aside toward engine work. It's not that these boats are less reliable than other types—all boats need a lot of maintenance work. But since these boats are routinely operated at high power settings, their parts are tuned for better performance and, therefore, more expensive to replace.
Insurance
If you're looking at this sort of boat, boat insurance needs to be one of your concerns. When it comes to the high-performance models, boat insurance companies might be hesitant to underwrite an owner with little boating experience. They may make you spend extra time with a captain to receive training before you can get a policy.
Storage Fees
Of course, you'll need somewhere to store your new speed boat. However, storage bills aren't a huge part of the speedboat cost equation compared to maintenance and the fuel bill. 
But slip fees and local marina space can be costly in some parts of the world. Most speed boats are stored out of the water, so if you have a tow vehicle and trailer, you might be able to keep your speed boat in your yard. Another option is an in/out facility, which launches and retrieves your boat with a forklift every time you want to use it.
Trailer and Trailer Maintenance and Storage
Finally, if you do have a trailer and tow vehicle, you'll have to calculate the cost to maintain those as well. Trailers are pretty simple, but they still require their bearings to be checked and new tires occasionally. More problematic can be finding a place to store it when the boat is in the water, especially if you plan to leave the boat in for a season.
There are Speedboat Prices for Every Budget
As you can see, the prices of speed boats vary considerably depending on the sort of boat you're after. Sure, Cigarette-style go-fast boats might steal all the spotlight, but a fast-moving center console or pontoon combines utility with speed. Who can say no to that?