Asking a sailor to pick the best sailboat brands is like asking a car enthusiast to pick the best sports car. Boaters are connected to their boats and share a personal attachment to them that goes beyond the practical. Boats are close to living things. For millennia, sailors have personified their vessels and labeled them "she." Whatever pronouns you choose to use with your boat, there is no doubt that he or she will earn a special place in your heart.
So how does a humble writer go about breaking down the "best" sailboat manufacturers? Is it of all time? Or are only companies still producing boats today? We must set some limits, and they will no doubt seem arbitrary–but here they are.
First, we are dividing this list up to cover coastal cruisers, luxury monohulls, voyaging bluewater cruisers, cruising catamarans, and performance catamarans. Yes, there is some overlap between these categories. For example, many big "coastal cruisers" have crossed oceans, and many seawind catamaran brands are more than capable cruisers.
So what makes a boat "the best." The best boat for you is not going to be the best boat for the next guy. There's simply no way to define what the best manufacturers are going to be. The reason we chose these boats are specified below. It's not arbitrary, but, at the same time, you don't have to agree with them.
Finally, nearly all of the brands listed below have one thing in common—you can still buy a new vessel from their yard. In the world of boating, it's not uncommon to purchase a vessel that has been out of production for decades. There are hundreds, probably thousands, of great manufacturers who went out of business during major economic downturns. Building boats is always a tricky business, but with the economy suffering no one buys new boats.
Table of Contents
5 Best Coastal Cruiser Sailboat Makers
Coastal cruisers are entry-level sailboats built affordably so that nearly anyone can buy one. Another term that gets used is "production boat." A production boat is designed to be mass-produced in an assembly-line-like factory for maximum cost savings.
The alternative is the custom or semi-custom built voyage yachts. Every element of the build is overseen by expert shipwrights. So the implication is that the production yacht has less quality—but this argument doesn't always hold blue water if you can forgive the metaphor.
The manufacturers who make the most popular production coastal cruisers also make some larger yachts capable of crossing oceans. But one thing about these boats needs to be made clear—while some can be modified, improved, and outfitted to cross oceans, they do not leave the factory ready to do so.
And while some of them look very sharp, they do not contain the gorgeous hardwood joinery and craftsmanship that fills the hulls of hand-built yachts. These brands make their boats appealing to the mass market, and that market is not the voyaging bluewater cruisers or the luxury yacht.
So are they the "best sailboat brands?" If you're looking for the best, most affordable coastal cruiser you can get, then yes—these are the best boats for you. However, if you're looking for the best built, the best outfitted, or the best engineered or designed—then you'd best keep reading farther down the list!
Catalina builds simple sloops ranging in size from fun 12.5 Expo dinghy to their 545 Flagship. There are more Catalinas in the world than any other types of sailboat. The company was founded in California in the mid-1970s.
Of the many wonderful models that Catalina has made popular, the Catalina 30 was an all-around winner. The beamy 30-footer has a cavernous interior that makes it a great entry-level liveaboard. The Catalina 38 is a popular racer/cruiser designed by none other than the famous Sparksman and Stevens (S&S).
The French marine conglomerate Groupe Beneteau makes many different labels of boats, but their two most popular production sailboat brands are Beneteau and Jeanneau. They also make the Lagoon catamarans. 
Like Catalina, the company makes production boats at an attractive price. They are roomy and comfortable to stay on or even liveaboard. In addition, Beneteau's are known for their distinctive lacquered wood interiors, which add an air of sophistication to an otherwise average boat. 
Beneteau has a long history. The company was founded in 1884 and has been building fiberglass boats since the mid-1960s. Notable models include the Beneteau Oceanis series, especially the models made after 1995. The most famous Jeanneaus come from the Sun Odyssey lineup.
Hunter is another American builder and is Catalina's primary domestic competitor. It is based in Florida and was formed in the early 1970s. Most Hunters have been racing boats or small trailer-sailors, but over the years, there have been quite a few larger liveaboard boats and long-range cruisers. They currently make boats from 15 to 50 feet long.
Dufour catamarans are another French company that makes larger cruising boats. The company was founded in 1964.
Bavaria Yachtbau is the largest German shipyard. The company makes sail and powerboats, as well as the French-made Nautitech catamarans. The company was founded in the 1970s and was acquired by US investors in 2007. Their monohull sail designs range from 31 to 57 feet long.
5 Best Luxury Sailboat Manufacturers
If the coastal cruiser category is reserved for the Fords and the Toyotas, let's look at a few Cadillacs and Lexuses.
The boats below take things up a notch. These are beautifully designed boats with hand-built cabinetry and upgraded fixtures. They're going to come with everything you need to cruise the boat in style.
Boats in this category are more likely to be built on a semi-custom basis. In other words, these yards might only be putting out a handful of boats per year. If you're the first owner, you can likely visit and watch your sunreef yachts progress from fiberglass molds to rigging and launching.
Finally, the build quality of these yachts is generally exceptional. The designs usually come from the drafting boards of world-renown sunreef yachts designers, and their timeless beauty shines in every port they visit.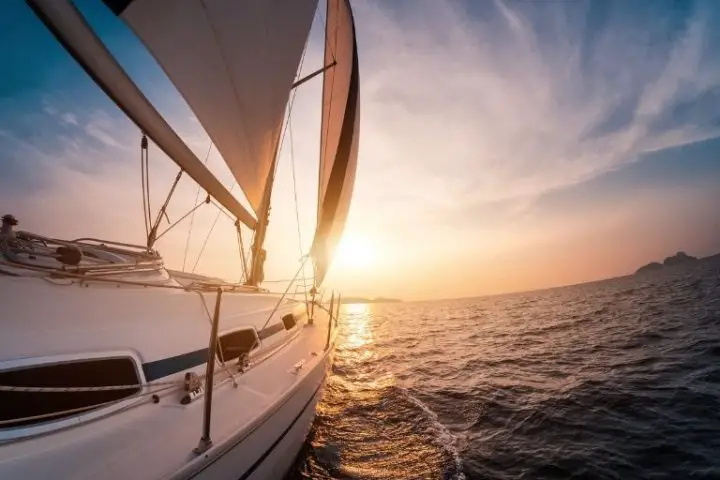 If you're looking for a sailboat that's also a work of art, Morris Yachts has the one you're looking for. The company is based in Maine and produces semi-custom boats built to order. All boats are made by hand by expert craftsmen. Since it first opened in 1972, the company has made about 300 boats.
Their present offerings range from the M29 to the M42, but they have built hulls larger than that in the past. The most famous Morris boats, like the 36-foot Justine, were designed by renowned yacht designer Chuck Paine.
Island Packet has always made sturdy blue water cruisers with old-school looking (although technically updated) full keels. Some people may argue that IPs are production boats not quite worthy of the "luxury" title, but it is undebatable that the quality of their boats is above average.
Packets are built-in in Largo, Florida, near Tampa, and their shallow drafts and large living spaces make them perfect for living aboard in Florida or the islands. The first Island Packets rolled off the assembly line in 1980.
IP's one-piece hulls do not feature the bolted-on keel and fractional rigs so common on many production boats now. Instead, you will find a robust design that is seaworthy and comfortable at sea.
Oysters are recognized worldwide as one of the most beautiful high-end cruising boats you can get your hands on. They focus on larger ocean-capable yachts with luxurious and cavernous interiors.
Oyster is a British yacht builder founded in 1973. Their claim to fame is the unique deck salon layout, which features large central windows around the living space that make the space feel much larger and more comfortable. The company is also known for its excellent attention to detail and outstanding build quality.
Hylas make sailboats ranging from 46 to 70 feet long. They are built in Taiwan by Queen Long Marine and were introduced in 1984. Most of their designs were created by renowned naval architect German Frers, although their first designs came from Sparksman and Stevens.
Hailing from the Great Lakes port of Painesville, Ohio, Tartan has made sturdy and beautiful yachts since 1971. The company's current lineup features everything from a tiny 24-foot day sailor to an ocean-capable 53-footer.
Tartans are set apart from other production boats by their beautifully crafted interiors. Thoughtful designs make these boats great cruisers and liveaboards.
5 Best Voyaging Bluewater Cruising Boats
Some boats are made as an accessible weekend cruisers for everybody, and some are exclusive showpieces that light up the harbor with their polished teak. Others are built tough to take on the elements at sea.
These boats are some of the best-built examples of marine engineering out there. These boats don't come cheap, but that's because their makers pay special attention to creating vessels strong enough to take on anything. They spend extra time making super-thick and strong hulls, and they use the best most robust equipment throughout the design.
The hull designs come from the drafting boards of world-renown naval architects. Their designs are heavy and built for a comfortable motion on big seas. In most cases, rudders are skeg-hung for extra security, and props are well-protected behind long keels.
These boat manufacturers routinely crop up on the lists of vessels that have circumnavigated successfully. These boats can cross oceans, and their crews never worry about their safety at sea.
Unfortunately, Texas-built Valiant Yachts ceased operations in 2011. The company built a series of canoe-sterned offshore sailboats from the drawing board of Bob Perry. The Valiant 40 is regarded as one of the best modern offshore sailing vessels. Many have circumnavigated, and the owners are a tight-knit group who love their boats.
Pacific Seacrafts are built in Washington, North Carolina. Many of their designs came from designer Bill Crealock, including the salty but comfortable PS 34 and PS 37. Other well-known models include the tiny 20-foot Flicka and the 24-foot Dana, both of which have serious offshore cred not given away by their diminutive statures. 
Pacific Seacrafts are hand-built and regularly recognized as some of the best sailboats available. Build quality and thoughtfulness in design are second-to-none.
Hallberg-Rassy is a Swedish shipyard that makes very sturdy and capable bluewater cruisers since 1943. Over the years, the company has made everything from small 24-footers to the flagship HR 64. Their best-known yacht was the smaller HR 35 Rasmus, of which they built 760 hulls. The 44 and 50 are their most popular current models.
Amel is the French maker of extremely well-regarded and modern bluewater ketches. This once common rig configuration, with two masts, reduces sail size to keep the lines more manageable on larger vessels. They also allow for more sail configurations to suit a broader spectrum of ocean conditions.
Famous sailing YouTubers SV Delos sail an Amel. The motor boats are large and capable of any voyage you can imagine. They feature thoughtful designs, including fully motorized sail control and a comfortable and protected center cockpit.
Winner of many best boat of the year awards, Passport yachts make spacious and comfortable offshore sailing machines. The first Passports were launched in 1979. The company is based in Annapolis, Maryland. Some of their early models, which Bob Perry designed, are excellent used sailboat options. Today, the company makes boats from 48 to 61 feet long.
5 Best Cruising Catamaran Manufacturers
And now for something a little different—the sailing catamaran categories. Sailing catamaran brands have become wildly popular in the sailing world because they are so comfortable to live on and offer a significant performance advantage over monohulls. Whether tucked safely in a marina or living off the grid by a tropical beach, sailing catamarans represent a fantastic upgrade to boat life.
You can argue about whether sailing catamarans or monohulls are the best sailboats all day long. But there will always be a place for each one, and there will always be people who love one but not the other.
The best catamaran brands below are the big and comfortable ones that most people will consider the "best" ones to cruise and live on. However, there are two types of sailing catamaran sailors—those that choose these boats because they have wonderful living space and those that choose sailing catamarans for the performance. If you're the second type of person, you'll want to move on to the next section about performance catamarans.
The Antares began life as the PDQ 44. It's a stout sailing catamaran with a few uncommon features that set it above most cruising catamarans—it has a high bridge deck for smoother rides, and it features maintenance-free traditional shaft-drive engines. The company currently builds boats in Argentina and is launching a hybrid model for the 2022 model year.
The Knysna 500 is one of the most beautiful sailing catamarans that you'll ever lay eyes on. Unfortunately, there aren't many of these semi-custom boats in the world. The factory in South Africa has only made about 100 of these boats, but they're well worth taking the time to seek out. Their overall craftsmanship and attention to detail are unmatched in the sailing catamaran industry.
The French-built sailing catamaran arm of Bavaria Yachts, Nautitech catamarans makes boats that blend beautiful living spaces and solid offshore performance. Current models range from 40 to 54 feet long.
This Australian manufacturer of fast cruising cats has focused on performance while offering comfortable sailing catamarans suitable for cruisers. The Seawind 1000, first offered in the 1990s, set the standard for the small, simple, yet capable cruising catamaran. They currently produce boats from 38 to 52 feet long.
The Big Three—Lagoon, Leopard, and Fountaine Pajot 
The three big names in cruising cats can't be left out, but they aren't particularly distinct enough to warrant individual shout-outs. Each company makes production cruising and charter sailing catamarans of average build quality. In car terms, these companies are making the Honda Civics of the sailing catamaran world. In monohull terms, these companies are Beneteau, Catalina, or Hunter.
Fountaine Pajot and Lagoon are French-built, while Leopard catamarans come from South Africa. All of the companies began gaining popularity in the late 1990s, and all of them are popular in the charter boat market. They all compete with one another closely, and their designs follow distinct trends. They often have functional layouts that are pleasant to liveaboard, but their build qualities are mixed.
5 Best Performance Cats
One of the most common advantages that sailing catamaran companies want you to know about is their performance. Foot-by-foot, sailing catamarans are faster than monohulls. Regular cruising cats can still be sluggish in light winds, though.
But companies below take performance to another level. State-of-the-art rigging, sails, and weight-savings composites turn some of these boats into rocket ships. The vessels are big enough and outfitted well enough for voyages of any length. Many have circumnavigated. In short, these performance cats can move.
Catana is very similar to Lagoon or Fountaine Pajot—French-built charter sailing catamarans with lots of living space. However, the company's designs feature retractable daggerboards instead of the more common mini-keels. This gives them better downwind performance and an advantage on big seas.
Regardless of the actual performance of the vessels, Catanas are built with sailing in mind. Aft helms provide a beautiful clear view of the sails and the conditions.
If you're looking for a floating rocketship, Gunboat has your number. These carbon fiber-built miracles of space-age technology regularly zip along at speeds higher than the true wind. Carbon hulls and masts and the latest in rigging technologies make them tick.
They're as fast as race boats but comfortable liveaboards, too. In their words, "Life is too short to sail a slow boat." Since they opened in 2002, Gunboat has made fewer than 40 boats, ranging from 48 to 90 feet long. They're made in La Grande-Motte, France.
The now-famous Outremer is featured on the YouTube channel Sailing La Vagabonde. It's a fast boat. Current designs range from 45 to 55 feet long. Like all boats in this class, these are fast cats that still maintain enough space for comfortable living at sea. Outremers are built in France, and the company has been making performance catamarans since the 1980s.
Awarded several best boat the year awards by Cruising World and Sail magazines, the HH is a thoroughly modern take on the traditional cruising catamaran. More emphasis is placed on speed and performance, using daggerboards and super light composite construction. HH Cats are built in Xiamen, China. The company currently offers HH44, HH50, and HH88.
The sleeper of the performance cat category is Maine Cat, hailing from Lincolnville, Maine. Their boats are built lightweight with a focus on light air and upwind performance. Daggerboards are used along with simple, intelligent designs.
Of the boats on the performance list, the MC 30 is the smallest sailing cat offered. It features an impressive feature set, however, and a unique combination of traits. For one thing, these boats are designed to be straightforward and light instead of filled with luxuries. For more living space, the MC 41 offers speed and space with none of the frills.