If you've followed our steps to clean your boat seats, and you've still got mold or mildew stains building up, it's time to break out the big guns. Here's a look at the best ways to get those tricky mildew stains out, step-by-step.
Table of Contents
Determine Your Boat Seat Fabric
First, you want to identify what fabric your seats are made from. 
Vinyl seats have a slick, waterproof exterior. As a result, water should slide right off. Because it's easy to care for, marine-grade vinyl is an extremely popular choice for boat seats. 
Sunbrella is another popular choice for boat seats. This premium upholstery looks and feels like canvas. But Sunbrella is actually an acrylic fabric that is specially treated to resist stains and mildew. Many boaters use Sunbrella instead of vinyl because they prefer the homier feel of fabric versus the sticky, hospital-clean feel of vinyl. 
Regular duck canvas is a more economical choice for boat seats. However, this fabric isn't UV treated and fades quickly. It's also more susceptible to stains and mildew.
Each type of seat covering requires a different cleaning method. For example, while you can use bleach on Sunbrella, it's not recommended on vinyl or duck canvas.
 If you can't identify the type of covering on your boat seat, start with the least invasive cleaning methods. If you need to use a harsher method, like bleach, test in an area that won't be seen. Seat backs or seat bottoms that are always hidden from view are good places to test products on.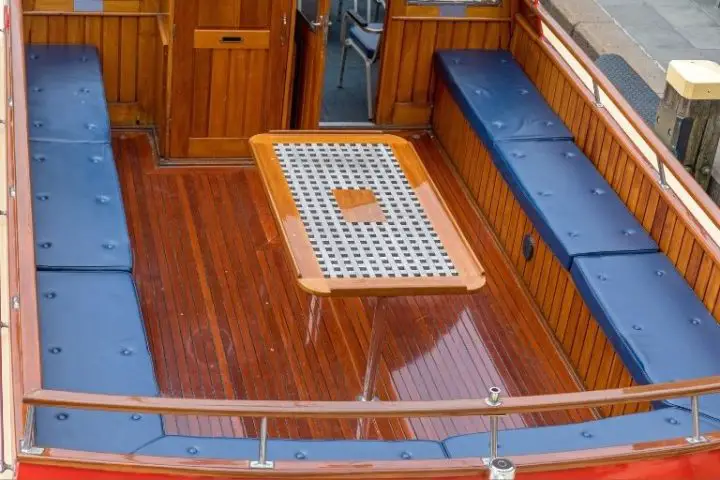 Removing Mildew Stains from a Vinyl Seat
Try Dish Soap
If you've got mildew on your vinyl boat seats, start with the gentlest method. 
Combine a few drops of dish soap with warm water. 
Use a clean cotton cloth or a clean sponge to wash the seats. 
Rinse with fresh water and dry with a clean, dry towel.
If the mildew stain is still present, try and add a little alcohol to the soap solution. Then, use a soft brush and a circular motion to try and liberate the stain.
Invest in a Purpose-Built Stain Remover
Marine mildew removers tend to be expensive but can be a worthwhile, time-saving, and seat-saving investment. Most marine mildew removers follow the same steps:
Spray onto the stain.
Wait 1-3 minutes to let the product work.
Gently run with a soft brush or towel.
Rinse and dry.
Avoid Using Bleach, Household Cleaners, or Degreasers
Harsh chemicals like bleach, household cleaners, or degreasers can affect the color of your vinyl. In addition, harsh chemicals can affect the protectant on your seats and damage the vinyl's structure. Bleach can also damage the thread used to create the cushion's seams. Damaging the thread could cause your seats to start to come apart. 
Magic Erasers—The Good and the Bad
Magic Erasers can seem truly magical and are used a lot in marine cleaning. However, they are an abrasive product and harsher than simply using soap. 
Make sure you test the Magic Eraser in a hidden area of your vinyl seat. The abrasive quality can remove the color from some vinyl seats. 
Wet the eraser with fresh water, squeeze it out, and gently rub on the stain.
Rinse the area with fresh water. 
Use a Protective Sealant
The best way to clean mildew from your vinyl seats is to stop the mildew from growing to begin with. You can store the seats in a climate-controlled environment. Wash the seats after each use. Use a protective sealant formulated for marine vinyl several times a year. If you can keep your seats in top-notch fashion, they can last a long time! 
Removing Mildew from Sunbrella Seats
As with vinyl, the first step to removing mildew from Sunbrella is to try the gentlest approach. If that doesn't work, get more aggressive as necessary to clean the fabric. 
First, Try Dish Soap or Boat Soap
If you've got mildew on your Sunbrella boat seats, start with the gentlest method. If you can remove the Sunbrella covers off of the cushion, this will enable you to soak the Sunbrella covers.
Combine a few drops of dish or boat soap with warm water. 
Use a clean cotton cloth, clean sponge, or soft brush to wash the seats. 
Rinse with fresh water and dry with a clean, dry towel.
If your covers are removable, you can soak the Sunbrella covers in the soapy solution. Then, lay them out in the sunshine. Even if you can still see some mildew present after washing the Sunbrella covers, the stains may well bleach out in the sunshine as they dry.
Use a Borax Formula
Mix 2 cups of warm water with 1/2 cup of Borax. 
Use a soft brush to scrub the mixture into the stain slowly.
Let it soak for 15 minutes.
Rinse out the Borax formula.
Use a Vinegar Mix
Most people keep white vinegar around the house. Vinegar is a great cleaning tool and can work well to get mildew out of Sunbrella fabric.
Mix 1 cup of white vinegar with 1 cup of water.
Use a soft brush to scrub the mixture into the stain slowly. You can also put the mixture into a spray bottle and spray the mixture directly onto the stain. 
Let the solution sit for an hour.
Rinse the fabric.
Use a Bleach Solution
If you are positive your fabric is Sunbrella, you can use a bleach solution to clean the mildew stain. 
Mix 1 gallon of water, 1 cup of bleach, and 1/4 cup of mild soap. 
Use a spray bottle to soak the entire area, seam to seam. 
Let the solution soak in for 15 minutes. 
Clean the area with a clean towel, sponge, or soft brush.
Rinse to remove the solution.
Let dry. 
After you've thoroughly cleaned your Sunbrella fabric, you can re-apply 303 Fabric Guard. This fabric protectant will help your fabric resist future mildew stains. It's recommended that you clean your Sunbrella cushions and re-apply the fabric guard every year. 
Removing Mildew from Unknown Brand Fabric Seats
If you aren't sure what type of fabric your boat seats are made of, it's safest to assume they are made of regular duck canvas or standard outdoor fabric. This a very economical choice for boat seats; however, duck canvas doesn't have the same UV and stain resistance as Sunbrella and may react badly to harsh cleaning methods. 
For outdoor fabric seats, you can start with the gentle soap method listed for Sunbrella canvas. Just mix dish soap, Dawn, or Woolite with warm water and gently scrub the stain.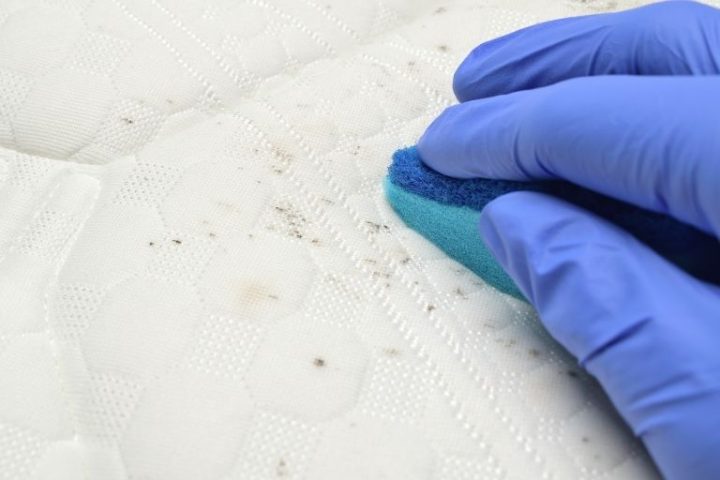 You can also try the Borax or Vinegar methods listed for Sunbrella canvas. Mix the solution in a bucket and gently scrub the stain with a soft brush or cotton towel. Using a spray bottle is another good method of applying a cleaning solution. After the solution has soaked into the fabric, rinse thoroughly and allow to dry. 
Finally, you can apply an outdoor fabric protectant. These fabric protectants will increase the cushions' water and stain resistance. 
Final Steps for All Boat Seats
Allow Cushions to Dry Before Replacing
If you have removable covers and have removed them for washing, don't put the cushions back together until both the foam and the covers are completely dry. 
Keep up with your cleaning regimen. Saltwater, sitting on the cushions after swimming, and being caught in rainstorms contribute to mildew on boats. Thoroughly wash and dry your cushions to prevent mildew from growing.
Remember that Removing Isn't Preventing
Keeping your cushions dry in between boat trips can prevent mildew growth. It's even better if you have a climate-controlled space to keep your boat cushions in. Minimally, you should clean your cushions before the start of the season before putting the cushions away for the off-season. The start of the season is a great time to re-apply fabric protectants. You can purchase specialized marine protectants for vinyl seats, Sunbrella seats, or outdoor fabric seats. 
Top Ways to Remove Mildew from Boat Seats
We like to start with the gentlest methods available to remove mildew from boat seats. For vinyl, Sunbrella, or outdoor fabric seats, first try a mild dish soap. For vinyl seats, you should avoid bleach, but you can try a Magic Eraser. For Sunbrella and outdoor fabric seats, try Borax or white vinegar. Since Sunbrella is color-fast, you can try a bleach solution on it, but don't try bleach on vinyl or regular canvas or outdoor fabric seats. 
After your seats are clean and dry, add a protectant to help them further resist mold and mildew. If you can store your cushions away from saltwater, salt air, and moist conditions, you'll have fewer cleaning hassles.