For generations, sailing has been a mode of essential transportation, a rewarding hobby, an active and competitive sport, and a lifestyle. Sailing appeals to all, and there are dozens and dozens of types of sailboats.
Small sailboats are perfect for kids to sail on, and massive sailboats are used to cross oceans in style. In between, there are daysailers, racers, and cruisers. 
Table of Contents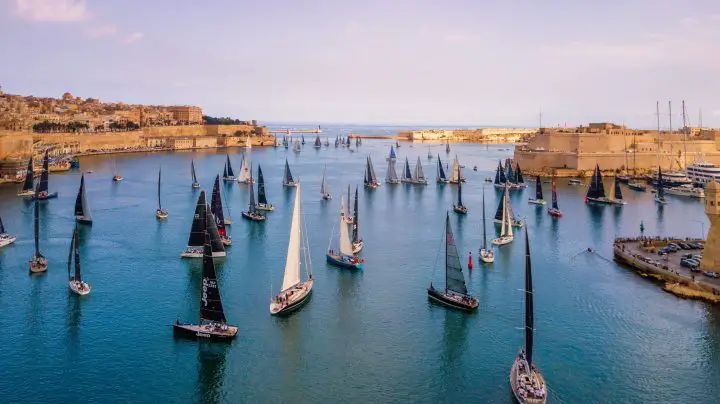 What Are Sailboat Types?
Sailboats are boats that are propelled by the wind. Sailboats use wind power instead of a motor or oars to move the boat. It should be noted, though, that nearly all modern sailboats have a motor as well. It comes in handy when docking in tight marinas and if the wind dies!
A sailboat has one, two, or three hulls. It has at least one mast, or tall vertical spar, that holds up one or more sails. The sails harness the power of the wind to move the boat forward.
To get started, here are some sailing boat types and terms to give you an idea of the sorts of boats that are out there.
Dinghies — a small open boat, usually for only one or two people
Daysailors — boats designed to go out for a day trip
Cruising Sailboats — boats designed to travel long distances that have accommodations for their crew to live aboard a long term
Sloop — the most common type of sailboat, with one mast and two sails (a jib and a mainsail)
Ketch, yawl, or schooner — types of sailboats with two or more masts
Monohull — a boat with only one hull
Catamaran — a boat with two equal-sized hulls in the water that are connected together by a bridge deck
Trimaran — a boat with three hulls in the water, the center of which is much larger than the outer two
What Does a Sailboat Look Like?
There are many different types of sailboats, so they look a little different from each other. The basics, however, are the same. 
Each sailboat has at least one hull that sits in the water. Part of the hull is visible above the waterline. Part of the sailboat hull sits below the waterline. 
The part beneath the waterline might be relatively small, or it can be quite large. The rudder, the mechanism used to steer the boat, is also underwater. 
The cockpit is where the helmsperson sits and steers the boat. On small boats, the cockpit takes up the entire boat. Cruising boats have interior accommodations as well as a safe cockpit.
Sailboats have at least one mast and at least one mainsail. As you get to know the different types of sailboats, you'll see many different hull and sail configurations.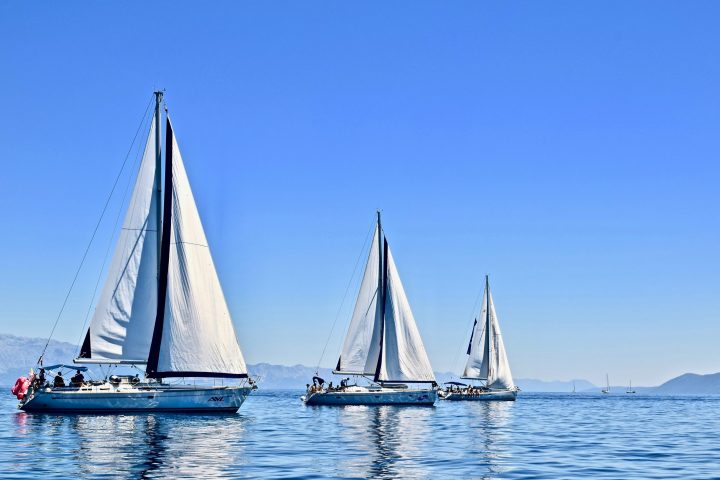 Different Types of Sail Boats
Sailboats come in all types of sailboat shapes and sailboat sizes. Sailboats can be classified by their hull shape, size, or sail plan. The sail plan is how many sails they carry on how many masts.
Hull shapes include monohulls, catamarans, trimarans, and sailing hydrofoils. A monohull has just one hull, a catamaran has two hulls, a trimaran has three hulls, and a hydrofoil lifts out of the water. 
Sizes range from eight-foot sailboats to megayachts that are hundreds of feet long. Some sailboats are so small they are only suitable for one child who wants to go skimming across the lake. The largest pure sailing yacht in the world is the Black Pearl at 350 feet long (106.7 meters) long. Visit our Yacht vs Sailboat guide for a more definitive difference between the two and their sizes.
Sailboats also have different sail configurations or sail plans. For example, a sailboat with just one big sail on a forward-mounted mast is called a catboat. A boat with dozens of different sails on three masts is called a three-mast schooner.
Small Sailboats
Small sailboats are extremely popular and offer a lot of fun to the young and old. Most of the time, these boats are just used for daytime use in pleasant weather conditions. Kids often learn to sail in small monohull sailboats. Families might go for a picnic in a Hobie catamaran. 
Yacht club members might race their 16-foot daysailors, while adventurous souls might take their 19-ft weekender and anchor in a calm cove for the weekend. 
What is a Small Sailboat Called?
Small sailboats have different names, depending on the type of sailboat and the number of sail boat hulls. For example, the boat might be a monohull dinghy, small catboat, small catamaran, or daysailor.
Additionally, like every car on the road, every boat on the water is identified by its make and model. In small boats that are commonly raced, a certain make and model may set up a class of racing boats. Class racing means that all of the boats are identical, so the race is based solely on the skills of the skippers.
Sailing Dinghies
Kids and adults often learn to sail on sailing dinghies. Sailing dinghies can be as small as eight feet long. This small size makes it easy for kids to handle.
Some common sailing dinghies are Optis, Lasers, and Sunfish.
This size sailboat is also functional. They can be used to ferry sailors from their larger anchored boats to shore. The small size also helps sailors easily store their dinghy on larger boats. The word dinghy is often used to refer to any small boat used as a tender for a larger vessel, even if the tender is a motorboat.
Cat Rig Boats
A cat rig boat, or cat boat, is a type of sailboat that usually just has one large mainsail and a forward-mounted mast. Many smaller dinghies and training boats are catboats. A catboat has a free-standing mast with no standing rigging.
Small Catamarans
A catamaran is a boat with two hulls. The Hobie brand is synonymous with small catamarans, which are popular with families looking for a fun hobby. Hobie Cats are seen on the sand at beach resorts all over the world—they're safe, fun, and fast.
Catamarans are faster than monohulls, and these boats are fun to race. Small catamarans are often used by families that live on the waterfront. Their lightweight makes them easy to drag to the waterfront and launch.
Small catamarans are also popular on beaches. Many beach resorts offer Hobie cats for rent. Small catamarans are between 12-20 feet in length. The hulls are joined only with spars and netting, so these fast and light open boats are not set up to carry a lot of people or supplies.
Daysailors
Daysailors are the ultimate fun boat. As the name implies, this type of sailing boat is used for day sailing. These boats are usually between 12 to 20 feet long. Some use these smaller boats for racing or overnight camping, but most sailors use daysailors for a leisurely sail.
Small Sailboats with Cabins
While most small sailboats just have a large open cockpit, several small yacht types have cabins. These cabins offer a chance for sailors to use a porta-potty or get out of the sun. Some small sailboats even have sleeping accommodations for overnight stays.
An excellent example of this is the Cape Dory Typhoon Weekender. This small sailboat is known as "America's Littlest Yacht." Down below, there are two small bunks for sleeping and enough space to have a small stove and a porta-potty. Most owners don't stay aboard long-term, but the cabin is a useful place to stow items while sailing or to hide during a rainstorm.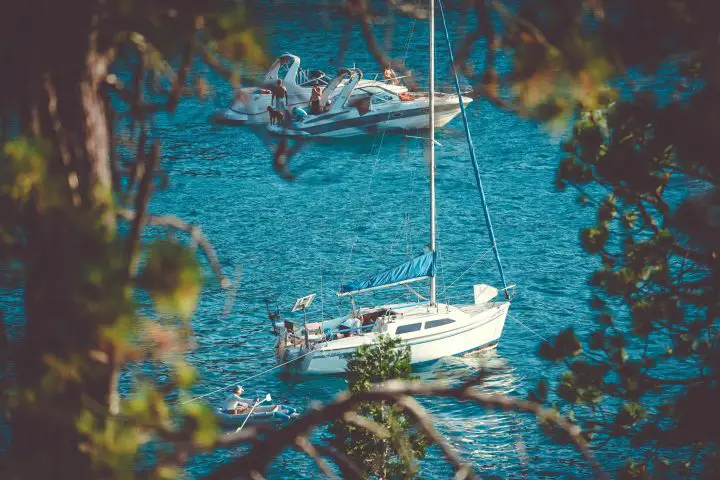 Cruising Boats
Cruising boats are boats that are capable of traveling long distances. Cruising boats have sleeping accommodations, cooking facilities, and bathroom facilities. These boats are like RVs for the waterway.
Cruising boats offer sailors the chance to live on their boats while sailing. Like RVs, cruising sailboats travel to different ports of call. Cruising sailboats are one of the more popular types of sailing boat. They offer adventurous sailors the chance to enjoy sailing as a sport while seeing new things.
Cruising boats are usually 30 to 50 feet long. Most cruising couples prefer a boat that is around 40 feet long since this provides enough space to live comfortably and enough storage space for all of their gear.
Monohulls are very popular cruising boats. These boats offer good storage, are safe, and are easy for a couple to handle together. Monohulls have different types of sail configurations.
Cruising Bermuda Rigged Sloops
Most monohulls are Bermuda rig sloops. This sail plan features one mast with a mainsail and a headsail. Bermuda rig sloops are easy to single-hand and very versatile. How many sails does a sloop have? A Bermuda sloop flies two sails at a time, which are the mainsail and a headsail.
However, the boat might have other sails onboard. For example, the captain might take down the jib in light winds and use a bigger genoa to capture more wind power. During a downwind sail with light winds, the captain might rig a large spinnaker, which looks like a huge kite, to keep sailing even in little wind.
Even within the sloop category, there are many variations in the design. A masthead sloop is one whose forestay (headsail) goes all the way to the top of the mast. In contrast, a fractional sloop's forestay connects at some point lower. So a 3/4 fractional rig has a headsail that only goes up three-quarters of the way to the top.
Riggers and boat designers have a lot of tools in their toolbox from which they can make a boat faster or more user-friendly. The type of rigging and sail plan a boat is equipped with offers it performance improvements as well as functionality.
Cruising Cutter
A cutter is a sailboat with one mast, one mainsail, and two sails forward of the mast. The sail at the front of the boat is the jib, genoa, or yankee depending on its size and cut. The next sail in, the inner headsail, is called the staysail. Island Packets are popular boats with this sail plan.
Cutters are popular choices as cruising and bluewater cruiser boats because the staysail provides the skipper with many different sail options. They could fly all three sails fully, or they could fly a small partial mainsail and just the staysail for heavy winds.
Cruising Ketch With Mizzen Sail
Some cruising monohulls are ketches. A ketch can be easily identified by its two masts. The forward mast is the main mast with a mainsail. The aft mizzen mast is shorter and has a mizzen sail. This sail plan can make it easier to carry a big sail area and configure the sails for various sailing conditions.
A boat with more than one mast is called a split rig because the rig is split between two shorter masts instead of all mounted on one tall one. The advantage of a split rig is that there are more sails, each of which is smaller. That makes them easier to handle, and important consideration when you are sailing alone or with only one other person.
Cruising Yawl
A yawl is similar to a ketch and has two masts. However, the mizzen mast on a yawl is aft of the rudder post, whereas it is forward of the rudder post on a ketch. This mizzen mast location is even further back than a ketch's. Yawls are one of the less popular types of sailboats. However, like the ketch, they offer diverse sail options and can keep sailing in many different types of weather. 
On both ketches and yawls, the mizzen mast is shorter than the main mast. If the two masts are of equal height, or the forward mast is shorter, then you are looking at a schooner.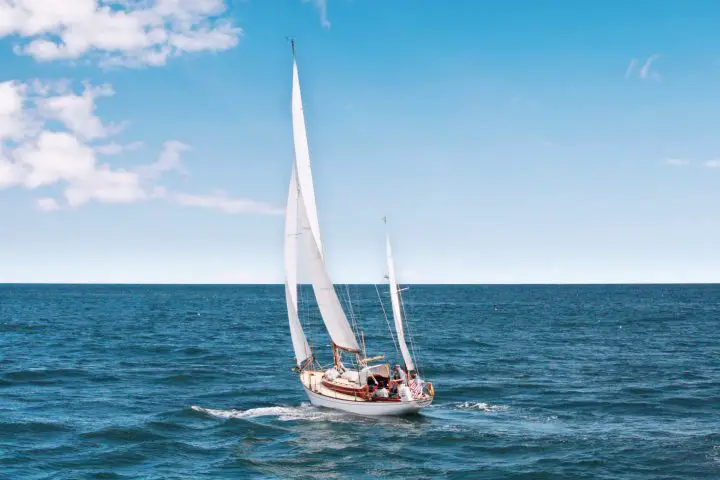 Cruising Catamarans
Cruising catamarans are one of the most popular classes of sailboats right now. This type of sailing boat has two hulls and offers sailors speed, space, and comfort. A cruising catamaran is usually between 40 and 60 feet long and 20 to 30 feet wide. The additional width offers cruise sailors huge amounts of space. 
Cruising catamarans have excellent storage space and ample living accommodations if you intend to living on a boat. These boats are popular with couples and families and are often used to sail around the world on circumnavigations. 
Cruising catamarans are usually fractional sloop rigs. They have one mast, a large mainsail, and a jib or genoa. In general, these boats are designed to be easy to sail and minimize complications.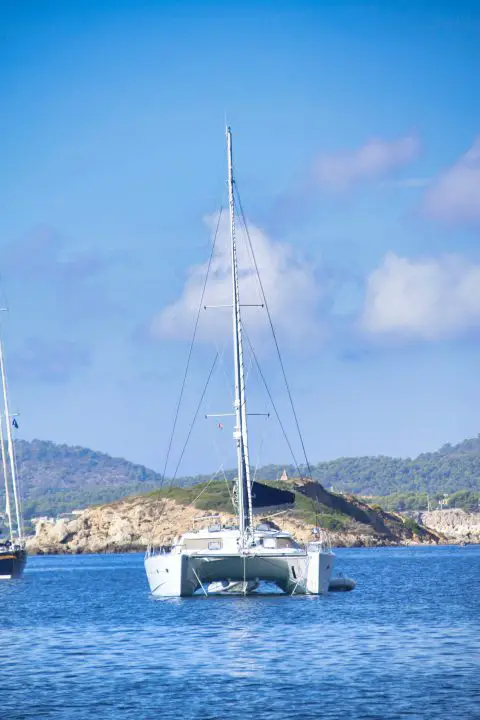 Cruising Trimarans
Trimarans are a type of sailboat with three hulls. Trimarans are known to be fast and are popular with racing sailors. However, they are also gaining popularity as cruising boats. These boats usually have fewer accommodations than cruising monohulls and catamarans. However, more modern trimarans like the Neel Trimaran have luxurious living spaces.
Types of Keel
Another way to classify the different types of sailing boats is by looking at the boat's keel type. You can easily get an idea of different keel designs by walking around a boatyard. When a sailboat is in the water, it is hard to tell the shape of its keel.
The keel is the bottom part of the hull and is underwater. The keel is structurally essential. The keel's weight helps the boat sail evenly and uprightly. The force created by the water moving over the keel counteracts the effects of the wind on the sails.
So a keel does two jobs for a sailboat. First, it provides a force that allows a sailboat to sail into the wind. Second, it provides stability. If storm-force weather conditions cause a monohull boat to roll, the weight in the keel will help the boat right itself.
Full Keel Boats
Many older cruising boats had full keels. The keel shape runs the entire length of the boat. A full-keel boat is strong and easy to manufacture. Full-keel boats often have deeper drafts. The boat's draft refers to the amount of water it needs to float. Full-keel boats can't go into the shallow anchorages that catamarans or swing-keel boats can access.
Captains often report that full-keel boats are harder to maneuver in tight places such as marinas. Full-keel boats lack quick maneuverability. They have a reputation for being slower than more modern designs, but they make up for this by providing a very comfortable and safe ride in rough weather.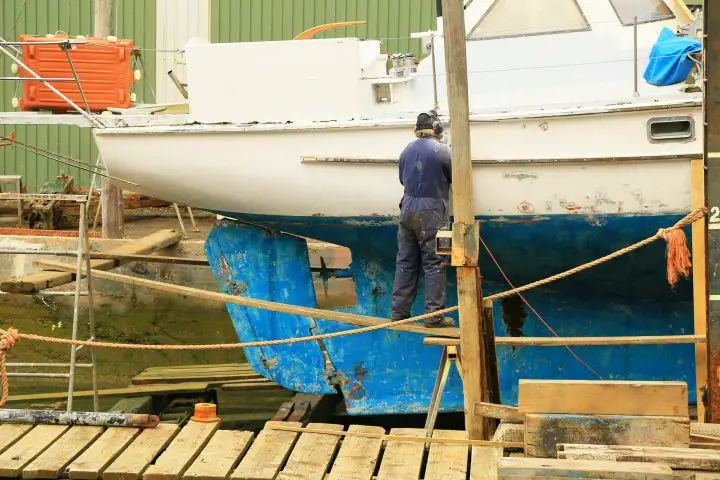 Fin Keel Boats
A boat with a fin keel has a smaller underwater profile than a boat with a full keel. This smaller keel resembles a fish fin. Captains find fin keel boats easier to maneuver. Fin keels use their shape to create very effective forces underwater. That makes them very good at countering the forces on the sails, meaning that fin keels sail upwind very well.
Bulb Keel
A boat with a bulb keel has a torpedo-shaped bulb on the bottom of a fin keel. Bulb keels offer improved stability. Bulb keels have shallower keels than a fin keel boat. The bulb also lowers the center of gravity in the boat, making it more stable overall.
Wing Keel
A wing keel features a keel with a small wing on either side of the keel. Viewed from above, the keel looks like it has a set of small airplane wings. 
Similar to a bulb keel, wing keel boats often have a shallower draft than fin-keel boats. However, the additional shape causes drag and can reduce sailing performance in some circumstances.
Centerboard Keel
A centerboard is common on small daysailors that are launched and retrieved from trailers. Deep keels make getting those boats in and out of the water difficult. By chopping off the keel, you can make a sailboat as easy to launch as a powerboat.
But of course, a sailboat needs to have a keel. A centerboard is a simple swinging fin keel that can be raised or lowered. This provides some excellent benefits if the sailor on board likes to explore areas with shallow water.
Many bigger boats have centerboards, too. A boat with a centerboard can be seen as the best of both worlds. A centerboard boat has a fixed shallow draft keel. However, the captain can deploy the centerboard when sailing in deeper waters. The centerboard adds depth to the keel and offers increased stability and performance.
A modification of the centerboard is the swing keel — a ballasted keel that can be retracted like a centerboard. These are rare. They're used on large cruising boats where the crews want the option of accessing shallow waters. In England, this type of boat is used and can be dried out when the tide goes out.
Racing Sailboats
Yacht racing is a popular sailing sport. It's a great way to get out on the water while competing. In fact, racing is a great way for sailors to hone their sailing skills. Sailors have to pay close attention to weather conditions and manage their sails effectively to maximize their speed.
Sailors can race any boat with sails. Kids race sailing dinghies against each other. Club racers sail daysailors or catboats. Catamarans and trimarans are also popular race boats. Several classes of boat races in the Summer Olympics.
Hydrofoil Sailboats
A hydrofoil is a unique and modern type of racing sailboat. A hydrofoil can be a monohull, catamaran, or trimaran. A hydrofoil has wing-like foils on the hull's underside.
As the sailboat speeds up, the hydrofoils lift the hull out of the water, and the hydrofoil sailboat almost appears to be flying above the water.
Because the hull is now out of the water, drag, and resistance are minimal, and the sailboat can sail even faster. For example, a dinghy that usually goes four knots can accelerate to 12 knots when fitted with a hydrofoil.
Most hydrofoil sailboats are catamarans and trimarans. The added width of these multihull sailboats gives the hydrofoil sailboat more stability.
Traditional Sailboats
Traditional sailboats are the type of sailboats used to transport people and goods before modern transportation options were available. Before the railway, cars, and airplanes, a tall ship sailboat was used to ship cargo and people across oceans and from port to port.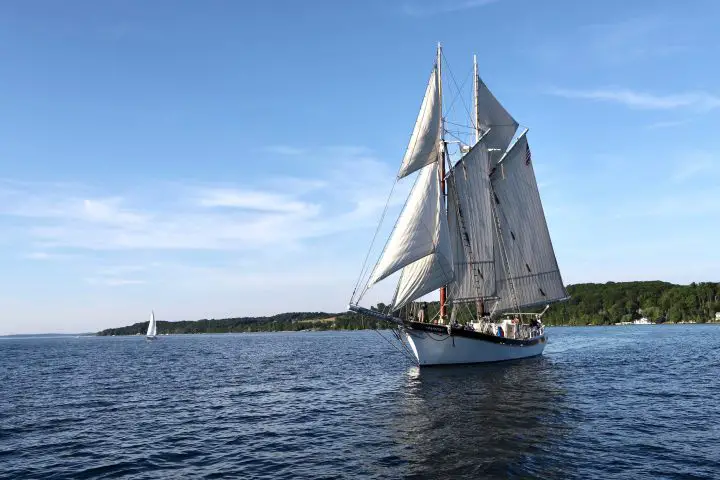 Gaff Rigs
A gaff rig refers to the gaff, which is the upper spar on a square-shaped sail. Gaff rigs can be used with any mast configuration, but this feature is usually seen on traditional boats like a catboat, tall ship, or schooner.
Schooner
A schooner has at least two masts. They are different from other mast configuration designs with two spars in that both masts are equal in height, or the forward mast is shorter. Schooners are faster than most traditional boats and were often used to transport perishable goods such as fruit. 
Schooners were also popular race boats in the early 20th century. For example, first America's Cup races were won by schooners.
Today, schooners are usually used as charters for vacations or youth sail training programs. But there are a few cruising boats out there that feature schooner rigs. 
A Purpose for Every Type of Sailboat
Any way you divvy it up, there are tons of different types of sailboats out there. With a little research and a little looking, you're sure to find one that suits your style and boating plans.
FAQs (Frequently Asked Questions)
What are the classes of sailboats?
Sailboat styles can be classified by hull type, use, or sail plan. The types of sailboat hulls include monohulls, catamarans, and trimarans. You can also categorize the kinds of sailboats by their use. For example, sailors use their boats for daysailing, cruising, and racing. Finally, different kinds of sailboats have different sail plans. A sailboat might be a sloop, ketch, yawl, catboat, or schooner.  The term "classes" has a particular meaning in sailing, however. Class racing is the competitive racing between boats of the same make and model—boats of the same "class" or of "one design." There are hundreds of different classes of sailboats out there. Some of the most popular classes include the Laser and Sunfish classes.
What is a small 2 person sailboat called?
A small two-person sailboat is a dinghy. These small boats are fun to sail on protected waters. Many kids learn to sail in a sailing dinghy. There are dozens of makes and models of sailing dinghies available, some are used in Olympic sailing racing while others are just rowboats with sail rigs attached.