There are dozens, if not hundreds, of sailing bags out there. Whether you need a big duffle to store your gear for a week-long charter, a fashionable tote for a daysail, or a waterproof case for your phone, we've rounded up all the best sailing bag options.
Table of Contents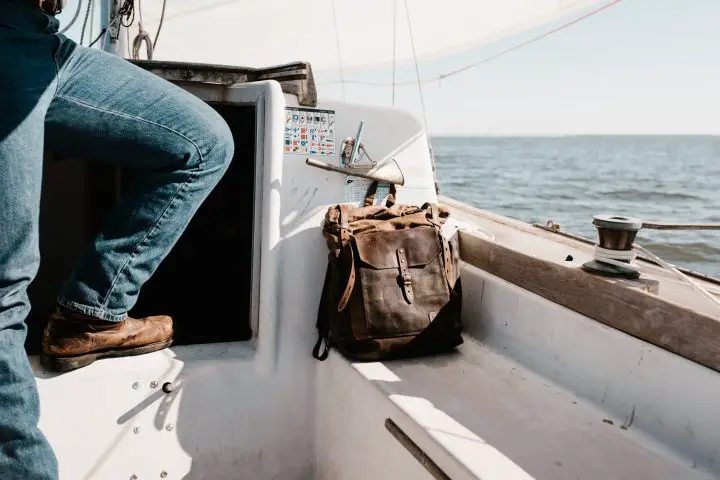 What is a Sailing Bag? What Makes the Best Sailing Gear?
The truth is that every boater is going to have slightly different requirements for their sailing luggage. A liveaboard boater who commutes via dinghy every day will need something waterproof–something that can get their laptop to shore and back safely through splashes or rainstorms. A charter sailor who flies into the BVI for a week's vacation needs something completely different–they need duffels that will allow them to keep their gear tidy from home to the plane to the yacht.
The only way to pick the right sailing gear is to step back and look at exactly what your needs are. And in the end, most sailors will wind up with a variety of pouches, bags, backpacks, and duffels to suit every occasion.
What to Look for in Sailing Luggage
First, you should always buy a soft-sided bag if you're going on a sailboat. Those hard-sided wheeled suitcases are great for marching through airports but are impossible to stow on a sailboat. Even if you are sailing on a large yacht, sailboats have small, strangely sized storage areas. A soft-sided bag is easier to store and manage on a sailboat.
Types of Sailing Bag
Type of Sailing Bag
Advantages
Disadvantages
Duffel Bags
– Good for traveling to and from the boat

– Carry a lot of gear

– Can be stuffed small when empty

– Available in standard or waterproof designs
– Handles and zippers can be damaged when checked with airline luggage

– Soft sides do not protect your gear

– Harder to keep organized when traveling than hard luggage
Backpacks and Slings
– Good for day trips to town/shore

– Range from stylish to purely functional

– Available in countless sizes and styles to suit you and your gear

– Usually equipped with laptop computer sleeves and electronics pockets

– Easy to keep organized
– Good waterproof backpacks are rare

– Waterproof designs usually have inconvenient roll-top closures
Roll-Top Waterproof Bags (Dry Bags)
– Good for wet dinghy rides and dinghy sailors

– Made of sturdy vinyl with welded seams

– Available in a wide variety of sizes from electrics pouches to huge duffels

– Inexpensive
– Roll-top closures can be a pain to use

– Small openings

– Exterior quick-access pockets are usually not completely waterproof

– Interiors seldom have organizers

– Fabric doesn't breathe

– Inside contents get extremely hot in the sun
Zippered Waterproof Bags
– A more functional alternative to roll-top bags

– Available in slings, backpacks, and duffels

– Made from high-quality vinyl with welded seams
– Expensive

– Hard to find
Sailcloth Bags
– Perfect for yacht club outings and beach days

– Stylish–say you're a sailor without saying you're a sailor!

– Often made from recycled old sails

– Great souvenirs from your favorite sail loft

– Available in all styles–totes, duffels, backpacks, etc.
– Not completely waterproof–usually made with standard zips and regular designs

– Harder to keep clean

– Stiff fabric doesn't pack small like nylon duffels

– Some are made from untreated, new sailcloth
Type of Sailing Bag Advantages vs Disadvantages Table
Quality Materials
Cheap metals and plastics deteriorate quickly in sunlight and saltwater. You don't want the hardware on your sailing bag to rust, green over, or corrode. Poor quality zips suffer in a saltwater environment and can jam either open or shut. This applies just as much to being kept dry on the interior of the boat as it does getting splashed in a dinghy–just being in the salt air is enough to do in most bags.
Also, avoid natural untreated fibers and leather of any kind. These will mold and mildew faster than you could ever imagine. Look for high-quality plastics that won't degrade in UV and stainless steel hardware that can stand up to saltwater. And even if you invest in the best waterproof zips, take care of them by treating them occasionally with some zipper lubricant.
Waterproof Sail Bags
Sail bags come in different levels of waterproofness. Standard bags sold for daily use aren't waterproof. However, these bags will be less expensive and often have breathable fabric, which is great for mold resistance. If you plan on transporting your bag straight into a secure storage area or want to put it in an additional waterproof bag, a standard bag might meet your needs.
Water-resistant bags resist water but aren't submersible. A water-resistant bag should keep rainwater or salt spray out of your bag. However, if you drop your bag in the water, don't expect your items to remain dry. A water-resistant bag might not be crafted with waterproof construction and additional water pressure. Water might start seeping in through seams and zippers.
Waterproof bags are constructed with heavy-duty waterproof materials, zippers, and sturdy seams. The seams are often glued or heat-welded. Many waterproof bags close with a roll-top. Rolling and securing the top ensures the water stays out.
Choosing the Best Sailing Bags
Many sailors opt for a hybrid approach when managing their sailing bags. For example, you might choose a water-resistant duffle to store your clothes but hide your laptop and camera in a completely waterproof bag.
Packing for a Week-Long Sailing Trip
Whether going on a racing trip or a relaxing sailing vacation, focus on taking as few items as possible. Life on a sailboat is about minimalism and enjoying time with your crew instead of showing off the latest fashions. Storage is always an issue on a boat, so it's often best to pack lightly so that you can more easily manage to transport and stow your gear.
In addition, you'll often have to lug your gear through multiple stops to get to your boat. You might well board an airplane, take a taxi, and get in a small dinghy before arriving at your boating destination. The fewer items you have to carry, the better.
The sailing and boating life can be hard on delicate items. Jewelry can be damaged through saltwater exposure or get caught on a doorframe as you travel through the boat. Most of your packed items should be practical. Think about hardy non-slip sandals or a pair of close-toes waterproof water shoes.
Think through the activities you might be doing and plan for each activity. Many vacation boaters pack a few swimsuits, a pair of shorts, a few t-shirts, and a sundress. Quick-dry fabrics that feel cool to the skin are good bets. Don't forget sun protection such as linen pants, long-sleeved shirts, sailing hats, and a great pair of sailing sunglasses.
The salt air and sun exposure might dry out your lips, so pack lip balm too. In addition, a lightweight cardigan or sweater is a good idea for breezy evenings or cold airport lounges.
Space in the bathroom (called a head on a boat) is limited, so consider a hanging toiletry bag. This will help you keep your items organized instead of haphazardly managing items on the floor. A toiletry bag also keeps your items private, and you can keep your toothbrush separate from the other crewmember's things.
If you are traveling internationally, you'll want to pack your passport and ID. Consider a separate, small bag for these essential items to keep them near your body, ready to display as requested, and safe.
Sailing Bag Reviews – Best Sailing Backpacks and Bags
Best Sailing Duffel Bags and Backpacks
Helly Hansen Duffel Bag – Water-Resistant Duffle Bag in Several Sizes and Colors
The Helly Hansen Duffel Bag comes in a few sizes and colors for offshore sailors. You can choose from a small 30-liter duffel bag, a 50-liter bag, a 70-liter bag, or a 90-liter bag. Colors include black, fuchsia, pink, orange, yellow, and green.
This sporty bag is made with water-resistant polyester fabric and is machine washable. It has padded shoulder straps for comfortable carrying. The shoulder straps mean that this versatile bag can function as a backpack or carry-on. Many boaters use this duffle as a convenient airline carry-on and then head straight to their sailboat adventure.
Features
Several sizes, including large sizes
Water-resistant polyester
Washable
Gill Race Team Bag – Waterproof Duffle Bag
This waterproof duffle bag features waterproof PVC tarpaulin fabric and welded seams to keep your gear dry. The 60-liter size is perfect for carrying a week's worth of gear. You can easily take this as a carry-on and then head straight to the boat.
The soft-sided bag can be squished to fit into overhead compartments on an airline or into tight spaces on a boat. The waterproof construction means your stuff will stay safe and protected even during wet dinghy rides.
Features
60-liter size
Waterproof PVC tarpaulin fabric
Roll-down waterproof closure
Water-resistant zipper
Yeti Panga Waterproof Duffle Bag
Yeti is known for high-quality coolers but also produces a great waterproof bag. This exceptional bag comes in several sizes. Sailors can choose from a 50-liter bag, a 75-liter bag, or a 100-liter bag. The hydrolok zipper effectively keeps water out and provides easy access to all your gear. The zipper has a special security feature to ensure it stays closed and ensures an airtight seal.
The Yeti Panga duffle bag is made with Thickskin shell. This special shell features high-density nylon and thick lamination to ensure the bag is puncture and abrasion-resistant. The straps are comfortable and durable. Metallock hardware is made to stand up to rigorous use and harsh conditions.
The Yeti has EVA padding on the bottom for added durability, and users can drag this bag through the sand without worry.
Features
Submersible
Zipper access
High-quality fabric
EVA padded bottom for durability
Gill Race Series Team Waterproof Sailing Backpack with Padded Shoulder Straps
Gill is known for making foul-weather and technical gear for sailors. They aim to keep sailors and boaters comfortable and protected against the weather.
This attractive, comfortable backpack is perfect for carrying essentials on wet dinghy rides. The 35-liter bag can store several clothing items, a laptop, and your camera. The backpack has a roll-top closure and welded seams, so it's completely waterproof. As a result, all your valuable items will remain secure even in the harshest and wettest conditions.
The backpack has an exterior pocket for your quick-access items like a wallet or sunglasses. This pocket is water-resistant, but it's not completely waterproof.
Features
Waterproof roll-top closure
35 liter-bag
Waterproof PVC tarpaulin fabric
Welded, waterproof seams
Overboard Classic 100% Waterproof Backpack with Shoulder Straps
The Overboard Classic Backpack protects against water, dirt, and sand. The bag features seamless construction and a roll-top to keep your items dry and secure.
The Overboard Classic comes in several sizes and colors. Sailors can choose from a 20-liter, 30-liter, or 45-liter size. The 20 and 30-liter sizes can be used as airplane carry-on luggage. The backpack comes in various colors, including black, white, green, yellow, and pink. These choices make this one of the most customizable sailing backpacks.
This is the perfect bag to take in your dinghy as it's waterproof and comfortable to wear around town. It features fully adjustable backpack straps and chest straps. The mesh side pockets are great for water bottles or anything you want quick access to.
Features
Waterproof roll-top closure
PVC tarpaulin
Welded seams
Exterior mesh pockets
Zero Grid Toiletry Bag
This compact toiletry bag will keep all your toiletries organized. Using a toiletry bag means you won't be crowding a shared bathroom or mixing up toothbrushes. This toiletry bag has quality YKK zippers and an inside pocket.
Features
Water-resistant ripstop nylon
Compact
REI Shower Roll
This REI shower roll is perfect for organizing your toiletries and making the most of a small sailboat bathroom. You can hang this shower roll in your cabin or the bathroom and easily access all your essential toiletries.
The shower roll has a mesh pocket for items that might get wet. The shower roll features a solid zip pocket for privacy and a clear window for quickly seeing your essential items. This bag also comes with a mirror stored in a slip pocket.
This functional item is also fashionable and comes in three attractive colors.
Features
Compact size
Recycled fabric is abrasion resistant and water repellent
High-quality zippers
Hanging design
Mirror
Sailcloth Bags
Sailcloth bags are multi-functional and look great at the beach, walking through town, or sailing. These stylish bags are made from recycled sailcloth. Most sailcloth bags don't fully close, so they won't keep waves or heavy rain out. You can choose from new or recycled sailcloth. The new stuff is usually a little different from the Dacron used on sails in that it lacks protective and waterproof coatings.
Sailor Bags Sailcloth Duffle Bag
This is a great duffle bag if you want to travel in style. It has a U-shaped zippered top for full access to all your gear. The sailcloth is water-resistant, so it should handle light splashes while traveling. It has a separate area for extra items like a hat or sunglasses. This extra area can also be used to separate dirty or wet clothes. In addition, it has a removable shoulder strap.
Features
Sailcloth construction
Easy access zippers
Sea Bags Sail Tote
The Sea Bags Sail Tote is perfect for the beach. It has a trendy look, a large interior, and a large outside pocket for sandy or wet items like flip-flops. It can be used as a carry-on, for a farmer's market trip, or as an overnight bag.
The recycled sailcloth is water-resistant and made to last. Sail Bags are hand-crafted in the USA and are machine washable.
Features
Water-resistant
Large interior size
Waterproof Device Bags
You'll want a completely waterproof bag to protect your valuable electronics, such as your laptop, camera, and cell phone. These waterproof bags are compact and can be stored inside your larger duffle for the ultimate sail bag combination.
Overboard Waterproof Camera Bag
Protect your SLR camera with this roll-top waterproof bag. The seven-liter bag features PVC Tarpaulin. It has a large internal pocket and a mesh pocket for your accessories. In addition, this bag has an adjustable shoulder strap.
Features
Good size for an SLR camera
Completely waterproof
Aquaquest Laptop Sleeve
The Aquaquest Laptop Sleeve is completely waterproof and features welded seams and a double ziplock seal. The exterior features Ripstop nylon, TPU lamination, and welded seams. In addition, it includes a 5mm neoprene sleeve for shock protection. This lightweight and compact sleeve can easily be stored in your other bags.
The Aquaquest Laptop Sleeve comes in several sizes and color choices.
Features
Waterproof
Welded seams
Neoprene sleeve
Pelican Marine Waterproof Floating Phone Pouch
Pelican is known for its rugged, waterproof cases. This phone pouch is completely waterproof and is certified to remain waterproof at a one-meter depth for 30 minutes. In addition, air cushions provide floatation, so if you drop your phone, it will remain retrievable.
The detachable lanyard helps you keep your phone secure. This Pelican pouch has a clear window to see and use your phone. The pouch comes in two sizes to fit all phones.
Features
Certified waterproof
Floating
Look Cool While Your Gear Stays Dry
When planning a sailing voyage, you want your gear to stay dry, fit in awkward boat spaces, and look great. Every sailor is looking for a little something different, so carefully consider exactly what your needs are and how important complete waterproofness is.