Protecting your eyes and enhancing your vision are vital parts of the sailing lifestyle. Sailing without sunglasses can cause long-term eye damage. Sailing involves looking at bright white sails, white decks, and the unrelenting ocean, all of which cause damaging glare. Battling glare, UV rays, and sunshine cause eye fatigue. Whether you are racing or just out for fun, great sailing sunglasses are a necessity and an important part of your sailing kit.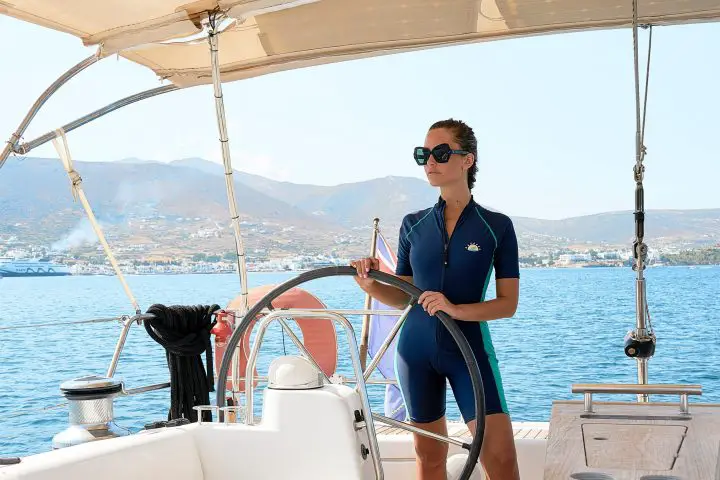 How to Find the Best Sailing Sunglasses
What makes some sunglasses more suited for sailing and watersports than others? Buyers will want to find high-quality lenses. Polarization is key to protecting your eyes from water glare. In addition, check to ensure that sunglasses filter out harmful UV rays and are comfortable for all-day use.
Sailing Sunglasses – Polarized Lenses or Regular?
Polarized sunglasses help block the glare that reflects from the water's surface. In addition, they help boaters see through the water. So, if you are looking to avoid coral heads or catch fish while you sail, polarization can be a life-saver.
Polarized sunglasses reduce eye fatigue and damage and protect your eyes from UVA and UVB rays. Polarized sunglasses help you stay out on the water all day without squinting or getting headaches. The Maui Jim website has good information on the benefits of polarized sunglasses for a life on the water.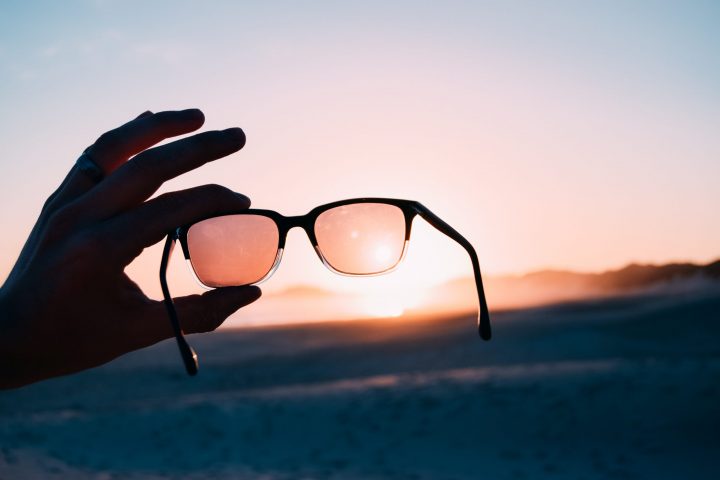 High Quality Construction
Sailors should look for good quality sunglasses that can stand up to saltwater. Inferior sunglasses have coatings that easily fail and peel off after exposure to harsh elements. Brands such as Maui-Jim and Costa Del Mar are higher-quality and have durable materials in addition to superior optical clarity. As with the best sailing binoculars, high-quality sunglasses make a world of difference in reducing eye fatigue and providing a lifetime of dependable service onboard.
Comfort and Fit
A comfortable fit is essential for all-day wear. Many sailing sunglasses have standard over-ear attachments. Some feature rubberized or grippy nose bridges for additional security, while some have wrap-around straps for the ultimate security. Try on several pairs to see which sunglasses fit the best, will stay secure during your sail, and feel comfortable.
Lens Coatings
An anti reflective coating helps cut down on the sun's glare in bright sunlight that could be of great help if you are living on your boat. Hydroponic and water-resistant coatings shed water so you can keep your vision even after getting soaked by a wave or rain. Some coatings also resist saltwater, which is great for ocean sailors.
Mirror finishes
Mirror finishes are fashionable. Other sailors looking at you will see themselves reflected. Often, exterior mirror finishes come in several colors, such as blue, green, or pink.
Lens Colors
After picking the frame style you like, you'll often have a choice in lens colors. Some lens styles, like the mirrored style, are purely for fashion, while other colors change how you see the world. Choose your lens color based on the conditions you usually face when sailing.
Grey lenses
Grey lenses protect against bright sunlight. Grey lenses are advised if you sail in bright conditions and deep water. Grey lenses are the best at accurately depicting colors.
Bronze lenses
Bronze lenses enhance contrast and make the colors pop. These lenses are good if you sail in shallow water and want to look out for coral heads, judge the depth of the water, or watch for fish or marine life.
Rose lenses
Rose-colored glasses do exist and are great at enhancing contrast. Rose-colored lenses are perfect for fast-moving sports like dinghy racing or fishing.
Green lenses
Green lenses enhance colors and contrast and are great for low light conditions. They provide better contrast than grey lenses and more accurate colors than bronze glasses. In addition, green lenses reduce glare and are good on cloudy, foggy, and sunny days.
Yellow lenses
Yellow lenses are often favored by pilots looking for the best clarity. Yellow lenses help sailors focus on moving objects in hazy and low-light conditions. Yellow lenses filter out harmful blue light that causes eye strain.
Blue lenses
Blue lenses reduce glare and improve color perception. These glasses are good in misty and foggy conditions.
Lens Construction – Glass or Polycarbonate Lenses
Lenses can be made with glass or polycarbonate. Glass lenses are the best for super-clear optics but are heavier and easier to shatter. If razor sharp vision and precise optical alignment are your priorities, pick glass.
On the other hand, polycarbonate lenses are more durable and lighter than glass and appropriate for eye protection since they are shatterproof.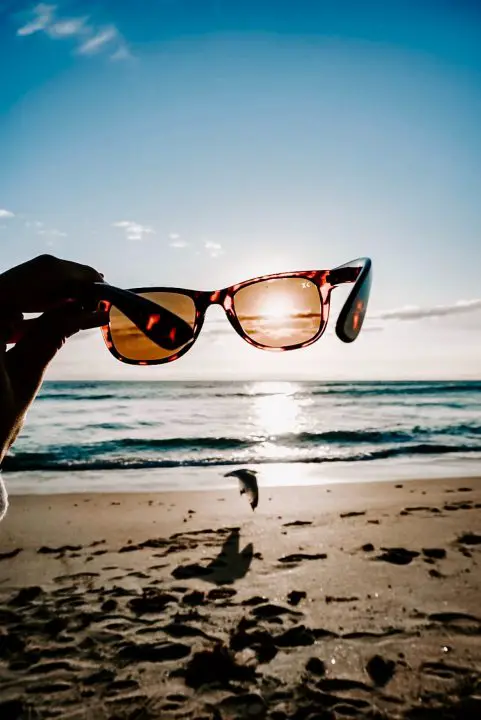 Sailing Sunglasses Reviews
Best All-Around Sunglasses for Sailing
Gill makes world-class foul-weather gear, but they also make fabulous sunglasses that won't break the bank. So if you are looking for high-quality yacht sunglasses that stand the test of time and float, look no further than Gill sunglasses.
Gill Corona Sports Sunglasses
Gill is well-known in the sailing world for making foul weather gear and other clothing items like sailing bags for serious sailors. Gill created their Corona Sunglasses to be a perfect pair of sailing glasses that provide serious protection for sailors' eyes. These polarized sunglasses block 100% UV radiation, including UVA, UVB, and UVC radiation.
Gill Corona sunglasses provide glare-free protection so you can keep focusing on what's important. They have a hydrophobic coating that sheds water and salt. In addition, these high-tech sunglasses have an oleophobic coating that resists sun lotion, skin oil, and fingerprints.
Gill Corona sunglasses float, so if you drop them from your dinghy or while climbing onto the boat, you can grab them instead of sacrificing them to Davy's locker. The lenses allow eight percent to eighteen percent light transmission, making these sunglasses great for bright sunny days on the water.
Gill's Corona sunglasses are fashionable, too. There are several frame color choices, and the style suits smaller and medium-sized faces.
Features
Polarized
Several frame colors
Hydrophobic and oleophobic coating
Floating
Great for bright sunlight
Good for small and medium-sized faces
High-Quality Sailing Sunglasses Reviews
If you are serious about protecting your eyes, don't settle for cheap knock-offs. While quality sunglasses can be pricey, the investment is worth it. Many high-quality brands like Maui Jims offer warranties and low-cost lens replacements to protect your investment.
Maui Jim Waterman Sunglasses
Maui Jim is one of the most well-regarded sunglasses brands out there. Many hard-core sailors use Maui Jim's high-quality polarized sunglasses to protect their eyes on and off the water. Maui Jim Waterman sunglasses have remarkable scratch-resistant lenses. They reduce 99.9% of glare and have water-resistant and oleophobic treatment.
The Waterman's best feature is the wrap-around head strap. Instead of standard over-ear frames, these sunglasses have a secure strap. So if you are dinghy sailing or racing, these sunglasses won't fly off at a critical moment.
Sailors can choose from several Maui Jim lens options. The neutral grey-tint lenses are great for bright light. The High Contrast Lens Bronze glasses offer a warm tint for everyday use.
The Maui Rose lens has a rose tint for high contrast. Finally, the Maui HT lenses offer contrast and color for low light conditions. And this pair makes a great gift for your sailor's friend.
All Maui Jim glasses have a Bi-Gradient lens to reduce the brightest light at the top and bottom of the sunglasses. This technology effectively reduces squinting.
Features
Polarized
Several frames and lens colors
Water-resistant and oleophobic coating
Wrap-around strap for adventurous sailors
Two-year warranty
Bolle Anaconda Polarized Offshore Sunglasses
Bolle Anaconda sunglasses are polarized and optimized for offshore use. Bolle Anaconda sunglasses feature polycarbonate polarized lenses to reduce water glare. The anti-fog coating resists fogging, scratches, and chemicals.
The nose pads, adjustable nosepiece, and temple tips feature the comfortable and grippy Thermogrip material. Thermograip grips even when wet, so you'll have a secure and comfortable fit.
Features
Polarized lenses
Plastic lenses and frame
Thermogrip
Anti-fog, anti-chemical, anti-scratch coating
Costa Del Mar Fantail Sunglasses
The Costa Del Mar Fantail sunglasses are ready to hit the water with you. These sunglasses are polarized and co-molded.
The Costa Del Mar Fantail glasses have lightweight, impact-resistant polycarbonate lenses. The lenses block harmful blue light, reduce harsh yellow light, and enhance the beneficial red, green, and blue lights.
The co-injected nylon frames are extra durable and crafted with an environmentally-friendly process. In addition, the frames are resistant to heat and cold.
The Costa Del Mar Fantail sunglasses come in an amazing 30 combinations. Choose your frame color and lens color for a unique and stylish look.
Features
Polarized
Durable frames and lenses
30 lens and frame options
Maui Jim Stingray Sunglasses
Maui Jim sunglasses feature Polarized Plus2 lens technology that excels at shielding your eyes from harsh light, glare, and harmful UV rays. The lenses are water-resistant and oleophobic to resist chemicals and fingerprints.
You can choose from neutral grey lenses or HCL bronze lenses. The neutral grey lenses are great for harsh bright light, and the HCL bronze lenses have a warm tint that is great in changing light conditions. The lenses are made with SuperThin glass that is shatter-resistant, scratch-resistant, and lightweight.
The Stingray sunglasses have wrap-style lenses that increase protection from the sun. The frames are crafted with lightweight injected nylon and are very durable and comfortable.
Features
Polarized Plus2 technology
Water-resistant and oleophobic
SuperThin glass lenses
Neutral grey or HCL bronze lenses
Two-year warranty
Oakley Holbrook Polarized Sunglasses
Oakley is a well-known brand that produces stylish, top-quality sunglasses. However, most of their sunglasses aren't polarized, so be sure to check out the specs before investing. Oakley's Holbrook sunglasses feature a lightweight, stress-resistant frame that offers all-day protection and comfort. The frame features injection-molded thermoplastic for strength and flexibility and won't shift or deform over time.
Sailors can choose from several frame colors, such as black or matte brown tortoise.
The Plutonite lenses with Prizm Sapphire Polarized lenses block 99% of reflected glare. The lenses are durable and feature protection against high-velocity impact. Oakley's Prizm technology enhances colors and improves contrast. The lenses offer 100% UV protection against UVA, UVB, and UVC light.
Features
Polarized
Prizm lens technology
Lightweight
Stylish
Kaenon Avila Sunglasses
Kaenon Avila sunglasses feature polarized lenses and full coverage to protect your eyes. Kaenon Avila sunglasses are attractive with a butterfly silhouette. These stylish sunglasses will keep you looking amazing while offering superior protection and high-quality features and materials.
The SR-91 lens is an advanced polarized lens with amazing clarity, lightweight construction, and impact resistance. The stainless-steel hinge is high-quality and won't rust.
The Variflex nose pads are recessed and hypoallergenic. These high-quality nose pads have extra grip and won't slip even during the toughest of tacks.
Features
Polarized
Lightweight
Stainless steel high
Attractive design
One-year warranty
Costa Del Mar Waterwoman Sunglasses
These polarized sunglasses are made for a harsh life on the water. They feature polarized lenses and offer 100% UV protection. Costa's 580G glass lenses are known for their scratch-proof clarity and block harmful light while enhancing colors and contrast. These glasses are perfect to use in the harsh sun while out on the water.
The co-injected nylon frames are durable and manufactured with an environmentally friendly process.
The Costa Del Mar Waterwoman sunglasses come in 15 options. Choose from a variety of frames and lens options.
Features
Polarized
Costa 580G glass lenses
Durable frame
Trendy design
Prescription Sailing Sunglasses
If you want to protect your eyes from harsh glare and read your nautical chart, you might look into a pair of prescription sailing glasses or bifocals.
Gill Race Vision Bi-Focal Sunglasses
Gill's Race Vision Bi-Focal sunglasses provide the same great specs and protection as their regular sunglasses while adding in prescription strength reading glasses. Choose from the +1.5 or the +2.5 strength.
Gill Race Vision Bi-Focals are polarized and scratch-resistant. The hydrophobic coating sheds water and salt so you can keep your focus. These sunglasses also float, so you can retrieve them in a sunglasses overboard drill.
Features
Bi-Focal
Polarized
Floating
Scratch-resistant
Hydrophobic coating
Economical
Sailing Sunglasses Budget Buys
While your eyes are worth protecting with an expensive pair of sunglasses, you might be looking for a backup pair or need a budget buy for occasional use. In that case, consider adding a budget buy to your sailing kit.
Calcutta Outdoors Prowler
Calcutta Outdoors Prowler sunglasses are polarized and have a sturdy polycarbonate frame. They are comfortable for all-day wear, lets say while chilling on your yacht or sailboat. The frame is fade-resistant and ready for tough sailing conditions. The frames have a stainless steel hinge that's saltwater resistant and long-lasting.
Calcutta Outdoors Prowler sunglasses feature 100% protection against damaging UVA and UVB rays.
Calcutta Outdoors Prowler sunglasses come in several frame and lens options. Choose from black, timber, and gray frames. Lenses are available in blue, blue mirror, and grey.
Features
Budget Buy
Polarized
Several frames and lens color options
One-year warranty
Suncloud Milestone Polarized Sunglasses
Suncloud Milestone sunglasses have a wrap-around style for extra protection. The lightweight plastic frame is durable. The lightweight polycarbonate lenses are scratch-resistant and impact-resistant. Sunclouds are a good budget buy for those looking to spend a fun day out on the water.
The Suncloud Milestone sunglasses come in several frame and lens color options. Sailors can choose from a black or tortoise frame. Lens options include grey, bronze, green mirror, and blue mirror.
Features
Polarized
Fashionable
Lightweight
Variety of frame and lens colors
Don't Set Sail Without Your Polarized Sailing Sunglasses
The best nautical sunglasses keep you looking good and good at looking. Sunglasses are a vital part of a sailor's gear. It's worthwhile to invest in at least one high-quality pair of sailor sunglasses so you can enjoy your days on the water.
Sunglasses for Sailing FAQs
Are polarized sunglasses good for sailing?
Polarized sunglasses are essential gear for sailing. Polarized glasses help block the water's glare so you can see through the water instead of being blinded by the glare.
What should I look for in sailing sunglasses?
Sailing sunglasses should be polarized and made of high-quality materials that stand up to saltwater and harsh sailing conditions. 
Are Gill sunglasses good?
Gill sunglasses are a good investment for sailors looking to protect their eyes. Gill sunglasses are polarized, reduce glare and eye fatigue, and they float.