Single-handed boats aren't just limited to solo travelers. Many cruising couples will tell you that it's a good idea to have your boat rigged and ready to be sailed single-handed. Why? What if one person gets injured—or just seasick? If your usual crew complement is only two, it makes no sense—from a safety standpoint—to require them both to be "on duty" all the time.
Of course, there are times and situations when you'll be headed out by yourself. Maybe you like to travel but lack a consistent crew. Or many you'd just rather not bother with a crew.
The good news is that most modern cruising boats can be modified and re-rigged to improve their single-handed abilities. It all comes down to picking the right boat and making the correct modifications. Here's a look at some of the things you'll want to consider and five great single-handed monohull and catamaran designs.
Table of Contents
Goals for Your Boat
To find the perfect boat for you, whether solo or crewed sailing, is to make a list of goals and find the vessel that best meets them. There is no perfect boat. Furthermore, while you might be interested in solo sailing now, you might find yourself with a crew later on. 
Start with the basics—why are you looking to single-hand your boat? Are you an adventure seeker looking to break records and find adventure with long-distance cruising? Thinking of entering a single-handed sailing race, like the Vendée Globe? 
Or are you just a solo sailor looking for a production boat that's easy to operate by yourself? This is more common than you might imagine. Most cruising couples out there will readily admit that one member of the crew does very little to help during the actual act of sailing. 
The Under-Rated Importance of Ease of Single-Handing
Even on two-person crews where both partners are capable, it's often desirable for the boat to be equipped to be handled by just one person. What if one partner becomes incapacitated by seasickness—or worse, an injury? What if, even rarely, one person needs to move the boat while the other person is away?
The point is simply this—every boat that is being considered by a couple or a short-handed crew should be able to be handled by a single sailor. Whether you're on watch while the rest of the crew sleeps or you just want to be ready for an emergency, no cruising boat should be impossible to handle alone.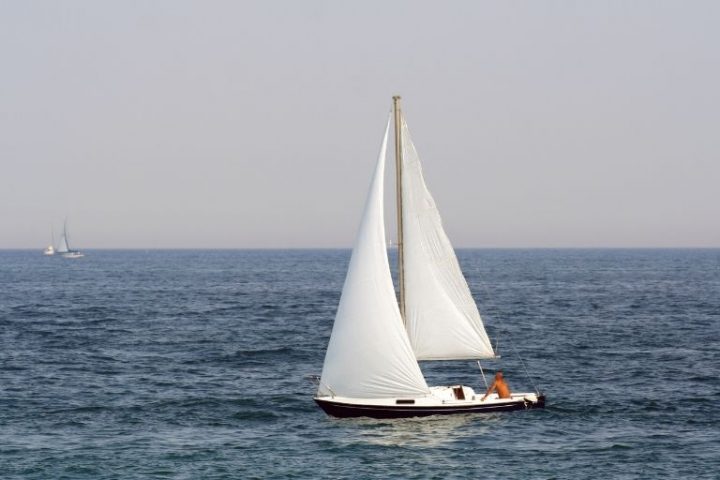 What Does a Single-Hander Need?
Nearly all modern cruising boats can at least be modified for easier solo handling. Here's a look at some of the most critical gear and considerations. 
The importance of each of these items will vary greatly depending on the boat, its mission, and its crew. Rigging any boat is a very personal choice. Sailors notoriously like to do things their own ways, and their boats demonstrate this character trait. The way the manufacturer or the last owner set things up is just a starting point from which you begin modifying the boat for your use. 
Automation
Probably the most helpful thing to be able to single-hand is a competent hand on the helm. Thankfully, several modern and old technologies can provide solo sailors with just that.
The goal here is to allow the boat to hold a course without the operator being at the helm. Some form of "autohelm" or "autopilot" is invaluable on long passages. While it's romantic to think of steering your ship through the dark night, in truth, it is exhausting work. An autopilot or windvane lets you relax and know that the boat will hold its course while you keep watch.
In severe weather at sea, it's not uncommon for hand-steering crews to stand very short watches, sometimes less than an hour. This is simply due to the workload of controlling the boat in heavy weather. Some boats are more work than others, but all require more helm work when the seas are up.
This is the primary reason why the autopilot system, whatever it is, should be considered an essential part of a boat's safety gear. A sailboat autopilot system is simply invaluable if you plan to travel far distances or do overnights on your boat.
Types of Autohelm
Windvanes
A windvane is a purely mechanical method to controlling the boat's heading. It has two parts—the actual windvane and then some form of steering. Many wind vanes are so well regarded as to be recognizably by brand name. Monitor and Hydrovane are probably the two most well-known models.  
The windvane assembly is mounted on the transom of a vessel. The windvane itself sticks up like the rudder of an airplane, and it reacts to the wind and spins. As it spins, it uses linkages to either move the ship's rudder or its own smaller rudder. The operator simply adjusts some small lines to select what direction the boat should be sailing from the wind. The windvane then holds that angle.
There are many advantages to these systems, and their usefulness offshore should not be underestimated. While we're often dazzled by the digital and the new-fangled, a windvane is dead simple and offers the ultimate in reliability. It uses no battery power and requires very little input to operate. It is nothing more than metal, and short of being severely damaged or bent, there's just not much that can go wrong with one. And one final bonus—some windvanes can be used as emergency rudders.
For all their pluses, windvanes do have some downsides. They are large and bulky, hanging off the back of the boat. And they are costly to purchase and install, too. 
Electronic Autopilots
Most modern boats are equipped with at least a little bit of electronics, and autopilots are now very common. An autopilot can be described as above or below decks, depending on where the drive unit is mounted. 
Regardless of the details, all autopilots work in approximately the same way. They use either a motor or hydraulic system to move some part of the boat's rudder linkages. Some move the wheel, while others attach to an arm on the rudder shaft. Either way, the autopilot uses electronic signals to move the boat's rudder left or right, just like moving the wheel.
Most simple autopilots are connected to an electronic compass, giving the operator a heading hold. Sailing models may also tie into the wind instruments to allow the holding of an apparent wind angle. New models that talk to the chartplotter may track navigation courses between waypoints or entire pre-planned navigation routes. 
The bigger the boat, and the heavier the weather it might encounter, then the beefier an autopilot system needs to be. Autopilots can and do fail—they're complicated electronics with a lot of moving parts. Single-handers venturing far offshore will likely want to have an entire backup unit installed or use their autopilot in concert with a manual windvane.
Radar
For boats looking to travel long distances or make overnight passages, there is no substitution for having a spare set of eyes on board. All vessels operate on the concept of "see and avoid," meaning each captain's responsibility to watch out for other traffic. If a single-hander is busy doing something else, like letting the autopilot drive the boat while they make their supper, who's "on watch?"
There is only one electronic device that can be used as a second set of eyes, and that's a good quality marine radar. All modern units allow operators to set up "guard zones." The unit will monitor a pre-determined zone around the boat and notify you if an object is detected inside that zone. 
Of course, there are other benefits to having radar on board. It can see through rain and fog. If you're sailing solo, there's no reason not to have a second set of eyes on board, even if they're electronic.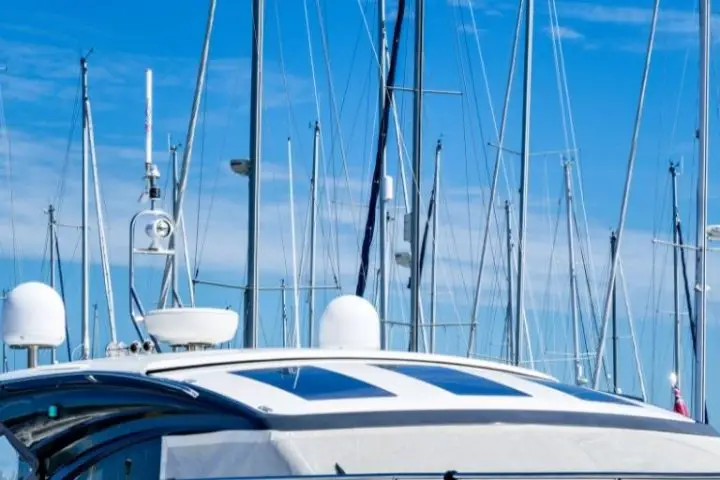 What Does a Single-Hander Want?
Once you've got a reliable autopilot and radar on board, you can move from the items you need into the items you might want. If you have an autopilot that works and you plan your actions carefully, you can likely handle any vessel without the following equipment. But these items might make it all a little more pleasant and are worth considering. 
Electric Windlass and Winches
Cruising vessels that anchor regularly often have electric windlasses. These make hoisting the anchor and chain back aboard as easy as pressing a button. While manual windlasses enable you to bring up very heavy ground tackle, they take a long time to do it and require an awful lot of elbow grease.
The same applies to sailing winches on larger boats. Electric winches are complex and do take a lot of power, but they also make hoisting and handling big sails a breeze. 
Line Control From the Cockpit
Pretty much every sailboat has the most crucial control lines rigged to the cockpit. Jib and main sheets are the perfect examples. But some boats go one step further, also running halyards and reefing lines to the cockpit, too. 
There are plusses and minuses to this approach. Running these lines from the base of the mast aft to the cockpit increases the drag on the system, meaning it will take more effort to hoist or tighten the lines. But the security of not having to leave the cockpit if you don't have to is worth the investment, so long as you have the rope clutches and winch power to make it all work. 
Some sailors balk at the idea of running these lines aft, often citing that they'll have to go forward if something goes wrong. But most of the time, they won't have to. Fewer trips up on deck at sea means a safer and easier voyage all around. For the single-hander especially, the more you can do from one position, the better.
The layout of how the lines are run to the cockpit is important, too. This is often more a factor in the yacht's design than something you can easily play with. But where applicable, a sailor will want to spend considerable time thinking about where they want to put lines and how they want to get them there.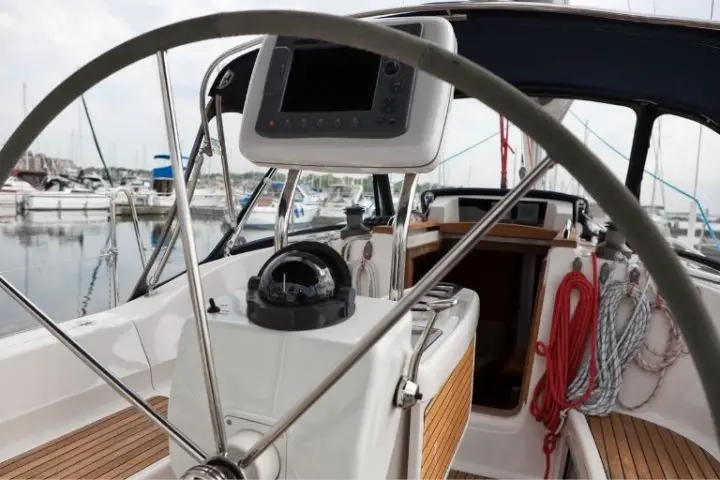 Single-Handing Rigging Considerations
Rig Simplicity
The simpler the rig, the easier it is to sail. While nearly all production boats are sloops, the catboat has some distinct advantages here. With only one big sail to worry about, the amount of work and line handling is instantly reduced by two (or three, in the case of ketches or cutters). Catboats like the Nonsuch are known to be excellent performers and are super easy to sail. There are a few cat-rigged schooners out there, too. 
There are many variations of traditional sailplans that have been played with on modern boats. Junk rigs, for example, are simple to create and very easy to sail. They're complex in their setup and not very common on fiberglass boats, however.
If you're looking for something easy to handle, efficient, and really wild, check out this article from Sail Magazine featuring some of the cutting-edge things found on yachts and the very interesting AeroRig. 
Self-Tending Headsails
Some sloops have smaller headsails that are "self-tending." This is another way of saying that these sails don't need to be tacked, you can trim them like a mainsail, and you can tack the boat simply by turning the helm. That's a considerable reduction in workload for the crew, whether they're a single-hander or not. 
Roller Furlers on Sails
Headsails can either be hanked on or rolled up on a furler. A furler means less hoisting, and you can open the sail from the cockpit. Although somewhat less common, mainsails can be furled too. Some boats have in-mast furlers. On boats with large full-batten mainsails, in-boom furlers are becoming more common. 
The advantage of these systems is that they make reefing and reducing sail extremely easy. The hassle, of course, is that they have more moving parts and are expensive to install. 
Cockpit Layout
The cockpit layout is about more than just the rigging. You'll also want to take note of where and how the electronics are mounted. For example, is there a handheld VHF or do you have to go down below every time you make or answer a radio call? Are the chartplotter and radar in easy view of the helm? These are easy things to fix but worth looking at and thinking about as you set the boat up.
Easy Docking
Finally, the boat should be easy to dock single-handed. Of course, it's always preferable to have help on the dock to get the slip safely. But this doesn't always happen, so you should be prepared to do it yourself. 
Many sailboats benefit from having a bow thruster installed, as this can help control the bow when docking in close quarters, especially in crosswind situations. 
The overall size of the boat is an important factor, too. You can single hand huge yachts, which is all well and good until it comes time to dock it. 
5 Great Sailboats for Single-Handed Cruisers
Monohulls Rigged for Easy-Operation
The good news is that you can rig nearly any boat for safe and easy single-handing. The newer the boat, the more likely it will already be set up for single-handing. Modern items like line organizers and rope clutches make it all the easier. 
The boats below are exceptional in that they step away from the now ubiquitous Bermuda sloop rig. As a result, they may lose some performance abilities in some conditions, but they more than make up for it in their ease of handling. 
Nonsuches are distinctive boats—they are some of the only large catboats on the water today. They're rigged with a large mainsail that is made easy to control by a wishbone boom rigging system. In effect, this makes handling a Nonsuch much like sailing a giant windsurfing board. The larger Nonsuches come from the drawing board of respected marine architect Mark Ellis.
With only one sail, the boat is straightforward to operate. First, hoist the main, and then control it with a single sheet. Tacks and jibes are easy. Reefing is as simple as letting out the halyard a little and reducing sail.
Freedom has made various interesting and straightforward rigs that contrast with the run-of-the-mill sloops found in most marinas. The number one thing you'll notice about Freedoms is their distinctive tapered un-stayed mast. With no spreaders and no standing rigging, Freedoms look sleek from the outset.
Several models of Freedom are catboats rigged with a giant mainsail. Others, like the popular 36, are free-standing, fractionally-rigged sloops with a tiny, self-tending jib. This is the best of both worlds since the jib will provide extra power when going upwind and presents very little extra work for the crew.
Best Single-Handed Sailing Catamarans
Picking a catamaran for solo sailing may seem counterintuitive since they are so much larger than monohulls. But most modern catamarans are rigged from the factory for single-handed sailing. These boats are designed from the ground up for charter work—meaning that a captain will do all the work while their guests enjoy themselves. This flies in the face of the design ethos shared by most older "classic plastic" monohulls built for the club racing scene.
Most cruising catamarans are rigged with straightforward fractional sloop rigs with large, full-batten mainsails. The mains typically feature slab reefing, and the foresails are almost always mounted on furlers. Operating these boats is as simple as hoisting the main and then unrolling the jib.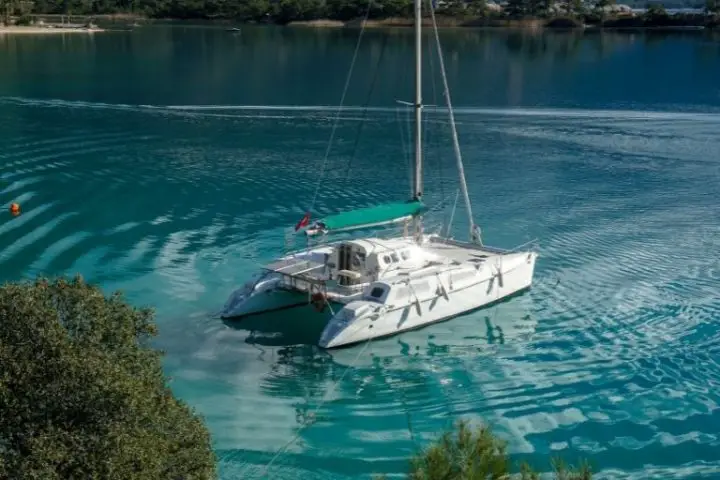 Leopard catamarans, built by Robertson and Caine of South Africa, is the sole supplier of catamarans to The Moorings yacht charter company worldwide. But their boats are equally popular among private owners who want the catamaran lifestyle and ease of sailing.
Unlike competing brands, Leopard embraced the idea of the single-handed operator from their earliest designs. Even some of their original boats, the 38, 45, and 47 (circa 1998), had excellent walk-through helm stations with all lines led to them. As a result, you can perform every task on these boats—from hoisting the main, unfurling the jib, reefing, and even trimming the traveler—while keeping one hand on the helm.
Lagoon is Leopard's main competitor, but if you look at their older designs, they spent years catching up to Leopard in terms of helm positioning and single-handed operations. This changed dramatically when Lagoon introduced the 39 around 2015 and the 42 and 46 a few years later.
This new generation of Lagoons went one step better than Leopard. They have ditched the enormous and powerful mainsail in favor of a larger and self-tending jib. These boats carry their masts much farther aft than other catamarans, and the design is more similar to the Prouts of the 1990s than other modern catamarans.
But this setup makes two significant improvements. First, it reduces the power of the sometimes difficult to control mainsail. Second, it also adds self-tacking abilities to the headsail. And since most cats use furling light-wind sails for downwind and calm-day sailing, no real performance loss results. 
An older boat that is underrated these days is the Prout 37 Snowgoose. These boats featured a double headsail paired with a very small and easy to tend main. While the headsails aren't self-tacking, they are both usually mounted on furlers. This provides a lot of sail plan options for offshore adventures. Additionally, the mast on these boats is located so far aft as to be even with the helm, meaning you can do reefing and hoisting chores without leaving the cockpit.