There are two schools of thought when picking your first boat. Either start small and work up to the big dream boat you want. Or dive in head first. For example, what's the point of owning an 18-foot jet boat or ski boat if you want a 36-footer to do the Great Loop in?
Of course, the reality is more complicated than either of these options. If your dream boat is circumnavigating in a 50-foot sailing catamaran and you've never set foot on a boat before, you'll have a tough time getting insurance.
So, a good boat for beginners represents a compromise–like all boats do. They need to be small enough to be easy to learn, easy to drive, and easy to own. But they also need to give you the capability you want, or else what's the point of buying the boat?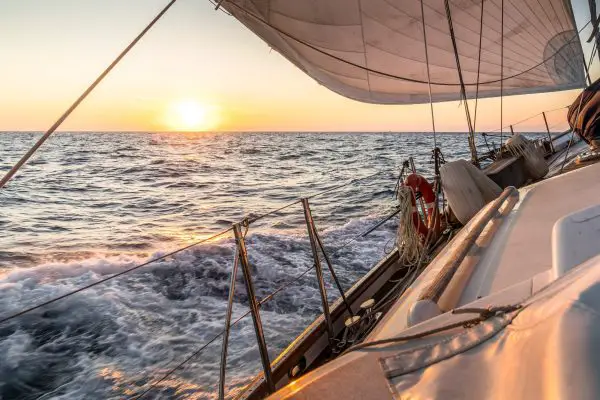 6 Best Beginner Boats for Traveling and Living Aboard
Here's our list of the top six best boats for beginners. Of course, any list like this will always leave off a few gems. The purpose is not to point you towards a specific model but to give you some ideas of the cruising boats out there.
Remember, there's no perfect boat for everyone for every situation. Boats are romantic, but they're just tools. So start thinking about where you want to take your boat and what you want to do with it before settling on the perfect starter boat.
How did we pick these boats? Well, this site is "Where You Make It." With the theme of taking your home with you, traveling long distances, and living aboard, these boats allow you to do all that while keeping it simple and reliable.
Easiest Boats to Drive, the Trailerable Pocket Cruiser – Ranger Tug 25
If you're looking for a trailerable cruising boat, Ranger Tugs need to be on your shortlist. The company made a name with the well-regarded 25, a tiny tug that seemingly packs in everything you need. Galley, private head, large stateroom, and plenty of living space are all inside a boat that is, quite frankly, one of the cutest things you'll ever see on the water. Ranger Tugs have personality, and their owners a fanatical about them. Check out their owner's group for more information, the Tug Nuts.
A boat on a trailer is an excellent compromise in many ways. Ranger Tugs are pricey–you could probably get a 34-foot trawler for less money. But that boat would require you to haul out for maintenance and pay slip fees. On the other hand, a Ranger Tug could live in your backyard, conceivably, and be driven to the mechanic. If you have the time, it could also be trailered over land to cruise to distant destinations too far for the average boat. Imagine being able to commute from the Keys or Bahamas in the winter and Maine in the summer, or even move to Washington State for a few months?
Other similar options include the trailerable Rosborough 246 or the not-so-trailerable Nordic Tug 26 and 32. The Camino Troll is also worth a look.
Coastal Cruising Sailboat, the Classic Best First Boat – Catalina 30
Catalina has made a lot of great sailboats over the years, but the 30 has always stood out. It's the perfect size for a beginner and still big enough to live aboard for extended periods. It has a surprising amount of interior volume, but it still sails well and is a popular racer. Catalina offered many rig heights and keel designs over the years, so research your options carefully. Best of all, there are plenty of the 30s on the used market, so you should be able to find a reasonable price on one in good condition and equipped well.
There are plenty of options in the coast cruiser market. You can pick any Catalina between 25 and 35 feet and get a winner. Check out our list of the 25 best sailboat manufacturers for even more options. These boats are inexpensive and simple, and many were built, so it's easier to find some bargains.
Trusty Trawlers That Make Good Boats for Beginners – Island Gyspy 32
Trawlers don't get enough attention on lists like this one. The Island Gypsy is a popular make that competes with the high-end Grand Banks trawlers. They have voluminous interiors with huge windows and comfortable living spaces. Smaller trawlers like this usually have a single engine, an important factor in keeping maintenance and operating costs low. Operating at slow speeds, and boat like this will run economically with a fuel burn of only a few gallons an hour.
Maintenance-wise, you'll want to consider your options carefully for a boat like this. These boats were nearly all built in Taiwan in the 1970s and 80s, and the quality of various boatyards can be shocking. Common problems include corrosion in the tanks and leaking windows. Teak decks of that age are also nearly always a problem. Older wooden trawlers should only be considered by enthusiasts and never beginners. Some trawler brands had more problems than others, and we chose Island Gypsy for their reputation for building quality vessels.
The DeFever Passagemaker is another popular choice for a small trawler. If you'd like something a little newer, check out the Mainship 34, Monk 36, or Beneteau Swift Trawlers.
Best Starter Boat That's a Solid Bluewater Sailboat – Pacific Seacraft Crealock 34
Speaking of quality vessels, if you're eyeing getting into serious passage making and want a boat that can go anywhere, Pacific Seacraft should be on your list. It's a stout vessel that is exceptionally well built and has space for a cruising couple to take it anywhere in comfort. It has a big boat feel lacking in most pocket cruiser sailboat designs.
There are plenty of other bluewater sailboats, but the focus is on the small size and simple operation. Consider also the Pacific Seacraft Orion 27, Cabo Rico 34, Hans Christian 33, Baba 30/Toshiba 31, Cape Dory 28, Halbery-Rassy 35, or Shannon 28. Most folks will find these boats on the small side as long-term cruisers, but they're great boats that are an awesome place to start.
Best Starter Boat for Family, the Small Cruising Sail Catamaran – PDQ 32
PDQ was a Canadian-built multihull brand that was very popular in the 1990s and early 2000s. Their most popular model was the Capella 36, but the 32 is an even more interesting vessel. PDQ had a reputation for building well-thought-out boats to a high standard. Compared to most of the new multihulls on the market today, a well-cared-for PDQ is still an exceptional value.
Features that make the 32 exceptionally attractive include the large and functional galley and wrap-around salon windows on the bridge deck. Most boats were built with bridgedeck mounted outboard motors, a huge benefit regarding maintenance costs and operational complexity. The LRC (long-range cruiser) models have inboard diesels, significantly adding to the boat's complexity. https://www.practical-sailor.com/sailboat-reviews/used_sailboats/the-pdq-32-a-comfortable-cruising-cat
There aren't many other well-built cruising cats of this size out there, and PDQ didn't make very many 32s. One similar boat is the Gemini 105MC, a much more popular boat that has similar capabilities but a lower build quality. The Maine Cat 30 is a better choice, although much newer and more expensive. The Endeavorcat 30 and 35 are also worth considering.
Small Cruising Power Catamaran – PDQ 32/34 MV
PDQ also produced a popular motor multihull, the 34. This trawler-looking design packs a big punch in a small space. With twin diesel engines, it's one of the easiest to drive boats on our list. It has an upper bridge deck for driving outside and an inner helm for bad weather.
There aren't many power catamarans that compete with the PDQ in terms of this size. Most you will find are either much newer and larger, or are geared toward fishing more than cruising.
Picking a Starter Boat
There is an immense range of boat types that you can consider. As previously stated, there's no perfect boat for every situation. Even once you have the "perfect boat," you might then decide you want to change where you cruise or how long you stay. Doing so might mean that your perfect boat isn't so perfect.
Your first boat should be able to do what you want. Cruise Chesapeake Bay? Travel the ICW from New York to the Florida Keys? Spend winters aboard on the Gulf Coast? Liveaboard year-round on San Francisco Bay? Complete America's Great Loop?
In addition to meeting your goals, it also needs to teach you about boating. It's a learning platform more than anything else. And there's already so much to learn about boating that starting with the simplest boat is best.
There's also nothing wrong with starting with small cuddy cabin sail or powerboats, a pontoon boat, or ski boats as a beginner boater. Something like this can introduce you to the boating world and help get your feet wet. It just depends if this is also a boat that you will enjoy owning, even if only temporarily.
What Makes the Best Beginner Boat?
So, why did these boats make it on the list and others didn't? What exactly makes a good first boat? It boils down to these four factors when picking your first boat.
Simplicity
Cost
Size
Insurance
A Simple Boat Makes the Best First Boat
During the first year of owning any boat, you will experience a steep learning curve. If it's your first boat, the curve is all the steeper. Boating can be challenging, and diving into traveling by boat or living aboard is doubly so.
Simplicity is often discussed as it relates to cost. Sure, you'd like a boat with a generator and air conditioning, but those boats cost more than the boat that doesn't have it. But those systems add complexity and difficulty to your boating experience more than the cost alone. Every piece of equipment you add to your boat is another thing to learn and another thing that needs maintenance. So keep this in mind when looking at boats with complex propulsion systems and advanced electrical systems.
Boats for Beginners Cost
Of course, other factors will weigh you down as you pick your boat. For one thing, a budget will limit you.
As a general rule of thumb, spending your entire budget on purchasing the vessel is a bad idea. You'll need a little left over for upgrades, unplanned repairs, and maintenance. Boat ownership is nearly always more expensive than we imagine. A good rule of thumb is to take your budget, spend half on the boat, and save half for future expenses.
Size and Length of Your Starter Boat
The boat length you choose affects nearly every aspect of your boating. If you buy too small a boat, you'll feel cramped and won't enjoy the experience. If you buy too big a boat, you'll be intimidated to drive it and feel overwhelmed. The length of the boat is also tied to its complexity. The bigger the boat, the harder it is to learn how to operate and maintain it.
If you can get by with a starter boat small enough that it can be stored out of the water, you'll save a ton of money on maintenance, dockage fees, and off season storage. Trailerable boats are great if you have a tow vehicle and room to store them. Even if you don't, in-out storage facilities make ownership much easier.
Insurance for First Time Boater Buyers
Finally, none of these choices are yours to make alone–your insurance agent will have some say. There once was a time when anyone could buy pretty much any boat and sail away. Some will tell you it's still like that, that you just need to forgo insurance.
But neither of those are realistic choices today. First, you'll need insurance to visit many marinas and boatyards. But even if you don't plan on using those facilities, the risk of damaging a multi-million-dollar yacht when you drag anchor in a storm is very real. The tragic possibilities are endless at sea, and it's simply irresponsible to travel by boat without insurance in this day and age.
So before getting too serious about boat shopping, it's a good idea to speak with an insurance agent familiar with your type of vessel. They may require you to get experience with a smaller boat first. Or they might be okay with you getting trained by a professional captain for a few weeks before going it alone.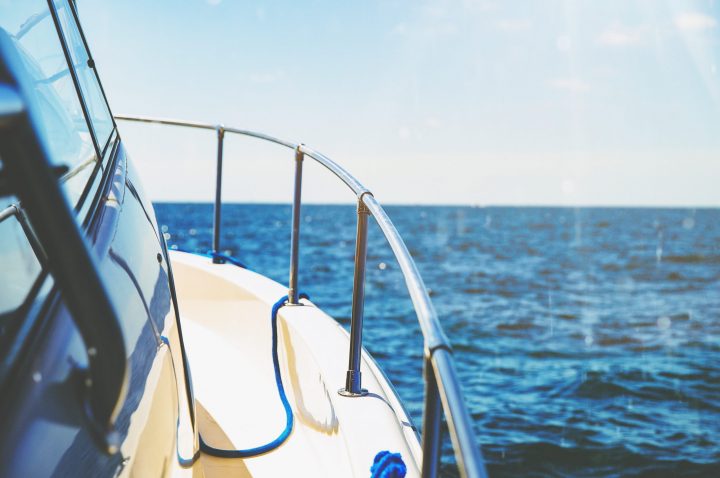 Best Boats for Beginners – Where Will It Take You?
In years of cruising, we have noticed one repeating pattern. Most people who set sail give up boating after a year or so. For many, it's simply that the lifestyle wasn't what they thought it would be. For some, that's because they bought the wrong boat.
Picking a good starter boat is an enormous topic. Before you set out on your dream at sea, consider why you're buying a boat and what your mission is. Then talk to folks, work with a good buyer's broker, and do as much research as possible.
Boats for Beginners FAQs
What is the easiest type of boat to drive?
Nearly every type of vessel takes training and practice to learn how to drive. Boats are deceivingly easy to drive in open water, away from obstacles. But in tight spaces, like in marinas and around docks, boats have quirks that take experience to pick up on.
The question isn't which is easiest since none are difficult, but many are tricky. The best rule of thumb is to get training from a professional instructor before you set out. Most boats are easy enough that someone can show you everything you need to know in a few hours.
What size boat should I start with?
When you first start boating, you'll have to find a balance between the smallest and simplest boat you can afford that is sufficient to do with it what you want to do. Keeping it small and simple makes learning easier, which will go a long way in ensuring that you enjoy your boating experiences. The only limits you may find on the size of the boat will come from your insurance company. They may require you to get training from a captain if you purchase a larger boat without much boating experience.
How do I pick my first boat?
Your first boat should represent a balance between simplicity and ease of use but large enough to do what you want to do with it. Boating is complicated, so the best course of action is to take a hands-on training class like those from ASA (American Sailing Association) or the US Power Squadron. Then, you'll know what boating is like and what you want to get into.
If you're considering getting a boat longer than 25 feet, start your boat search by looking for insurance first. Shop around because some companies will place limits on the length or age of the boat you might be able to choose.
What is the simplest boat?
Generally, the smaller the boat is, the simpler the boat. Larger boats have more complex systems, bigger engines, and more stuff, making them complicated. The simplest boat is a johnboat, a canoe, or an open daysailer with no electrical system, toilet, or cabin. Outboard-powered boats are simpler than inboard-powered boats. Every option you add to your boat wishlist adds complexity and moves away from the "simple" end of the spectrum.