What exactly is a yacht, anyway? Does it have to be a motor boat? But what about large sailing yachts?
The term is confusing because it is used differently in different places. Sometimes, it's a term only reserved for large motor yachts with multiple crew member teams.
Here is a look at my observations. You might find that the lines are different in your harbor, but this article should get you started.
Table of Contents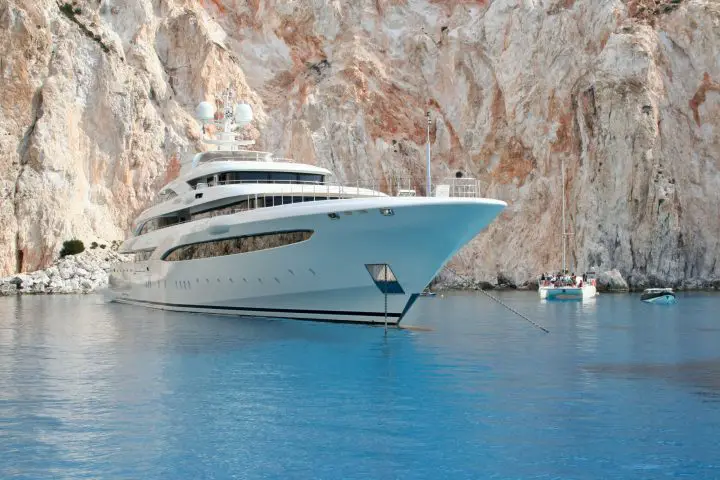 Sailboat vs Yacht – What's the Difference? 
Before diving in, it should be noted that there is some regional variation at play. For example, American and British sailors use the word yacht very differently.
First, the American definitions. From the Merriam-Webster dictionary, here are how sailboats compare to yachts.
Sailboat – A boat usually propelled by sail sailboat

Boat – A small vessel for travel on water

Yacht – Any of various recreational watercraft, such as a) a sailboat used for racing, or b) a large usually motor-driven craft used for pleasure cruising

Merriam-Webster Dictonary
So right away, we can see a few trends that play out in the real world. For one, any term with the word "boat" is inherently generic. It could be a fishing boat, a work boat, or a pleasure boat. Likewise, it could be a sailboat or a motorboat.
On the other hand, a yacht is a special kind of boat. It is always for recreational and not commercial use. Sometimes it's a sailboat used for racing, and sometimes a motorboat used for cruising.
From my personal experience on the water, I don't disagree with this definition, but it leaves out a lot of nuances.
Across the Pond, the use of the word yacht is slightly different. In British usage, the words "yacht" and "sailboat" are used more or less interchangeably, with more sailors tending toward the word yacht. Here's the definition according to the Cambridge English Dictionary. 
Yacht – a boat with sails and sometimes an engine, used for either racing or traveling on for pleasure

Cambridge English Dictionary
This sounds like the definition of a sailboat by US usage to my ear. But this is precisely how many Brits I have met in my travels refer to their boats—er, yachts. 
Besides the dictionary definitions, we could look at how the term is used in the publishing world. For example, one of the most popular UK-based magazines is Yachting World. The magazine covers cruising boats, global sailing destinations, around the world races, and general sailing techniques. Its nearest US competitor is called Cruising World.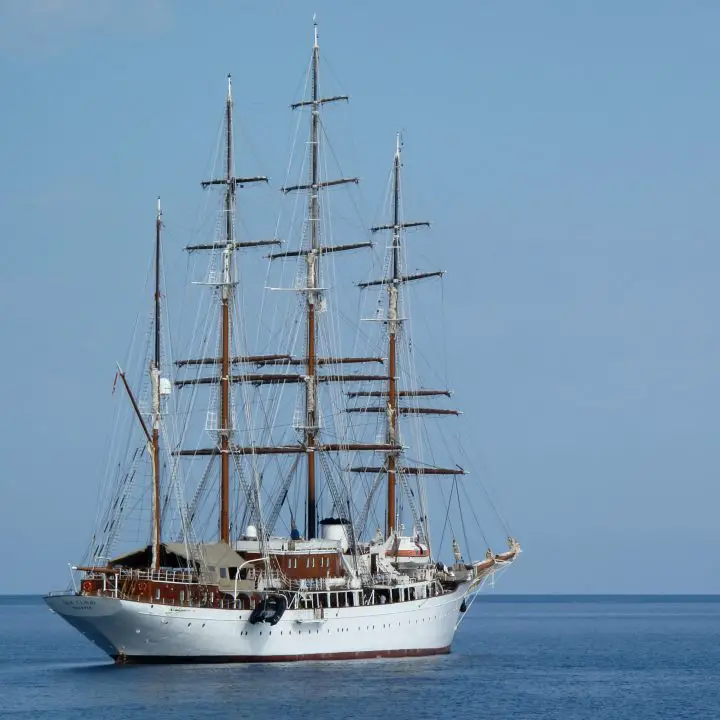 Six Things that Make It a Yacht
As a boater in South Florida, I became more aware of the differences between a boat and a yacht. You cannot navigate the waters between Fort Lauderdale, Palm Beach, and Miami for long without noticing a few other things that will qualify you as a yacht.
1. Yachts are nearly always operated by a professional crew who act as hosts for the owners and guests. There's always a captain and chef, and usually stewards and deck hands too.
2. Yachts are flashy—they look expensive, and they are expensive. They shine, they're always washed, and their wood and stainless glisten with perfection. After all, they have a full-time crew to tend to all of that.
3. While motor yachts are more common, there are plenty of beautiful sailing yachts on the water as well.
4. Yachts tend to be big. They need to be big enough for guests and crew to be comfortable. Plus, many are owned by business owners who use them to entertain. 
5. Yachts spend much of their time with no guests/owners on board. Instead, the crew moves the yacht from one place to another, and the owner flies in to enjoy a few days a month onboard. 
6. Many yachts are available for charter. While one person might own it and use it, they don't spend all their time onboard. So when it's still idle, it and its crew are leased out for days/weeks/months at a time.
Even within the subset of the motor yachts, there is significant variation and room for definition. To illustrate, some boats are designed to be sleek and modern, with the stately look of a yacht.
So What's a Yachtie, Then?
The term yachtie is commonly heard in port cities around the world as a person who gets off a yacht. Initially, this term was used only for wealthy owners or their guests. However, if you're in a place where "yacht" means smaller boats, then any sailboat owner could be called a "yachtie."
Nowadays, though, the term yachtie also could refer to the crew. Bravo TV's Below Decks reality series focuses on the adventures and misadventures of the crews on these sorts of yachts.
Sailing Yacht vs Motor Yacht
More often than not, yachts are motorboats. But they aren't just any motorboat. They are often sleek and fast ones that look like they just blasted out of the newest James Bond film.
There are also plenty of other styles of yacht on the ocean. Yachts take many shapes and forms since the best naval architects design them to suit whatever their clients want to do. 
For example, some yacht owners use their boats to explore the Seven Seas. To do this, they might commission a custom expedition yacht or convert an old research vessel, fishing boat, or tugboat. These vessels are great for getting off the beaten track and taking any long trip.
And similarly, some yacht owners want to sail. Some enjoy sailing for sailing's sake, and others want their floating mansions to produce a smaller environmental impact by cutting down on their use of fossil fuels. 
There are classic sailboat superyachts, like the three-masted schooner EOS. The EOS is the second-largest pure sailing yacht in the world at 305 feet (95 meters) long. She was launched in 2007 and is owned by movie billionaire Barry Diller and his wife, fashion designer Diane von Fürstenberg. 
But you can't compare the motor yacht vs sailing yacht without mentioning some of the other ultra-modern takes on the classic sailboat. The Maltese Falcon is a well-known sailing superyacht with three masts. But unlike the conventional schooner rig found on the EOS, the 288-foot (88-meter) Maltese Falcon has DynaRig technology. It looks like a square-rigger from the 1800s, but the masts can rotate, allowing it to sail upwind.
And for those who are still pondering sailing vs motor yacht design, you can't miss Sailing Yacht A. Sailing Yacht A is sometimes noted as the largest sailing yacht in the world, but due to its unusual design, it is actually a "sail-assisted yacht." In other words, this boat has sails, but it needs to run the motor to make way—the sails only help the motors.
How Big Is a Yacht?
With varying meanings worldwide, no single definition for the word yacht exists. Many brokers and charter companies loosely define a yacht as being at least 80 feet (24 meters) long. 
Types of Yacht — What Makes It a Megayacht?
In an industry where the lowest entry-level model needs to be big, luxurious, and fancy—how do different naval architects and boat makers differentiate themselves? In other words, how can a yacht be more than just a yacht? 
The answer, of course, is to be a SUPER or a MEGA yacht. There's no agreed-upon definition of what precisely these terms entail, but make no mistake–it takes a big yacht. 
Worth Avenue Yachts, a global yacht broker and charter specialist company, postulates that a superyacht is at least 78 feet long (24 meters).
Furthermore, mega yachts are even grander. They start around the 200-foot (60-meter) line and keep getting bigger from there. The largest megayacht in the world is the 592-foot (180-meter) AZZAM. AZZAM was launched by Lürssen Yachts in 2013 was built for the President of the United Arab Emirates.
Yacht Aesthetics
So we've touched on the fact that yachts are usually pretty big, and in some cases really, really big. But there's another thing that sets them apart from the typical sailboat, too. Yachts look different.
Generally, there are two aesthetics or looks that yachts take on, forming something of a motor yacht debate. Of course, this isn't an inclusive list. Many designers work to make a statement with their yachts. The look of the finished vessel is a statement and an advertisement for the builder.
Modern Yachts
There are many yachts built that are designed right from the drawing board to turn heads. The most common way they do this is by making them modern and sleek, even futuristic at times. 
Designers and builders put the latest technologies into yachts to appeal to early adopters of new technologies. What CEO or celebrity doesn't want to own the world's fastest yacht? 
And then there are futuristic-looking ones with forward-thinking designs. Boat International collected some of the craziest-looking yachts that are worth a look.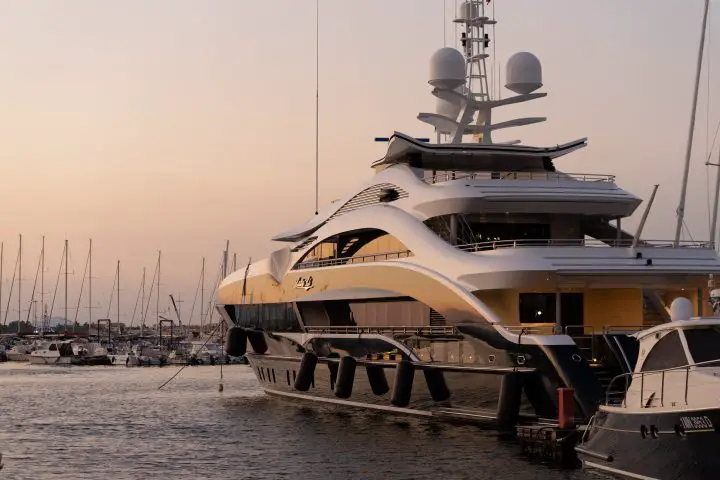 Classic Designs
The yachts above get their title as yachts thanks to their value and size. But there's another classification that you should consider—those yachts that get their name for their air of traditionalism. 
Perhaps they are well-cared for or restored wooden hulled yachts from the 1920s or 30s. Many of these classics are sailing yachts, but that isn't always the case. 
In some cases, they are modern fiberglass or metal-hulled boats built recently and designed by contemporary designers. But their owners wanted that classic yacht aesthetic, so they created something that appears older than it is. Here's a look at some of the nicest classic yachts out there.
What about Yacht Racing?
The older, more traditional British use of the word yacht seeps into everyday American English in a few places. 
They're more common on the international stage, so beyond the everyday use of yacht terms in the US, these particular uses harness a more global view of the word.
One such example is in the term yacht racing. Yacht racing sounds fancy, and it usually is, but it is entirely about sailboats. Yacht racing is usually done at a yacht club, another term that focuses on an older use of the word. 
In the heydays of the yacht club, the line between the sort of crewed megayachts you see today and the person sailboat was blurrier. Fewer people had boats, and those boats that the wealthy could afford were divided between large crewed vessels and those small private boats kept at clubs. And, of course, one of the favorite activities at the yacht clubs was yacht racing.
Yacht clubs are still a thing, but they are less a part of everyday boating in the US than they used to be. Yacht clubs range from a local, passionate small boat sailing community to exclusive, elite social clubs with little to do with yachts.
Yacht racing is an international sport, although even the Olympics refer to it now as "sailing." The oldest trophy in sports is the America's Cup, and the competition for it is the pinnacle event in yacht racing.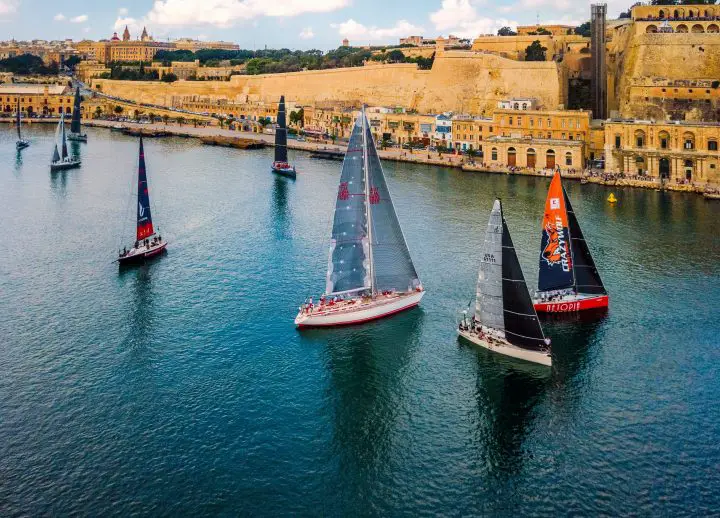 Sailing Yachts or Motor Yachts
So how do you tell a yacht from other boats? It depends on several factors, but unlike a lot of things in boating, there really isn't a right or wrong answer. If you want to call your new 20-foot pontoon a yacht or even a ship, go right ahead. However you want to enjoy life, the weather, sun, wind, or adventure, only one thing is for sure. Owning a boat makes it better!
FAQs – Motor and Sailing Yachts vs Sailboats
At what point does a sailboat become a yacht?
There is no definitive line where a sailing boat can be called a yacht. To some extent, you can use the word sailboat to describe any private, recreational sailing vessel. This is how the word is used in many parts of the world.
In the United States, the word yacht is usually reserved for crewed luxury vessels. To count as a yacht by this definition, the boat would need to be very high-end, sleek, and expensive. In short, it's probably not a yacht if it's under about 80 feet or so. 
Are yachts or sailboats more expensive?
Yachts are more expensive, but it's all in the definition of the word. In the US, the understood definition of a yacht is a luxurious sailboat or motor yacht. More often than not, yachts are big enough to require a professional crew.
On the other hand, a sailboat is any vessel that uses sails for power. So a yacht could be a sailboat, but not all sailboats are yachts. By the US definition, most sailboats are small and far from the lavish luxury you'd find on a yacht. But in some parts of the world, "yacht" is used interchangeably for a sailboat of any value.
Is a 40 foot sailboat a yacht?
The answer depends on where you are from. In parts of the world heavily influenced by British English tradition, the word yacht is often interchangeable with sailboat. If this sounds right, then a 40-foot sailboat could definitely be a yacht.
But in the US, the word yacht is usually reserved for large, lavish, and expensive vessels with professional crews—the types owned by celebrities and the super-wealthy. If this sounds more like your neighborhood, chances are a 40-foot sailboat is just a sailboat. On the other hand, if it doubles or triples in size and gets a crew, it might be bordering on yacht territory.
Is a sailing yacht cheaper than a yacht?
In general, the purchase price of yachts are roughly equal. While sailboats have more rigging and equipment, motor yachts have larger engines, so the prices are closer than you might imagine. There are too many variables to generalize when it comes to operating costs. In general, though, a fast-moving powerboat will always cost more than a slow-moving sailboat due simply to fuel costs.
If you're thinking about chartering and want to compare the prices of sail versus power, companies like The Moorings Charters allow you to browse various destinations and boats. For example, a one-week charter on a 42-foot sail catamaran in the BVI starts at around $9,400. For comparison, that same charter on their smallest power catamaran, a 43 footer, starts at $11,070.