Are you looking for the best family boat for adventures? Family boats are like any other type of boat–they must be picked based on careful selection and with your purpose clearly in mind.
The best boats for family and fishing may differ from the best for sandbar hopping or offshore sailing. So before you dive into it, call a family meeting and start making your pros and cons list. What sort of boating do you want to be doing, and where do you want to go?
Here's a look at the best boats for families, plus some of the things you'll want to keep an eye out for.
Table of Contents
Top Best Boats for Families By Type
Here are five ideas for family boats by type, with some manufacturers to research further. Links are included to manufacturers' websites, but check out the current brokerage listings on Yachtworld to get a feel for what fits your budget.
Note that the list of family boats below points you toward a type of boat, not necessarily a specific make and model. The truth of the matter is that boat shopping is hard. Two boats that look very similar may be completely different and created to serve completely different purposes.
Here's an example. Most boat cabins have multiple layout options from the manufacturer. Unless you're buying new, you will not have your choice of layout. Instead, you're limited to the boats available for sale at the place and time that you're in the market for one.
You might be able to wait a while and be willing to travel a little, but you just might never find a Beneteau 423 with the four-cabin layout (or whatever your dream boat is). Most boaters quickly realize that every boat is a compromise, and the purchasing process is no different. Maybe the three-cabin Catalina for sale at your marina will suit, after all?
Pontoon Boats — The Classic Family Lake Boat
A pontoon boat has a ton of advantages for a big family. Even the smallest ones–less than 20 feet long–will have room for eight or ten people. They're basically a floating patio, with comfortable chairs lining all sides.
The disadvantage is that they are only a patio–no interior cabin. They carry a lot of people, but they are only comfortable for a few hours on the water.
But their low freeboard and top-heavy design also make them inappropriate for open-water cruising on the ocean. Most pontoon boats are for smooth water cruising on nice days, usually on lakes or protected near-shore waters. In these areas, pontoons are the right boat for most people since they can double as fish and ski boats for the kids, too.
However, if you stay away from big seas and watch the weather, pontoon boats can go to most places you want to explore. And most can easily be trailered if you want to store the boat at home or take the boat with you on vacation.
Brands to check out include Sun Tracker, Manitou, Sylvan, Bennington, and Lowe.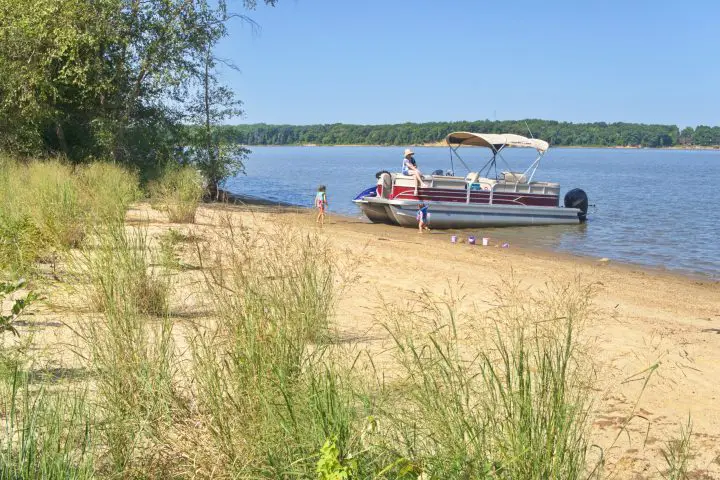 Deck boats are an interesting alternative to pontoon boats. These vessels are popular in coastal areas where you can venture offshore on nice days. They have fiberglass hulls below and an open deck like a pontoon boat above. Another step up is the bowrider or sport boat, with either inboard, sterndrive, or outboard motors.
Hurricane makes a popular deck boat. Other bowrider sport boats with similar styling include Tahoe, Yamaha, Bayliner, Four Winns, or Sea Ray.
If you're looking for a pontoon boat with a bathroom and a full cabin, a houseboat is your best bet. These mansions on the water are basically RVs built onto a pontoon hull. They're great as weekend retreats or full-time liveaboards, and they have plenty of space for the whole family.
Offshore Center Console — Best Boat for Family and Fishing
If you want to take your family offshore for fishing, diving, swimming, or just sandbar hopping, then a center console boat is best for you. These are fiberglass boats with open decks and a central helm location. They're one of the most versatile boats you can buy, and they make a great starter boat for folks in coastal areas.
Larger center consoles have a small cabin, toilet, and space to change below. But, like pontoon boats, center consoles aren't usually the type of boat you stay on. Instead, they're meant to get you from Point A to B or hang out on the water for a few hours and come home.
These boats first became popular with fishermen because the center console allows an angler to walk all the way around the boat's perimeter with a fish on the line. But all that space makes it easy for a large group of people to walk around, too, even on smaller boats.
Four people can usually maneuver easily on a 20 to 24-foot model. If you want to hold eight or ten people, you'll need a 30-foot or longer model. These boats require more power due to their weight and design than pontoon or deck boats, so they will be more expensive to operate.
Brands to check out include Grady White, Boston Whaler, EdgeWater, Mako, Contender, Parker, Pursuit, Everglades, and Scout.
If you live in areas with colder months, consider a similar hull with a small cabin built forward. This pilothouse, or "sport cabin," will keep you warm in the winter and extend your boating season. Many of these companies also make a dual console model, which combines the layout of a deck boat bowrider with the seaworthy hull of a center console.
Cruising Power Boats — Good Family Boats
Finding a cruising power boat that the entire family can stay aboard is challenging. The boat that best fits the bill is a classic trawler in the 45 to 50-foot range. These boats have enormous cabin space that is comparable to a condo. You'll usually get two or three staterooms plus room to put people in the salon.
Trawlers are stable, seaworthy vessels built to make long passages. Many great examples were built in the 1970s and 1980s by companies in Taiwan. Brands to check out include DeFever, Island Gypsy, and Mainship. New options to look at include the Beneteau Swift Trawler line and the classic Grand Banks.
If you want a boat that can go faster, plenty of cruisers out there will also fit the bill. These boats are sleeker, with more powerful engines that can push the boat up on plane. Their interiors will be a bit more cramped when compared to a trawler of the same size, though, because the planing hull has less living space.
Brands to check out include Sea Rays, Cruisers Yachts, Regal, Carver, and Tiara.
The biggest disadvantage of this type of boat is the cost. They are more expensive to purchase and offer less space for big families than other types. In other words, if you like this type of boat, be ready to pull out your wallet–for the purchase, the fuel bills, and the maintenance.
But this category is expansive. It includes everything from small 32-foot trawlers to 100-plus-foot motor yachts. Just set your budget and then find one that your family finds comfortable.
If you want more staterooms and privacy for a large group, power catamarans are great options. Check out brands like Manta, Endeavor Trawlercat, Leopard, and Fountaine Pajot.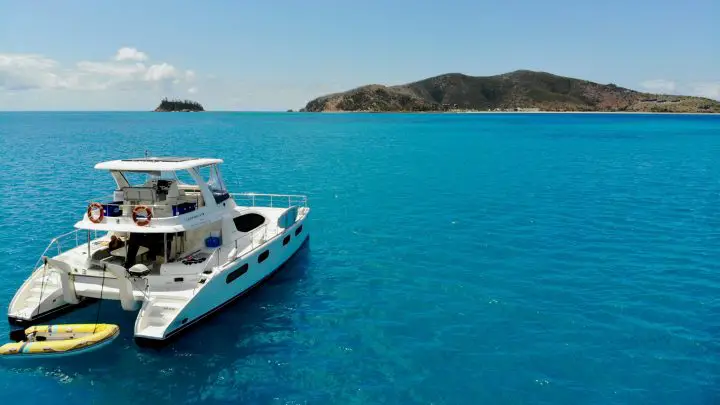 Cruising Sail — Cheapest Family Boat
Sailboats actually have a few advantages for big families. But, of course, those advantages are only helpful to you if you want to go sailing!
While nearly all sailboats have engines, they don't make good power boats and will always be slow. People choose to live on a sailboat because they love to sail–to move silently through the water by only the power of the wind.
For their length, sailboats can carry a lot of people. The fact that they don't need to cut down on weight to go fast means they can carry a load.
Secondly, used sailboats can be obtained cheaply. Don't get us wrong–all boats are expensive in their way. But there are tons of old sailboats out there, making them hard to sell and cheap to buy. If you have some DIY skills and want a project, it's not hard to find free or nearly-free sailboats in any boatyard in the world.
Plus, sailboats are generally much less expensive to operate and store than power boats. Their systems are basic, and they are less likely to be loaded with fancy equipment you don't really need. And when you pull up to the gas pump, filling a 20-gallon sailboat tank is much less painful than filling a 200-gallon powerboat tank.
If you read the literature from the manufacturers, even the smallest sailboat size will sleep six or eight people. This usually relies on packing people into every space and converting setee sofas into bunks. But the truth is, if you compare the cabin of a 30-foot sailboat to a 30-foot power cruiser, the sailboat will have more space down below to move around.
Sailboats are divided into as many different types as powerboats are. Check out our guide on the 25 best sailboat and catamaran manufacturers by type for a comprehensive list of options
The best starting place is a classic near-shore monohull design. Manufacturers to look at include Beneteau, Jeanneau, Catalina, and Hunter.
There are also a ton of makers that are no longer in business, but there are still many used examples on the market. Check out Islander, Ericson, Alberg, Bristol, Pearson, Cal, Morgan, and many more. Sailboatlistings.com is a great resource for searching older FSBO sailboat listings.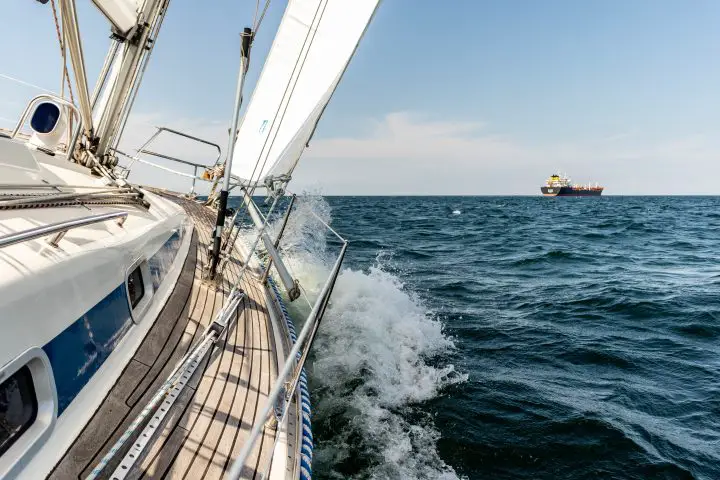 Offshore Bluewater Sail — Best Family Boats for Long Distance Cruising
The primary difference between near-shore and offshore or "bluewater" cruising sailboats is their build quality. They're far less likely to be "production" boats built en masse and more likely to be custom or semi-custom designs outfitted to the original owner's specifications.
This isn't to say that the brands mentioned above don't make bluewater boats. On the contrary, their larger models can and have gone everywhere–but they will require extensive outfitting to bring them up to offshore safety standards, even if they are brand-new out of the factory.
If you've got a big family–more than six people who want to sail together full-time–then you'll be shopping for this type of boat. Basically, it includes monohulls above 50 feet long and catamarans more than 42 feet long or so.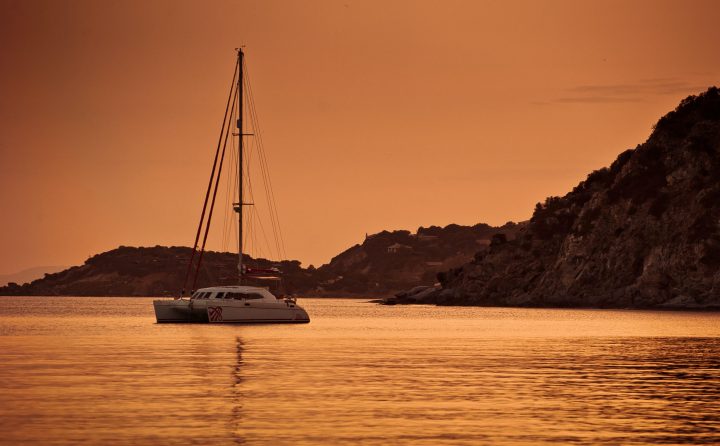 A used bluewater boat is also more likely to have a full kit of cruising gear. It will certainly have a sailboat auto pilot or wind vane. There's probably also space for a dinghy, renewable energy sources like wind or solar power, a liferaft, and extra safety features.
In this category, one type of sailboat stands out as the best for big families–the sailing catamaran. If you're confused about which is better for you, monohulls or catamarans here's a great video that weighs the pros and cons. This video is also a great place to start if you ponder a full-time liveaboard lifestyle and wonder what things you should consider.
What Type of Family Boat is Right for You?
Picking any boat is tough, so how do you narrow things down and pick the one that's right to get your family boating?
Here's a look at some of the most important criteria for your family. Of course, everyone's needs will be a little different, but here are some things to consider when taking the whole family.
Activity focus
Boating location
Living space, layout, and privacy
Tankage capacity (water and waste)
This list is not all-inclusive. Countless factors go into any boat purchase. These are just a few things that may be specifically unique to families. And remember, there's no perfect boat, no matter what the dealer tries to tell you!
Activity Focus
All boat purchases come down to finding the boat which will best accomplish your mission. Boats are tools designed to meet a specific need. No boat does everything well, and very few suit a boater for the long term. Missions change, and our focus shifts to different sizes and types of vessels.
With that in mind, keep your focus clear. What do you want to do with the boat, and with whom? How often will you have that many people onboard?
One mistake many people make is believing they will have family visiting them all the time. If the boat is mostly for two of you with occasional guests, you aren't shopping for a family boat. You just need a simple guest cabin.
Boating Location
Boats are built to navigate certain types of water and weather conditions. If you're navigating in protected waters and fair weather only, don't fall in love with an offshore passage-making sailboat.
This comes back to the mission. Are you spending weekends on the bay or years crossing oceans? Everyone wants a bluewater boat, but fewer than one percent of boat owners need one. So take the money you want to spend on that "bluewater baby" and get yourself a larger, better-appointed coastal cruiser.
Look around in your area to find the types of boats that are popular. For example, do power boats have pilot houses for winter use, or are pontoon boats more common? Do the sailors prefer sturdy offshore designs, or are centerboards and open decks more common?
Living Space, Layout, and Privacy
Before diving into how many chairs and berths, it has, ensure the layout works. Layouts vary considerably, and getting a feel for the actual space requires going on board. This is as true for a simple pontoon boat as it is for an offshore trawler or sailboat.
Visit the boat dealer, meet a yacht broker, or go to a boat show. Find a make and model you love, and then join the owner's forum on Facebook. See if any local owners will show you around.
It's really important to find some real boats to get aboard and bring everyone with you. Can you all move around? How many people can cook in the galley? How many people can sit outside? Can anyone get any privacy?
One final thought about the layout–pay lots of attention to storage. If you want to spend time onboard with your whole family, you'll need places to put everyone's stuff. Think clothes, toiletries, food and provisions, drinks, and everything else.
This is one area where many designs fall flat. It's all well and good to convert your setee into a double berth, but without a stateroom, you'll be shuffling blankets and clothes just to have a meal. There's a huge difference between functional living space and how many people can lie down in a space.
Tankage
Finally, if you want to be at anchor and away from a dock, you'll need to be able to carry enough water for everyone. For a few days, it's easy to skimp. But, for longer trips, your tanks will need to hold an amount sufficient for everything you'll use–from cooking, doing dishes, and washing up to showering and drinking.
And what goes in must come out. So remember to ensure your holding tank is big enough for everyone using the head! Many boats, especially smaller cruising boats, have holding tanks that are 20 gallons or less. This will need to be emptied every few days if the boat has four or more people on board, which means getting back to the marina more often than you might like.
Is There an Affordable Family Boat?
As you can see, there's a huge variation in the types of boats that a family could enjoy. It all comes back to what you want to do–enjoy days on the sandbar, offshore fishing adventures, or long-distance sailing voyaging?
Whatever your answer is, it never hurts to do a trial run. Start small and inexpensive before taking the dive in. If you can, take your family on a charter boat vacation to try out the lifestyle. The more trials and research you can do together as a family, your ultimate choice will be better suited.
Here's a great resource if your eyes are set on cruising and looking to take your kids. Voyaging with Kids is the perfect reference for anyone looking to take the leap, including what to look for in the boat and why to keep your family safe and entertained along the way.
Prices pulled from the Amazon Product Advertising API on:
Product prices and availability are accurate as of the date/time indicated and are subject to change. Any price and availability information displayed on [relevant Amazon Site(s), as applicable] at the time of purchase will apply to the purchase of this product.
Boat for Families FAQs
What kind of boat is the best for a family?
It entirely depends on the size of your family and the boating you want to do. A ski boat would be best if you want to go wakeboarding on the lake. A pontoon may suit you if you're looking for a multipurpose platform on the lake or bay. If you want to sail around the world, you want to look at large cruising sailboats.
What is the best boat for the money?
The answer is a broad one–the best boat for the money is the one that suits the mission you want to accomplish.
In other words, every boater will have a different answer for what the best boat for the money is. The sailor will pick their favorite type of sailboat, whether racer, coastal cruiser, or world traveler. The power boater will select their favorite slow trawler or 100-mph racer.
What is the safest boat to buy?
Safety at sea has far more to do with the seamanship of the skipper at the helm than the type of boat. So long as the vessel is appropriate for the weather and sea conditions, there isn't one type of boat that is any safer than another. Instead, safety is much more about the choices made regarding operating the boat and the weather conditions you set out in.
What kind of boat fits 10 people?
For their length, a pontoon boat is the best boat to carry many people. Even a small pontoon boat can carry ten people with its wide-open deck space. The downside is that pontoon boats are limited to short day trips on lakes or calm, near-shore waters.