Why would anyone want to know how to build a houseboat or floating home? Chances are there are two reasons: you're inspired to make something unique, like a unique floating home or a custom-built trailerable houseboat. Or maybe you want to try houseboat living, but you want to keep it inexpensive.
If this is the sort of project that appeals to you, here's a look at the time and budget it might take. In addition, you'll find links to houseboat plans and an overview of the steps you'll take to get the project done.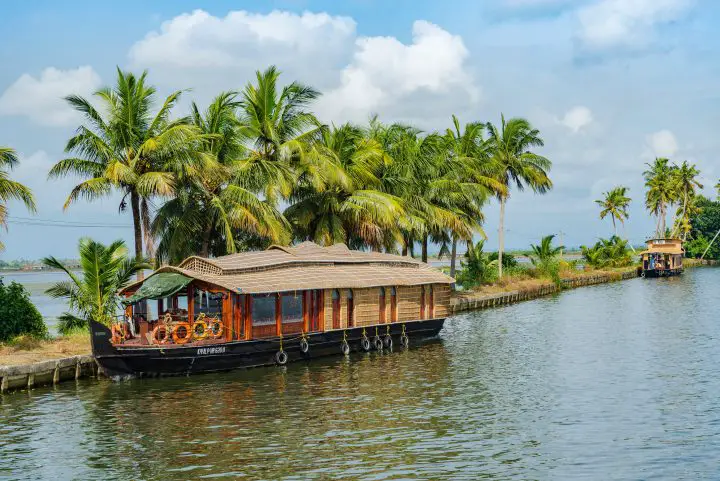 Types of Houseboats You Can Build
The look and functionality of a DIY houseboat can take many forms.
A shanty boat is a barge or longboat that's been converted to a single story houseboat. When folks often envision a DIY houseboat, this sort of thing springs to mind. But if you build your houseboat, the choice of outcome is entirely up to you.
Floating homes are often custom-built, be it by contractors or DIYers. These are not designed to travel, instead converting a marina slip into a living accommodation. It's the nautical equivalent of the tiny home trend, although floating homes have been around a lot longer.
Navigable houseboats can also be custom-built. In fact, many houseboat manufacturers are in the business of building one-off custom boats to meet their clients' needs. But they have access to fabrication facilities on a scale that no DIYer can dream to match, so the houseboats you can build on your own will be smaller and simpler than a professionally built one. That doesn't mean, however, that it can't be just as seaworthy or comfortable.
Is it Better to Buy a Used Houseboat or Build Your Own Houseboat?
In my experience with boats, there's no such thing as a cheap one. The appeal of a DIY project is the project itself. You do it because you want to, and you don't mind doing it for free.
Don't discredit the opportunity cost of the DIY boat. To build the boat, you're giving up your time to do so. That time could be spent doing something else, like enjoying your boat and living your life on the water. Here's an example of what I mean. You could,
A) Spend $15,000 per year building out a DIY houseboat over four years, working 40 hours per week doing so, or,
B) Spend $60,000 purchasing a used houseboat today and spend the next four years sipping mai-tais and margaritas (or doing whatever else you'd rather be doing than building a boat).
Many will see the appeal of Option A. You can pay for the parts along the way instead of one lump sum. You might have a much nicer custom home in the end. There are plenty of pluses to building a boat. In the end, it's much like building a home or cabin from scratch–is that something that appeals to you? If so, a houseboat build isn't much different.
When it comes to the actual costs (the $15,000 per year number above was made up and completely arbitrary, by the way), it does not follow that you will save all that much money building a DIY houseboat. You'll still need to purchase raw materials, equipment, and tools. For example, materials costs are high if you're building using epoxy or fiberglass. In most cases, you'll also need a motor and appliances for the vessel, all of which are expensive to purchase. While some things can be readily found at hardware stores, marine-specific things are harder to come by and more expensive.
How to Build a Houseboat – The Basic Steps
There are many ways to build a boat, so let's look at the pieces of your houseboat and how you want to design it. Only then can you get an idea of what the project entails and how much it might cost in money and labor.
Building the houseboat will consist of two steps: building the hull and building the house. For both steps, it's possible to bypass a lot of work by looking for prefabricated components. Building the entire thing from scratch is possible and likely the cheapest option, but it's also the most time intensive. Let's look at all of the options.
Step 1: Build the Boat Hull Part
If you build a house from the ground up, you've got to build a houseboat from the water up. The most fundamental question to ask is, how will your home float?
There are four basic techniques used for building your hull.
Use or repurpose a traditional pontoon boat
Use or repurpose a barge hull
Build your own stitch-and-glue wooden hull, usually barge or catamaran-style
Build a hull out of prefabricated floats and a frame, usually, polyethylene floats used for docks or fishing structures.
The hull is vital if you want a navigable houseboat. If, on the other hand, you're looking for a stationary float home, then you will have more options. If it just floats, you can use a variety of materials, and the shape isn't all that important. It's worth noting, however, that even float homes need to be able to be safely towed to new locations.
How to Build a Houseboat on Pontoons
If you want a small, navigable houseboat with the option to trailer it, a pontoon boat is a good starting point. Aluminum pontoon boats basically last forever, or at least far longer than their plywood decks and vinyl upholstery do. That means a quick search of Facebook Marketplace or Craigslist will turn up some bargains–pontoon boats that need A LOT of work to get going again. But don't worry, all you need are the floats and the frame!
The only limit with this plan is the size of the floats you can find. You'll be limited to the original specs for the pontoon boat. If you're planning a small structure, this will likely be more than adequate.
Building a Houseboat on a Barge
Bigger houseboat builds will do better on a barge hull. A barge is a large, flat-bottomed boat used to transport goods. Commercial barges are usually large and towed or pushed by powerful tug boats. Smaller barges are used as platforms for salvage operations or dock, pier, or seawall construction. Most barges are made of steel or aluminum.
The sort of barge that would make a good houseboat would be smaller, limited by the size of most marina slips. Your best bet is to keep it under 14 feet wide and usually under 60 feet long.
You can try to find an old work barge on sites like Boat Trader, or you might find a builder who could weld one up for you. If you did have it custom-made to your specifications, you could incorporate it into your overall houseboat design to include tanks and systems for the boat.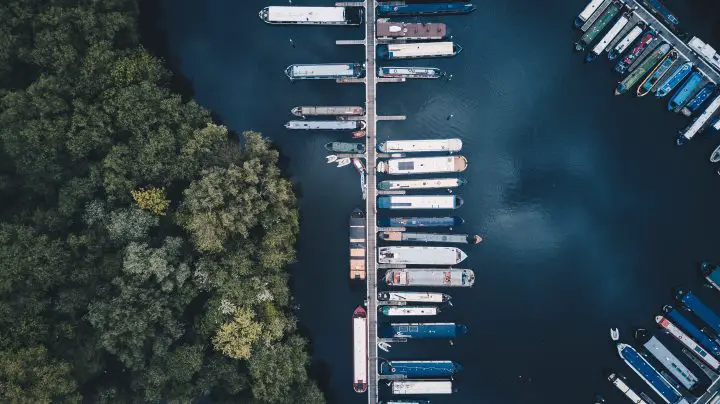 Building a Stitch-and-Glue Hull for a Houseboat
This is certainly the most time-consuming option, but it's the one that offers the most creative control.
Stitch-and-glue is a modern boatbuilding technique that uses plywood sheets instead of hardwood planks. The plywood is cut into frames, and large panels are "stitched" to the frame to hold it and bend it to shape. The panels are then "glued" to the frame using epoxy.
Even marine-grade plywood isn't supposed to be submerged, so the entire surface is covered with thin sheets of fiberglass mat and epoxy resin to make the vessel watertight.
You can build any vessel using this technique. The simpler builds tend to be boxier than more complex ones since they use fewer plywood sheets to complete the job. But some stitch-and-glue builds are beautiful. The result is a robust and sturdy seaworthy vessel.
The key to a successful stitch-and-glue build is to find the right set of plans. Several websites offer them, and plans for all manners of vessels can be found. Here are a few websites that have plans and kits available for sale.
Building a Platform on Floats
Another creative houseboat base option is building a raft-style frame on floats. Large plastic floats are widely available to build floating docks and fishing structures. They can be pieced together to form pontoons under a sturdy frame, and you can build them to suit any size floating home. This isn't the best option for a navigable boat, but it could work for a slow-moving outboard vessel.
Here's a video example from an Australian company that offers floats and welded platforms to build your floating home.
Step 2: Build the House Part
Once you've figured out the hull, the house should be pretty easy. Like the hull, you can build your house from scratch or find a prefabricated solution.
Build Your Own Wood-Frame Structure
Of course, the first thing that comes to mind is building your own house or cabin from scratch. There's no real challenge to this other than the time involved.
Remember that you'll want to build to high-quality standards since the structure will move around a bit. If you're building a navigable vessel, you'll want to research marine building standards and consider exactly the type of structure you want to take. Then, just like you can find plans and kits for the hull, you can find similar examples of how to build the house.
Use a Prefabricated Building
Once you have a stable hull, you could repurpose any structure to put on the craft. The goal is comfortable living accommodations. Ideally, the structure will also be extremely well-insulated and built to withstand the stresses that come from life afloat.
For stationary floating homes, finding prefab tiny houses that could be mounted on your hull is relatively easy. There are thousands of designs and layouts to choose from, and they're designed to be both comfortable to live in and aesthetically beautiful. So finding one that fits on your hull shouldn't be difficult. As a bonus, many THOWs (tiny homes on wheels) are designed to be self-contained and moved around, making them ideal for placement on a barge hull.
On that same note, you could use a cabin, RV, or any other prefab structure that you could permanently mount on the hull.
Boat-Like Systems for Your Cheap DIY Houseboat
The more "boat-like" it is, the better its longevity and the more likely you could get insurance.
Little things matter. For example, boats have their own wiring and electrical standards completely different from houses. All wires should be stranded copper cabling, which withstands vibrations better than solid conductors. Wire runs should be supported so that they don't move around or chafe, which can cause potential fire hazards in the future. And to prevent corrosion, the wire must be tinned, and all connectors must be crimped and sealed with heat shrink, not soldered or connected by screws or wire nuts, as you might find in a land house.
Similar differences apply to plumbing and gas installations. Blackwater (sewage) cannot ever be leaked from the system, so the house will have to have an RV-style holding tank that gets pumped out by the marina. A few houseboat communities have full-time sewer hookups, but it's rare in the boating world. Many houseboat owners get around this by installing composting toilets.
Freshwater may come from the dock. In some areas, grey water might be discharged. On inland lakes, you likely need to hold it for pump-out, just like the blackwater.
Then there are the big boat systems, like the motor. The simplest option for a houseboat is one or two outboards, which are reliable and come in any power option you'd like. But they are expensive! A new 100-horsepower engine will set you back about $10,000.
Heating and cooling are likewise complicated. Propane is the boat standard to install–tanks are easy to refill, and appliances are readily available. Many owners also have wood stoves for heating and cooking.
Here's a look at a beautiful DIY two story houseboat in British Columbia. This gorgeous home has all the right features and looks super comfortable. The video does a great job describing the thought that went into making each system work.
Putting It All Together for a Lifetime on the Water
As you can see, your choices of building houseboat parts will dictate the overall time and total cost it takes to build. As with a land home, if you enjoy projects and have a vision of a truly unique floating home, the adventure of the build is just part of the journey. If, however, you're just looking for a cheap way to live on the water, then chances are you'd be better off buying a used houseboat and calling it home.
Build Your Own Houseboat FAQs
Can I build my own houseboat?
Yes, many people build their houseboats. You can download plans online or build them from existing components like a pontoon boat or barge hull and a prefabricated tiny home. 
Is living on a houseboat cheaper than a house?
The cost comparison between houseboat and house dwelling is difficult to analyze. Your living expenses (utilities, groceries, transportation, etc.) won't change much. The biggest difference is that you must pay docking fees to moor your boat, which can be quite expensive in some areas. In addition, if you travel in your boat, you'll also have fuel and maintenance costs.
Can you live permanently on a houseboat?
Yes, many people live permanently on board boats of all kinds. However, it depends on the city and marina regulations where you are located. Many areas make it difficult or downright illegal to "liveaboard." 
What are the drawbacks to living on a houseboat?
The drawbacks to living on any boat depend on the boat type and where you live. In many ways, it's not unlike living in a tiny house or small apartment. However, you'll often find that you have more limited resources (electricity, water, sewer, and garbage pickup). Also, even at docks, the boat moves a little. That increases wear and tear on the house and appliances but also might make some people a little seasick. Finally, you are more exposed to the weather in a houseboat than in a land structure.