So, you've spotted the online brochures, the Instagram and YouTube influencers, or maybe even stepped aboard a few at the local boat show. Now the problem is you simply must get a liveaboard sailing catamaran to cruise the world like a vagabond.
Of course, those new Outreamers and the Lagoon you fell in love with at the boat show are a bit out of your price range. Fear not! Used models are much cheaper. Here's a look at a bunch of cheap catamarans for any budget.
Table of Contents
Affordable Catamarans — Small Catamaran Sailing Vessels
There's always a tendency with "best of" articles to list a few random models. Generally, these are some examples that either have caught the author's eye. Here, we've tried to assemble a more comprehensive list of older, smaller boats that might fit your budget.
Looking for something a bit larger? Check out our list of liveaboard catamarans for a look at some great 40-plus-foot models.
Small Catamaran Sailboats $200,000 to $300,000
If you're willing to shell out $200,000 or more, you can have your pick of the litter (yes, that was a cat pun!) In this group, you'll find "small cats" big enough to have the features and layouts that made charter catamarans so popular in the first place—an exceptionally wide beam, spacious open living space, galley-up layouts, and tons of storage.
This price range includes some (now) older models that were the first generation of catamarans that were real hits with charter companies. As such, there are plenty to choose from, but many have been beaten up and are in various states of disrepair. You can find bargains, but you'll have to spend more if you want a sail-away-ready boat.
You won't find catamarans newer than about 15 years and performance-oriented catamarans. You're also limited in size to about 40 feet long, but most will be in the 36 to 38-foot range. Again, this is about as small as you want for most cruisers and long-term liveaboards.
Lagoon 380 — The epitome of the French cruising cat. Nearly 1,000 hulls were produced over twenty years, and they have a great layout. Many have crossed oceans. The owner's version three cabins model is the most sought-after, with the entire starboard hull dedicated to the owner's stateroom, head, and shower. Later models were "S2s" with large hull windows and a few other small changes.
Fountaine Pajot Mahe 36 — Smaller than the Lagoon but with a similar comfortable layout. The Mahe was made for several years and had several versions, but all share the same general design. 
Seawind 1000 — Australian-built catamaran with an open salon/cockpit space thanks to a large swing-up door. 
Leopard 40 (M&M design, circa 2006) — One of the best-looking boats Leopard ever made. They didn't make it for long, as the boxy, more dramatic-looking 38/39 quickly took over. But the 40 had a great layout and looked great. Designed by Morrelli and Melvin, designers of the new HH catamarans and several America's Cup campaigns.
Leopard 38/39 (circa 2012) — Before all Leopards had front patios, the 38 and 39 were the company's smallest boats. These are nicely laid out and made for short-handed sailing. Being a newer model than others on this list, it's hard to find them reasonably priced. The 38 is older, while the 39 simply moved the helm above the cockpit hardtop.
Maine Cat 38 — A US-built performance-oriented catamaran with daggerboards. Newer and hard to find. 
Maxim/Voyage 380 — A South African cat designed by Alex Simonis, this low-slung 38-footer looks like the popular Leopard 42/43 (circa 2005). Its smaller size makes it more affordable, though. Unfortunately, there aren't very many of them out there.
Manta 38/40/42 — Manta was an American-made catamaran with a great reputation for quality construction, making seaworthy solid boats with high bridge deck clearance and foam sandwich construction. The two hulls are all the same regardless of the length, but various sizes/models were offered over the years by extending the transoms. These are very popular as liveaboard cruising boats and hold their value exceptionally well. 
Best Catamaran Sailing Vessels from $150,000 to 199,000
You can find some real values in this price range. You might occasionally find one of the models listed above, but chances are you'll have to stick to slightly older versions of them. In some cases, this might mean you get a better quality vessel that will stand the test of time much better.
Lagoon 37 TPI — Before the French builder took a deep dive and made the 380, they dipped their toes in the catamaran market by contracting with US boatyard TPI to build a 37 and a 42-footer. While older in design, these boats are built to a much higher standard than the French-built production boats that would come after. As a result, the TPI Lagoons are some of the best catamarans of the era you can get your hands on.
Gemini Legacy 35 — A newer, upgraded version of the 105MC with twin inboard diesel motors and stub keels. 
Charter Cat/Wildcat/Jaguar 35/36 — A beautiful South African cat with a terrible reputation. Due to factory problems, most boats suffered major fiberglass delamination issues. But if you find one on the market now (20 years later), chances are it has been fixed. Still, you'll want a thorough survey done before considering investing in one of these pretty little boats.  
Leopard 38 (circa 2000) — This predecessor to newer Leopards is a stout boat with a clean design. While not as flashy as some other models, it has many desirable features. Reliable and maintenance-free shaft drives, a walk-through cockpit, and the traveler mounted on an arch are just a few.
PDQ 32 and 36 — Canadian builder PDQ made excellent quality, fun-sailing boats. The 32 is quite small but very capable. The 36 has more space. Available with either twin outboards or twin diesel engines price points. These days, they're a little hard to find, but they make great liveaboards. With the engines retracted, the twin outboard boats have excellent sailing performance and low maintenance and upkeep costs.
Prout/Broadblue 38 — A newer, upgraded version of the Prout Snowgoose (below). It's a small yet modern catamaran with excellent features and good resale potential.
Small Catamaran Sailboats $100,000 to 149,000
You'll notice these boats begin to feel much smaller than those listed above. They often have a single motor mounted midship, either outboard or an inboard diesel with a long drive leg. They'll often have a narrow beam and are often designed to fit in a standard boat slip to save money. In short, small catamarans start to get much "smaller" and, at the same time, less stable and less seaworthy overall.
Gemini 105MC — A very popular mass-produced American catamaran designed to fit in a standard boat slip. Powered by a single inboard diesel with a long drive leg and fitted with swinging centerboards. A light boat built for coastal cruising but an excellent liveaboard.
Prout Snowgoose 35/37 — Well regarded, well-built, stout bluewater boats that, back in the 1990s, changed hearts and minds about what a catamaran could do safely. These boats offer an outstanding value since they were built better than other cats of the era. Here's an owner's tour of their 37.
Dean 365 — A South African cat first built in 1990 that looks very similar to the Snowgoose. Galley down design with a full-beam salon that feels very spacious. Dean boats were well-built and very seaworthy. 
Island Packet Cat 35 — Island Packet entered the cat market with the Packet Cat. IP is known for its stout, beamy, and comfortable liveaboard monohulls with shallow drafts, so a catamaran isn't far off the mark. The model didn't stick around long, but they're well-built and well-appointed.
Fountaine Pajot Tobago 35 — One of the smallest FPs made, the Tobago has little in the way of space or headroom. But it does have all the features you'd expect from a French cat—a wide, stable beam, galley-up design, and sleek looks to boot.
Endeavour Victory 35 — A cute catamaran made in the US. Even though it will fit in most slips, it has the sleek looks of a much bigger cat. Unfortunately, they didn't make very many of them. 
Island Spirit 35/36 — Small South African catamarans built in the late 1990s. It won Top Ten awards from Sail Magazine in 2001, 2003, and 2005. for an older model, they incorporate a lot of modern features. Similar to the Leopard 38 (circa 2000).
Budget Catamaran Picks Under $100,000
Good sail cats in this category are very hard to come by. Many could be considered "project boats" or "fixer-uppers." Those are some keywords to be very cautious of in boating. What not to do: buy an $80,000 boat, put another $80,000 for repairs and outfitting into it plus three or five years of hard labor, then discover that you could've bought a really nice $160,000 one and gone sailing three or five years sooner.
The problem—and, yes, this is opinioning on the author's part—is that catamarans are seldom built for the long haul. A cat's point is to be light and fast, not thick-skinned and well-built. So when you look at older, inexpensive catamarans, you often find serious structural issues and major repairs needed to bring them up to snuff. To make matters worse, some boats in this price group were homebuilt projects.
Endeavour Cat 30 — Florida-based Endeavour has made a lot of different boats over the years, but only a few sail cats. The 30 is unique because it is very small and features a solid foredeck. It's narrow enough to fit in most slips. It features twin outboards, a big cockpit, a big salon, and a galley-down design, but it's more or less a coastal cruiser with double cabins.
Woods Flica 35 — Richard Woods designed a number of ocean-going cats; some were home-built while others finished at the factory in England. The Flica 35 is just one example, and it's got a nice, large salon and galley-down layout. For a small cat, it has a lot of space. 
Edel Cat 35 — The Edel was a French-built performance cat for crossing oceans. The open bridgedeck connects each hull and the center salon cabin, each of which is independently watertight.
Wharram Tiki — Wharram catamarans are mostly homebuilt from epoxy and plywood, so there's a lot of variability in the designs and quality. Their designs take from traditional Polynesian catamaran design.
Catalac 8M/9M/10M/11M — British built in the 1980s, Catalacs were some of the earliest catamarans. They were well-built and solid, designed to sail in the North Sea, making them an exception to the idea that catamarans aren't built to last a long time. Instead, they have excellent fit and finish and make great liveaboard to this day. Check out this broker's tour of one.
Heavenly Twins — Another older British design from the 1970s, the Heavenly Twins was a seriously small catamaran with cabin: only 28 feet long.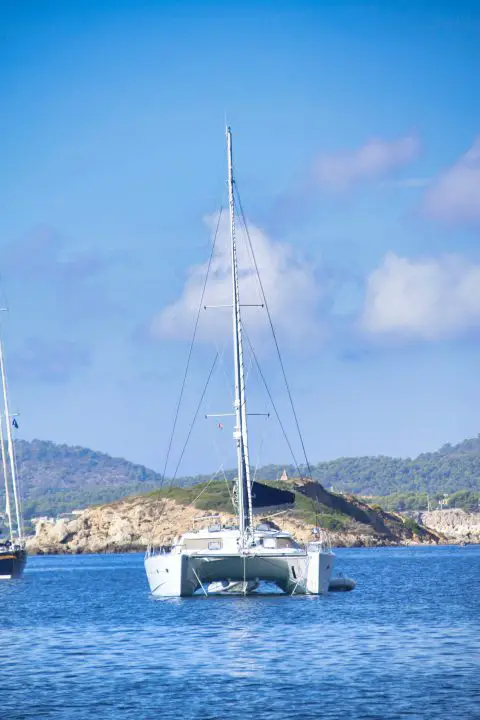 Affordable Catamarans Are Out There — Which One Is For You?
Once you start shopping, you'll see these cheap catamarans hold their value far better than other sailboats. On the one hand, that's good because it means you'll be able to sell it and get your money back when you're done cruising. But, on the other hand, it also means you'll have to spend more money upfront.
Affordable Catamarans FAQs
How much is a cheap catamaran?
It's possible to find older, smaller catamarans for under $100,000. Generally, these boats will be over 20 years old and no more than 35 feet long. Unfortunately, these older, smaller cats don't have the same look or feature set as newer charter catamarans, so they may be less interesting to many catamaran buyers. 
For around $200,000, you can find an older model of a popular wide-beam charter cat, like the Lagoon 380, Fountaine Pajot Mahe, or Leopard 38. These boats have the space and features most catamaran shoppers seek. 
Is a catamaran a good first boat?
The best first boat for you will come down to how big a vessel you want to operate and how much you're willing to spend on it. Since most cruising catamarans are 35 feet long or more, getting insurance might not be easy if it is your first boat. Catamarans are also more complex than similarly-sized monohulls and usually have two engines and more systems. 
A catamaran is a good first boat for some, especially if you or your crew have no interest in sailing anything else. But if you just want to get into boating, you can get a much less expensive—and possibly even better built and better equipped—monohull for the same money.
As far as learning to sail, cruising cats sail very well and are very stable. So there's no reason you couldn't learn to sail on a cat. 
What is the best small catamaran to live on?
For full-time living aboard, several catamaran models are very popular. The Lagoon 380 is one of the most popular models ever built. The Fountaine Pajot Mahe is similar but slightly smaller and less expensive. On the smaller side, the Gemini 105MC is affordable and can fit in most normal-sized boat slips. Of course, for each of these popular models, dozens more lesser-known boats were produced in smaller numbers.
Why are catamarans cheaper?
Catamarans are usually priced at a premium because they are in demand more than other types of vessels. It's hard to make a blanket statement regarding boat values because so much depends on the brand quality and the vessel's condition. There are cheap catamarans like there are cheap monohulls and cheap motor yachts. But it's all relative, and, generally speaking, sailing catamarans cost more than sailing monohulls of similar lengths. 
Why are catamarans so expensive?
The catamaran market is an interesting case study, especially when you compare prices with similarly-sized monohull sailboats. Cats are highly sought-after and in demand, and they've only been being built in large numbers for about 20 years. When demand exceeds supply, prices go up and stay up. This is a clear contrast to monohull sailboats, where supply on the market often exceeds demand, and there are often many used boats for sale to choose from.