Catamarans appeal to sailors and would-be sailors for a variety of reasons. One of those reasons is the need for speed—cats have a reputation for being faster. There are dozens of brands and tons of great boat designs that capitalize on this, and designers are constantly pushing the bounds and asking, "Really, how fast can a catamaran go?"
Performance sailing catamarans may look like your run-of-the-mill Leopard or Lagoon from a distance. But these boats are full of little tricks to boost their speeds—narrow hull designs, retractable daggerboards instead of keels, and extensive use of cutting-edge lightweight materials like carbon fiber. All of this adds up, so expect to pay double, triple, or maybe much more for a truly fast catamaran. And that means there are far fewer boats on the water, and owning one puts you in an exclusive club.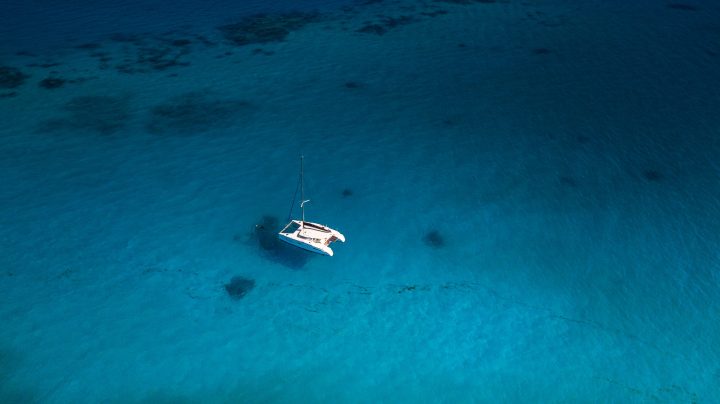 Table of Contents
Top Brands of Fast Catamarans
Here's a list of some of the best-known and trail-blazing fast catamaran makers. These companies are making luxury performance catamarans suited for owners who want to cruise fast. These aren't barebones race boats built for nothing but speed. Instead, these are comfortable boats that will outperform most others in their class. 
Most performance boats will be 45 feet long or more. Small catamarans don't fall into this category, and most production liveaboard catamarans are built too heavily in order to save money.
Gunboat
For more than two decades, Gunboat has been setting the bar on what a performance catamaran can be. They took state-of-the-art technologies from the racing world and applied them to family-friendly cruising catamarans. The company started in the US in 2002. One of the company's stated missions is to create boats that sail faster than the wind in anything more than 6 knots of breeze.
Since 2016, Gunboat has built top-quality boats at their La Grande-Motte, France, facility. However, they are still a boutique builder making only a handful of boats yearly. Their current offerings include the 68, 72, and 80. All boats have narrow hulls, retractable boards, high-performance sail plans, carbon fiber construction, and luxurious living accommodations.
The first hull of the Gunboat 68, CONDOR, was launched in 2019 and set out on a trans-Atlantic crossing immediately after its sea trials. The crew wrote a detailed report of the experience and the boat's performance. CONDOR exceeded 30 knots occasionally, but average speeds were between 14 and 17 knots. Their best 24 hours saw 328 nm (an average speed of 13.7 knots). 
The company motto says it all. "Life is too short to sail a slow boat."
Outremer
Outremer Catamarans is one of the original makers of French performance cats, in business since 1984. According to their website, the company has made over 300 boats since then. A large-scale production boat maker they are not. These are custom-built fast catamarans of the highest quality, made for safety, comfort, and speed. Outremer recently received much attention when popular YouTubers Sailing La Vagabonde sailed aboard an Outremer 45 for several years.
Currently, Outremer offers boats ranging from the 45 to the 5X (48 to 60 feet long). The X models (4X and 5X) are even more performance-oriented, with more extensive use of carbon fiber and a more race-inspired sail plan.
Catana
Catana is yet another French performance brand of luxury cruising catamaran. Today, Catana Group also makes Bali cruising catamarans, effectively marketing Catanas to the performance set and Bali's to the cruising and charter set. https://www.catana.com
Presently, Catana is only making two models, the OC50 and the 53. Historically, however, Catana has made many beautiful boats. Notably, the 471 is a fast cruising catamaran that is a favorite among long-distance cruisers. On the smaller side, the 431 and even the 401 and 381 are quick and fun sailers that move better than their competition.
Catanas are easily recognizable by their daggerboards and narrow hulls with asymmetrical designs. In addition, they use a lightweight composite layup that results in a very stiff boat that weighs less than their competitors. Still, Catanas are not on the same level as an Outremer 5X or Gunboat–these are fiberglass boats that are built better than the competition and made to outperform many other boats. 
HH
HH Catamarans is Gunboat's first real competitor in the high-end performance cat market. They started in 2012 and are part of the Hudson Yacht Group. The boats are designed by Morrelli & Melvin, a highly-regarded multihull design firm, and are built in Xiamen, China, or Cebu, Philippines.
HH has boats in their model line from 44 to 88 feet long. The company focuses on providing what owners and sailors want and are looking for, so you'll see lots of customizability within the lineup. They include features you won't find from a lot of builders, including lots of planned real estate for solar panels (5kW or more!), hybrid drive systems, and ocean cruising OC (keels) or sport cruising SC (daggerboard) models to pick from.
Balance
Balance started in South Africa in 2013. They focus on making semi-custom, comfortable performance yachts that are strong and safe and can be easily operated single-handedly or by a couple. They are live-aboard boats that strike a balance between comfort and performance. But, compared to the current offerings from Lagoon or Leopard, it's clear that Balance cats skew far more toward performance than others do.
Models currently range from the 442 to the 750. They're available with daggerboards or keels and made with extensive carbon fiber and all epoxy-resin composites. According to their website, the current record speed for a Balance 482 while surfing is 28 knots. She'll cruise all day between 8 and 14 on a reach, though. They describe the 482 as a "trend-setting circumnavigator"—the perfect boat for your sail around the world route.
Kinetic
Kinetic Catamarans are designed by Simonis Voogd and built in Knysna, South Africa. Like others on the list, these are semi-custom, luxury, performance cruising cats with an emphasis on speed. They have all-carbon construction, carbon spars, laminated sails, and a forward sailing cockpit deck layout.
Since they are truly semi-custom, each boat is spec-ed out to each buyer's vision. This includes standard or racing rigs, centerboards or daggerboards, and many furnishings, layouts, and outfitting options. Kinetic currently offers 54 and 62-foot versions.
Neel Trimarans
What's better than two hulls? Three, maybe. That is, three might be better if your goal is truly fast sailing. Neel Trimarans is a new French builder attempting to capitalize on this simple fact by merging the best of all worlds—the space and liveability of a cruising catamaran with the performance, sail efficiency, and stability of an offshore-capable tri.
The company presently offers models between 43 and 65 feet. They say cruising speeds are reliably over 10 knots, with 15 to 18 knots when the breeze freshens. Compared to cats, these boats' rigid central hulls allow for stronger rigging and better upwind performance, and the central keel allows better tracking and rudder control.
What Is a Fast Catamaran?
Now you've looked at some fast cats, you might wonder what constitutes "fast."
You will be wowed if you're selling your 30-foot monohull and moving up to a 50-foot cat. But if you're coming from the world of car and plane travel, sailboats of any ilk are anything but "fast."
The first thing to accept is that all sailboats are slow. This shocks many people who think they'd like to travel and see the world by sailboat. The marketing of these "fast cats" is everywhere, and the idea that the faster boat is safer because you can "beat the weather" is especially pervasive. No sailboat at sea can outrun a front or storm cell moving at 30 or 40 knots. 
In truth, the fastest catamaran you can comfortably live aboard and cruise on will average out under 15 knots. In similar conditions, production catamarans might be doing 10 to 12. The monohull speeds of the same length might be 7 or 8 knots, and a bigger monohull with similar living space might be doing 10 or 12.
So don't be lulled or wowed by these vessel's maximum speed or "surfing" claims—they're fun numbers to kick around with your dock neighbors, but what really matters is how many miles you can tick off in a day of travel.
To get more speed than this, you'll either push the boat in ways that are not safe or comfortable at sea, or you will have to find bigger, more advanced, and even more expensive vessels. Most boats on this list are luxury liveaboard that is safe to travel the world. 
But are they fast? As the old sailor saying goes, "Nothing goes to weather like a 747." Sailing is still sailing. And sailing is a slow, slow, slow way to see the world. 
How Fast Can a Catamaran Go?
Traditional monohull sailboats are displacement vessels that are limited by a few rules. As they push the water out of their way, they build up bow and stern waves. Push too much water, and the waves get bigger, pulling the vessel farther into the water. So no matter how you power it, it's limited to hull speed. Hull speed is a factor of waterline length, width of the hull, and displacement. 
Modern designs favor flat bottoms like powerboats, with the idea that they can surf and plane to get more speed. Catamarans take this even further, and with some clever design tricks, it's possible to get a catamaran well above displacement speeds for extended runs. Of course, a lot depends on the hull type, and other factors are also at play.
Catamarans are very sensitive to weight. Their speed comes from being a lightweight boat with the ability to fly across the water, contrary to how a heavy monohull plows through it. The heavier the boat, the lower it sits in the water.
Therefore, adding weight to any catamaran will slow it down. To this end, finding a performance-oriented liveaboard catamaran less than 47 feet long is difficult. Less than this, and the narrow hulls simply can't hold the weight of you and your stuff. 
Finally, there's the consideration of the environment you're sailing in. The wind is obvious—they sail fastest on a broad reach. And, just like any other type of boat, they are slowest when close-hauled and on a run. 
Rough seas are another of the catamaran characteristics to consider in your need for speed. Often the boat is capable of more, but the ride is rough and uncomfortable.
So you shorten sail and slow down to find the sweet spot of comfortable sailing speed—enough power to maintain a good speed without pounding your brains out and causing undo fatigue on the crew. And, of course, the rougher the conditions, the slower the boat's performance as she slows and in the troughs and speeds "downhill."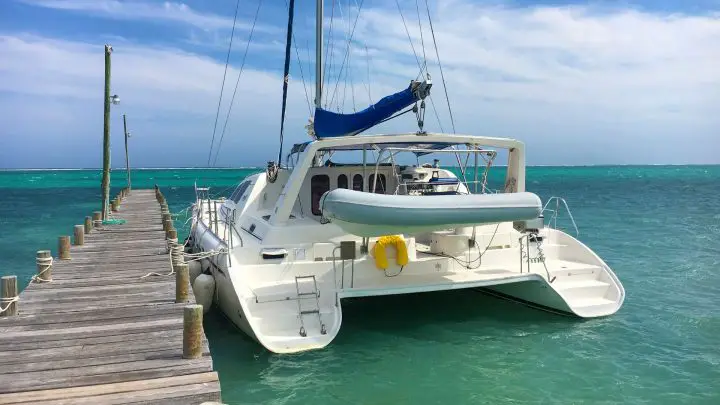 Are Fast Catamarans the Boat You're Looking For?
While they are faster than other vessels, that's certainly not the only thing catamarans have going for them. Fast is a relative term, and "fast" sailing is still awfully slow. So unless you already love sailing, sailing fast might not have as much appeal as you'd expect.
Catamarans are great vessels with a lot of pluses. And these fast modern catamarans are some of the best—luxurious living space aboard comfortable, top-quality vessels. 
Fast Catamarans FAQs
What are the fastest catamarans?
Like those used in recent America's Cup races, pure racing catamarans use foils to lift their hulls out of the water. Whether performance-oriented or not, regular catamarans for cruising are much slower, averaging between 10 and 15 knots. Still, they generally outperform monohull sailboats of similar lengths in most conditions, especially when sailing downwind.
How fast does a 50 foot catamaran sail?
There are many designs of catamarans, and they all sail differently. In some conditions, a pure racing catamaran may sail significantly faster than the wind speed. Most cruising catamarans, whether designated as "performance" or not, will max out around 12 to 15 knots. Momentary peak speeds may be significantly higher. 
What is the fastest point of sail catamaran?
As with all sailboats, the fastest point of sail will be near a beam reach, where the apparent wind is 90 degrees from the boat's bow. Since cats travel faster over the water, this usually means that the true wind is off the quarter, with a true wind angle of about 120 degrees off the bow.
How fast is the Gunboat 68?
Gunboat 68, hull number 1 (68-01), was launched in 2019. Immediately after sea trials, CONDOR crossed the Atlantic. The crew reported the vessel's max speed exceeded 30 knots occasionally, with averages between 14 and 17 knots. Their best day was 328 nm, making the average speed for those 24 hours 13.7 knots (15.8 mph).