Catamarans have had the sailing world abuzz for several decades now. To the salty monohull sailors' chagrin, they aren't going away any time soon. They're roomy, comfortable, spacious, airy, and light-filled. They ride flat and don't heel over when the breeze freshens. When you step aboard a modern catamaran, even the most landlubber-y of landlubbers can envision moving aboard and setting sail to distant horizons. 
There's no set definition, so we'll have to look to the boat manufacturers for answers. If you look at the lineup from Leopard, Lagoon, Fountaine Pajot, Bali, and others, you'll find that the smallest cats are generally somewhere between 38 to 40 feet long. There are other manufacturers making some 35-foot boats, but these look a lot different.
The appeal of the small catamaran is nothing new, and many different boat makers have made attempts over the years. Here are a few things you might want to consider before purchasing a small catamaran boat.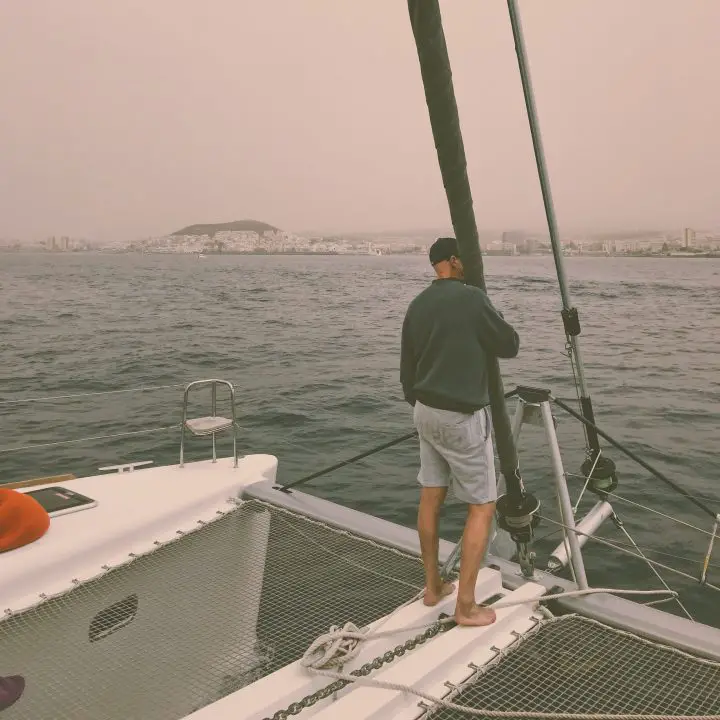 Table of Contents
What is a Small Catamaran Sailboat?
For liveaboard, long-distance sailors, a small catamaran is a twin-hulled sailboat between 35 and 40 feet long. 
There are a few designs, but the most comfortable ones are those with wide beams and the hulls set farther apart. This size catamaran is necessary to ensure the boat can carry enough supplies and retains enough stability to be safe at sea. However, these small boats still feel very large and have beams of 19 to 21 feet. Boats of this size have twin diesel inboard engines. These boats come with four cabins or three cabins in an "owner's version" layout.
Many of these boats could be described as French-style charter catamarans. Examples of boats like this include those made by Lagoon and Fountaine Pajot. South African companies like Leopard make them too, and there are a few one-off designs, like the American-made Manta share these features. 
Generally speaking, a 38-foot-long, 21-foot-wide sailboat is not a small one. But if you love the French-style catamaran, this is about the smallest you'll find. That's because this type of boat depends on its width for stability and its length for carrying a load. A shorter boat is very easy to overload. Most boat makers, Lagoon, Bali, Leopard, and the rest, currently make nothing less than 37 feet. 
But there are some smaller options. 
On the other end of the spectrum from the super-wide French-style cat, there are small catamaran sailboat designs built for day-tripping and short-term coastal cruising. These are often narrower than offshore boats and can be stored in a regular boat slip. This is an especially important consideration in coastal areas where big offshore catamarans aren't very common and marina options are limited. 
These boats will sometimes have beams of 15 feet or less. These smaller and lighter boats are often propelled by a single engine, either an inboard diesel or a gasoline outboard. All of these factors make them cheaper. 
Examples of boats like this, small and made for nearshore coastal cruising, are the 105MC from Gemini Catamarans and the Endeavour 30. The Gemini is one of the most popular coastal cruiser cats made. It is 35 feet long with a single center-mounted diesel inboard engine, retractable centerboards for shallow-water cruising, and distinctive hard dodger. They usually have two cabins or three cabins and one or two heads.
A third group of catamarans doesn't fit neatly into these two categories. They lie somewhere between small, say 30 to 37 feet, and are built well enough to be considered bluewater boats. They take their designs from seaworthy British catamarans built in the 1980s and 1990s, namely those built by Catalac and Prout. These were solid boats built tough to take on the North Sea that earned the excellent reputation they still have today. The Island Packet PacketCat and Dean Catamarans 365 are two more recent examples.
They tend not to be as beamy as the French charter catamarans and are much less common. However, for owners lucky enough to find a good one, they make excellent long-distance cruisers and liveaboard boats.
Of course, the smallest catamaran of all is the beach cat that everyone is familiar with. It's nothing more than two small hulls connected by poles and netting. Fun and fast, there's no better toy on the resort's beach. They have no interior accommodation—they are just for day sailing. We'll keep our discussion limited to liveaboard catamaran options. 
Pros of a Small Catamaran Boat
Catamarans appeal to many sailors, but the reasons folks like them vary from person to person. For example, some are in love with the way cats sail. Faster and lighter than monohulls, they speed up quickly in light wind and skip over the waves. 
Others prefer the living space aboard a catamaran. They usually have open, airy salons with tons of light and fresh air everywhere. Big windows are the norm, unlike monohulls described by many as "caves."
Here are a few reasons to consider a small catamaran with cabin. 
Cheaper than bigger catamarans
Shallow draft for exploring more places, especially compared to fixed keels on monohulls
Easy handling and happy sailing
Large windows and great ventilation in the living space
Large, open cockpits to entertain guests
Faster cruising than a similar-sized monohull
More interior living space than a monohull
Does not heal under sail as monohulls do—rides flatter
Fits in more slips and at more marinas than larger, wider boats
The narrower the boat, the more boatyards are available to you
One diesel engine price tag—keeps boat and maintenance cheap compared to twin inboard diesels
Option for outboard engines, which saves even more money in maintenance—some smaller boats have one or two outboard engines
Cons of Small Catamaran Boats
There are some struggles for catamaran and would-be catamaran owners, of course. But, by far, the biggest problem you'll face with choosing a small catamaran is the problem of having limited choices. There aren't many cats in the world when you compare them to monohulls, and those catamarans you find are more expensive.
Another problem with small catamarans is that they are very sensitive to overloading. While they have lots of storage space, they can't hold much weight. As the hulls ride lower in the water, sailing performance and overall stability decrease. In other words, a catamaran will hold less weight than a monohull of a similar length.
Fewer available on the market than monohulls
Interior space feels different than that on bigger models
Weight carrying capacity is less than may be required for comfortable long-distance cruising
Lack of overall stability due to narrower beams
Seakeeping and ride qualities are poorer than long cats
Some find the ride quality of shorter catamarans to be uncomfortable
Lightly built with thin fiberglass layups, susceptible to flexing issues—some require more repair and maintenance than similar-sized and aged monohulls
High-quality offshore models are hard to find
Low bridgedeck clearance may mean wave slapping and pounding with some boats on some points of sail
Tips When Shopping for a Small Catamaran Sailboat
Here are a few things to remember if you want to purchase a small catamaran with cabin. 
Not All Catamarans Have the Same Feel
When looking at the latest models, you'll see that catamaran construction has changed quite a bit in the last two decades. So it's really important to understand what you like so much about your dream catamaran. 
Is it the open feeling you get when standing in the salon, looking out of those huge windows? Or is it the way you can easily walk from the salon to the cockpit to the side decks or helm without stepping up and over seats, in and out of a deep cockpit? What about the easy access to your dinghy, which is on davits at the rear? Or maybe it's the way that there's plenty of light below decks in your cabin, and the boat feels open and airy?
The choices look very different when you start downsizing and looking at small cruising cats. Some or all of these features were things that designers had to learn to do. In some cases, they're still learning how to do them. And in some cases, they're impossible to do on a small boat. 
Size (Of Your Liveaboard Catamaran) Matters
Small catamarans have never been and will never be designed to carry a load. Catamarans are performance-oriented, even if some are built for charter and look like condo buildings. When you stuff too much weight in a catamaran, its sailing characteristics are degraded. As the waterline gets lower and lower, the boat sails noticeably slower, and stability is adversely affected. 
As a result, it's frightfully easy to overload a small catamaran. Going out for a daysail is easy, as you might only bring a towel and some water. But living aboard or traveling long distances is another thing entirely. With a catamaran under 37 feet, it is very difficult not to overload it while keeping enough stuff—tools, spare parts, food/groceries, water, fuel, clothes, gadgets, books, etc. Cats 35 feet and under can be dangerously overloaded, which is another reason these boats are usually not generally considered bluewater vessels.
This is one of the biggest reasons you don't see many small catamarans being built and crossing oceans—most people need more stuff than a small cat can safely hold. 
Priorities: Affordable Catamarans or Small Catamarans?
So with the quality of the living space and the weight of your stuff in mind, most cruising couples are most comfortable on a 40 or 42-foot catamaran. Peformance-wise, a 42 or 44-foot catamaran is the sweet spot for most. Unfortunately, these boats are expensive! Much more so than a 35-footer. 
Shorter catamarans also handle big seas differently. The shorter a catamaran is, the more likely it is to hobby horse—the tendency towards a quick, bow-up bow-down motion at sea. This is another reason that 44-footers are ideal—they're long enough to escape this tendency and ride better in open water. Plus, their longer waterlines and narrower hulls mean these bigger cats will be significantly faster on all points of sail. If you want to see a list of bigger catamarans, check out our list of the best liveaboard catamarans.
So, you must approach your choice with these things in mind. A lot of people downsize their plans to fit their budget. But are you willing to put up with the problems associated with a smaller catamaran than you need? Would a different type of boat actually suit your goals better?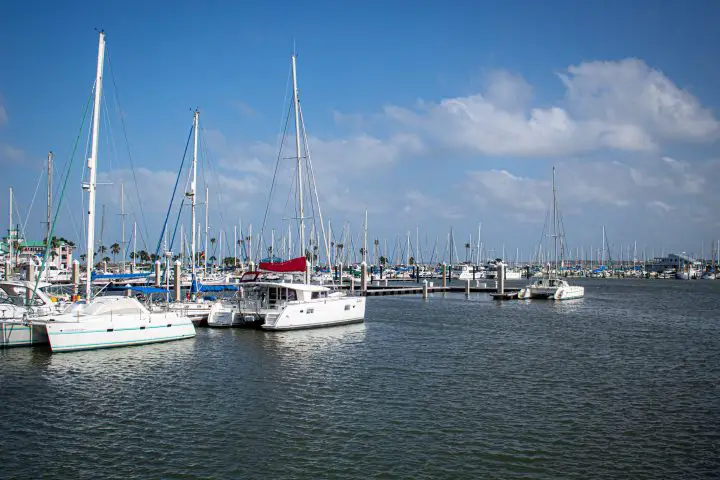 Picking the Right Small Sail Catamaran
Every boat purchase is a compromise, and there is never a perfect boat that can do everything. First, keep a clear mental picture of your goals and what you love about the catamarans you've seen. Then, keep an open mind! There are so many different types of boats, and catamarans are just one of them. 
When you're ready to start shopping for a small catamaran sailboat, check out our list of cheap catamarans for some great options in the under-40-foot range.
Best Small Catamaran FAQs
What are small catamarans called?
A small catamaran is a boat with two hulls. The smallest are beach catamarans like the Hobie Cat. For liveaboard sailors, small catamarans are between 35 and 40 feet long.
How much does a small catamaran cost?
Prices for small catamarans vary greatly depending on the boat's popularity, quality, and design. For example, one of the most popular small liveaboard catamarans is the French-built Lagoon 380, built from 1999 to 2020. Depending on features, age, and location, these boats currently sell for between $200,000 and $400,000. On the other hand, the much smaller American-built Gemini 105MC can be found for half as much. 
What is the best small catamaran to live on?
Everyone is looking for something a little different in their liveaboard catamaran. The Lagoon 380 and Fountaine Pajot Mahe are popular options if you're looking for a spacious and comfortable charter catamaran. 
What is the smallest catamaran to circumnavigate?
Many catamarans in the 35-foot range have successfully circumnavigated. Smaller ones have likely made the trip, albeit less comfortably. But generally, most sailors agree that a 38 to 40-foot cat would be the smallest size that should make the trip, and a 42 to 44-footer would be best. The WorldARC, a 15-month-long around-the-world sailing rally hosted by the World Cruising Club, requires boats to have a 40-foot length, although they will consider smaller vessels on a case-by-case basis.