With a little web surfing, you can find out how much it costs to live on a houseboat. But how accurate and valuable are these numbers? Are they applicable to the real world? 
Everyone lives their lives on their own terms. If one article states that your monthly grocery budget is $450, the rest is likely just as random. It's probably just interpreted from one person's experience. If you aren't that person, living to their standards, on that boat in that marina, then the numbers are meaningless.
Let's take a different tactic and think about what the factors are, how they vary from place to place, and look at how much it really costs to live on a houseboat. Then, you can do some research in your area for boats that you can afford and put the numbers together yourself.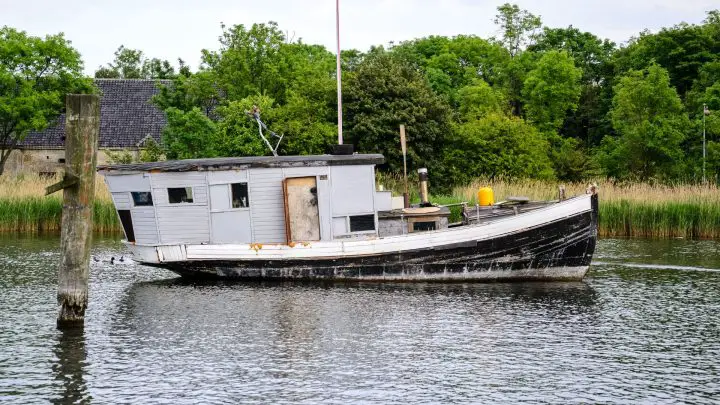 Table of Contents
How Much Are Houseboats? Are There Really Any Cheap Houseboats?
In most instances, living in a houseboat is not cheaper than living in a house. You'll have similar maintenance and upkeep expenses to worry about. If you have a loan on the boat, you'll make monthly payments and keep insurance just like you would on a home. But you'll also need to consider the cost of dock fees and fuel. 
Yes, you can live cheaply on an inexpensive houseboat. And one of the big pluses of houseboats is that they allow you to live in expensive areas–areas by the water and at vacation destinations where the land property is very expensive. This is just one factor that keeps houseboats popular. So, are they cheap houseboats, or just cheaper houseboats?
Factor to Consider – How Much Will Living on a Houseboat Really Cost?
Rather than looking at specific numbers tallied by random people in faraway places, compiling your own list of estimated expenses would be more helpful. Once you start researching, there aren't any mysteries or secrets to the cost of living on a houseboat. 
Cheap Houseboat Purchase Price – Small House Boats or Luxury Houseboats
The item with the biggest price tag is the boat itself. And just like other big-ticket items–cars, houses, RVs, etc.–everyone will approach the purchase differently based on how much is in their bank account.
A floating home loan is common since you can get a loan for most new boats. But, like RVs, these loans are not like the ones for your primary home. You can't get FHA loans or other low-down-payment schemes to help you with the purchase. So, you'll need at least 20 percent in cash. Plus, you'll have to find a bank that will lend you the money for the boat you want to buy. If you're eyeing a brand new houseboat, you shouldn't have a problem (as long as you can make the payments and have the cash to put down!). If, however, you want to buy a 40-year-old fixer-upper that has been for sale for years, no bank will help you. 
If you plan to get a loan, you must insure the boat. More on that is below. In addition, if you get a loan, you must get a survey by an accredited marine surveyor specifying the boat's market value. The bank will not loan more money than the boat's value as found by the survey, and your insurance will require the survey before they underwrite the vessel. 
If you have the cash to cover the houseboats cost, you'll have more options. And, of course, you'll save money in the long run since you won't be making a payment or paying interest. It would be best if you still got a survey and insurance, though. 
So, how can you figure out how much a houseboat will cost you? Start by browsing sites like Yachtworld and Boat Trader, where you can find listings for new and used houseboats. You can see their age and asking price. In addition, you can find "for sale by owner" listings on Craigslist, Facebook Marketplace, eBay, and houseboat-specific websites. 
If you want a generalization, a 30-year-old houseboat in good condition can be had for an average price between $75,000 and $125,000. Newer houseboats average between $150,000 and $500,000, depending on their age, location, size, amenities, and the houseboat manufacturers' reputation. Prices can and do fluctuate as the houseboat market is closely tied to the economy at large.
Be dubious of any "cheap houseboat." Deals are often too good to be true. Once you understand what would be required to return a project boat to liveable condition, you'll see that the actual price of the boat is represented by turn-key boats listed on Yachtworld or Boattrader. In other words, you can either spend that much and get a boat that's ready to go, or you can spend that same amount and years of hard work getting it to that condition.
Age of the Vessel and Maintenance
A commonly mentioned rule of thumb amongst boaters is that you should plan on spending ten percent of the boat's purchase price on maintenance every year. So, a $100,000 boat would cost you $10,000 annually to maintain. This is to keep it in running order and does not include upgrades or dockage. 
New vessels typically need less maintenance than older ones, but they will still need some. So the 10 Percent Rule is still a good bet, especially since you'll wind up installing new systems and outfitting the boat more than you expect during the first years of ownership.
In most places, you'll haul your boat out of the water for maintenance. There are lift and storage fees for a few months. In northern climates, you'll leave the boat out for the winter and "winterize" its systems. In salt water, the bottom of the boat will need to be scrubbed and painted regularly. All of these costs add up. 
Older vessels have all these maintenance costs plus the costs to repair the broken parts. Everything has a lifetime on a boat, usually shorter than you expect. Water pumps, refrigerators, water heaters, engines, generators, batteries, fuel pumps, fuel lines, toilet systems–the list goes on and on. 
Pontoon House Boat Insurance and Taxes
Insurance is typically paid annually on vessels, around one to three percent of the hull value. So, for example, if the boat costs $100,000, your annual insurance premium would be between $1,000 and $3,000. 
If the boat is very large and you have limited boating experience, you might find it hard to get insurance. However, houseboats that stick to inland waters will be easier to insure than other vessels.
Like a car or RV, you'll also have to register the vessel in the area in which it is kept. In addition to state registration, many counties collect personal property tax on boats, so you might face an annual tax bill from the county. In most cases, you must register the boat where it is kept, regardless of your home address or where you officially live. Most states require registration after the boat has been in state waters for more than 60 days, although it varies from state to state.
Living Aboard Location
Don't discount how much variability there will be based on how much things cost where you are. For example, if you're living on a certain lake in your area, the only way to pin down costs will be to find out how much marina slips and gas will be by finding out on your own. 
Plus, keeping the boat in a nice touristy area where people want to visit means that groceries and dining out will cost more than in other places. All of this affects your budget!
Dockage or Mooring Fees at Houseboat Communities
Figuring out how much a dock will cost is less than intuitive, and it's best to research early. One good resource for the Eastern US is Waterway Guide. On their website, you can search for marinas and see their rates. You can then further research the marina's website. 
As a casual observation, liveaboard slips can cost anywhere between $500 and $3,000 per month, depending on your location. So a good average would be $800 per month unless you're in a spot with more boats than slips. For example, in some parts of Florida, the normal rate might be $2,000, with some luxury resort marinas charging triple that. 
Most marinas realize that a liveaboard boater will use more water, electricity, pump outs, and garbage disposal than a casual weekend visitor. Therefore, they will usually charge for metered electricity and a flat "liveaboard fee." It's usually between $50 and $150 per month. Each marina includes different things in their published rates, so it's important to find their rate sheet online, tally the cost, and compare apples to apples. 
Other Variable Costs of Houseboat Living
Maintenance and repairs are your biggest variable, which was discussed earlier. 
Other variables include the fuel you put in the boat. This depends a lot on the houseboat–does it have a small, fuel-efficient gas outboard engine? These boats don't move fast and don't move often, but that means your fuel costs will be near zero.
On the other hand, what if you have a large party barge with dual Mercruiser sterndrives? Those 500 horses will get you wherever you want to go but will demand to be fed. And gasoline prices will be set by the marina, which will always be more expensive than the price you pay on the street. 
The typical gasoline engine burns 10 gallons per hour for every 100 horsepower. So twin 250s would burn 50 gallons per hour, and at $6 per gallon, that would be roughly $300 per hour of motoring. Of course, that's a worst-case estimate for a big luxury powerboat, but it should show how much fuel you'll be putting in the tank. 
But then, houseboats usually don't move that much. How often will you fill up that gas tank? If you cruise a lot, it might be a few times a year. If you seldom start the engine and sit at the dock, it might be a very long time. 
Houseboat Owners Regular Living Expenses
Life won't change much once you live on a boat. You'll still have the same diet and likely shop at the same stores. The only radical change that might occur would be that you now live in a vacation area where groceries and supplies are more expensive. 
Estimating the Cost of Cheap House Boats – A Real-World Example
Let's take all this and work out a real-world example of how we might estimate our monthly expenses and budget. For this example, we picked a 1986 Harbor Master 14 x 47 listed on Yachtworld for $69,900. The boat looks good in photos, with many updates and signs of good maintenance. 
It's older, making it cheap enough to pay cash for it. If you did get a loan, you'd have to put at least $14,000 down and plan on a payment of over $1,000 per month, depending on interest rates and repayment schedule. Before the purchase, we'll need to have it surveyed and hauled out, which will cost about $2,000. 
Some factors that will affect this boat's operating expenses, assuming marina gas costs $6.00 per gallon, include the following.
Twin 270-horsepower Chrysler Crusader engines, estimated fuel burn of 54 gallons per hour, or $324 per hour plus maintenance
7.5 kW Kohler gas generator, estimated at 1 gallon per hour when at anchor (variable cost), or $6 per hour plus maintenance
195-gallon fuel tanks, or $1,170 per fill-up
Based on the information above, we could estimate that we'll also be paying…
$7,000 per year ($583/month)for maintenance
$690 to $2,097 ($57 – 174/month) in insurance premiums
$800 to $1,000 per month for a liveaboard slip, including fees, power, and water
$200 to $500 per year ($16 – 41/month) in registration and personal property taxes (depending greatly on state and county)
This gives us an average household bill (for the boat alone) of at least $1,456–plus all of our regular lifestyle expenses, like groceries, dining out, entertainment, etc. 
This is all a rough estimate. If you want some more detailed tools, check out the videos and tools from Deep Houseboat Life.
House Boat Cost FAQs
Are boat houses expensive?
Boat houses are enclosed docks that protect your boat from the elements. Prices vary from region to region and depend on how elaborate a boat house you want to build. The only way to get a price estimate is to contact a local marine building and dock contractor. 
Can you permanently live on a houseboat?
Many people do, but it depends on the marina rules and local ordinances where you live. Many marinas allow you to stay on your boat for a certain number of days per month or year. A few marinas will allow full-time liveaboards on houseboats, but you must research each business carefully.
Are boats cheaper than houses?
The answer to whether boats are cheaper than houses is unsatisfying– it depends. It depends on the boat, and it depends on the house. Both require an initial capital investment and numerous fixed and variable costs for maintenance and upkeep. In the end, a houseboat is more like an RV than a house–you'll have to pay for its purchase and upkeep, a place to store it, and operating costs to drive it. 
Are houseboats cheaper than houses?
Just like you could spend any amount of money on a house, you could spend anything on a houseboat. So is one cheaper than the other? Probably not, but it depends on the location, size, and amenities you need.