Maine Cat was a builder of sleek, performance-oriented cruising catamarans. The factory and company were based in Maine, US. Unfortunately, as of publication, the factory is closed and no longer producing new boats. 
However, the molds for the newest model were sold to an Ohio company. The Maine Cat 38 is now the MC38 "Multihull Cruising Cat" built by Gulf Shore Catamarans.
Of course, Maine Cats still appear on the used market. They're sought after for their unique blend of uber-simple design philosophy, easy upkeep, and great performance.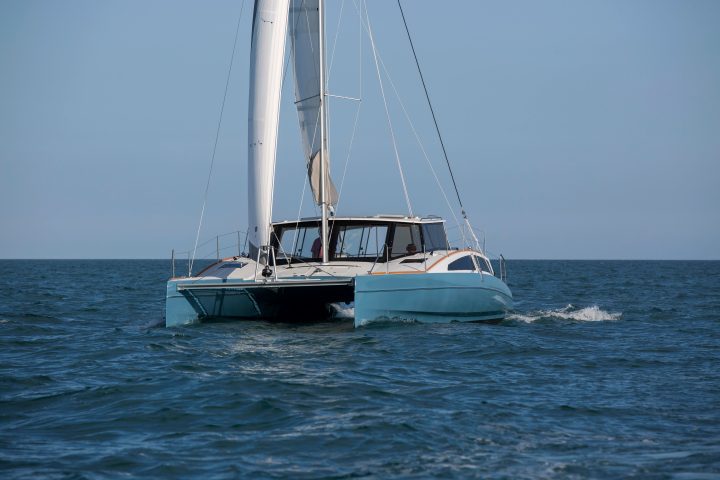 Unique Things About the Maine Cat Boats
Over the years, the company made three sail catamaran versions: The MC30, 38, and 41-footers. All are lightweight, high-performance catamarans. All were built with a simple design that makes them affordable and easy to work on. You won't find crazy amounts of cabinetry and joinery on these boats. Everything is functional, clean, and easy to use and maintain in a very simply equipped package.
The new Maine Cat 38 won the Best Boat Award from Sail Magazine in 2016. In a world where the competition is the bulky, heavy, and underwhelming charter catamaran, the Maine Cat appeals to sailors who want good performance and enough creature comforts to cruise long term on a cheap catamaran. 
The design of Maine Cats is owed to the company's founder, Dick Vermeulen. A mechanical engineer, Vermeulen created these boats to do something he didn't see being done by other current cruising catamarans: harness all the things cats do well. 
What can ocean capable cats do well? They sail fast, for one—but only in so much that weight is kept at a minimum. To that end, the Maine Cats were built with the lightest weight. The factory listed bare-bones boats that were relatively inexpensive, and then owners could outfit them as they desired. As a result, most Maine Cats are semi-custom boats. 
In the case of the 38, weight was shaved in several key ways. The boat uses retractible 15-horsepower outboard motors instead of the standard diesel inboards for auxiliary power. They're much simpler to install and operate and weigh much less. Like, several hundred pounds less each. Ditching huge diesel engines and their associated systems shaves more than 1,000 pounds off the total boat weight. Plus, you can power tilt them out of the water to avoid lower leg corrosion, and they're so much easier to work on.
Of course, using this small and inexpensive auxiliary power solution has its problems. The boat may feel slightly underpowered, especially in a chop or high winds. But under these conditions, the boat would sail better than it would motor anyway. It's a boat built by sailors for sailors.
Using the lightest structural components was another way Vermeulen found to keep it light. Most boats use a foam coring material sandwiched between layers of fiberglass. The core cell coring is scored with a knife and then saturated with resin to take bends. It gets heavy. The Maine Cat 38 is made with thermoformed foam coring, meaning it is heated and shaped to the curve of the boat. Less resin is used, and the overall boat becomes much lighter.
The accommodations of the MC38 are another consideration. The narrow hulls—intentionally kept that way for optimal beam ratio and performance—just don't have the space you'd find in a Lagoon or Leopard. The space between cabins comes with a privacy curtain, not a door. There's only one head in the owner's cabin. It's not a boat designed to please the standard charter crowd. It's a boat designed for a couple to take anywhere and maybe have an occasional guest. 
The port hull has two double bunks with the galley between. Flared hulls and minimal interior bulkheads give a sense of space and lots of interior volume. The starboard hull has an owner's cabin, complete with a marine head, separate shower area, and queen berths aft. The bridgedeck can be appointed in a number of ways but is generally kept open with central wheel steering. Opening windows forward ensure an outstanding view no matter where you are, and let in plenty of cool breezes.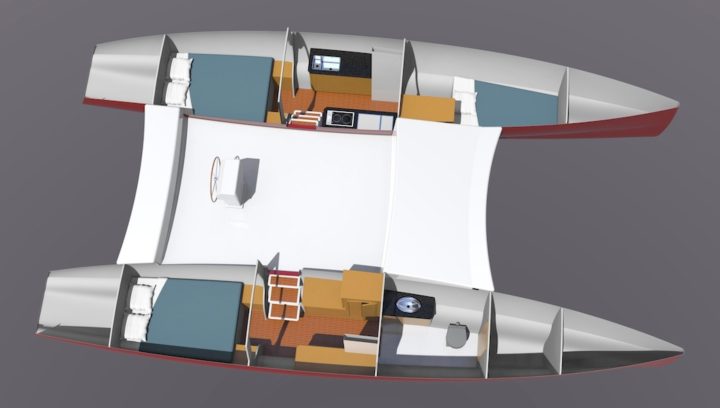 When it comes to sailing, this high performance cat is sure to please. The weight savings add up, and the boat is nimble and easy to single-hand. It has daggerboards in each hull, and the motors retract out of the water completely to eliminate drag. Ultimately, you have a remarkably clean boat ready to fly across the water. And those boards allow higher pointing angles than pretty much any other cat of this size.
Maine Cat 38 Specifications
| | |
| --- | --- |
| Length Overall | 38 feet |
| Length Waterline | 36′ 5″ |
| Beam | 21 feet |
| Min Draft (boards up) | 2.5 feet |
| Max Draft (boards down) | 6.5 feet |
| Loaded Displacement | 12,400 pounds |
| Mast Height | 58 feet |
| Engines | 2x 9.9 or 15-hp four-stroke, high-thrust, extra-long-shaft outboards |
| Fuel Capacity | 40 gal. |
| Water Capacity | 82 gal. |
| Motoring Speed | Up to 8 knots |
| Sailing Speed | Up to 20 knots (maximum) |
Is the Maine Cat 38 Right For You?
Every cat is different, and this one is unique. For those looking for the speed and thrill of the fastest catamarans like a Gunboat but on a Lagoon budget, the Maine Cat 38 is worth a look. Sure, it's not loaded with all the cruising goodies you might like to have, and nor should it be. It's designed to go fast, and this is what fast should look like. 
Maine Cat Catamarans FAQs
Is Maine Cat Catamarans still in business?
No, production in their Maine factory has ceased, and the website hasn't been updated since 2019. The Maine Cat 38, however, is now being produced by Gulf Shore Catamarans in Ohio as the MC38 "Multihull Cruising Cat."
How much is the Maine Catamaran?
It's difficult to say how much new Maine Cats are selling for, as they are being built on a custom basis by Gulf Coast Cats. Currently, two preowned Maine Cat 41s are listed on Yachtworld, both for about $370,000.