The debate between catamarans vs monohulls still rages, and most boaters are firmly on one side or the other. The truth is, either a catamaran or a monohull can provide a wonderful way to enjoy sailing, traveling, and being on the water. 
Both have advantages and disadvantages, and both have large and loud fan clubs. The choice between a catamaran and a monohull depends on your budget, lifestyle, and personal preferences.
My wife and I have owned both types of vessels over the years. After five years of cruising on a Lagoon catamaran, we decided to go old school and bought our current boat—a heavy, full-keel monohull. The catamaran was fun, for sure—but it wasn't for us in the end. Here's a look at all of the differences we learned about during our journey.
Table of Contents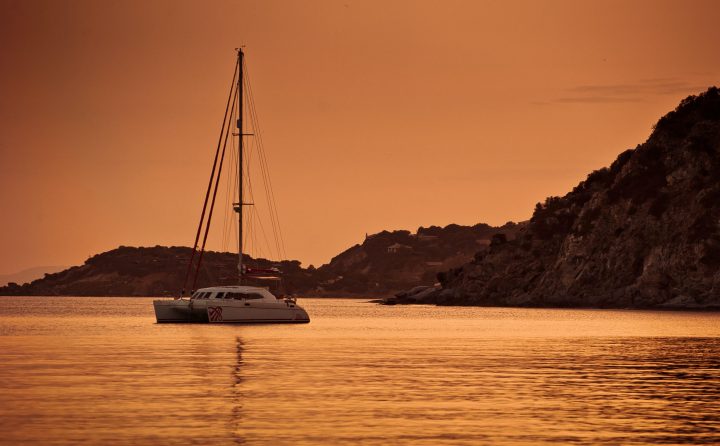 Life on Sailing Catamarans vs Life on a Monohull Vessel
Life At Anchor
At anchor, a catamaran provides superb comfort and living space. The "upstairs" cockpit and salon mean that boaters can enjoy non-stop wrap-around views.  Monohull boaters are stuck in their caves and must peek out of their small portlights or climb into their cockpits to view the world. 
A modern catamaran will also have swim steps that make it easy to get on and off the boat and provide easy access to dinghies and water toys. 
If there's an uncomfortable roll or swell in the anchorage, the catamaran's stability will make the roll a bit less noticeable. Monohull boaters are more likely to be adversely impacted in a rolly anchorage. This does not mean that the cat owners are getting a perfect night's sleep every evening, however. Catamarans just have a different motion in rocky anchorages, not a lack of motion.
Life At A Dock
Life at a dock gets a little more tricky for catamarans. Most marinas were built long before the catamaran trend and feature traditional slip sizes meant for monohulls. Marinas have to put catamarans on t-heads or make other accommodations. Therefore, it can be harder and more expensive to find a catamaran-friendly dock. 
Once at a dock, the massive space of a catamaran can be harder to heat and cool efficiently. Catamarans usually need several air conditioners or heaters installed, whereas a monohull can get by with only one or two. That also means that cats might need more power (50 or 100 amp service instead of 30 amp) than some marinas can provide.
Monohulls will have fewer issues finding marinas that can accommodate them, and they pay standard rates.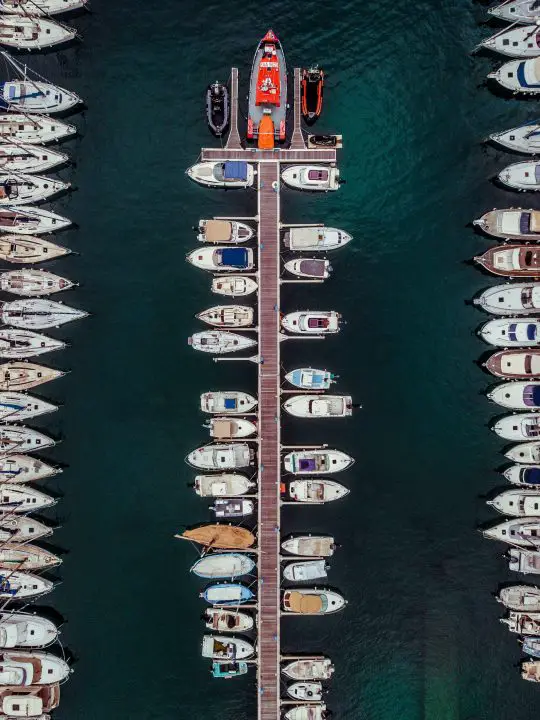 Life Underway
When sailing in protected waters, catamarans usually speed past their monohull friends. A catamaran provides a flat ride and sailors can move around their boats easily to make sail changes as needed. Walking on a catamaran's deck is undemanding. 
Catamaran sailors also have many options to rest comfortably underway. Because catamarans don't heel over, catamaran sailors can sleep in their usual cabins. They can move about the interior of the boat with ease. Cooking in the galley doesn't usually look any different underway.
In similar conditions, a monohull will heel over. Some sailors love the feeling of being heeled over and feeling the wind in their hair. Some don't. It can be more challenging to walk the decks and work sails on a monohull vs a catamaran. While in the cockpit, monohull sailors will want to sit on one side and may even need to brace themselves to stay comfortable. For long trips, there is no doubt that living while heeled over for days at a time is exhausting. 
Moving around the interior of a monohull boat at sea is also more challenging. Monohull sailors usually sleep in sea-berths with lee cloths instead of their usual quarters. It would be very uncomfortable to sleep in a v-berth underway, as the bow may be continuously pitching in seas. The lee-cloth in the sea-berth helps keep a resting sailor in their berth instead of falling onto the floor. 
Monohull boats have gimbaled stoves. Even while the boat is heeled over, the galley stove will remain level. However, cooking in a monohull while underway is still more challenging than cooking in a catamaran since the cook needs to constantly brace themselves against the heel and rolling motion. 
At the same time, none of this is to say that catamaran sailors have it easier at sea. In reality, catamarans may be more level, but they feel every wave in the ocean twice. The result is a choppy, bumpy ride with no rhythm. It can be just as tiring as being heeled over in a monohull.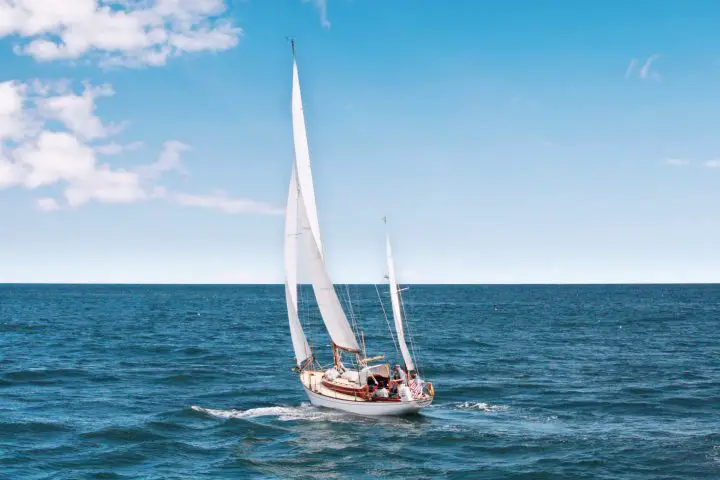 Catamaran vs Monohull Sailing Compared
Here are just a few ways that catamarans differentiate themselves from monohulls as platforms for living aboard.
Living space—quantity and quality
Storage space and weight
Sea motion
Budget—purchase and routine maintenance
Maintenance
Draft
Catamaran vs Monohull for Circumnavigation
Docking and close-quarters maneuvering
Living Space
Catamarans have significantly larger and often more attractive living spaces. On the other hand, the living space on a monohull is usually small and can be dark due to small windows.
A monohull's cockpit tends to be small and focused on safety. Families are more likely to feel in each other's way, and moving around while others are seated can be awkward. On a catamaran, the cockpit is likely to be large and social. Catamaran cockpits have large tables and lots of lounging space in the cockpit.
Catamarans have large trampolines forward, which provides another comfortable, social lounging space that monohulls lack. Many catamarans also feature additional lounge space via the large cockpit roof. 
The salon on a monohull is located in the main cabin. A monohull's salon will be smaller than a similarly-sized catamaran. Often there is a small table, room for several people to sit, and a single sleeping berth. 
Catamarans feature a wide bridge deck that crosses both hulls. This large living area features great visibility, ventilation, and natural light. On some catamarans, the galley is located on the bridge deck (called "galley up"), and on others, the galley is located in one of the hulls (called "galley down"). 
Monohulls have sleeping quarters in the bow and stern of the boat. On smaller monohulls, the main sleeping area is usually a v-berth. Older, smaller monohulls usually have just one head. 
On a catamaran, the sleeping quarters are located in each hull. These cabins often feature regular-sized boat beds and large en-suite heads. Cabins on a catamaran usually offer more privacy than monohulls. 
Catamarans are popular with charter companies because large families or groups of friends can enjoy living on a boat together in style and comfort. Each will have a private cabin and a private head. In addition, if you want to find space to exercise, do yoga, or watersports, you'll find these activities much easier and more comfortable on a catamaran.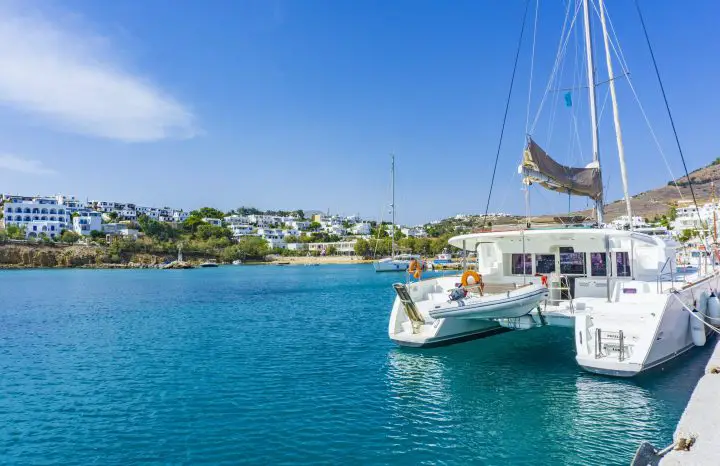 Storage Space
Catamarans have more space in general and certainly have more storage space. The additional deck space catamaran designs offer lends to easy storage for larger items, such as paddleboards and kayaks. Catamarans can often hoist and store larger dinghies than monohulls can. Large compartments make storage easy. 
However, many catamaran owners are very cautious about storing too much. Additional weight can slow down a catamaran's performance speeds. With so much space to put things in, it's remarkably easy to overload a cruising catamaran. Many owners complain about the performance of smaller cats, when in reality they are often just badly overloaded.
Monohulls have less space and less storage. Finding space for big items like water toys can be challenging. But monohullers worry less about weight and freely carry around their cast iron skillet collections—because weight doesn't impact performance on a monohull nearly as much. 
This is a consideration when cruisers consider adding additional equipment. For example, a catamaran owner will have to consider the added weight of a generator and its detriment to sailing speed. In contrast, a monohull owner will have to consider finding space for the new generator. 
Ride Comfort and Motion at Sea
Some prefer the motion of a monohull while sailing. Monohulls heel over but are steady, and sailors usually get used to the heeling motion. On a catamaran, if conditions are good, the boat won't heel and will provide a comfortable ride. 
When sailing upwind, some catamarans experience bridge deck slamming. Waves get caught between the two hulls and create a slamming motion and sound. It's hard to predict the timing and strength of each slamming motion, so some catamaran sailors can find it tiresome. 
The amount of bridge deck slam varies from boat to boat. Catamarans with higher bridge decks will experience less slamming, while boats with bridge decks closer to the water experience more. 
Beyond that often-discussed issue, there is also the issue of the boat's motion. It's very difficult to imagine how different the motions are when compared to one another. The monohulls slice through the waves, usually with a predictable rhythm. A catamaran, built lightly to sail fast, feels more like it bounces over the tops of waves. The crew will feel each impact as each hull hits each wave. The result is a choppy, unpredictable motion—but it's generally flat and level.
Budget
Monohulls have been around for ages. Therefore, sailors just starting out can find inexpensive, older monohulls. If you have a tight budget, you'll probably start looking for a monohull.
Catamarans are newer to the market. Therefore, the initial purchase price of a catamaran is likely to be higher. Monohull buyers can often find a used, well-equipped, comfortable monohull for less than $100,000. Catamaran buyers usually spend upwards of $250,000 for a used cruising catamaran. 
Because monohulls have been produced for so long, there is much more supply. The catamaran's more modern pedigree means that there are always fewer catamarans on the market than monohulls. As more and more customers are drawn to the attractive living space and stable sailing offered by catamarans, demand keeps going up, while supply remains low.
Maintenance Time and Costs
Besides the higher up-front costs, catamarans are more expensive to keep and maintain. A monohull usually just has one engine. A monohull might have one head (bathroom) and will generally have less equipment. Monohulls have less space and storage, after all. Catamarans have twin engines, multiple heads, more hatches—more everything. 
With more equipment, catamarans have higher maintenance costs. When a monohull owner services their engine, they have just one engine. A catamaran owner will need to service twin engines. Furthermore, each hull on a catamaran usually has separate and independent systems like bilge pumps, plumbing, fuel, water tanks, holding tanks…the list goes on. 
A monohull owner will paint one hull bottom and wax only one hull. A catamaran owner will do everything twice. Therefore, the effort and cost of maintenance are often doubled on a catamaran. 
Not only does it cost more money, it can also be harder to accomplish maintenance on a catamaran. You see, catamaran owners have fewer options to haul out. Most older boatyards have travel lifts that only accommodate boats up to 18 or 20 feet wide. Therefore, catamarans need to find a boatyard that has a large enough travel lift or a trailer to haul them. Because there is less supply and more demand for these larger travel lifts, the cost of hauling out a catamaran is often higher. 
Draft
While some monohulls have lifting or swing keels and can reduce their draft, most catamarans have a shallow draft. This allows them greater flexibility while choosing anchorages. Even if a catamaran and monohull boat choose the same anchorage, the catamaran can get closer to shore and get better wind protection. 
Docking and Maneuvering
One final big difference between these two types of vessels is their ability to maneuver in tight spaces. Monohull sailboats are notoriously difficult to maneuver around docks and marinas. They often have poor visibility from the helm and difficult handling, especially in reverse. The single-engine design often requires a bow thruster, even on smaller boats. 
The contrast that catamarans offer is pretty stunning. Even though they appear massive and ungainly in comparison, their twin engines mounted far outboard enable them to spin in their own length. Catamarans can be maneuvered in pretty much any direction using only differential thrust from the engines–all without a bow thruster.
Safety Considerations — Are Cruising Catamarans Safe?
Since most people have only limited experience with these vessels, many people wonder are catamarans safe. Even though they have been making large cruising cats for decades now, most of us have only really played on Hobie cats at the beach. And if there's one thing we know about Hobie cats, it's that they're a lot of fun until you flip it over!
Here's a look at a few safety considerations and how catamarans stack up against monohulls. 
Catamaran stability — capsize potential 
Hull breaches and sinking risk
Rigging failures
Designing for speed
Redundancy on board
Capsize Risk
So, can you capsize a cruising catamaran? The answer is yes, no matter what the fanboys and girls say. It is technically possible but highly unlikely. Cruising cats are massive, and in all likelihood, you're more likely to break the rigging than flip the boat. But in rough seas and extreme conditions, it does happen even on modern catamarans.
If a monohull encounters strong winds and rough weather, it will heel and roll significantly—but it will keep righting itself. In dire conditions, the vessel could suffer a knockdown. But a monohull will always right itself after a roll—it has tens of thousands of pounds of heavy keel to ensure that it does. Of course, the rig and anything on deck will sustain serious damage in the process, but the boat will be upright in the end. 
In the same scenario, while unlikely, a catamaran can capsize. And the catamaran will then remain capsized, with no possibility of righting itself.  
Hull Breach Scenarios
One of the scariest risks at sea is that of a serious hull breach, one that a bilge pump couldn't keep up with. For example, a boat could be holed by an errant floating object or suffer a stuffing box or through-hull failure.
If a monohull sailboat is holed, it could sink straight to the bottom of the ocean. The crew would be left with only a liferaft and whatever they were able to recover before the sinking.
But a catamaran is filled with foam and is (more or less) unsinkable. If a catamaran experienced a hull breach or capsizes, it would take on water and may become less habitable. However, it will still float. In many cases, not much of the boat is left above the water—but it's still at the top of the water.
Boaters may be able to perform emergency repairs and get the boat to port themselves. Or, they may have to stay with their vessel until help arrives. In either scenario, the crew maintains access to supplies and can stay with a much larger vessel, increasing the likelihood of being found and rescued. 
Some catamaran sailors are so certain of their vessels floating in all scenarios that they don't even carry a liferaft aboard. This is fool-hearty, to say the least, given the crazy and unpredictable things that can happen to any boat on the ocean. But one scenario is equally scary for the monohull or the catamaran sailor and should convince everyone that any offshore vessel should have a liferaft—the possibility of an uncontrollable fire.
Rigging Safety
When wind speed increases, a monohull will heel over. This heeling motion sheds the excess power of the wind. Monohull boaters should pay attention to the weather and reduce sail to ensure they aren't overpowering the boat. This is why knowing how to reef a sail is so important for all sailors.
However, on a catamaran, the sails and rigging take the increased load when wind speed increases. Catamarans don't heel, and therefore, don't shed excess power. If the weather becomes gusty and a catamaran has too much sail up, all that extra power is transferred to the sails and rigging.
This can cause a dangerous situation. For example, there have been reports of catamarans being de-masted in sudden gusts of wind. In a worst-case scenario, a catamaran could capsize if they are over-canvassed when experiencing extreme wind conditions.
Rigging Strength and Configuration
Most monohulls have strong standing rigging. The forestay is connected to a solid structure, the hull. This means that the forestay has a strong, stable platform and gives a monohull better upwind performance. Monohulls also usually have backstays, which provide rigging redundancy.
On a catamaran, the forestay is attached to a crossbeam. Because the platform is not as rigid as a monohull's hull, the forestay is not as strong. In addition, catamarans usually don't have backstays, and therefore have less rigging redundancy. 
The configuration of the rigging is another rigging consideration. On a monohull, the spreaders and shrouds are perpendicular to the mast. Most catamarans come with fractional rigs that don't have backstays, and their shrouds are set far back. Because of this configuration, catamaran sailors can't let their mainsails out all the way on a downwind run because the shrouds are in the way. This leads to less efficient sail shapes when sailing downwind.
However, catamaran sailors can rig their sails to sail wing-on-wing. While monohull sailors can also use this configuration with the help of a whisker pole, catamaran sailors have a nice, wide, stable platform to fly large downwind sails. 
Monohull vs Catamaran Speed
There's no doubt about it–catamarans sail faster. Most articles and comparisons state that catamarans are about 20% faster than a similarly sized monohull. Catamarans have a lower wetted surface area and less drag than monohulls. They're especially nice to sail in light winds, conditions that heavy cruising monohulls tend to not do well in.
While most cruising cats can't sail upwind as high as monohulls can, they still win the race. However, if a catamaran has daggerboards and a good sail inventory, it can point as well as a monohull. 
Many boat owners believe that speed equals safety, as you might be able to outrun an impending storm. That's a debatable strategy since weather systems often move faster than any cruising boat can move. It has a lot more to do with planning and the decisions made by the skipper, in the end. 
Furthermore, more speed means a rougher ride. A heavy, full-keeled monohull might not move very fast, but the sea-kindly and forgiving ride means a more comfortable and better-rested crew. This only goes to illustrate that the "more speed" argument is far more of a personal preference than many sailors admit—especially when it comes to long-distance cruising.
A faster boat provides a skipper with more options, but it does not ultimately equal inherent safety. That will always come down to the skipper and the crew, and the choices they make. A slow boat in the hands of an experienced and careful crew will always be safer than a fast racer under the command of an inexperienced and green crew. In other words, there is no replacement for seamanship and careful planning.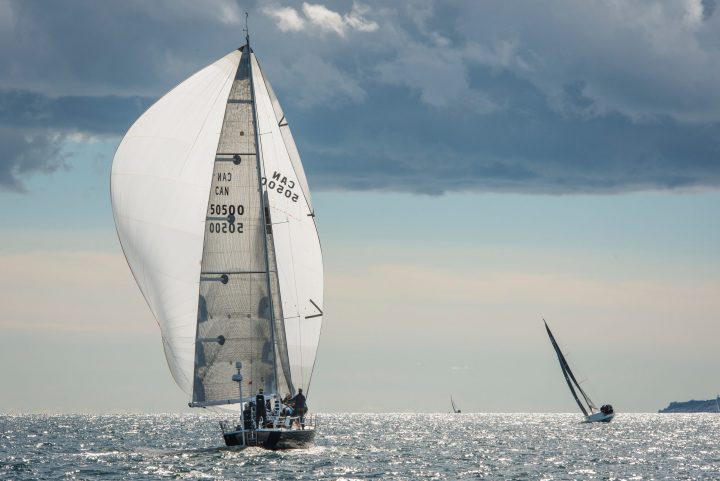 Redundancy
Catamarans have two of everything. While this does equal double the cost and maintenance, it also provides redundancy. If a monohull's single engine dies and there is no wind, they may have to call for a tow or wait for wind. If a catamaran's left engine dies, sailors can just continue on the right engine. 
Thoughts on Catamaran vs Monohull for Circumnavigation
Twenty years ago, the majority of boats completing circumnavigations were classic bluewater monohulls. Monohulls are considered safe and capable circumnavigators.
But today, catamarans are establishing themselves as the more desirable choice for many circumnavigators. Catamarans are fast, stable, and capable of crossing oceans. In addition, catamarans can carry significant supplies and offer redundancies. Plus, the extra space that catamarans provide also means that the crew will enjoy watersports like diving, paddle boarding, and surfing. 
Since nearly all traditional routes are downwind "milk runs," catamarans naturally excel along the way. If you take a look at the competing boats for the World ARC rally for the last few years, a definite trend is growing. More catamarans compete every year. Common entrants include Lagoon 450s and Antares 44s.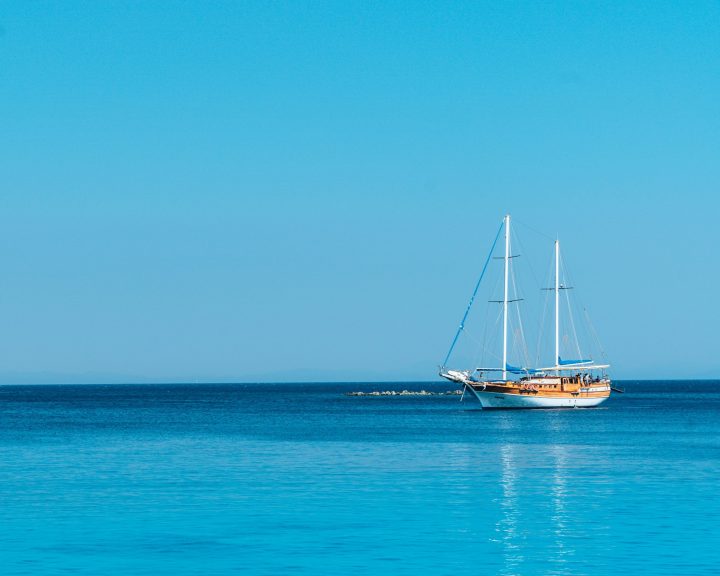 Deciding Monohull vs Catamaran
One of the most significant decision points when thinking about catamarans versus monohulls is your budget. If your budget is under $100,000, a monohull will be your best bet. If your budget is between $100,000 and $250,000, you can consider a smaller, older catamaran. Catamarans such as PDQs, Prouts, and Geminis will be in your budget. If you have a budget of over $250,000 and can afford higher dockage and maintenance costs, you can consider a catamaran.
Next, consider your comfort level. To try it out, you might want to charter both a monohull and a catamaran. Check out a sailing vacation in the BVI or with a company like Cruise Abaco. Taking classes at our local sailing school might also be helpful. https://cruiseabaco.com
Many folks are attracted to the larger, more comfortable spaces of a catamaran. However, some people feel more seasick on a catamaran and can't get used to the motion.  So a lot of your decision will come down to personal preference. 
If you can't imagine squeezing into a darker, smaller cabin in a monohull, then a catamaran might be calling your name. On the other hand, if you are a traditionalist who loves heeling and boats with a lot of teak, a monohull might be your dream boat. It's just impossible to know how a boat will make you feel until you've experienced both.
Boaters often discuss the compromises involved in boat choices. Whether you choose a monohull or a catamaran, there will be some compromises involved. However, no matter which boat you choose, you can enjoy smooth sailing, beautiful anchorages, and some adventure along the way.
Worried about getting caught in severe storm conditions in your boat? Visit our guide!
FAQs – Catamarans vs Monohulls
Which is better monohull or catamaran?
Both monohulls and catamarans are popular choices for cruising sailors. Which one is better depends entirely on your personal preferences and which boat is more comfortable and appealing to you. If you are on a tight budget, a monohull is your best choice. On the other hand, if you love large open living spaces, a catamaran will be the better option.
Which is safer catamaran or monohull?
When wondering are catamarans safe, always remember that the primary determinant of the safety of a vessel is its captain, not the vessel itself. Both monohull sailboats and cruising cats have important limitations that their skippers must know and abide by. 
Some consider catamarans safer because they are virtually unsinkable. If it has a hull breach or capsizes, it will still float. 
Others see the sea-kindly monohull to be the safer bet, as they are better designed to protect their crews from the elements in severe weather. They also cannot capsize, as their ballast provides a righting moment in all conditions. But on the other hand, if a monohull experiences a hull breach, it can sink.
Can catamarans handle rough seas?
Modern cruising catamarans are built strong enough to cross oceans and survive in all kinds of conditions. It might be an uncomfortable ride, but not an unsafe ride. In the end, it is the skipper of the boat who ensures its safety at sea. Good seamanship makes a far bigger difference in how a boat handles rough seas than the design of the boat does. 
In extreme conditions, such as hurricanes or sudden gusty winds, catamarans can capsize. Once a catamaran has capsized, it won't right itself. However, it will still float, although upside down. Heavy seas are more likely to cause maintenance and chafing issues on both catamarans and monohulls.