There are a few things that get boaters talking, comparing notes, and sharing opinions. If you want to start a lively conversation with a set of cruising sailors, ask about the type of anchor they prefer. If you want to start the party with power boaters, you can't go wrong by dropping the word "sterndrive" into a sentence. 
Why's that? Sterndrives are something of the powerboating world pariah. For years they've been considered "old technology" that outboards and other engine technologies have steadily replaced. But now, boat manufacturers are reembracing the sterndrive. So depending on the type of boating you do, they might be worth another look.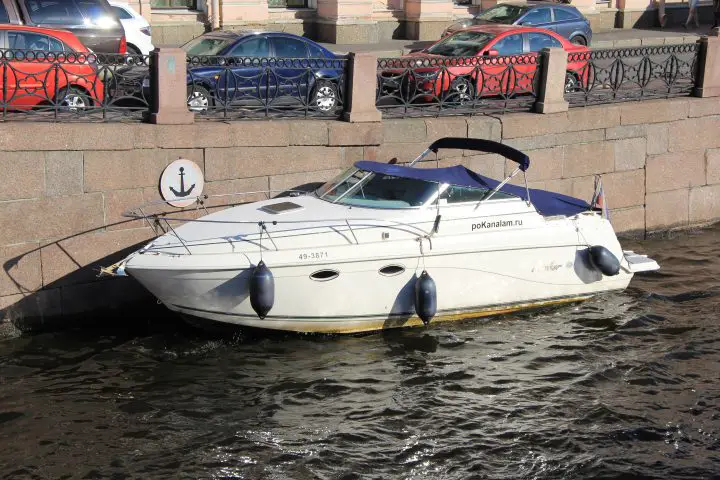 Table of Contents
What is a Stern Drive? What is an Outdrive on a Boat?
A sterndrive is a type of marine engine configuration that goes by several different names. Sometimes it's called an outdrive, and other times an inboard-outboard, or I/O. This last name is the most descriptive because it provides the best insight into exactly what we're talking about. These engines are essentially half of an inboard and half of an outboard strapped together.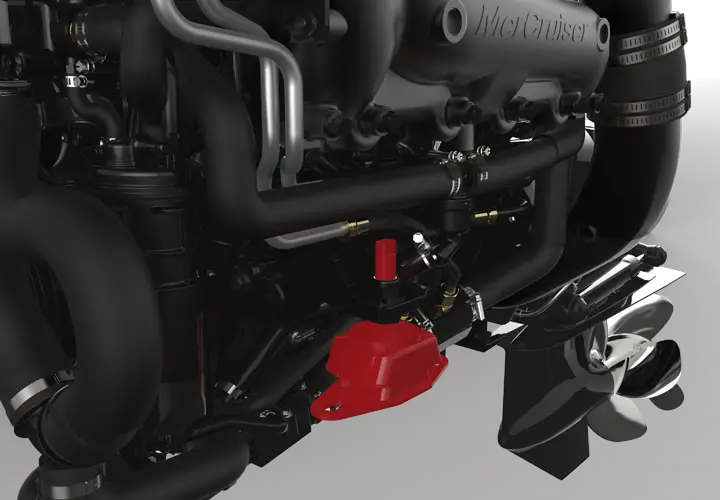 Three Options for Your Marine Propulsion System
How do sterndrives fit into the grand scheme of boat engines? Let's first look at inboard vs. outboard motors and how sterndrives are slightly different from either.
Outboard Motor
An outboard motor is one unit–engine, transmission, and propeller–all mounted externally on a boat's transom. They typically range from very small and portable two-horsepower models to large Inline-4 and V-6 models on large offshore fishing vessels. V-8, very high horsepower, and diesel options are becoming more popular. Some offshore go-fast vessels will use five or six outboards mounted on the transom.
The entire outboard is mounted on a steering mechanism, so when the helmsperson turns the wheel, the entire motor moves to turn the boat. An outboard boat has no steering unless the engine is producing thrust.
Outboards are typically seen on dinghies, tenders, johnboats, skiffs, pontoon boats, fishing boats, small sailboats (less than 25 feet), and some small power cruisers.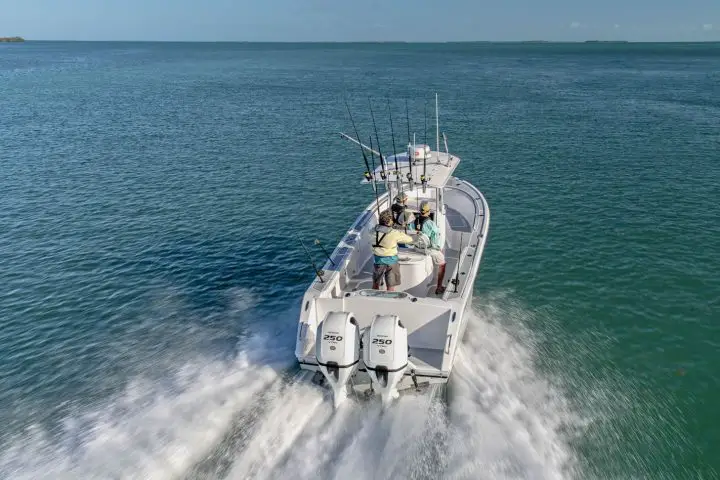 Inboard
An inboard motor is internally mounted inside the boat. The transmission is mounted to the engine, and the driveshaft exits through a hole in the bottom of the boat. The only external component is the propeller, which you cannot see from the outside. 
When the helmsperson turns the wheel on an inboard-powered boat, it moves the rudder. This will turn the boat so long as the vessel has forward (or reverse) speed, but it is independent of engine power.
Inboards are found on ski boats, traditional fishing boats, some small powerboats, large sailboats, trawlers, motor yachts, and ships.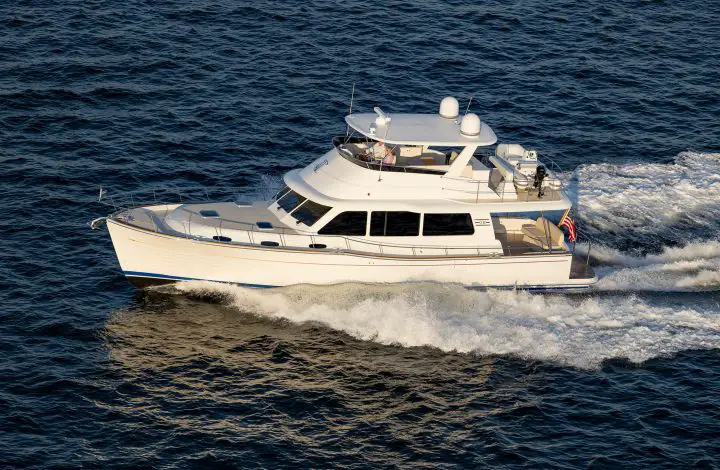 Inboard/Outboard, aka Outdrive Boat, aka Sterndrive Engines
What is a sterndrive? What is an outdrive? What's an I/O (inboard-outboard)? Well, they're all the same thing–terms for combinations of an inboard engine and an outboard "sterndrive" or "outdrive."
The sterndrive engine came about from racing boats that wanted to have more power than the outboard motors of the day could provide. First, understand that outboards have come a long way in the last 80 years; the first ones were heavy and low-power. It wasn't until around 2010 that outboards with more than 300 horsepower became widely available. 
So to put in many hundreds of horsepower, a different solution was needed. The sterndrive setup consists of–more or less–the lower unit of an outboard motor, mounted on the transom and coupled to an inboard motor inside the boat.
The inboard components of the engine are fixed in place. The sterndrive moves with the steering wheel like the outboard motor moves to turn the vessel. So, to turn a sterndrive boat, the engine must be making power.
This layout provides flexibility since many models of the motor might be mounted inside the boat. This opens up the options of using marinized car engines or lightweight and more powerful options. And, unlike inboard motors that are limited to installation and setup by aligning with the fixed propeller shaft, a sterndrive's engine needs to couple with the external drive leg components. 
Inboard-outboards, sterndrives, or whatever you call them, are only common on bowriders, wakeboarding boats, and express cruisers. 
Types of Boats with Sterndrives
As indicated above, there's a particular type of boat and use case for an inboard-outboard. 
Some of these factors are changing. For one thing, outboards continue to become more powerful and lightweight. As a result, their market share has been increasing recently, especially compared to sterndrives. 
Since their inception, sterndrives have been aimed at small and mid-sized power vessels that want more power than the standard outboard can produce. For most boats built before 2000, that meant a single engine could produce about 250 horsepower, and a twin could mount two of these for 500 horsepower. Generally, outboard makers only made that much power, and mounting triples (or more) was almost unheard of back then. 
Early outboards were also two-strokes–many were loud, rough running, and smoky. If you wanted the cleaner operation and better efficiency of a four-stroke, you'd have to get an inboard or inboard-outboard before 1995 or so. 
Today, all new outboards are four-stroke engines that have solved those two-stroke problems. But these new outboards are also heavier than the old ones, and all the new technology squeezed into them to make them so powerful means they are very expensive.
So sterndrives were the powerplant of choice for high-powered boats because they offered better performance, efficiency, and overall power. You could make a large V-6 or V-8 engine into a sterndrive–some racing boats have even larger engines. When you combine it into a twin-engine boat, you can easily get a boat with more than 1,000 horsepower. 
So, with these factors in mind, what type of boats have sterndrives? Fast ones built for top speed! If a boat is designed to be like a sports car on the water–to go fast and make a lot of horsepower, then it was likely designed to be a sterndrive. These are usually on planing hulls. Generally, standard inboard shaft-drive engines were used if they just needed a lot of power because it was big, as with displacement or semi-displacement hulls.
Bowriders, watersports boats, express cruisers, and cruisers from 17 to 40 feet long are often built with sterndrives. As a result, they're more common on lakes or smaller vessels that can easily be lifted out of the water because these factors will negate the maintenance problems inherent with the outdrive unit.
There's also an aesthetic factor at play. Many folks don't like the look of a boat with outboard engines mounted on the transom. Inboard engines and I/O designs mean nothing engine-related is mounted on the outside of the boat. The swim platform can be wide open, with nothing blocking the view.
Some new technologies are making sterndrives more attractive. Some of those technologies making outboard engines more powerful, efficient, and lightweight are also trickling down to the I/O market. As a result, manufacturers are seeing increased interest in sterndrive designs, not just repowering old ones. New diesel sterndrives are especially interesting since diesel offers better fuel economy, operating efficiencies, and engine longevity than gasoline.
For a perfect example of a sterndrive boat, here's a look at the new 2023 Sea Ray Sundancer 370 with twin sterndrives.
Pros and Cons of Boat Outdrive Engines
Let's look at why these engines are both loved and hated–usually at different times but often by the same people. In the end, everything to do with boats and boating is a compromise–nothing is perfect, and everything has pluses and minuses.
Sterndrive Pros
Use nearly any engine for power (so long as it fits in the engine bay and couples with the transmission)
Engine options are cheaper than outboards
Higher power options than most outboards
Better weight distribution than outboards
Better boat handling and maneuverability than inboard boats
Provides tilt and trim (like an outboard) to fine-tune thrust for boat loading
Underwater exhaust systems operate quieter than standard inboards
Closed-circuit cooling systems mean fewer engine corrosion issues than outboards
Sterndrive Cons
Sterndrive is always underwater
Sterndrive is unprotected and easily damaged during groundings or debris impacts
Higher maintenance and installation costs
Life-limited parts, including the bellows
Corrosion issues with outdrive unit
Marine growth issues
Props near the swim platform, a danger for swimmers and watersports
A limited number of sterndrive manufacturers–not much competition for price or quality
Many of these factors, like many things in boating, are open to interpretation. For a little nuance, check out this marketing video from Volvo Penta and Yachting Magazine about how some common myths about sterndrives can easily be debunked.
Boat Outdrive Brand Names
There are only a handful of outdrive makers on the market, and nearly all of them are either MerCruiser Outdrives or Volvo Aquamatics. Unfortunately, both of these brands have a reputation for being maintenance hogs with less-than-stellar reliability. Nevertheless, for many users, the operating simplicity, lower costs, and reliability associated with modern outboard engines will swing the decision every time.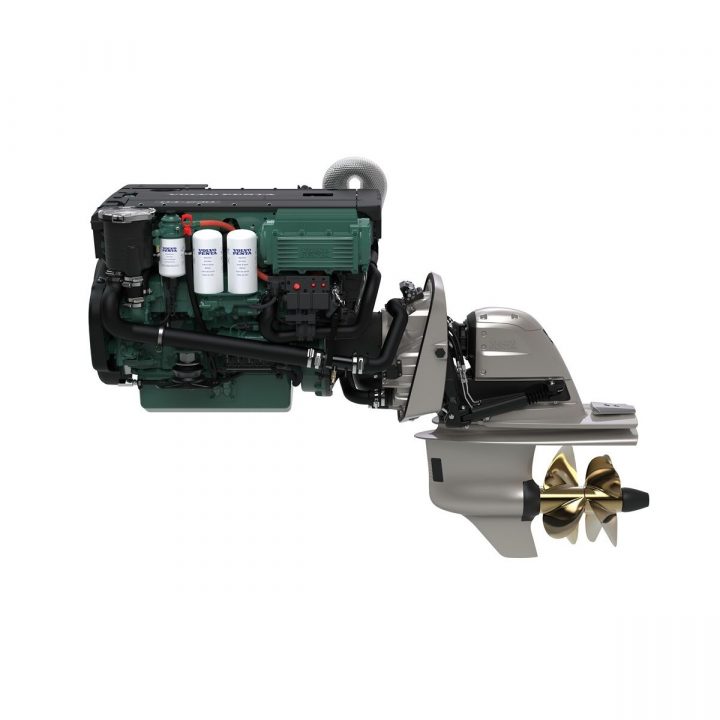 MerCruiser Outdrives
The number one name in outdrives is Mercury Marine MerCruiser, which goes back to the original technology made in the 1940s. Mercruiser gasoline marine engines have often been associated with the outdrive concept, which has been used in American sterndrive boats for decades.  
Volvo Sterndrives
The only real competitor to Mercruiser has been Volvo, the Scandinavian engine maker known for their gas and diesel Volvo Penta boat engines.
Volvo makes their Aquamatic sterndrives for both gas and diesel engines. Volvo has also popularized the concept of using two counter-rotating propellers on one shaft to increase efficiency and negate turning tendencies.
Volvo also makes the Forward Drive, a sterndrive unit that mounts the propellers in a tractor-pulling configuration. This moves the center of thrust forward and gets the propellers farther away from the swim platform for watersports. This is a fixed version of Volvo's IPS pod drive.
Other Sterndrive Brands
Ilmore makes the One-Drive sterndrive system. They make engines from 5.3 to 7.4 liters displacement, the largest of which makes more than 520 horsepower.
Yanmar is a Japanese manufacturer of marine diesel engines. Their sterndrive unit is designed to complement their diesels, making them a direct global competitor of Volvo.
Quicksilver is another name brand for Mercruiser/Mercury Marine. Several outdrive components are sold under the Quicksilver make, including custom brackets for repowering.
Is a Stern Drive Boat in Your Future?
Love them or hate them, boat outdrive systems are here to stay. While their maintenance needs differ from other types of boats, they offer a great combination of performance and usability. So the question really comes down to what sort of boat you want. If you then have the choice between outboards and sterndrives, then, well, you've got some thinking to do! 
Stern Drive Engine FAQs
What is the outdrive in a boat?
An outdrive is another word for the inboard-outboard (I/O) style of boat engine. It consists of an inboard-mounted engine and an external, transom-mounted sterndrive. 
Is outdrive the same as outboard?
No, they are very different. An outboard motor is one unit, all externally mounted on the transom. It consists of the engine, transmission, and propeller. 
An outdrive, also called a sterndrive or inboard-outboard (I/O) engine, has an inboard engine mounted inside the boat. The driveshaft then exits through the transom and is attached to an external outdrive unit, which includes the transmission and propeller. 
Is a sterndrive and outdrive the same?
Yes, the words sterndrive and outdrive are often used interchangeably to describe an inboard-outboard (I/O) marine engine setup.