The world of boats and boating can be daunting if you're just starting out. Boats come in every shape and size, each designed with a purpose or mission. The best boat for river fishing is no exception–even with such a narrow purpose, there's tons of variety in the market. 
Beyond just driving down to your river and seeing what's happening at the boat ramp, here's a look at six types of boats you might consider the best boats for your river fishing adventure. Keep reading to learn more about each type, plus some of the reasons each could be the vessel you're searching for.
Table of Contents
6 of the Best Boats for River Fishing By Type
Roughly grouped, there are six types of vessels to consider in your hunt for the best river boat for fishing. They are, in no particular order:
Rowboats, inflatables, and kayaks
Jon boats
Bass boats
Fishing skiffs
Saltwater fishing boats
Multipurpose vessels, like pontoon and deck boats
Rowboats, Inflatables, and Kayaks – Budget Choice for Solo Anglers
Don't discount the idea of a human-powered vessel as your first fishing boat. Rowboats, canoes, and kayaks provide excellent fishing platforms if you only want to spend some quiet hours on the water and catch some dinner.
Of these choices, fishing kayaks are the most interesting. Kayak fishing has gained popularity all over the world for a good reason. A kayak is really all you need if you are looking for a single-person fishing boat. 
The best thing about a kayak–besides how inexpensive it is compared to other boats–is that it can be carried by the car you own. Check out rooftop racks from Thule and Yakima for cartop solutions for nearly any vehicle. You can even carry inflatable options in your trunk. 
Think you'd hate rowing? Or wondering how you row and cast a line at the same time? There are tons of tricks out there, but most anglers prefer kayaks that can be peddled with your feet or paddled. Some even have small electric motors built-in for hands-free trolling.
Fishing kayaks are usually fitted with a place to store a small cooler and some small tackle boxes. Many have accessory mounting systems that hold extra rod holders, paddle keepers, and even electronic fish finders. Fishing kayaks are sit-on-top models that are easy to get in and out of, and many are stable enough that you can stand up to make your cast.
There are tons of manufacturers making great fishing kayaks now, and there are also wonderful buys on used ones. Check Craigslist and Facebook Marketplace before shelling out the bucks for a new one–there are often surprisingly good deals out there.
Fishing kayaks are usually between 10 and 15 feet long and are usually pretty beamy for their length. Some brands to check out if you like the idea of the fishing kayak are Hobe, Vibe, Wilderness Systems, and Brooklyn Kayak Company (BKC).
Fishing paddleboards are another popular option. Check out the boards and inflatable micro fishing skiffs available from Bote. 
Rowable River Boat Pros
Inexpensive
Easy to transport and store
Goes anywhere
Completely silent and stealthy
Many have upgraded comfortable seats, and many are stable enough to stand up while casting
Some inflatable rowboats can take small outboards
Not limited to boat ramps–any shoreline will do
Rowable River Boat Cons
Human powered, limited range
One or two people maximum
Launching will require carrying and setting up the boat–no float-off trailer!
Must have an interest in paddling–not for everyone
Aluminum Jon Boats – The Classic Best River Fishing Boat
A jon boat is a flat-bottomed skiff, very simply built, small, and utilitarian. They're great first boats because there are no complex mechanical components or big maintenance requirements. Most of them are built from aluminum and will last forever, but you can also find them made of plastic or fiberglass.
If you imagine a canoe but beefier and shaped like a power boat, you've got the idea of what a jon boat should look like. Brands to check out include Alumacraft, Tracker, Lowe Boats, Lund, and Excel.
Standard power on a jon boat is a portable outboard motor. This clamps to the transom and has a tiller for control, so there's no rigging at all. Fuel comes from a portable tank that is strapped to the floor. 
Jon boats are ideal for fishing in rivers and lakes because they're inexpensive, easy to handle and store on land, and can go pretty much anywhere. They aren't open ocean vessels, to be sure, but larger ones can easily handle open bay waters on nice days. 
Jon boats can carry a good amount of people and gear for their size. In addition, their slim profiles make them extremely easy to tow with even a small car. In short, a jon boat is the best river fishing boat for most people who want more capability and range than a canoe or kayak provides but don't want to break the bank and layout for a bass boat or skiff. 
If there's a complaint to be had about the jon boat, it's that it isn't very luxurious. It's a step up from a kayak but still pretty spartan. Don't expect more than a bench seat and a place to set your tackle box and cooler.
Jon Boat Pros
Inexpensive
Lightweight
Simple construction
Practically indestructible
Portable outboard power
Goes nearly anywhere a kayak can
Excellent shallow water access
Can be rowed or poled into shallow areas for stealthy approaches
Easy to upgrade with seats, electronics, or even trolling motors
Popular with hunters as well–easily painted and camouflaged
Available in various lengths, sizes, and options–vee or flat hulls, tiller or console steering, metal or plastic construction
Tons of space for gear or camping
Jon Boat Cons
Little storage space
Difficult to stand and move around inside due to the built-in benches
Tiller controls for the engine
Flat water or light chop only
Bass Boats
Bass boats are in a class of their own and are generally considered the go-to freshwater fishing boat. Bass fishing is huge, and if you're into it, you likely already know the boat you want. The only question is, how big and how fast?
Bass boats are generally sleek and fiberglass and built to carry as much horsepower as possible. For tournament fishing, the best hole shot and top-end speeds mean making it to the best honey holes and back before weigh-in. As a result, it's not uncommon to see 20-foot bass boats sporting 250 or 300-horsepower outboards. Sexy? Maybe. But the outboard alone is worth $20 or $30 thousand, so imagine what the boat must cost!
Bass Boat Pros
Fast
Long range
Purpose-built for the task–rod storage, casting platforms, trolling motors, and all the bells and whistles
Bass Boat Cons
Expensive
Flat water only
Complex systems and expensive engines
Fiberglass less robust than aluminum
Less storage space than jon boats
Horsepower restrictions may limit use on some rivers and lakes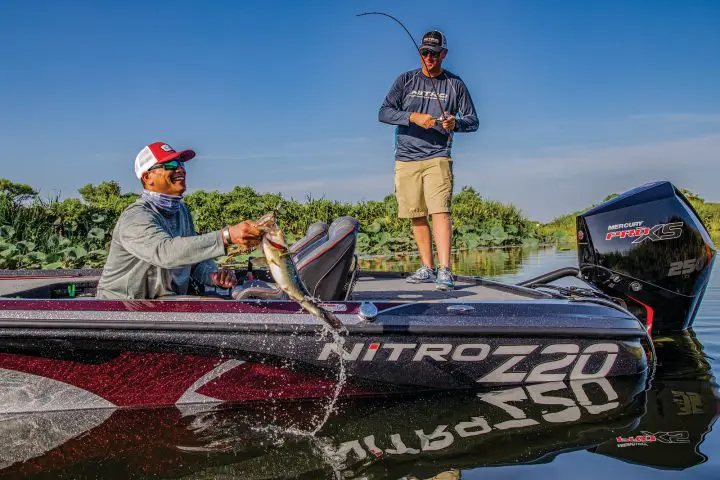 Fishing Skiffs
A skiff is a generic name for a shallow-water vessel. They're usually open, with no cabin or cockpit, and just an open deck that is easy to fish from. Bass boats are a type of skiff, but their sleek looks and high performance separate them from the competition.
The standard work skiff is usually fiberglass and 18 to 24 feet long. Popular brands that make fiberglass work skiffs include Carolina Skiff and the Boston Whaler Super Sport, and Montauk models. They usually have a flat or nearly-flat bottom. That makes them excellent in shallow water, but they ride rough in a chop. 
These boats are commonly used by watermen and women who are out on their boat day in and day out. They're great for hauling traps, supporting larger vessels, or just casting lines and hanging out at the sandbar. Saltwater fishing boat companies build many of these boats as modified versions of their center consoles. 
Flats skiffs, also called flats boats or poling skiffs, are worth a special mention, although they're seldom seen on inland rivers. Instead, they're popular in tropical areas with super shallow waters, like the bay areas of Florida and The Bahamas. They're open-decked skiffs with super shallow drafts designed to be poled across seagrass flats to hunt bonefish or tarpon. With the motor up, a skiff can float in just a few inches of water, and they're perfect for fly fishing.
Most flats skiffs are about 18 feet long. Top brands include Hewes, Pathfinder, and Maverick. 
In that same vein, micro skiffs are an interesting boat category that would be great fun on your local river or lake. A micro skiff is any flats skiff below about 16 feet long. Look for brands like Hell's Bay, East Cape, Dragonfly Boatworks, and Bote.
Skiff Pros
Excellent shallow water access
Lots of size options
Better performance than a jon boat
Great in fresh or saltwater
Better at handling choppy waters than kayaks or jon boats
Easy to pole
Skiff Cons
Low freeboard, inshore waters only 
Larger boats are too much for most inland rivers
Fiberglass easily damaged on rocks
Rough ride in choppy waters
Saltwater Fishing Boats
The ultimate go-anywhere, do-anything vessel has got to be the saltwater fishing boat. These fiberglass boats range from 16 feet on the small end and top out in the range of mega yachts. But if you focus on only the small ones, you'll find many options that make some of the best boats for river fishing. 
The hull shape separates these boats from skiffs. An offshore boat is more likely to have a deep vee shape and require a few more inches of water to float. This deeper draft limits river options, but it means it can handle anything the sea throws at it (within reason). 
Unlike skiffs and jon boats, saltwater fishing boats are built to ride well in choppy and rough seas. They're built heavier and ride better in these conditions, which also means they require more power. Power is from single or twin outboards. 
Center console fishing boats — have an open design with the helm and control column in the center of the vessel. They're easy to drive, but they also enable anglers to move completely around the boat's edge when they've got a fish on. 
Walkaround and cubby cabin fishing boats — These are similar to center consoles that also have a bunk for sleeping and room for a portapotty. They're handy if you live on a lake big enough to stay aboard or if you plan on trailering to bigger waters. But to get a useable cabin, you'll need a large 20 or 22-footer.
Pilothouse — These boats are perfect for all-weather fishing and are more common in northern latitudes. Bigger ones may have a bunk and portapotty, but generally, the pilothouse is very small, with room for little other than the helm. 
Look at popular brands like Ranger, Robalo, Carolina Skiff, Boston Whaler, Scout, Mako, or Bayliner Trophy. 
Saltwater Boat Pros
Can tackle nearly any conditions or body of water
Fast and long range
Many size and layout options
Smaller vessels easily trailered
Saltwater Boat Cons
Heavier than inland boats
More expensive than other options
Too large for some inland shallow waters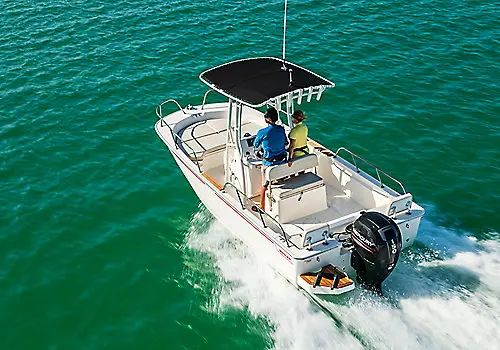 Multipurpose Boats – Are Pontoon Boats, Deck Boats, or Sport Boats the Best Boats for River Activities?
You don't necessarily need a fishing boat to go fishing! Many folks enjoy a little morning fishing trip in their pontoon or deck boat. If your kids love wakeboarding, no one will fault you for fishing off the side between tows. 
The best thing about a multipurpose boat is that it means you'll use your boat more. A multipurpose boat is a great idea if you have a family and everyone has different interests. So if fishing is a reason to go boating, you'll find a multipurpose boat offers you as many reasons to go boating as you can dream up.
Two types of boats fit best into the multipurpose category. One is the center console skiff or offshore boat mentioned above. These boats can do many things well, and you can't go wrong with a 17-foot shallow water center console like the Boston Whaler Montauk. 
The other boat type worth mentioning is the pontoon or deck boat. These are classically associated with sandbar hopping and partying on the water, but they have a great blend of shallow draft, good speed, and high capacity. You can fish, entertain, or tow the kids on the tube.
The problem with using a deck boat for fishing is that it won't be equipped from the start. You'll need to think about adding tackle boxes, coolers, bait wells, and rod holders. Most of that is no big deal, and how much work you want to put in is entirely up to you. 
Multipurpose Boat Pros
Allows you to use your boat more
Great for families with varied interests
Boat can grow with your needs
Good for a variety of locations and missions
Multipurpose Boat Cons
May need more outfitting to add fishing storage and accessories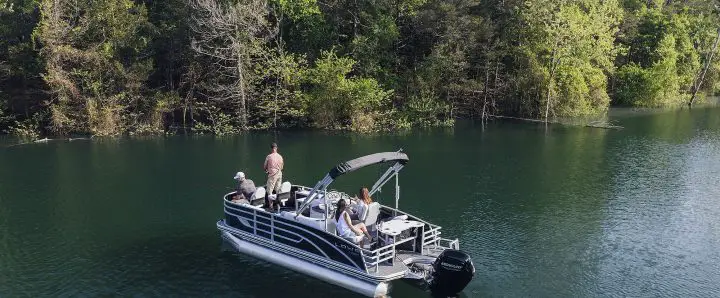 Picking the Best River Boat for Fishing
So you want to catch a few fish and spend some time out on the water, but you aren't sure what sort of boat is right for you. Here's a list of the things you might want to consider before taking a stab at boat ownership.
The Best River Fishing Boats? The Ones That Suit Your Mission
First off, what is the boat of your dreams? That's the question we're always asking ourselves as boaters, but it's the wrong question. 
The wiser question is, "what is the right boat for my mission?" It's important to realize that there are no perfect boats– all boats are compromises that come with their own sets of problems. But there are so many people doing many things with boats that there has to be a boat out there designed to do what you want to do comfortably. 
Finding that perfect-ish boat takes a little patience sometimes. It requires shelving that first question–the one about your dreams. Instead, spend your time thinking about precisely what you want to do in your boat and where you want to take it.
What's Your River? Where Will You Be Fishing?
The term river is a little too general to really narrow down boats. For some folks in the Eastern US, the rivers are big and spill into big water like the Chesapeake Bay. From the upriver, you can navigate to the open ocean in a few hours. If you want to venture into open water, you'll want a stout offshore vessel.
Other folks may be closer to the mountains than the ocean. The river is smaller, with calm deep pools that provide great holes for bass and trout. A big, heavy fiberglass saltwater fishing boat would be overkill here, but an aluminum jon boat might be just the ticket. 
And some rivers are hardly more than shallow streams, with insufficient water in most places to float a proper boat. However, inflatables and kayaks can get you into places no other vessel can. 
A good way to get ideas is to drive down to your local river and look at what the other fishermen are using. For example, is everyone driving a big saltwater fishing boat? Or are lightweight aluminum jon boats the way to go? Don't fall into the trap of thinking that other boaters always know what they're doing. But a trip to the water might give you some ideas. 
Next, look at the types and sizes of facilities you'll use. For example, how big is the boat ramp? Are there marinas you might use? Or will you keep your boat at a private dock? Do you have or want a boat lift to keep your boat safely out of the water? All of these may provide limiting factors and new expenses that you should consider.
Once you have an idea about your home waters, broaden the scope of your investigation. Do you think you'll trailer your boat somewhere else? Will you likely take it to any big lakes or bays you'd like to fish one day? A boat on a trailer can open up some vacation possibilities you might have never considered.
You'll often see fishing boats divided by freshwater versus saltwater. The truth is, it doesn't matter which type of water you're in so much as it matters the conditions you'd like to be able to handle. 
Saltwater boats are beefier and designed to travel better in choppy or rough water. But building them to handle that means they're bigger and heavier–probably overkill for an inland fishing trip.
Freshwater boats are more likely to be aluminum and lighter in weight. That means they're easier to trailer and can operate with smaller outboards. It also means they can use less improved boat ramps without much hassle.
Fishing Setup and Gear
If you buy a dedicated fishing boat, it will come with some handy features for the task at hand. Rod holders, rod storage, cooler storage, and maybe even a bait well are all things you'll want to think about. 
Are these features useful for your trips? Are they logically thought out? Is there anything to include on your must-have list? 
If you buy a generic boat built for many purposes, it might need some of these features added. But the good news is that most of them are easy to add.
Number of Anglers/Amount of Gear
The size of the boat is directly related to how much it can carry. Small jon boats and bass boats are good for one or two anglers, but any more than that, you'll want some space to move around. 
Will you be going out with your family and friends, or mostly tooling the river by yourself? Will you just carry light tackle, or do you want to troll with multiple rods? Do you need the space that a dedicated casting platform adds? 
Trailering a Boat
Unless you keep your boat at a marina, which is not an option on many rivers, you'll need to move your boat around. This usually means using a trailer, although some small jon boats and kayaks can be car topped.
Boat trailers are a topic unto themselves. Most boats small enough to be considered the best river fishing boats will be easily towed by small trucks or SUVs. But costs can get out of hand if you need to purchase a towing vehicle and a boat. 
Still, trailering a boat opens up much more territory than just your home river. You can load up the boat and explore it anywhere there's water and a boat ramp. 
What Do You Think the Best Boat for River Fishing Is?
Any conversation about boats is bound to stir up some conversation topics. Picking through the best river fishing boats is an exercise that looks different for everyone. It depends on how big a boat you can handle, if you're willing to take it slow or have the need for speed, and just how big and wild your river is to begin with.
Best River Boats for Fishing FAQs
What type of boat is best for a river?
Generally, it depends on the river and how far you want to take the boat. For small rivers well inland, aluminum jon boats with outboard motors are a good bet. For larger rivers connecting to coastal areas, you might want more power, range, and better seakeeping abilities. A small fiberglass skiff or bay boat might suit you well.
What size boat is good for river fishing?
The size of the boat you need is a factor of many things, but on rivers, the depth of the water and the quality of the boat ramps may be your limiting factor. It's best to stick to shallow water vessels like aluminum jon boats or bass boats for the best versatility.