If you want to go on a daysail this week, a week-long vacation over the holidays, and then sail to the Caribbean next year, a pocket cruiser might be the boat for you. Pocket cruisers provide big-boat features with all of the comforts of home but in a small package. Go the distance in a small, easy-to-handle, budget-friendly yacht.
Table of Contents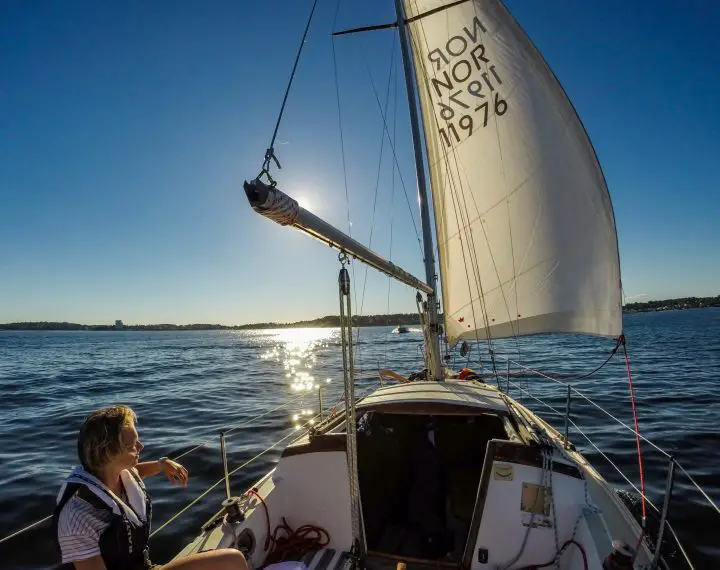 What Is a Pocket Cruiser Sailboat?
Different articles and authorities list different requirements for pocket cruisers. In any case, a pocket cruiser is small, capable, and suitable for the cruising couple who puts a focus on simplicity. A pocket cruiser is a tiny cruising sailboat that can take you out for the weekend or a season.
In many ways, the pocket cruiser is to sailboats what the tiny house is to home-ownership. It has all the same parts as a regular-sized house, but everything is smaller and requires a different mindset to enjoy.
For this article, I'm choosing to define a pocket cruiser as a boat with these features.
Under 30 feet
Seaworthy, ocean-going vessel
Sleeping accommodations
Galley
Enclosed Head / Toliet facilities
What Makes a Great Pocket Cruiser?
A pocket cruiser should look salty and ready to take on the world's oceans. The best pocket cruiser sailboats look like they would be home in a postcard sent from the Caribbean, South Pacific, or wherever the boat took her crew. Often these salty sailboats were inspired by hardworking historical vessels and modernized.
Pocket cruisers often feature opening bronze windows, opening hatches, and teak trim. Lyle Hess designs like the Falmouth Cutter and Nor'Sea 27 have beautiful nautical details. However, some pocket cruisers are more stripped down and focused on speed and easy maintenance.
Pocket cruisers should have all the necessities for cruising life. These necessities include comfortable sleeping accommodations for at least two people, a functional galley, and a head.
Pocket cruisers should be at home daysailing or blue water sailing.
Is a Pocket Crusier Right for You?
If you are just getting started in cruising, a pocket cruiser can give you a taste of the good life. These smaller boats are affordable, functional, and just plain fun to sail.
Budget-Friendly Pocket Cruiser Sailboats
The best small cruising sailboat designs are budget-friendly and can fit in a less expensive slip. The purchase price on an older 25-foot boat is likely much less than a comparably maintained but much bigger boat. Everything about a smaller boat is less expensive. For example, replacing an engine or rigging will be more affordable. In addition, the smaller size and fewer complexities make it more likely you can handle maintenance and projects yourself.
Maintenance on a boat becomes exponentially more challenging and expensive the longer the boat gets. If your pocket cruiser needs to have its portlights re-bedded, you might be able to tackle that project right away and complete it in the weekend. If a cruising boat twice the size needed the same attention, the project might stretch out for weeks.
Many marinas have a waitlist for slips that can accommodate full-size cruising boats with deeper draft requirements. But those same marinas often have a few slips for smaller boats with shallow drafts. These "less appealing" slips are often available without a waitlist and at attractive prices.
Instead of saving for years to afford a larger cruising boat, you might be able to afford a smaller cruising boat sooner and start having fun right away.
Functionality
Pocket cruisers are small and delightful, and you'll want to take your boat out for daysails, weekends away, or long-term cruises. Bigger boats are harder to maneuver in small marina fairways. Bigger cruising boats often don't leave the slip for a daysail because it seems like too much trouble. However, if you have a small boat, you're more likely to take her out for the day. This functionality and usability mean you'll use and enjoy your boat more.
Pocket cruisers are easy to provision and take out for longer jaunts too. Because pocket cruisers have all the comforts of home, there's no reason you can't take your micro cruiser long distances. A pocket cruiser is like a Swiss Army Knife or a Tardis. like the perfect sailing knife. It can do anything and take you anywhere.
Best Small Boats Under 30 feet
The biggest requirement for a pocket cruiser is its small size. While cruising boats are getting bigger and bigger, these pocket cruisers retain their charm and functionality. Boats under 30 feet might not suit those who travel with an entourage or need a walk-in closet. However, they are just the ticket for those seeking a simple life on the open water.
Pacific Seacraft Flicka 20
At 20 feet, the Pacific Seacraft Flicka is the smallest bluewater sailboat on our list. This boat is built solidly and has crossed the world's oceans. The first Flicka's were home-built from plans, and Pacific Seacraft built the later models. Pacific Seacraft built their Flickas with fiberglass. The mast can be easily removed for trailering.
The Flicka is 24 feet long overall, has an 18-foot-long waterline, and a three-foot, three-inch draft. Most Flicka's have a nine-horsepower Yanmar diesel inboard.
The Flicka features a v-berth forward, a settee opposite the functional galley, and a head.
As a small, heavy displacement boat, the Flicka isn't a racer. She usually cruises between four and five knots but can go six knots in the right conditions. Some sailors report the boat pitches and can have a lot of onboard motion in challenging conditions.
The Flicka is an attractive boat that fits all the attributes cruisers look for in a pocket sailboat.
Falmouth Cutter 22
The Falmouth Cutter 22 is so small it could be considered in the micro cruiser sailboats category. This yacht is built to go anywhere, and you'll want to go everywhere in it. It looks like a traditional sailboat and would be perfectly at home in a period-piece movie.
While the Falmouth Cutter has traditional looks, the boat's hull is fiberglass. This construction lends modern strength and durability to the boat's classic looks. The Falmouth Cutter was designed by Lyle Hess, famous for designing small bluewater boats. Lyle Hess designed the 22-foot boat Seraffyn for Lin and Larry Pardy. These legendary sailors and authors Lin and Larry Pardy sailed around the world in the 1970s. Lin and Larry's book Cruising in Seraffyn made Lyle Hess' pocket sailboat designs immensely popular.
The Falmouth Cutter was inspired by traditional working sailboats operating in the challenging waters around Falmouth, Cornwall in England. These cutters had to be small, fast, and carry large loads as they worked the challenging shores.
The forward cabin features a double berth, a hanging locker, and a head. The galley is aft with a two-burner stove, sink, and icebox. The aft area also houses a chart table. The saloon has two settees. Some owners install an outboard engine to free up interior space used by the standard inboard engine.
The Falmouth Cutter was first built in 1980. It's 22 feet long on deck with a 20.5-foot waterline. The length overall is 30.5 feet when you include the impressive bowsprit. It has a three-and-a-half-foot draft. Most come with a seven-horsepower Yanmar diesel inboard.
The Falmouth Cutter offers a comfortable ride. They are beloved by their owners, and few are on the market at any one time. Used Falmouth Cutters are pricey when compared to other 22-foot sailboats. However, if you want to be the most popular small seaworthy boat in the anchorage, these pocket cruisers are worth the price.
Pacific Seacraft Dana 24
The Pacific Seacraft Dana 24 was designed by Bill Crealock. The boat debuted in 1984, and over 200 Dana's have been built since then. The Dana is 27'3″ long overall, 24′ 2″ on deck, and has a waterline length of 21′ 5″. This sturdy boat has an eight-foot, seven-inch beam and over six feet of standing headroom in the cabin.
The Dana has a v-berth forward, an inviting salon, an efficient galley, and a private head. The floor plan is open, and the interior feels spacious. The interior features rich teak panels for a cozy feel.
Bill Crealock designed boats that were "designed to deliver crews to their destinations in comfort, good shape, and refreshed." While Crealock designed dozens of the world's best cruising sailboats, the Dana is one of his best pocket cruiser sailboat designs.
The Dana is cutter rigged and can sail at speeds up to six-and-a-half knots in the right conditions. The Dana 24 is a beautiful example of a pocket cruiser built to go bluewater sailing in comfort and style.
Cape Dory 25D
The Cape Dory 25 is a daysailer and weekender boat designed by George Stadel. The Cape Dory 25D is one of the best pocket cruiser sailboats designed by Carl Alberg.
The Cape Dory 25D features a large head in the forward area instead of a v-berth. The salon is comfortable and spacious and features a 5'11" headroom. Each salon settee can be used as a berth, or the cushions can be arranged to make a large double berth. A quarter berth rounds out the sleeping accommodations. The galley is small but functional.
The Cape Dory 25D has excellent ventilation with opening brass ports and overhead hatches.
The Cape Dory 25D is 25 feet long, and has an eight-foot beam, a 19-foot waterline length, and a three-and-a-half-foot draft. It has an inboard Yanmar seven-and-a-half horsepower engine.
The Cape Dory 25D is popular with Carl Alberg fans looking for small cruising sailboats.
Contessa 26
The Contessa 26 is another small boat that's famous for its offshore capability. Tania Aebi circumnavigated in a Contessa 26 and described her experiences in her book, Maiden Voyage.
The Contessa 26 was designed by Jeremy Rodgers and David Salder in the 1960s. Around 650 Contessa 26 sailboats are cruising today. In 1984, the boat became known as the J.J. Taylor 26, but most people stick with the Contessa 26 moniker regardless of the production date.
The Contessa 26 is 25.5 feet long with a 21-foot waterline. It has a seven-foot, six-inch beam and a four-foot draft. The Contessa 26 has a six-and-a-half or seven horsepower inboard engine. The Contessa 26 was hand-built using fiberglass and known to be strong and sturdy.
The Contessa 26 has three interior layout options. Each layout features v-berth sleeping accommodations, a head, galley, chart table, and salon seating. The interior is small but safe. The cockpit is suited for offshore work.
The Contessa is easy to single-hand and is popular with cruisers looking for a bluewater sailboat in a small package.
Morris Frances 26
The Morris Frances 26 is a beautiful pocket cruiser, perfect for taking the family on a day sail or cruising long-term. Like all Morris yachts, the Frances was designed by legendary designer Chuck Paine.
Chuck Paine wanted to design a boat "capable of yearly cruises to and among the Caribbean islands, small enough to fit my limited budget, but large enough to survive a gale at sea." This description perfectly describes the best qualities of pocket cruisers.
The Morris Frances 26 is 26 feet overall, with a 21.25-foot waterline length. She has an eight-foot, four-inch beam and a three-foot, 10-inch draft. The Frances 26 was built in America by Morris Yachts. The Frances 26 was built by Victoria Marine in England, later called Victoria Yachts. The Frances 26 had a flush deck, while later Victoria 26 versions had a larger coachroof and greater interior space.
The Frances 26 has accommodations for four. It is usually Bermuda rigged as a cutter or sloop.
Nor'Sea 27
The Nor'Sea 27 is another Lyle Hess-designed boat. This rugged cruiser has completed at least four circumnavigations and hundreds of ocean crossings. About 450 Nor'Sea 27 sailboats have been built. The Nor'Sea is a trailerable sailboat, making it possible to move the boat to new cruising areas without sailing the whole way.
The Nor'Sea 27 was originally built in 1977 by Heritage Marine. The company was sold and renamed Nor'Sea. The 27 ft long boat has an eight-foot beam and a three-foot, ten-inch draft. The length overall increases to 31 feet when you include the bowsprit.
The Nor'Sea is available in two layouts. Buyers can choose between the popular center cockpit boat with an aft cabin or an aft cockpit with a convertible dinette. In the popular aft cabin model, there's a forward dinette, a small galley, a private head, and an aft cabin with two berths.
The Nor'Sea 27 is hand-laid and molded-in lapstrakes giving this small yacht a traditional look. If you can't get enough of Lyle Hess-designed small cruising boats, check out the Bristol Channel Cutter 28.
Albin Vega 27
The Albin Vega 27 is a well-known ocean voyager. Over 3,000 Vegas were built, and several have circumnavigated. John Neal sailed his Vega from Seattle to the South Pacific and wrote about the voyage in Log of Mahina.
The Albin Vega 27 is 27 feet long, with a 23-foot waterline, eight-foot beam, and three-foot, ten-inch draft. Vegas is equipped with 10 or 13-horsepower diesel inboard engines.
The Albin Vega 27 features a v-berth, head, and salon with two single bunks. The galley is located over the companionway steps. The interior is small but seaworthy and will suit a couple or a small family.
The Albin Vega 27 is an affordable cruising boat that can cross oceans while keeping its crew safe and comfortable.
Albin Vega 27 Boat Sails into the Record Books
Jarle Andhoy sailed a Vega to the Arctic and shared his voyage on Norweigan TV. Matt Rutherford circumnavigated the Americas in a Vega and created a documentary film, Red Dot on the Ocean, about his solo voyage.
During his cruise, Rutherford earned several Guinness World Records.
Sail Away in a Pocket Cruiser
Pocket cruisers are so appealing — you'll want to sail away in one. The good news is, that these boats were built to do just that.
In the words of several famous sailors–go simple and go now.