A chartplotter is a marvel of modern technology that would make the explorers and adventurers of yesteryear green with envy. It is the marriage of two incredible technologies so common today that one must take a big step back to appreciate—the digital chart and GPS.
But chartplotters are even cooler still. Thanks to the wonder of standardized marine networking systems, namely NMEA2000, a chartplotter serves as the central computing core for your whole ship. You can view and control your GPS position, digital charts, radar, AIS targets, depth soundings, sonar logs, infrared cameras, fuel and tank levels, and even engine instruments from this one multifunctional display. Connect this hub to a shipboard Wi-Fi network, and you can even view and control certain things remotely.
How much you connect is up to you. Some sailors like using their chartplotter as a standalone unit that only shows their position on a chart. Others want the chartplotter to be the electronic heart of their vessel, with every possible system connected to it.
Table of Contents
What is a Chartplotter?
In the simplest terms, a chartplotter is your GPS screen. It is usually mounted at the helm, although many skippers mount multiple screens and put one at the interior navigation station.
There are various sizes and functionalities available. The simplest is a portable handheld chartplotter. These usually have self-contained batteries and can be taken anywhere, but you can also buy a mount and hardwire it to the boat's electrical system. Unfortunately, they generally don't network with other shipboard systems.
The next category of chartplotter is the compact, mounted unit. These provide a reliable and permanent solution with a small screen that is easy to mount anywhere. If these network to anything else, their uses are generally limited. It is common for chartplotters in this size range to be paired with a sonar transducer, enabling you to use it as a sounder and fishfinder. None of these models will have connections for a radar or other advanced systems.
Finally, there are full-fledged multifunction displays (MFDs). These can be expanded and installed into any shipboard network, and they can provide a host of different functions. They can work as standalone chartplotters, but they can also display and control radar and sonar systems. They can connect to both NMEA1083 and NMEA2000 networks, which will connect all other onboard electronics to the one display. They also usually have Wi-Fi or Bluetooth connections to get the chartplotter online or connect it to a phone or tablet for remote monitoring and control.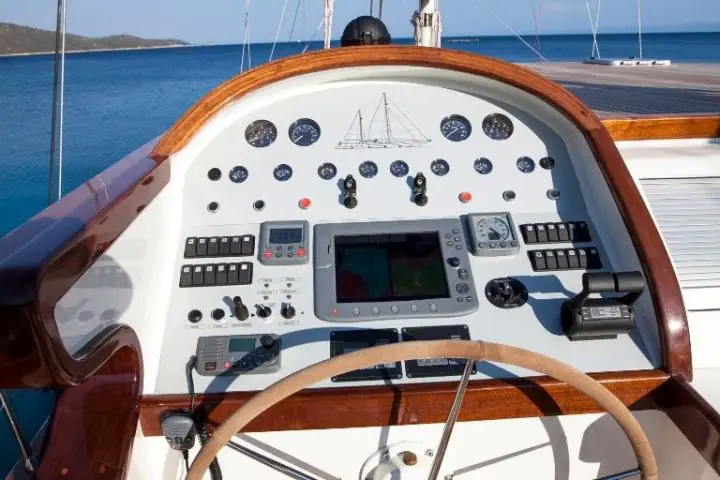 Can You Use a Tablet or a Computer as a Chartplotter?
If all of that sounds like a computer for your boat, that's because it is. Chartplotters are full-blown computers that have a particular function. The advantage of a chartplotter is that it's designed with a user interface that's easy to use while steering a boat. Plus, it's physically built to be waterproof and allow for permanent outdoor mounting.
Many skippers build their systems using open-source charting software and readily available GPS add-ons for PCs, Macs, or tablets. But before you dive into considering chartplotter alternatives, keep one thing in mind. Chartplotters manufacturers design their products to be highly reliable and very stable.
Therefore, it is highly unlikely that you would ever get a "blue screen of death," a frozen screen, or any other error that renders a chartplotter useless. This would constitute a safety hazard, especially if your chartplotter is controlling your radar or your autopilot. Lastly, most chartplotters are much easier to read and less prone to overheating in harsh sunlight.
If these considerations don't both you, there are dozens of ways that creative and computer savvy skippers have built their own systems. The Raspberry Pi is a popular platform, as are Apple iPads running any one of the many charting apps. Even if your unit doesn't have GPS capability, it's straightforward to add that. In most cases, you can connect these devices to the boat's NMEA2000 network using an inexpensive Wi-Fi multiplexer. That will allow you to view and control many of the boat's other systems from your computer or tablet.
Things to Look For In a Chartplotter
So you want to add a chartplotter to your boat or even upgrade the one you have. So how do you go about picking the right one for you? Here's a look at six things you'll want to consider.
Budget
Before you get very far, it is best to set a budget for your needs and your vessel. Take a look at the various offerings and get a feel for the price range you need to aim for. For example, you can get a portable handheld for a few hundred dollars. If that's still too pricey, you might consider using a tablet or smartphone if you already own it.
It's essential to keep this in mind because spending money on marine electronics is pretty easy. It's a specialized and durable item—which means that they are really expensive. You could easily spend $5,000 on a multifunction display alone. But the display won't do everything you want, so you'll also add a new radar emitter, an AIS transponder, a sounder, new wind instruments, and the list goes on. $20,000 later, your $5,000 1980 Catalina 30 sits a little lower in the water and isn't worth any more when you try to sell it.
That's a ridiculous example, but it illustrates why sticking with a budget is essential. It helps you shop, but it also helps you from getting carried away with all of the amazing technology that you could have.
Mounted or Portable
You'll also want to figure out what level of portability you'd like with your chartplotter. Most liveaboard sailboat owners will want to have something permanently mounted at the helm. Many also like to have a handheld unit as a backup. In many cases, however, the function of a backup unit can easily be filled by a smartphone or tablet with the appropriate app.
Many times, even the larger units can be mounted on a cradle base and removed from the boat when not in use. This is good insurance if you leave your boat at a marina—there's no sense in leaving a computer worth a few thousand dollars attached to the boat with only thumb screws.
Newer boats have pedestals or instrument panels molded in that provide flush mounting for big-screen chartplotters. This enables a secure and permanent mount right where you need it. This option really can't be beaten.
To create the same effect on older boats, several companies like SeaView and Navpod make enclosure boxes that fit popular chartplotters.
Figuring out where and how you plan to mount the GPS also will provide you with your size limits. Most skippers appreciate the biggest screen that they can fit on their boat and afford.
Bigger screens offer two advantages. First, they are easier to see from farther away. If you're mounting the chartplotter down low or more than a few feet from your eyes, a bigger screen makes things easier to see. Second, they also provide more real estate for split-screen viewing. For example, a bigger screen might allow you to divide the screen into four panels—chartplotter, radar scope, depth soundings, and wind instruments. A smaller screen might only have room for two panels before things get too small to read.
The biggest multifunction display screens are generally sold as "black box" units. This means that the screen is only one component of a bigger system, including a central "black box" network router. Whereas most smaller and consumer chartplotters allow you to plug everything into one central chartplotter without such a device, larger screens are designed for multi-screen command bridges where multiple screens must be networked together.
Functions
The next criteria to consider is the size and functionality you need from the chartplotter. Which ones are important to you? It's helpful to divide them up into a list of must-haves and nice-to-haves.
Here are some common things that a multifunction chartplotter can control. These are not standardized things, so if you want them to work with your chartplotter, they need to come from the same brand and be compatible with one another. It also means that you may need to upgrade all of these components together if you want to upgrade.
Radar
Sonar (traditional, side scan, forward-looking, or a combination)
Autopilot
Video feeds/FLIR cameras
Nearly all built-in chartplotters can connect to other components on an NMEA2000 network. Here is a list of components that you can connect to your network if you choose. While Garmin and Navico support direct connections to an NMEA2000 network, Raymarine products require an adapter to convert NMEA2000 to their proprietary SeaTalkNG network.
Wind instruments
Water depth, speed, and temperature (DST) sensors
AIS transponders (receive-only or send and receive)
VHF radio for DSC and GPS position transmitting
Battery monitors
Fuel level indicators
Fuel flow indicators
Engine instruments
Tank level indicators
Atmospheric sensors (barometric pressure, temperature, etc.)
Charts Included and Updates
The next major consideration to weigh is what sort of charts you'd like to have on your chartplotter. Most of the major companies that make the plotters also produce their own brands of digital charts. You should know that charts are an expensive part of the chartplotter.
Additional coverage areas and updates are expensive. This is an important consideration if you plan to go traveling. Some manufacturers only produce charts for certain areas. If you plan on going offshore or long-distance cruising, it's best to stick with one of the major brands.
The larger displays can update their charts over Wi-Fi or using SD cards.
Garmin produces Garmin Bluechart and Navionics charts
B&G/Navico produces C-Map charts and can also run Navionics
Raymarine produces Lighthouse charts and can also run C-Map or Navionics
While all of these charts produce a similar level of detail and situational awareness, one particular brand may have more detailed information in your home area. Additionally, you may like the look and feel of one brand more than others. Therefore, before you select the chartplotter, you might want to look at what the charts look like. After all, this is what you'll be looking at most of the time!
User Interface
On a similar note, one thing that varies considerably from one unit to another is the user experience. Each unit uses proprietary menu and interface systems. Some are better than others. Unfortunately, it's impossible to make a recommendation based on this as what one sailor finds easy to use might infuriate another. The brands are constantly updating their offerings, and each generation improves on the last, so keep that in mind.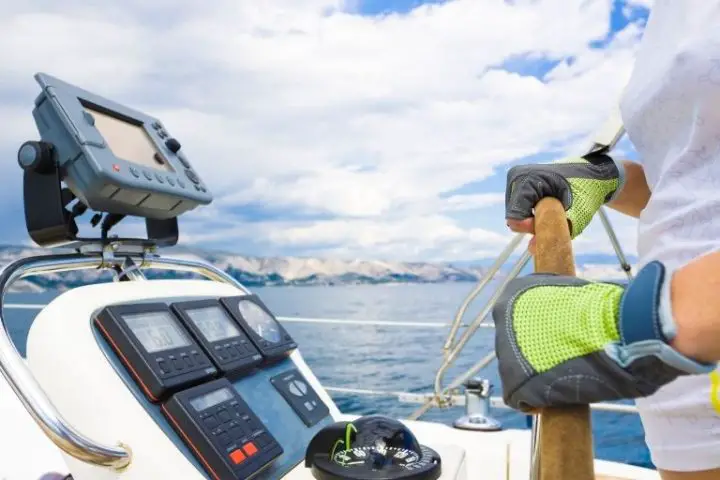 Top Full-Featured Sailing Chartplotter Brands Compared
All of the following brands offer complete lines of sailing electronics. While NMEA2000 networks allow an owner to connect different components from different brands, the functionality is usually greater if the components come from the same brand.
Garmin has become the world leader in GPS-based electronics technologies. They have full line-ups of cutting-edge technology in all sectors—personal GPSs, automotive, aviation, and marine. Their marine offerings cover everything you'd ever need for the well-connect boat, including radars, sonars, and even Fusion marine audio entertainment systems.
Garmin also owns Navionics, a well digital regarded chart maker, and Active Captain, a crowd-sourced platform providing points of interest on their charts.
Their chartplotters run the full range from the $300 four-inch chartplotter and fishfinder ECHOMAP Plus 43cv to the $12,000, 24-inch, state-of-the-art HD GPSMAP 8624MFD.
Most sailors, however, will be most interested in their middle-of-the-road options. Check out the Garmin GPSMAP 943xsv. This nine-inch touchscreen display connects to everything you'd ever need, including sonar and radar options and NMEA2000 networks.
An advantage that Garmin has over other sailing brands is that they do offer portable and smaller-screened chartplotters.
B&G is the sailing electronics branch of Navico, which also makes Simrad (powerboating) and Lowrance (fishing). As such, it's the only chartplotter brand that you'll find marketing to specifically sailing use. They include a lot of racing features and sailing-specific software perks that the other companies do not.
One nice thing about B&G gear is that all of their products and parts are compatible across all of Navico's brands. In other words, you can use a Simrad radar with a B&G chartplotter because they are both made by Navico.
B&G does not make handheld or portable units—only panel-mounted multifunction displays. They produce two lines of chartplotters. The Zeus3 chartplotters have physical buttons and a touchscreen, which is an excellent addition when controlling the display in rough seas or rain. The Vulcan displays have the same functionality but with a touchscreen interface only. Screen sizes range from 7 to 16 inches.
While B&G does not make any handheld or small-screened units, their counterpart fishing electronics company Lowrance does.
Raymarine produces a full line of marine electronics. Their chartplotters are branded as Axiom, and like B&G, they offer a touchscreen-only version and a "HybridTouch" version with physical buttons. Axiom displays come in 7, 9, and 12-inch versions, while the Axiom Pro and XL displays come in sizes up to 24 inches.
One important thing to know about Raymarine is that the company has inconsistently adopted the industry-standard NMEA2000 connection. Their equipment works with other brand network components, but it may require extra parts to connect to their proprietary SeaTalk NG network.
Raymarine also makes smaller-screened devices designed for fishing boats. These could be used instead of a larger display on a cruising sailboat since they combine a GPS chartplotter and a fishfinder/depth sounder. Raymarine sells these units under the Dragonfly brand.
Furuno isn't one of the most common electronics names for most pleasure boaters, but professional mariners widely use the company. For years they were one of the leaders of standalone marine radar technology, but now that this has been almost universally combined into MFD chartplotters, the company has lost some ground.
Furuno makes a full line of marine electronics for any boat, however. They make a full line of touchscreen or manual button-controlled displays from 7 to 15-inches big.
Is A Chartplotter Worth It?
Picking a new chartplotter is a significant investment in your vessel. If you aren't sure you're going to keep a vessel in the long term, or you don't need all of the functions of a full-integrated system, then a smaller unit might make sense.
But if you have room and the helm and want to travel far from home and explore distant shores, a big screen at the helm adds an incredible amount of situational awareness to your navigation.