Picking the size of your first boat is one of the hardest choices you'll ever have to make, at least in the world of boating. With limited boating experience, how can you possibly know how much is enough and when enough becomes too much? Of course, you want to have room to enjoy the boat like you dream of doing, but you also don't want to throw money away on a boat that's too big for you and your family to handle. 
There are many ways to tackle boat shopping, and research is step one. Below are some ways that you can differentiate sailboats of various sizes. It should provide a starting point in your path, but it is by no means the last stop along the way. Before jumping in, you'll want to get some on-the-water time in these boats to get a feel for what being aboard them is like.
Table of Contents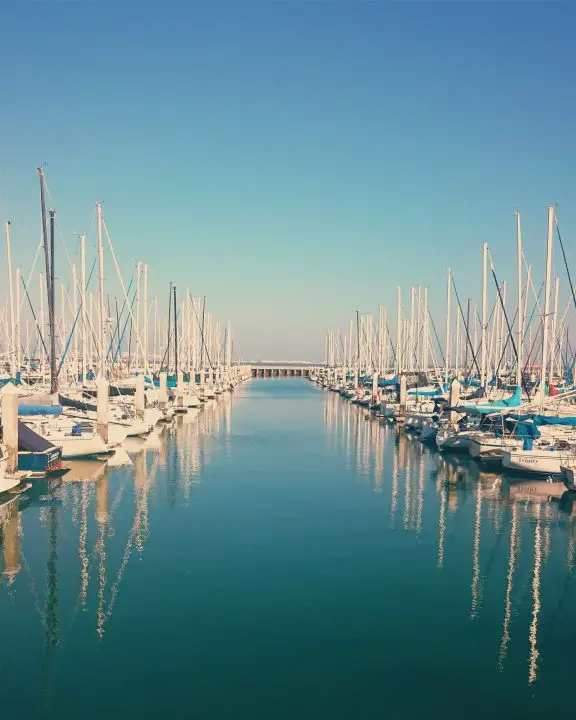 Before Boat Shopping, Consider Your Needs and Wants
Boat shopping can be an emotional roller coaster ride as you sort through the dizzying array of boat designs and sailboat sizes. Before you go falling in love with your next floating home or traveling time machine, you should sit down and map out your "needs" and "wants."
What Are Your Needs?
These are the things that are deal-breakers. If a boat doesn't have it, you're not even going to look—despite that sweet shear line and beautiful clipper bow. 
The trick with your needs list is to be brutally honest with yourself. But, again, this is challenging if it's your first boat. It's tough to do because once you get on a boat, you might start realizing that what seemed like "wants" get elevated to "needs" quickly. 
Of course, the opposite is true, too, since the pendulum swings both ways. Things you think you need fall away and become less important sometimes. 
What Are Your Wants?
These are those things that would be great for your new boat to have but that you can likely do without. Thinking about the features you'd like to have will help you narrow down the size of boat you need because it will enable you to shop for the boats that have those items. For example, an island berth in the stateroom might be a want, but when you discover that you need a 42 to 45-foot boat to get that, it may help you narrow your field of potential boat sizes.
Take the Advice of Others with a Grain of Salt
After you've got your needs and wants lists complete, start seeing what size boats fit your bill. 
You'll quickly realize that boat size is like flavors in an ice cream shop. If one flavor suited all tastes, they'd probably only sell one. But instead, we live in a world where you can have any flavor you can imagine.
You'll find lots of stories touting the benefits of minimalist living on a sailboat. Like their land counterparts, the tiny house owners, tiny boat dwellers pride themselves in owning as few possessions as possible and reducing clutter in their lives. Of course, boats are an excellent way to do this, but taking it to the extreme can be very uncomfortable for some people. 
No matter whether you're coming from an RV, a ranch-style house in the suburbs, or a waterfront mansion on the Intracoastal, moving onto a boat will be a downsize no matter what size boat you choose. It is all relative to your life and your budget. Boats are small living spaces, and buying a tiny one to make a point of it could be very uncomfortable. So instead, you need to find the one that is comfortable to be on.
Of course, there are many downsides to getting too large a boat. Boats cost exponentially more to keep and maintain as they get bigger. A bigger boat has a bigger engine, bigger sails, bigger rigging, and more complex systems that need more maintenance. In addition, it requires a bigger slip at a marina with deeper water access, and it might mean limiting yourself to expensive ocean ports where docks are more expensive, to begin with.  
The point is, no one is going to use your boat like you're going to use it. You're buying a boat for a very specific purpose–so don't let other's influence your decision too much by telling you how they'd do it.
Budget Constraints
Your budget will be the limiting factor in your boat purchase. For most used boats sold, the overall size is relative to the overall price.
There are outliers, of course. You can eliminate project boats that lure you in by promising a bigger boat at a small boat price. These will invariably need much more money to refit and prepare than just buying a well-equipped and maintained small boat. 
Similarly, premium brands might get you a smaller boat for a big boat price. Premium brands, however, do hold their value well and are generally better maintained and better built in the first place.
So buying a boat starts with settling on your needs and wants, listening to a few recommendations on the lifestyle, and finally looking at your budget. Together, these things give you a starting point, but it still is not an easy choice. It would be best if you still went see some boats.
Ways to Consider Sizes of Sailboats
By Saliboat length and width
By type of boat
By sailboat group
Size by Sailboat Length and Width
Boats are measured by their lengths. But many different measurements are used, and makers do not standardize how they make their model numbers. Some use feet, some use meters. Some use waterline length (LWL), some length overall (LOA), and some use length on deck. 
So looking at the model name of a sailboat tells you very little about a boat and how much space it has. To know the actual length, how much you'll be paying in slip fees, or how much space you'll have to live in, you need to dive into the numbers carefully.
Sailboat Sizes by Type of Boat
Besides the specifications, don't forget that boats are built to do different jobs. A boat designed for offshore sailing tends to have deeper and narrower hulls, smaller portlights, and less living space, while boats for coastal cruising use larger portlights, bigger cockpits, and walk-through transoms. 
You can also differentiate boats of various eras by their sizes. You can't compare the living space on a classic 1970's offshore cruiser to what you'd find on a modern cruiser. Designs have changed, and living space has increased. These longer boats look different on the outside—and even more has changed on the inside. 
Sailboat Lengths by Group
Even with all these differences to look for, boats are more alike than you might realize. I've often noticed that when shopping for sailboats, you can start to group different models that interest you together into categories. 
To some extent, these groupings are generalizations because there will always be specific makes and models that stand out. But the goal here is to demonstrate the sort of boat you could expect to get in each generally accepted group—what it would be suitable for and what living aboard would be like.
Sailboat Groups:
Monohull Cruising Sailboats
Catamarans
Monohull Cruising Sailboats
Smaller Boats Less than 30 feet
Boats under 30 feet are generally suitable for day trips or weekends. As overnight accommodation, they'll likely feel less like living on a glamorous yacht and more like camping. Most boats 25 feet and longer will have a v-berth and an enclosed head, but cooking space will be cramped, and there will be very little storage for supplies and provisions. A solo sailor with a minimalist lifestyle could live aboard a beamy 22 to 29-foot sized boat with few problems, but a couple would need to have a very healthy relationship to last very long in such a small space.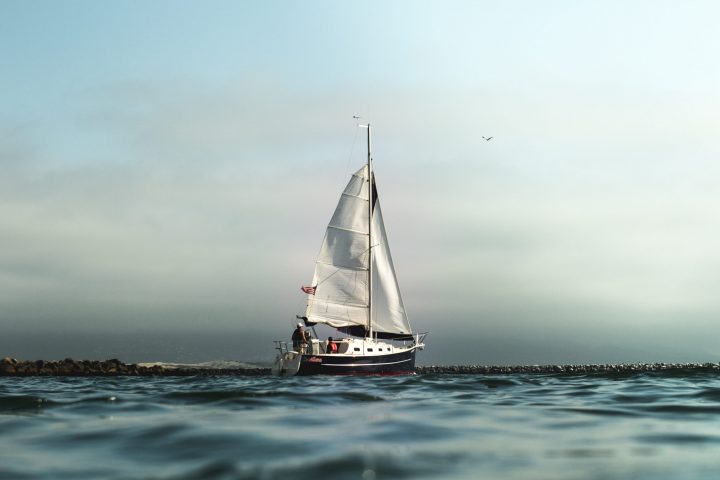 30 to 34 Feet
At 30 feet or so, a few boats begin providing impressive amounts of interior space, enough so that solo sailors or salty couples could live aboard full time. The Catalina 30 is one such example, a beamy coastal cruiser with a fantastic amount of interior space and an open floor plan that encourages you to spread out.
In offshore vessels, a couple of notable 34-foot vessels have a similar amount of size and can comfortably be outfitted for long trips. But these boats are small by the standards of most modern cruisers, and their owners will have far less room for provisions, water, fuel, and stuff than others. 
35 to 40 Feet
The range between 36 and 38 feet is a crowded market for sailboats since this size range suits many different needs. There begins to be enough space to spread out, and there is often more than one stateroom with private doors. The boat is big enough to outfit and load up for long-distance cruising for a couple. For a family, there's enough bunks and space to spend a week aboard with few quibbles. The salon has seating to entertain between four and six people comfortably. 
Living on a boat this size is still small, however. The galleys are usually cramped, and there are seldom extras onboard like a separate freezer. Storage is always a challenge, especially if you're packing for a long journey. And the boat bed is usually a wedge-shaped v-berth like a smaller boat, which will require one person to climb over the other all the time.
40 to 45 Feet
If you want more space to spread out, more privacy, and more storage than you might need, look at boats over 40 feet. 
Two significant upgrades you get in boats this size include an island berth and a separate shower stall. These might seem trivial to small boat shoppers, but these are great upgrades when living aboard full time, especially for older couples. Another plus is the galleys, which have much more useable storage for provisions and counter space for food prep. The salon seating in a boat this size can usually host six to eight people very comfortably.
Boats above 40 feet tend to get more challenging to operate, however. The sail area has a greater force in a breeze and is heavier to raise, the anchoring equipment is larger and requires an electric windlass, you'll want a diesel generator for power, and docking will likely require a bow thruster. In other words, not only are they larger and more complicated, they become a lot more expensive. Big boats have extensive systems, and the leap into a boat above 42 feet is usually a significant jump in price from 38 feet long.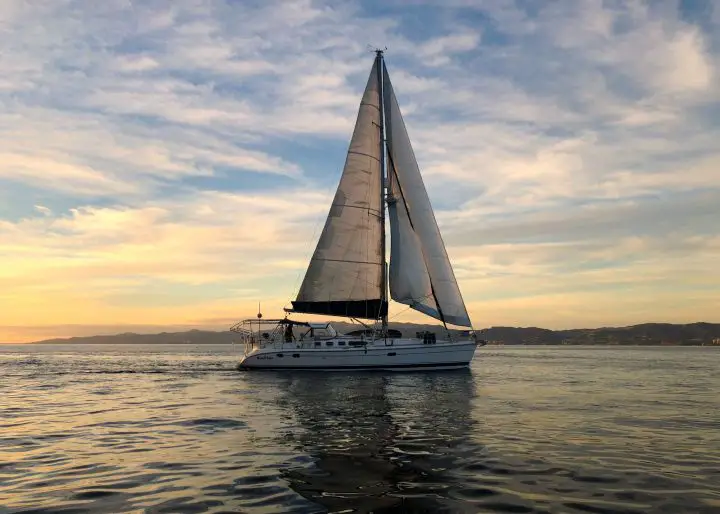 45 to 50 Feet
By the time you get to larger sailboats over 45 feet, you've gone up another notch. Yes, everything is more expensive, but all the luxuries of home come on board. You'll likely have an (albeit small) washer and dryer. Offshore boats will likely have a watermaker, so you never run out of water. There will be plenty of space for dinghies or paddleboards. There will likely be three completely private staterooms and at least two heads below. The galley will have everything home does—stovetop, oven, microwave, coffee maker, blender, fridge, separate freezer, and anything else you could ask for. 
Boats of this size begin to be limited by where they can travel. Their masts are tall, and they may be limited to open-ocean port cities without fixed bridges. They will also have deeper keels than their smaller counterparts, limiting their ability to travel in shallow water areas. 
50 Plus Larger Boats
A large boat over 50 feet is getting into "yacht" territory. It will likely have every luxury of home, but it will also be full of complicated systems and will be expensive to maintain and store. Boats of this size are popular with couples who often travel with guests or large families who often travel together. 
Catamarans
Small Coastal — Less than 37 Feet
A few cats come in less than 37 feet—one popular model is the Gemini 105MC. These boats are known as coastal cruisers for the most part because they don't generally hold enough gear for long passages, although many have done them. 
These small catamarans lack the same grandeur of their larger counterparts. They'll still have large salons with big tables that can seat six or eight people, but the galley is usually down in a hull. There is usually one sizeable queen-sized berth for the owners and smaller staterooms for guests or storage. Many of these boats are powered by outboards or a single inboard motor. 
Small Offshore — 37 to 40 Feet
The most popular boat model in this range is the Lagoon 380, of which Lagoon built almost 1,000 hulls. There are smaller catamarans available, but this one stands out for its excellent living space and classic "catamaran" layout. Other popular models in this range include the Leopard 38, 39, and 40 (all generations). 
These cats are entry-level for ocean crossing capable cats, and they're perfectly sized for cruising couples. They're easy to handle, easy to sail, and easy to fill with stuff. They'll usually have two queen-sized berths and one or two smaller berths, all in entirely private cabins. There are usually two heads in each hull, and some designs feature separate showers. They'll sleep three couples comfortably in private staterooms and can store enough provisions for a week of island hopping. For a cruising couple, they can usually store everything they'd need for a long-term voyaging within reason. 
Catamarans in this size have limits, though. They tend to be easily weighed down by too much stuff, and their length causes them to "hobby horse" in choppy seas. Two inboard diesel motors power them, which are more expensive to replace or maintain than outboards.
Midrange Offshore — 41 to 45 Feet
Midrange catamarans above 42 feet tend to perform much better than the shorter boats, without the hobby horsing tendency. They have more room for gear, and they sail faster. This size boat works for couples who often have guests or traveling families. 
These midrange catamarans might look a lot like their smaller sisters, but it is a significant price jump to get into boats of this size. The engines are bigger, the rigging is more stout, and the sails cover more sky.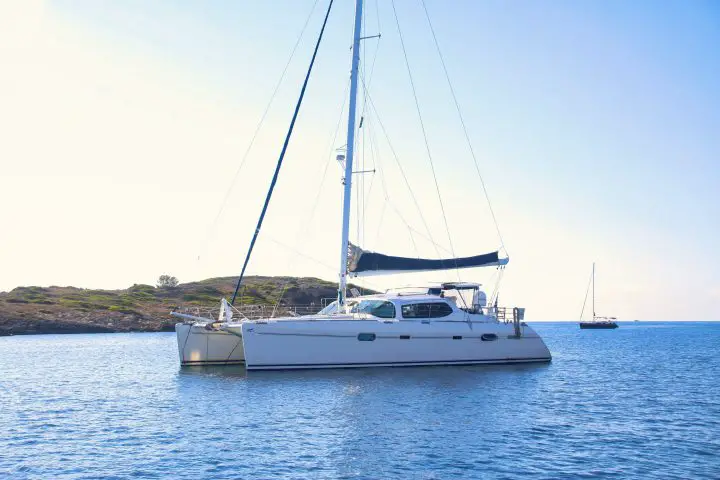 Large Offshore — 46 to 50 Feet
These bigger catamarans come from the charter companies and are designed for a crew of two to entertain three or four couples for a week at a time. There's enough room for all six or eight people to spread out while living with two strangers, all while having privacy and space. The cockpits and salons of a boat this size can host gatherings of 20 or 30 people over for drinks. Anytime one of these cats pulls into the anchor, it's usually a safe bet where the sundowner get-togethers will always be held.
50 Plus and Larger Vessels
The space that you find on a 50-foot cat is probably equivalent to an 80 or 90-foot monohull. The salon is enormous, and there is usually a flybridge with an entirely separate seating and entertaining area. 
Catamarans this size are large vessels. Their twin engines make maneuvering easy, but like handling larger monohulls, anyone handling this size boat will need to get trained by an experienced captain with great sailing skills before setting out. 
Can't Decide What Sailboat Size? Consider a Buyer's Broker
If you haven't spent much time on boats, nailing the size of the boat you want requires more than just imagination and web articles (as good as those may be)! There is simply no substitute for getting on a boat, for standing inside its cabin, sitting on its settees, and manning its helm. There is no other way to find out what the space is like—is it cozy and warm or cramped and terrifying?
Like buying a home in a strange neighborhood, if you're struggling with finding the right size boat, consider enlisting the help of a buyer's agent or buyer's broker. Yacht brokers work exactly like real estate agents, and it is common to enlist one to help you purchase a boat. In addition, knowledgeable brokers familiar with the type of sailing you want to do can guide you through the search process and get you access to view and step onboard many different types and sizes of sailboat.
FAQs – Sail Boat Sizes
What are the sizes of sailboats?
Sailboats come in every shape and size, from single-person Opti sailing dinghies to the largest in the world, the Sailing Yacht A, at 142.8 meters (468.5 feet). Sailboats are generally measured by either their length overall (LOA) or length on deck (LOD). Most private sailboats fall somewhere between 25 and 40 feet long. 
What size sailboat should I buy?
Everyone is looking for something different when they buy a sailboat. Your choice of boat greatly depends on how you want to sail it, where you want to take it, and how much time you're planning to spend aboard. The best way to get a feel for what size will work for you is to get as much sailing experience as you can before you purchase. Take sailing lessons, stay overnight on boats, and consider a bareboat charter vacation. 
What is a good size sailboat for the ocean?
Finding a good bluewater cruiser to cross oceans is about choosing a reliable and trustworthy design built to a high standard by a reputable boatyard. This is much less about size than many people believe. There are very stout and small boats that have circumnavigated the globe, including the tiny 22-foot Falmouth Cutter or the Flicka 20.  
Most people looking to go voyaging will find that minimalism required to make a small boat like those work to be limiting. While it was once quite common for world cruisers to set out on boats under 35 feet, most people today set off in vessels 40 feet or longer.