While docked in Fernandina Beach, FL, last year, I saw one of the coolest eco tours I've ever seen. Sure, there was the standard jet ski (how is this an eco-tour?) and kayak options, but there were also these super cool 2 person catamarans. 
They're operated like a jet ski tour. A group of boats follows the tour guide around the marshes; birds, dolphins, and manatees are spotted. On each boat is a couple, and they drive their boat. From a distance, they're a lot less annoying than jet skis. And while these little vessels have some sport boat performance, it's more like a dinghy than a jet ski.
These boats are made by CraigCat in Florida and are a simple two-person catamaran. It's nothing more than two plastic pontoons with a simple deck, two bucket seats, and a small outboard motor. The pontoons are wide and flat, so its draft is basically nothing. They have a rare blend of easy, safe, smooth operation that novice and seasoned boaters alike will love.
These boats are super cool, and they're the perfect thing for tour operators looking to get something more practical than a jet ski. They allow guests to have some independence and get on the water. They're perfect for novice boaters or couples going on a date. 
2 Person Catamaran Options For Boaters
First off, the CraigCat is cool, but it's not the most practical thing. It would be possible to fish off of it (they make a fishing-specific model called the CraigCat Catch It), but there's really no way to move around on the thing or store your gear. As much as it is a catamaran, it still has the usability of something like a jet ski or wave runner. It's not a runabout with space to put your bags and move around. 
But this brings me to another interesting new product of interest to cruisers—inflatable catamaran dinghies. Two New Zealand companies (that I know of) are now making a unique design of a fully-inflatable dinghy aimed at cruisers. There's even one for sale now on Amazon.
When you first look at the Takacat, True Kit, and the others, you might wonder how it's different from any other high-pressure air-floor inflatable. But it's actually very different because the tubes are much larger, and the floor stays out of the water. As a result, it really does ride like a power cat.
Having driven a lot of dinghies in my day, this approach to making a 2 person catamaran that can also hold a lot of gear makes a ton of sense. It's always been appealing to have the space savings of a fully-inflatable boat that can pack down small while retaining the ability to get up on a plane and ride smoothly. These catamarans might be the best dinghy for your boat. 
While the CraigCat is a pretty cool toy, its use is limited to those who can trailer it easily with a car and use it for day trips. You can only carry two people and not much gear. You'd never be able to haul groceries or go diving like cruisers do. And hauling it up on davits would be a real pain.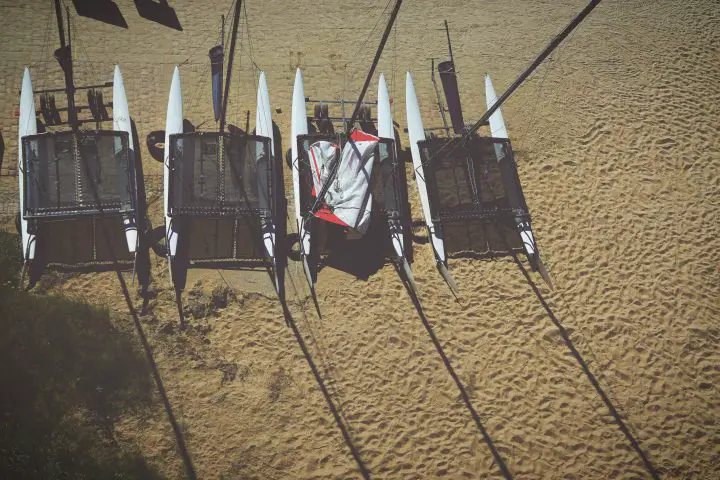 2 Person Catamaran FAQs
How much is a small catamaran?
It depends on what type of catamaran you're looking for. If you're interested in a cruising cat, check out my guide on the best small catamaran for living aboard. Most of these boats are $100,000 or more on the used market. If you're looking for an inflatable dinghy, Takacat and others make catamarans with high-pressure air floors. These dinghies can be purchased new for around $1,000. In the sailing department, the Hobie Cat is the world's favorite small catamaran, and you can find them used for as little as $500 in some places.
What is the cost of a CraigCat?
The CraigCat E2 Elite with the 30 horsepower motor sells for just under $14,000 brand new. Of course, less expensive ones can be found used.
How fast is a CraigCat?
The CraigCat is rated for two people and 30 horsepower. When fully loaded, its cruise speed is about 15 knots.