Many dream of living aboard a sailboat, but finding the right one can be daunting. There are many different types, and countless manufacturers have come and gone over the years. 
Here's a list of 17 options – a sailboat for every sailor on every kind of budget.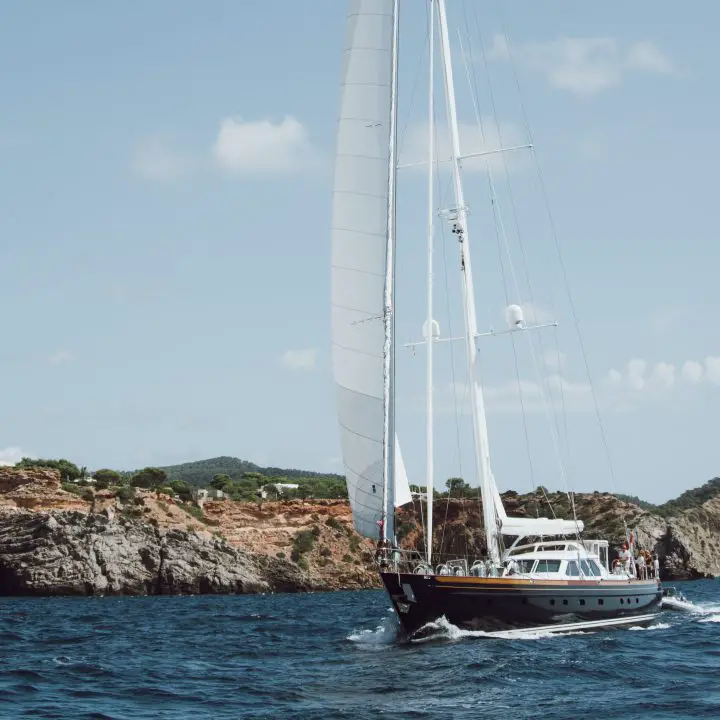 Table of Contents
17 Best Sailboats to Live On
Catalina 34/35
Panda/Baba 35, Tashiba 36a
Gemini 105MC
PDQ 32
Islander Freeport 36
Passport 40
Prout 38
Leopard 40
Jeanneau Sun Odyssey 42DS
Hylas 44
Leopard 42/43
Beneteau Oceanis 473
Hallberg Rassy 46/48
Leopard 46/Moorings
Irwin 54
Amel Super Maramu 2000
Privilege 585
What to Know First
So, boat shopping is a challenge, to say the least. Understanding where to start and what to look for comes down to understanding what you want to do with your boat.
Here's a look at some pros and cons of living aboard to get you started.
Pros of Living Aboard a Sailboat
Seaside living at a fraction of the cost of a waterfront home
Ability to travel anywhere by water
Ability to move anytime—not tied to one location/town
Different liveaboard lifestyle options to choose from: at a dock, mooring, anchoring, cruising (traveling)—tired of one, mix it up for a different experience
Cons of Boat Life
Small living space lacks storage and privacy
Limited resources: you must meter your fuel, water, and electricity use when not at a dock
More exposed to the elements and more affected by weather events
Seating and furnishings are less comfortable than in a house
Constant maintenance to keep the boat seaworthy and clean
How to Find the Best Boat to Live on Year Round
At first, you might think boat shopping is like looking for a new car. But when shopping for a car, you have a small pool of manufacturers and models to choose from. In the end, you might have five choices and already have an opinion about each maker's quality and reputation.
Boats are different. We're usually shopping for boats that are a decade or more old. The manufacturers may have gone out of business years ago. When you total up all the possible makes and models of each type of boat, you might have dozens of choices with brands you've never heard of. Yikes!
Find Your Type of Boat
There are dozens of types of boats you could live on, depending on where you want to live and where you want to take it. Most people shopping for a sailboat will choose between coastal cruisers, bluewater boats, and sailing catamarans.
Here are some of the pros and cons of these sailboat types. 
The Coastal Cruiser
Inexpensive compared to bluewater and catamarans
Perfect for dock living or near-shore hops
With modifications and the right outfitting, many have island-hopped the Caribbean
Many to choose from, and often they are lightly used
Designs are often race-inspired and faster than typical heavy bluewater boats
Newer, bigger boat for your money
Often production boats have low-quality, lightweight builds
The Bluewater Sailboat
The best bluewater cruising sailboats are capable of going anywhere
Built to last and take anything
Give the most comfortable ride in rough conditions
Newer examples are expensive
Good ones sell quickly
Older vessels may be tired and in need of an extensive refit
Often lack the living space that coastal cruisers have—narrower beams and transoms
The Catamaran
Cruising cats have the maximum living space, especially cockpit dining and upper salon
Light-filled with plenty of airflow, perfect for the tropics and living at anchor
Larger models (40+ feet) are bluewater boats capable of going nearly anywhere
A shallower draft than most monohulls allows for more cruising and anchoring choices
More expensive to purchase, keep, and maintain than similar-sized monohulls  
The most in-demand vessels, prices are high and good ones sell fast 
Sometimes hard or expensive to find dock space and boatyards that can haul it out for maintenance
Still unsure which side of the monohull vs. catamaran debate you're on? Try to get aboard some boats and experience the living space first-hand.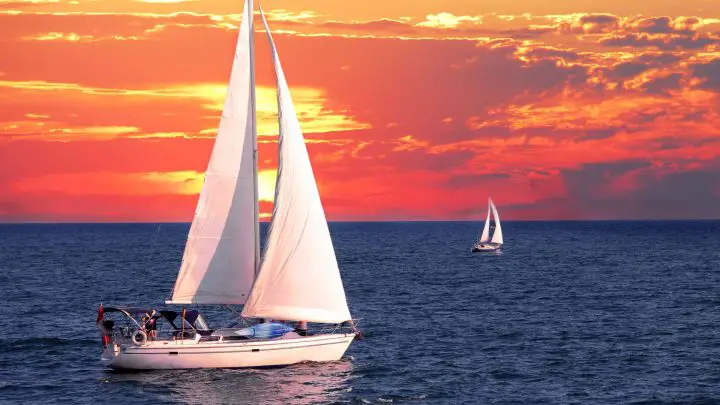 Set Your Boat Budget
Everyone has a budget when going boat shopping, even if you're Jeff Bezos or Elon Musk. Establishing how much you can spend on your boat is the biggest factor that will affect your decision, and it's the backbone for all other decisions. 
You must understand just how much boat costs increase as the size of boat increases. Boats are already expensive, and the average cost of owning and buying a liveaboard sailboat varies dramatically. But when the boat gets bigger, it needs bigger hardware, lines, rigging, sails, motors…everything. And bigger means more expensive, so these costs add up fast.
And then there are your storage and boat maintenance costs, all of which are charged per foot. The marina might charge you $15 per foot/per month for a dock slip, and the boatyard will similarly charge you per foot to haul and store the boat. Divers charge per foot for bottom cleaning, as do detailers for annual compounding and waxing of the hull.
When it comes to budgeting, there are two rules of thumb. 
Always pick the smallest boat you can comfortably live on.
If you have an amount budgeted for your boat purchase, spend half on the boat and save the other half for outfitting and maintenance.
As you'll see below, boats can be grouped by price and size. When you go up in size, you go up in price—often by a lot.
What Size Boat to Pick
The size of the boat is a factor of your budget, but also of how big a boat you can handle. Most people believe this means driving it and maneuvering it, which is true to some extent. But a good training captain can teach you what you need to know to drive any size boat in just a few sessions. 
No, the size of the boat you can manage refers more to how much maintenance you want to do. The bigger the boat, the more complex and plentiful its systems. There's more to break on a bigger boat, and more things broken means more time fixing things.
Catamarans compound this by doubling a lot of the systems. Two engines, two saildrives, two hulls to wax, two hulls to bottom paint—you get the idea.
Another factor you should consider early on is getting insurance. Yacht insurance has gotten harder and harder to get in recent years. If you've never owned a boat and have no experience, you might be forced to get something small (think an under 30-foot daysailor) to get some experience on before you move up. It's also difficult because many underwriters won't write policies for liveaboards. 
As a general rule of thumb, most people will find boats under 35 feet too small to live on full-time. Most of these vessels don't even have standing headroom. There is often only a "wet head," one where you take showers while sitting on the toilet.
Boats 35 to 40 feet are good for solo travelers or couples who don't mind living in small quarters. The beds will be small and accessed only from one side, as in a v-berth or a Pullman-style berth. If there is one, the second bunk is likely only for the occasional guest. 
You'll get better accommodations when you move up to 40 to 45 footers. The second bunk may be in its own stateroom. The main suite will have an island-style berth that can be accessed from both sides—a huge upgrade for most couples. The head will likely have a separate, enclosed shower. This size sailing yacht makes a good liveaboard sailboat for most boaters.
Boats bigger than 45 feet are best for bigger families. If you often travel with kids or guests, these are the boats for you. They're extremely spacious and make boat living easy, but the extra maintenance and cost may not be worth it.
The List — Best Sailboats to Live Aboard
All lists, whether found in internet blogs or international sailing magazines, have issues. There's no one list to rule them all because there are simply too many different boats out there. And everyone uses their boat differently, so the "best" for you might be a terrible choice for me. Different boats for different folks, so to say.
So, what's the deal with this list? It's made from personal experience of having seen a lot of boats out cruising. And it's a list that tries to put aside the fantasies—Oysters and Gunboats are pretty in magazines, but like Ferraris, not many of us will ever own one. So let's look at some practical boats that fill each size category. 
For every boat on this list, a dozen or more could've been included. Use these models to research brands and see which sizes suit your needs.
Best Liveaboard Sailboats Under 35 Feet (< 35 Feet)
Boats under 35 feet tend to be best suited for solo travelers or couples comfortable living in small spaces. As always, coastal cruisers in this class have much more space than bluewater boats do. Catamarans in this class are also coastal cruisers—you need more length and volume to get real bluewater performance out of a cat. No matter which type of boat you're looking at here, storage space on this size of liveaboard boat will be limited.
Coastal Cruiser Under 35 — Catalina 34/35
If you want to move aboard, you're on a budget, and you want the most space you can get, it's really hard to beat an older Catalina. Starting with the Catalina 30, these beamy boats have a surprising interior volume. They make great first liveaboards.
Bluewater Sailor Under 35 — Panda/Baba 35, Tashiba 36
The famous yacht designer Bob Perry drew these Taiwanese-built boats, all tracing their lineage to the older Tayana 37. They're updated slightly and built by different yards, but all full keels with cutaways and built for bluewater cruising. They all have gorgeous teak joinery and are comfortable and forgiving at sea. 
Catamaran Under 35 — Gemini 105MC
The Gemini 105M and 105MC were arguably the most popular cat models ever. They're American-built, with a single diesel engine and a narrow beam that allows them to be parked in a standard boat slip. In the US, this means many more marina choices if that's how you roll. The boat has centerboards and kick-up rudders, so the board-up draft is a scant 18 inches—gunkholing perfection. 
While some Geminis have crossed oceans, they aren't made for it. They have average (sometimes below-average) build quality and fiberglass work. However, they're perfect coastal cruisers and capable of heading into The Bahamas.
The Gemini should be on your shortlist if you're looking for a cheap catamaran.
Runner Up: PDQ 32
Are you looking for a small cat with better build quality? They didn't make many of them, but the PDQ 32 is what you seek. It's an attractive small catamaran with a wider beam. It came with twin outboards in wells, but the LRC (long-range cruiser) option had inboard diesels.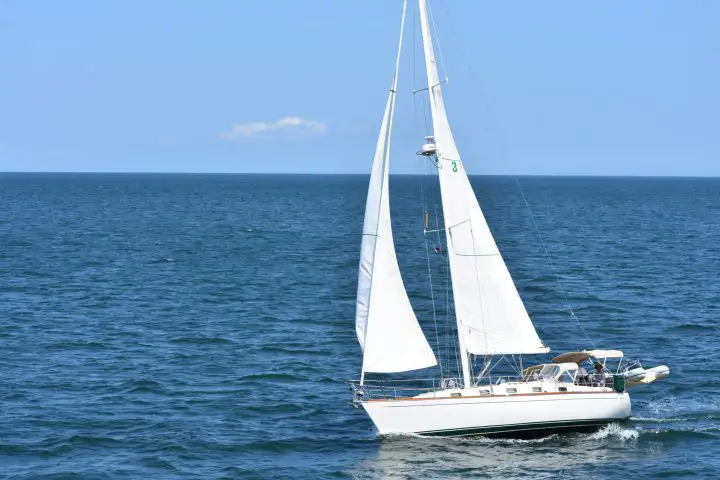 Best Liveaboard Sailboats Under 40 Feet (35–40 Feet)
Forty feet is the sweet spot for most cruising couples—big enough to be comfortable and carry enough provisions but small enough that handling and maintenance are manageable. This class of boat has a lot of excellent choices in both coastal cruiser and bluewater boats, making it a good size range to find the perfect affordable liveaboard sailboat.
The catamaran group from 35 to 40 feet has a few very popular choices, but they are right on the edge of being too small for most cruisers. Counterintuitively, these cats are perfect for couples who don't mind downsizing and traveling lightly. These shorter cats are prone to hobby horsing and don't provide as comfortable a ride in bluewater as slightly longer cats do. 
Coastal Cruiser Under 40 — Islander Freeport 36
The Islander brand is no longer around, but these California-built production boats from the 1970s and 80s were well-built and well-liked. The I32 and I36 were very popular cruising boats designed by Bob Perry. The Freeport 36 is a before-its-time European deck salon with enormous windows. The swing-down swim platform is another bonus for a boat from this era, as are the Pullman-style berth and forepeak-located head (some layouts). If you can find one in good condition, these boats make excellent liveaboards. 
Bluewater Sailor Under 40 — Passport 40
Yet another boat from the desk of Bob Perry, the Passport 40, is a sharp-looking aft-cockpit bluewater cruiser from one of the best yards in Taiwan. They feature a long fin keel and skeg-mounted rudder. Everything about this sloop is just right for long-term cruising.
Catamaran Under 40 — Prout 38
The Prout 38 traces its heritage back to the earlier Prout Snowgoose. The boat is still being made, now under the Broadblue brand. It's a sturdy British-built cat made for serious offshoring. While it lacks some of the open feeling that newer charter boats have, it more than makes up for it with its robust and high-quality build.
Runner Up: Leopard 40 (2005-2009)
This early L40 (don't get confused with the newer ones built around 2020) was designed by famous multihull designers Morelli and Melvin. It's got more of the things you might expect from your typical charter cat: a sliding salon door, galley-up layout, and a huge walk-through cockpit.
Best Liveaboard Sailboats Under 45 Feet (40–45 Feet)
While this seems a small step up from the size of boats above, prices increase rapidly above the 40-foot mark. At this point, the boat's gear needs to be bigger and heavier, from all the lines and rigging to each block and winch. Engines are now larger four-cylinder diesels, and there's much more hull area to clean and paint. 
A 45-foot coastal cruiser has enough space to keep a small family happy for short trips or a couple happy for any length of time. These boats usually have island berths in a spacious master bedroom, so no more crawling over each other just to go to the bathroom! Bluewater boats in this class are a little smaller inside, making them just right for most couples doing a long-term cruise.
As far as catamarans go, the 40 to 45-foot range is the perfect sweet spot for most cruising couples. A spacious interior plus excellent seakeeping abilities make these top picks. There are tons of boat choices out there, and most of the best cruising catamarans come from this size group.
Coastal Cruiser Under 45 — Jeanneau Sun Odyssey 42DS
Jeanneau is part of Groupe Beneteau, but their boats often have a more refined finish than Beneteaus. The DS stands for "deck salon." They feature larger windows that let in more light and have better visibility than a standard cruiser. This is especially welcome if you're attracted to the living space in a catamaran but need something smaller and more affordable. 
The 42DS also has an enormous island berth, plus a huge twin-helm cockpit with lots of space for entertaining.
Bluewater Sailor Under 45 — Hylas 44
The Hylass 44 is regularly picked as one of the best offshore cruising boats. It's a center cockpit boat designed by German Frers.  It has a wonderful layout with tons of living space and a large, usable galley. The aft cabin has a large island berth with an en suite head. 
Catamaran Under 45 — Leopard 42/43 (2001-2006)
These early Leopard charter cats are highly sought after on the used market. Like all charter cats, the best finds are the "owners versions" with one hull dedicated to the master stateroom with en suite head and shower. The Leopard 42, which came out in 2002, had a soft canvas cover over the cockpit and was updated to the Leopard 43 with a hardtop. 
Best Liveaboard Sailboats Under 50 Feet (45–50 Feet)
Above 45 feet is another big price jump. For beginners, these big boats will require some training and experience before you head out on your own. 
Coastal Cruiser Under 50 — Beneteau Oceanis 473
This big Beneteau came with either 2, 3, or 4 staterooms. Finding the right layout is as important as finding the right boat. The two-stateroom version has enormous berths and lots of storage, perfect for couples with occasional guests or families of three. Most have the standard keel with less than a six-foot draft, making this fin keel/spade rudder boat a rare find. They were built from 2000 to 2005.
Bluewater Sailor Under 50 — Hallberg Rassy 46/48
Hallberg Rassys are well-regarded boats built in Sweden, mostly designed by German Frers. These are high-end boats of the best quality, so don't expect to find one available cheaply. They're gorgeous, however, and make wonderful world cruisers.
Catamaran Under 50 — Leopard 46/Moorings 4600 (2006)
If you want a big catamaran, it's hard to go wrong with the 2006 Leopard 46. Where modern Lagoon and Leopards have tall profiles with tons of windage, this is one of the newest, largest boats that still have single-level living. It has distinctive hull chines that increase living space without increasing wetted surface and plenty of sail area for good performance. In true Leopard fashion, all lines are led to the helm for easy short-handed cruising despite the boat's large size.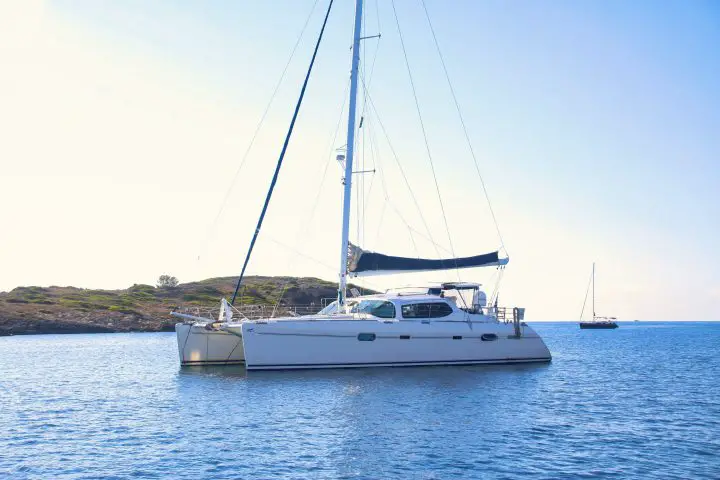 Best Liveaboard Sailboats Under 60 feet (50–60 Feet)
Boats in this class are borderline yachts based on their sheer size. If you were to charter these boats, they'd usually come with a crew. That size means they're more expensive and more of a handful to manage daily. 
Coastal Cruiser Under 60 — Irwin 54
The Irwin brand is long gone, but many examples are available on the used market. They were known especially for their large center cockpit ketches, like this 54-footer. This is a spacious, big water boat that certainly meets the qualifications of most bluewater boats. They can go anywhere, but they may need maintenance and refit given their ages. 
Don't get to lured by the low prices of these boats. You'll have to lay out some serious cash to get one ready to cruise long-range. But if you aren't opposed to some hard work and projecting, the Irwin can get you a lot of boat for not much money.
Bluewater Sailor Under 60 — Amel Super Maramu 2000 (53′)
Made famous by the Delos YouTube channel, the Amel is a French-built brand of high-quality bluewater boats. Today, this brand's new models look like many others—wide sterned, flat-bottomed sloops. But the Maramus that made them famous were unique—ketch rigged and ruggedly built, designed to take a cruising couple anywhere. Electric winches were standard on everything to keep such a large boat easy to operate.
Catamaran Under 60 — Privilege 585
Privilege is the French-made catamaran that you don't hear enough about. Unlike Lagoon and Fountaine Pajot, these are beefy cruising boats ready to take you anywhere. Their construction and fit-and-finish are first-rate, as is the joinery down below. 
Want to Live On a Sailboat?
Living on a sailboat is an adventure—it's not for everyone. Finding the right boat is an important part of doing it successfully, but it's not the only step in preparing for the lifestyle.
Best Sailboats To Live On FAQs
What makes a great liveaboard sailboat?
Everyone's priorities for a liveaboard sailboat are different—a bluewater cruiser looking to sail around the world might pick a very different boat from someone who lives full-time dock life. In general terms, you need to find a boat that is safely capable of taking you where you want to go and has enough living space to be comfortable while doing it. 
Sailing catamarans are some of the most popular liveaboard sailboats because their living space is unmatched. Most are also bluewater-capable cruisers that can go pretty much anywhere. 
What is the best size sailboat to live on?
The size of the boat you'll be comfortable on long term is a personal choice that depends on your personality and the number of people you'll be traveling with. Solo travelers may be content with a sailboat around 30 feet, while most couples are comfortable on something around 40 feet. Forty-five to fifty feet is more realistic if you often have guests or kind on board. 
With all of this in mind, however, it's really important to remember that the costs of buying and maintaining a sailboat increase exponentially with length. Getting the smallest boat you are comfortable living on is always better because that will be easier to manage and keep in the long run.
What are the negatives of living on a sailboat?
People live on their sailboats differently, so it's difficult to narrow down the biggest negatives. Everyone struggles with the small living space that a boat affords. You'll have to downsize your possessions to the absolute minimum you need. And getting personal space away from your spouse or family is pretty much impossible on a small boat. 
Why are sailboats so expensive?
New boats require a massive investment in time and resources to produce. The nicer the boat, the more time and skill it takes to build, which makes costs soar. Some production companies, like Beneteau, have found ways to reduce production costs and keep the price of new boats more reasonable. But these boats pale compared to other yachts in terms of overall quality. 
Older used boats can be found pretty cheaply. In fact, it's often possible to find free or nearly-free boats that are on their way to the junkyard or dumpster. The key is understanding how much work and money it will take to get these boats ready to go again. 
Is it a good idea to live on a sailboat?
Living on a boat is an amazing way to experience seaside living or traveling the world by water. But it's also a unique, out-of-the-ordinary lifestyle choice that's not without challenges. 
Before you move onto a sailboat, you'll want to research the topic carefully and talk to some folks who already to it. Many people start with occasional boating, spending a week or more onboard to try it out. With a little experience, it's easy to see if it's something you could do for the long term or if it's best to keep a land house and enjoy the water occasionally.
Can you live comfortably on a sailboat?
Many people live comfortably on sailboats, but a lot depends on the size of the sailboat and your tolerance for living in a small space. Even the largest sailboats can feel cramped, while some folks love the cozy feeling of living on the tiniest boats.