Boat parking or storing it is always an issue, no matter what size or type of boat you dream of. Boat storage is one of the biggest expenses a boat owner must face. Finding the solution that works for you is an important part of the research process before you even buy a boat.
Whether you need to park your boat on land, dock it at a marina, or tie it up at a private dock, plenty of options are available. Here's a look at the choices for whatever size boat you're contemplating.
Table of Contents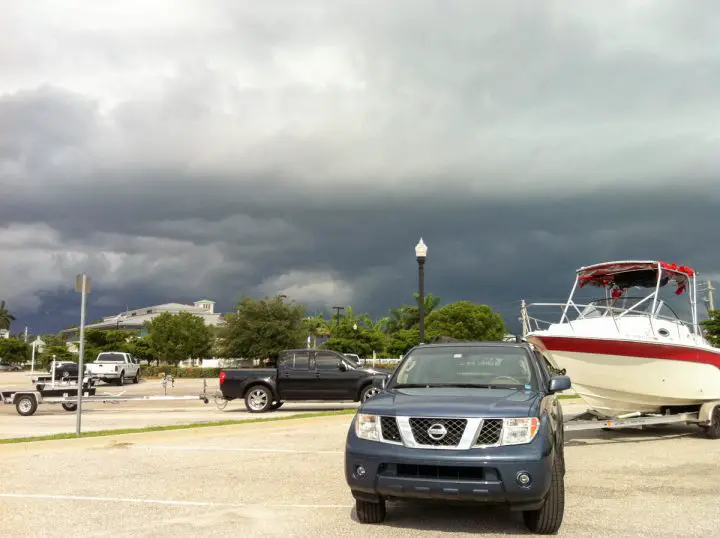 What Is it Called When a Boat Is Parked? Park or Dock?
First, some boating and sailing terms we should clear up–is it parking a boat or docking a boat? 
Parking a boat only refers to boats on trailers. Just as you park a car or truck in a parking spot, you would "park" a boat trailer. The word "parking" should only be used on land.
Floating boats are generally "docked" or "tied up" if they're attached to shore in some way. 
They're either "moored" or "anchored" if stored offshore. We'll talk about the differences below.
Where to Park a Boat Trailer
Boat trailer parking is either very easy or hard, depending on where you live. If you have land and are in the country, you can probably park it at your house for free. But in a city, you'll be faced with tons of rules to consider and may wind up paying for a parking space.
Why Trailer a Boat, Anyway?
In many ways, boat trailers are the easiest type of boat to park. The transportability of having your boat on the trailer means you get many more choices. It also means you can avoid high-cost marinas and tow the trailer to cheaper facilities inland.
It's worth noting, of course, that trailering a boat comes with many costs. While it's convenient, the cost of a tow vehicle can be immense. Unless you already drive a big truck, purchasing a truck and a boat seldom makes sense. Trucks are expensive, and the amount of fuel used while towing is astronomical.
For their costs, trailer boats do make it much easier to get fuel and maintenance done. While bigger boats will have to visit boatyards and get hauled out with a giant crane–which is expensive–a trailerable boat can simply get towed to any mechanic anywhere. 
Also, keep in mind that if you don't already own the boat, limiting yourself to towable boats will limit the size of the vessel you can have. You can't easily tow anything more than eight-and-a-half feet wide or about 30 feet long.
Trailerable boats also cost more to purchase. The convenience of being able to drive it and store it anywhere is valuable. If you compare trailerable boats to not trailerable ones, you'll find the trailerable ones cost more. In other words, if you are budgeting what type of boat to buy, you will probably be able to afford a larger vessel by choosing one that isn't trailerable.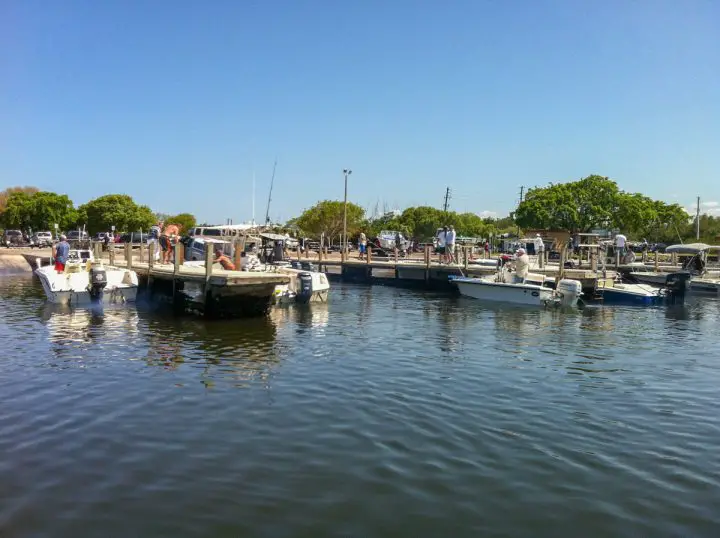 Finding a Spot to Park a Boat Trailer
Start your search for where to park boat trailers near your home. If you have a yard, driveway, or garage, you might be able to store the boat for free right at your house.
You'll have to do some research first, however. Many municipalities and communities have restrictions on where to park boat trailers. For example, Miami-Dade County in Florida requires that they be kept to the side or the rear of the house, not in the front or on the street. It must also be hidden behind a privacy fence if stored on the side.  
Many homeowners' associations are even more strict, often prohibiting boat storage. So even if you own your own land, you might be unable to keep your boat there.
The next solution is to find a long-term storage lot that will sell a parking permit. There are usually a few of these in every community, dotted around the neighborhood, that allow people to store RVs, boats, and commercial vehicles. They are often associated with a self-storage facility but sometimes at boatyards or maintenance facilities, and annual permits are often relatively inexpensive.
When you're using the boat, storing the trailer is easier. If you're using a park or marina's boat ramps, they will include truck and trailer storage for a daily parking fee. Every place is different, so research before you head out. Many of them won't allow overnight parking, for example. Sometimes a city or county will sell an annual pass to make the cost lower.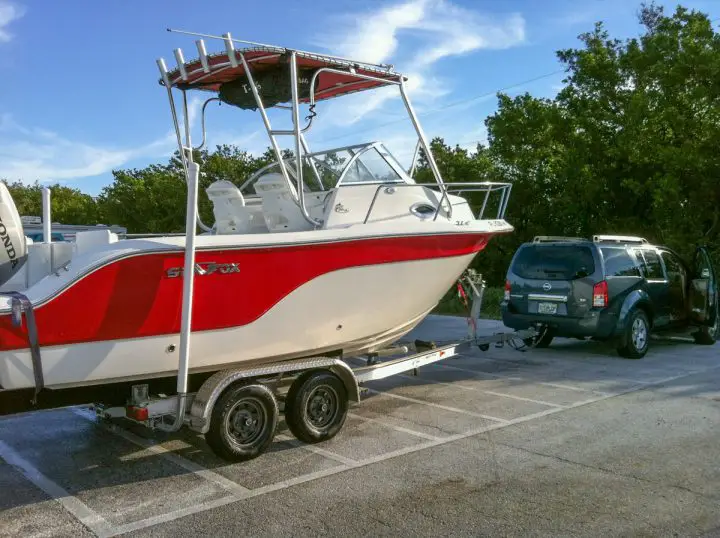 In-Out Storage Marinas
An alternative for trailerable boats is an in-out marina, sometimes called "rack storage." At these facilities, your boat is stored on a cradle that is sometimes three or four boats high and launched with a special forklift. 
The benefits of in-out storage are many. First, it solves the boat parking problem–you have a marina spot and usually a place to store your trailer too. 
Another great thing about the rack storage is that it saves wear and tear on the boat. You won't be storing it in the water at a marina, and you won't be towing it down the highway. In fact, many rack storage facilities keep the boats inside huge barns or hangers, completely protected from the elements. 
Convenience is the biggest selling point, however. Hooking the boat up, towing it to the ramp, and then dealing with the crowds and traffic at the ramp can take time. The bigger the boat, the bigger the hassle. In-out rack storage removes the hassle. Then, all you do is drive to the marina, where you'll find your boat in the water and ready to go.
To use your boat at an in-out facility, you simply call or email before you get there. Then, the team launches your boat for you and has it waiting at the dock when you arrive. When you're done, the crew will recover the boat with the forklift and put it back on the rack. Many places even rinse it off with fresh water for you.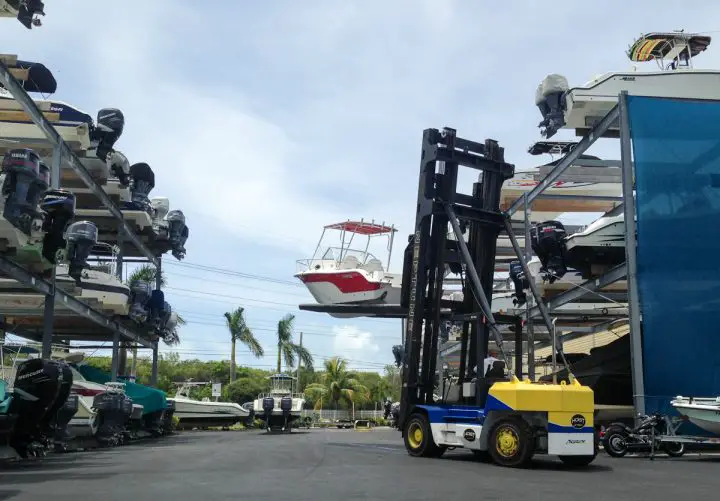 Where to Park a Boat at a Marina (In-Water Storage)
If you want the convenience of hopping in and going whenever you please, you'll want to keep your boat in the water.
If your boat is too big to put on a trailer, then in-water storage at a marina is your only option. 
Keeping any boat in the water means more maintenance costs. Saltwater is an acid that attempts to eat away at everything, including your propeller and through hull fittings below the waterline. Barnacles and sea critters love growing on the boat, and the bottom must be cleaned regularly to ensure your engine doesn't overheat. Bare fiberglass is too hard to clean and is susceptible to blistering if stored in the water for too long. 
So boats stored in the water will need bottom paint or anti-fouling paint applied regularly, usually every one to two years. That requires hauling the boat out at a boatyard for repairs and service, a big expense. They'll also need protection against stray electrical currents in the form of an anode and proper bonding. And all of this is in addition to the extra cost a marina slip will cost you. 
Marinas come in every shape and size imaginable. You'll choose your marina based on the type of boat you have and the area you want to be boating in. 
The type of boat is important because if you have a sailboat, you will be limited to deeper waters with higher fixed bridges. Marinas behind low bridges or in shallow water might be much cheaper, but they're only for small boats that meet the minimum water depth for a boat.
Marinas may be private, like docks behind your house or community docks set up for your neighborhood. Some marinas are owned by yacht clubs, and slips are leased only to the club's members.
Most people use public marinas, however, which are open to anyone. Slips are leased on a daily, weekly, monthly, or annual basis. Although this is rare, a few marinas will let you purchase the slip. For powerboats, some marinas have covered slips to protect the boat from the elements. 
Marinas often serve a specific type of clientele. For example, some may only accept transient boaters, while others are only for annual slip holders. Some are the best and cheapest liveaboard marinas in Florida, and others prohibit living on your boat. It takes a little shopping to find the right marina for your boat. 
Moorings and Anchoring
There are only two alternatives to keeping boats at marinas or docks–moorings or anchoring. Both tactics have a couple of disadvantages, but they are cheaper than marina docks. You will, however, need to get the best dinghy for your boat to get to and from shore.
Leaving a boat on a mooring or at anchor is, in most cases, riskier than having it at a dock. It will be exposed to more weather and motion, including waves and wind. Moorings and anchors fail, whereas being tied to a dock usually involves many lines. Moorings are the better option between the two choices, but only if the mooring is inspected and maintained regularly by professionals. 
In busy ports like Annapolis, St. Augustine, Miami, and Key West, moorings are used both for visiting vessels and for long-term vessel storage by locals. In these cases, the city runs the mooring fields and leases them to boat owners by the day, month, or year. 
It's also possible to install your own mooring in some places. A mooring is permanent, so you'd need to be committed to it. There is usually a permitting process with the harbormaster, city, county, or state to get approval for it. And, of course, you can't just put it anywhere–you'll need a spot protected from wind and waves and away from navigation channels.
Proper moorings are very strong and secure. They are usually screwed into the seabed with a Helix Anchor, but sometimes cement blocks or multiple traditional anchors are used.
Anchoring a boat is always a temporary solution. Unfortunately, many boat owners believe they can park a boat for an indefinite time by simply tossing out the anchor. This is not the case. 
Anchoring a boat securely requires the right equipment and constant monitoring. An anchor cannot hold in all conditions, and conditions constantly change on the water. A boat that is secured before leaving can pull free with the next thunderstorm or wind shift.
Unfortunately, because anchoring is generally free and has fewer restrictions, it's sometimes used as a method of "cheap" boat storage or an option for living on a sailboat. It's not uncommon for these boats to become abandoned, falling apart as the weather beats them, their anchor lets loose, and they blow ashore.
Abandoned and derelict vessels like this are a major problem for boaters everywhere. They're unsightly and a contributor to pollution in the waterways. These things are visible problems to the public in a coastal area. Homeowners often find receptive listeners when they complain about these problems to their county or city officials. More often than not, the result is restrictions on who can anchor and where they can anchor.
Since homeowners and government officials are seldom boaters, the resulting regulations often affect visiting boaters who want to visit a community for one night before moving on. When a community turns away responsible boaters by restricting anchoring, the entire community misses out on the dollars they spend shopping, dining, and exploring the area.
Please don't try to park a boat by leaving it at anchor. The ending is never good for anyone.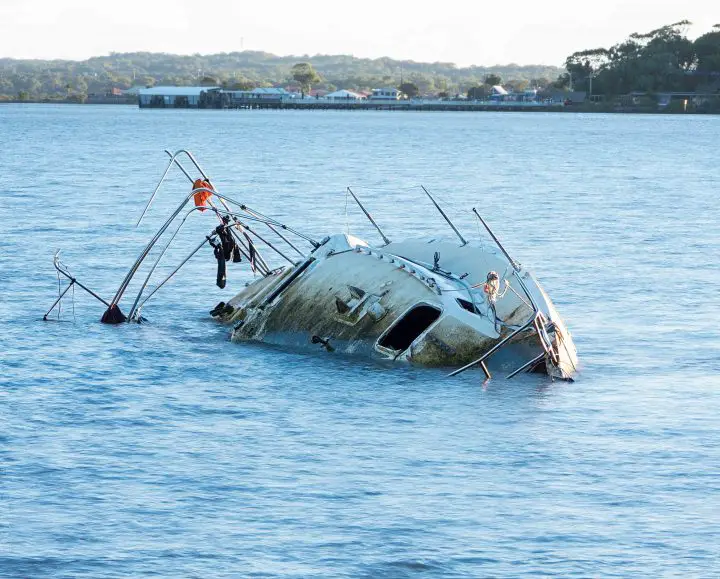 Where to Park a Boat Is an Important Question! Make Sure You've Got an Answer Before You Buy a Boat
If you want to get into boating, asking, "where can I park my boat" is one of the most important questions to answer. You've got to know the options near you, how much they cost, and if there's an affordable one available to you. If you don't do the research in advance, you may face a very big and expensive problem later. 
Parking for Boats FAQs
What's the word for parking a boat?
If the boat is on a trailer and on land, it is "parked."
If a boat is floating and tied to a dock, quay, or pier, or in a slip, it is "docked" (or, in some parts of the world, "moored").
If a boat is attached to a mooring, it is "moored."
If a boat is held by its own anchor, it is "anchored."
What is the safest way to dock a boat?
How you dock a boat will be different in every situation. It depends on how your boat handles, how the dock or marina is laid out, and–perhaps most importantly–the amount of wind and current.
What is the most important factor to consider when docking a boat?
Docking a boat is like landing an airplane–a lot is going on, and it's dangerous to oversimplify. But, generally speaking, the most trouble comes from wind and/or current, which can make a boat behave unpredictably (at least for the unprepared) as you approach the dock.
Can you dock your boat anywhere?
No, where you can dock your boat is limited. If you own a waterfront home, you can have your own dock built. Private-use marinas are also built for housing communities, yacht clubs, or neighborhoods.
Most people keep their boats in public-use marinas. Marinas will lease slips on a daily, weekly, monthly, or yearly basis. A handful of marinas sell their slips. The cost depends on the location and the size of the boat.
In the US, a handful of public docks are available to anyone who wants to use them. But these will have restrictions and are generally left available for visiting a town. For example, they might limit tie-ups to a few hours or days. These docks are often free and associated with a park, but not always.