If you live on a protected waterway and want the most comfortable living space, a houseboat is the answer to your dreams. These vessels aren't built for crossing oceans, and that's a good thing. It means that the design can focus on living accommodations–houseboats are the RVs of the boating world.
Here's a look at the best houseboat manufacturer options out there, with some custom houseboat, affordable houseboat, and luxury houseboat choices.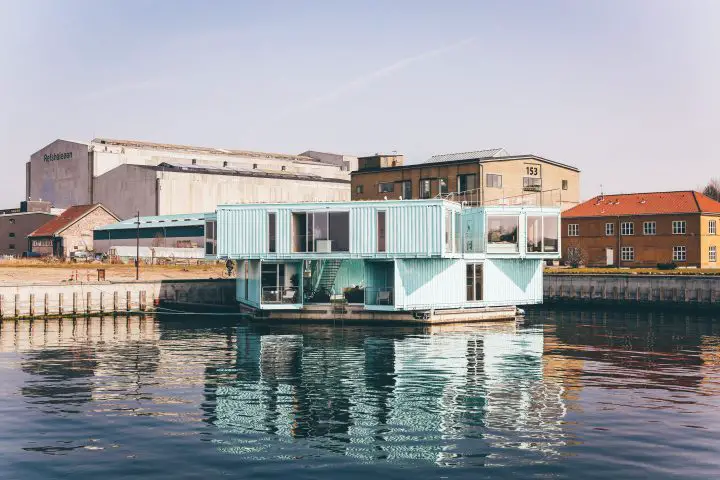 Table of Contents
Best Houseboat Manufacturers
Because they are most popular on lakes and rivers, styles of houseboats tend to be associated with a particular region. Huge vacation home "party barges" populate the Western US lakes, pontoon houseboats come from the Eastern US lakes and rivers, and beefy-hulled cruising houseboats stick to the coasts.
Finding the right one for you is doubly difficult since so many houseboat builders come and go. It's always best to start with used boat listings before working up to new boats. Many houseboats are conversions or custom builds, so keep that in mind. Here are a few of the best houseboat manufacturers, some new and some used. 
Gibson Boats – Top Houseboat Manufacturers USA
One of the most recognizable brand names in the business is Gibson houseboats. These beefy vessels are common on coastal waters where folks want the comfort of a lake-style houseboat but need something more seaworthy than pontoons.
The company has been making houseboats since 1968. Production stopped due to the 2008 recession, but the company was bought in 2017 by Kelly and Pam Cawthorne. They moved the company to South Dakota and currently offer seven models from 37 to 59 feet long. 
At the moment, all new boats are custom-built. But the long-lived company has many examples on the water, so it's rare to find a houseboat marina without a few examples. Likewise, used boats are common and represent every budget, size range, and amenity you could ask for.
Gibson houseboats feature seaworthy fiberglass hulls and Mercruiser inboard-outboard power. 
Bluewater Yachts – Top Coastal Cruising Houseboat
Unfortunately, Bluewater is no longer in business. It was founded in the 1950s and was a three-generation family business in Ontario. Over the years, the company made boats from 35 to 70 feet long, all made with a traditional motor yacht configuration but with added living space. Unfortunately, the company was sold to new owners in 2011 and doesn't appear to be in operation. 
But you can still find plenty of examples on the used market. Their unique combination of houseboat living space and cruising fiberglass hull make these boats appealing, especially if you're looking for a boat with better seaworthiness than the typical boxy houseboat. 
These boats have interior appointments to match their yacht-like exteriors. Joinery is well done, with beautiful galleys featuring stainless appliances and stone countertops. In the world of houseboats, Bluewater certainly tips the scale towards the "boat" but retains the space of the "house."
Destination Yachts – Best Floating Condos and Party Boats
Destination Yachts makes party boats, houseboats, and floating condos. Their focus is on lake boats. The V-series boats are their largest, with an 18-foot beam and lengths ranging from 55 to 100 feet. Their vessels have an open floor plan and focus on maximizing outdoor "party" space. The Top Deck models are all open – large pontoon boats with upper patio levels. Deck models come between 35 and 55 feet. 
Destination's floating condos lean toward a traditional pontoon houseboat with aluminum hulls and a cottage look. There's more enclosed space, making them more appropriate for full-time living. Condos are available between 35 and 65 feet long. 
The company was founded in 1999 and has made about 300 vessels over two decades. These boats are high-quality and well finished, and suited to any purpose. 
Catamaran Cruisers – Best Pontoon Houseboat Manufacturers
Far and away from the offshore sailing and cruising cats that cross oceans, Catamaran Cruisers makes traditional pontoon-style houseboats and Aqua Lodges. The company prefers the term "catamaran" since the hulls are fiberglass and have hard chines like planing hull power boats. They cut through a chop better than rounded aluminum pontoons.
The Catamaran Cruiser floor plans have spacious living areas that are ready to be furnished however you see fit. That way, these boats can be used as a full-time residence, hunting or fishing camp, or weekend retreat on the lake. Small and simple outboard motors power all models.
Their boat decks are sized with beams from 8 to 14 feet and lengths from 26 to 50. Eight-foot wide models are designed to be trailerable. 
Aqua Lodges ditch the traditional, boxy houseboat look for a cuter seaside cottage vibe. The customer market for their lodges is marina owners, who might see using the lodge as a short-term rental to make more money than they would with regular slip holders. Think of them as boat-tels or Airbnbs on the water.
Harbor Cottage Houseboats – Floating Cottages
Harbor Cottage boats are built on barge hulls and can be powered by small outboard motors. The house is a Cape Cod-style two-level cottage in three sizes: the Two-Story Houseboat, the Five Bedroom Houseboat, and the Tiny Boat. The company also makes the more traditional Summersun Houseboat.
Harbor Cottages are built near Lake Cumberland in Kentucky. You can rent one at Lee's Ford Marina on Lake Cumberlake, the so-called "Houseboat Capital of the World."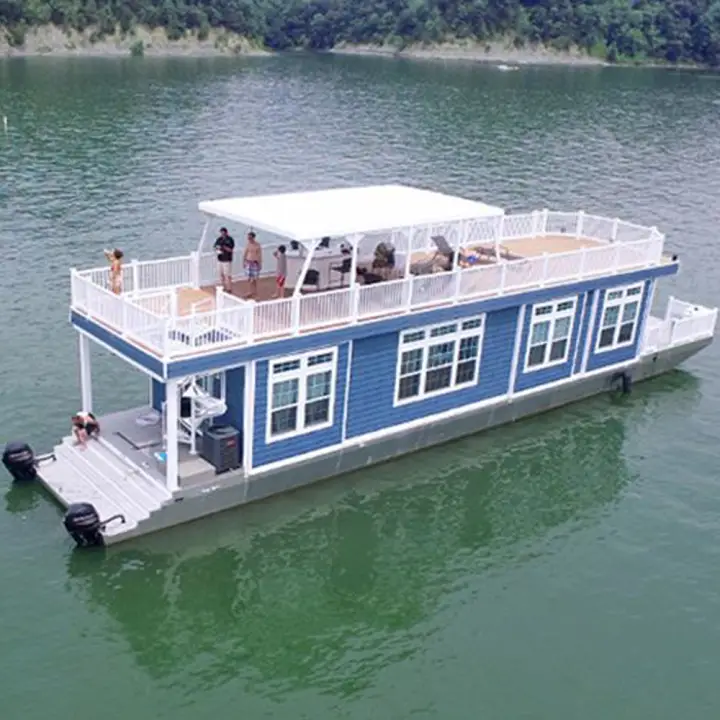 Trifecta Houseboats – Best of the Luxury Houseboat Manufacturers
Trifecta is the Kentucky-based parent company of three leaders in the USA houseboat market: Thoroughbred Houseboats, Stardust Cruisers, and Sumerset Houseboats. The company builds and restores yachts on a custom basis for maximum customer satisfaction. All boats are essentially the same–large fiberglass or aluminum-hulled houseboats and party boats suitable for inland cruising. Some have motor yacht styling, while others are pontoon-based houseboats. Most are larger and more luxurious than other manufacturers.
For example, Trifecta's current LUX series is especially focused on luxury. The smallest model is 18 by 77 feet, powered by dual Mercruiser 250-horsepower sterndrives. The largest is 20 by 90. While the offerings from Trifecta are limited to custom orders, you can find examples from each of these brands on the used market.
Sun Tracker Party Cruiser – Small Pontoon Houseboats
Sun Tracker is known for its trailerable aluminum pontoon boats. The company has in the past built small houseboats, however. They were known as the "Party Cruiser." These small, trailerable houseboats better qualify as a pontoon boat with bathroom.
All About New Houseboat Manufacturers
Houseboats are all about comfortable living on the water. Their size and amenities vary just like any other type of vessel, so figuring out which one is for you is always a balance between how big you can handle, how much you can afford to spend, and how many people you want to comfortably accommodate.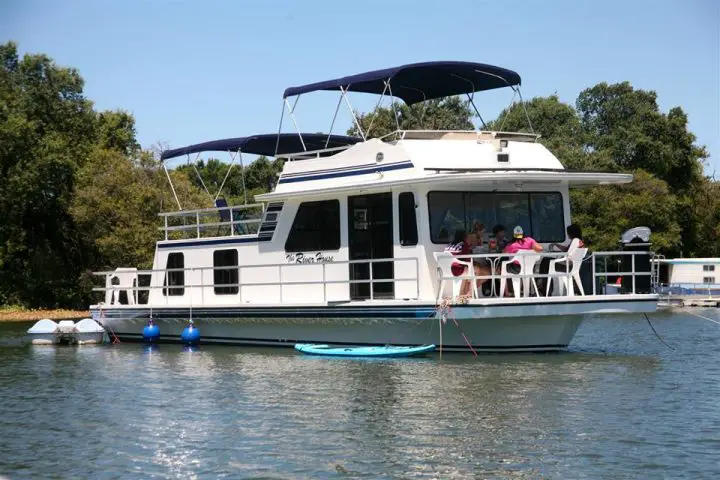 What Is a Houseboat?
The word houseboat conjures different images for different people. Generally, it covers any vessel that is more "house" than "boat." Within that definition, however, there's plenty of variation.
On one end of the spectrum, there are floating homes. These are houses built on floating platforms. They may not have propulsion systems or be navigable on their own. From the outside, they look like cottages or houses, not boats. They happen to be floating in a marina slip. Most examples on the market today are custom boats.
The ocean-going cruising houseboat is on the other end of that same spectrum. These boats have a deeper hull shape that keeps them stable and can cut through some amount of chop.
The most common type of houseboat is somewhere in between these two choices. They're often built on aluminum pontoons for simplicity. But, then, it's just a matter of building an enclosed "house" atop the platform. This type of houseboat has outboard motors and can navigate with ease. But the boxy cabin has lots of living space and is much more like living in a house or a large RV than any other type of vessel is. 
You can spot houseboats like this on every major lake and river in the country. In some places, like Lakes Tahoe or Meade, the enormous "party barge" houseboat is so ubiquitous that it's more or less associated with the destination. However, pontoon houseboats are the norm on the eastern US's big lakes. They can range in size from 30 to 70 feet. 
But houseboats are also common in other areas with protected cruising waters where people want to live aboard comfortably, for example, the Chesapeake Bay or the rivers and sounds of North Carolina.
Standard Features of a Typical Houseboat
What do you get in the typical houseboat? There are a few things that make them ideal liveaboard vessels. For one, they're built around a rectangular wide-open living space. This means it can be furnished like a house, with regular home fixtures in the kitchen and bath. Instead of being limited to the layouts built into sailboats or powerboats, the houseboat lets you appoint the space however you see fit and gives you a ton of customization options. 
The most common layout for houseboats is to have two levels. The deck level runs the length of the boat. The bow and stern usually have patio areas, and in between is the main cabin. A helm station occupies the forward end, with a large salon, living area, and kitchen. Aft of that will be separate staterooms and bathrooms, organized like a large apartment or home. 
The upper level sits atop the cabin and usually has a flybridge for outdoor cruising and seating options for enjoying the fresh air and sun.
Types and Styles of Houseboats
Houseboats are differentiated from other liveaboard vessels in that these boats are designed from the keel up to be lived on. Many boaters make a liveaboard situation work in a sailboat, trawler, tug, or narrowboat, but the houseboat is built for it. 
To that end, it doesn't do other things that different designs would. It can't cross oceans like a sailboat can, and it can't plow through heavy seas like a trawler can. Their high, boxy design makes them difficult to control in close quarters, especially when the wind blows. And their low-freeboard hulls or pontoons are not designed to take on anything more than the rough chop thrown up on a small lake.
Floating Homes
A floating home is a house built on a floating barge or platform. It is not navigable since it has no engine or marine systems. The only way to move it from one marina slip to another is to have it towed. It doesn't have all of the systems of a boat, so it must be plugged into the dock power and water systems at all times.
Floating homes are limited to where they are allowed and aren't allowed in most places. Most marinas want to keep their slips available to navigable vessels. A community of floating homes is a different type of marina from most. When you find a community of them, they stick together and have often been there forever. 
Most floating homes are custom-built, but here is a look at one model available from American Houseboats. 
Cruising and Luxury Houseboats
A cruising houseboat is built to move, so it has an engine and all the other machinery that makes a boat work. It can be unplugged from the dock, which means it has tanks to hold water and waste and its own batteries and electrical system. 
Since it's a navigable vessel, this type of houseboat is welcome at most marinas. Still, you will find many marinas or communities restricting them, so you can't count on taking them everywhere. This is especially true in some areas–for example, finding the best and cheapest Florida liveaboard marinas for a houseboat would be very difficult.
The type of hull installed will determine where and when a cruising houseboat can go.
For example, a pontoon houseboat is built on aluminum pontoons like a deck or fishing pontoon boat. These boats are limited in their ability to handle big winds and waves and are generally best reserved for inland waters.  
Larger and more seaworthy cruising houseboats will have fiberglass or aluminum hulls built like a motor yacht. The higher the bow and freeboard of the hull, the better its seakeeping abilities. But most are still built for lakes and rivers. They have very wide, shallow hulls and houses with large sides and lots of windage.
Some boats, like Bluewater Yachts or Gibson, focus on making a houseboat motor yacht hybrid that skews more toward the motor yacht end. The results are coastal cruising boats designed to go almost anywhere and built with high quality materials.
Alternative Houseboat Makers
There is an incredible variation in the type of houseboat you can find. From lake boats loaded with luxury features, like Adonia Yachts or Bravada Yachts, to peaceful waterfront retreats like the Eco Sea Cottages. You really can find anything if you look hard enough.
With the current trends in tiny houses and living off the grid, there are also plenty of new designs and innovations happening in the houseboat industry. This video shows a few of the niche designs coming out.   
Is Houseboat Living Right for You?
Houseboats are an appealing option if you live on an inland lake and want a weekend retreat or you're a full-time liveaboard who wants a little more space. If you want to learn more about buying, operating, living on, or cruising in houseboats, check out Houseboat Magazine. They have a steady stream of information and media about these great vessels.
Small Houseboat Manufacturer FAQs
Who makes a houseboat?
Many manufacturers from all over the world make houseboats. Styles range from floating homes and cottages with no engines to large motor yacht-styled houseboats capable of extensive coastal cruising.
Do they still make houseboats?
Yes, many houseboat manufacturers are still in business. Like any other type of boat, however, it can be difficult to figure out who is making boats currently and who is not. Therefore, it's always best to start with a used listing site, like Yachtworld or Boattrader, and see the newest models available. Additionally, realize that many houseboats are custom-built. 
What is the best house boat in the world?
The best houseboat is a subjective title, especially since there are so many styles of houseboats on the water.  Some top brands in the houseboat market have been Gibson, Sumerset, Destination Yachts, and Adonia Houseboats.
What is the best material for a houseboat?
Generally, the best material for any boat is fiberglass. When built correctly, a fiberglass boat is strong and will last forever. They are also generally cheaper than metal hulls. The only thing that fiberglass hulls don't do well is beaching on rocky shorelines. For this purpose, an aluminum hull would be superior.