Sailing around the world is a dream of many. It's the grandest adventure you can have in a sailing vessel—or at least one of the top five. But what kind of boat do you choose?
For many, the go-to answer has become a bluewater catamaran. These boats offer outstanding comfort and living space. They outperform most monohull sailboats of their size, and their bright and airy salons and cockpits will convert non-sailors to the ideas of what is possible with such a boat. 
Here's a look at some of the best long distance cruising catamarans and why these boats are great choices for many crews.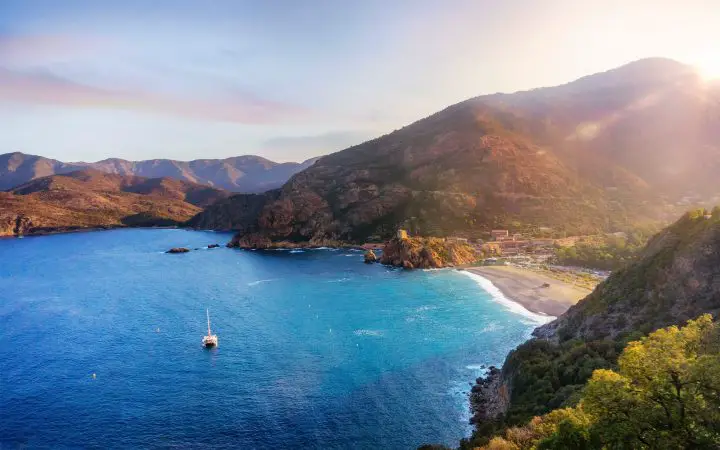 Table of Contents
8 Popular Choices for Best Cruising Catamarans
Every boat has strengths and weaknesses, and every list is biased. There are tons of boats out there, and it's impossible to be familiar with every single one. Furthermore, as time passes and our needs change, the types of boats that catch our attention change. 
Sailing long distances, like around the world, is a very specific mission. It's not something you wake up one morning and say, "Today, I'm setting off around the world!" 
No, a circumnavigation is the culmination of years of preparation and research. Just finding the right boat is a big part of that. Some experienced cruisers make their business helping people find the right boat to suit their needs. If you're completely lost in the boat-buying process, reaching out to an experienced expert (not just a yacht broker!) is an important step. 
One such person is John Neal. Neal runs Mahina Offshore Services and is a consultant for folks wanting to cast off the lines. He's written extensively about what makes a good bluewater cruiser and specializes in boat consultations. Be sure to visit his website and download his free ebook, Selecting and Purchasing an Ocean Cruising Sailboat.
Another great resource, especially if you're considering voyaging with your kids, are Jamie and Behan Gifford of Sailing Totem. They work as consultants helping couples and families find their path to a successful circumnavigation—what they call "from dream worthy to seaworthy." Totem and crew crossed their wake a few years back, and they write for Cruising World and often speak at events like Cruiser University at the Annapolis Sailboat Show in the fall.
Here's a look at some of the most popular long-distance cruising catamarans. This isn't an all-inclusive list, nor are these really recommendations. Rather, they're a look at some boats, both good and bad, to consider for the ultimate sailing adventure.
Lagoon 440/450/46
Lagoons are the ubiquitous production boat of the catamaran world. Next to Leopard, they dominate nearly every list of catamarans since the company makes so many of them. They've been cranking these boats out for over 20 years, longer than many other manufacturers. When you do the math, there're more examples of individual Lagoon models out there than hulls made by many other manufacturers combined. 
What does all that mean for the buyer? For one thing, it means it's not hard to find a Lagoon for sale. If you pick your model, you'll probably find a few dozen for sale worldwide at any given time. A cursory look at Yacht World shows 23 listings for the 440 and another 77 for the 450 (not including those listed separately as 450F and 450S!). 
The 440 was the first of Lagoon's popular flybridge models. This offers an upper level so that the helmsperson can see all points of the boat and is separate from the salon and cockpit area. Many liveaboard 440 owners have converted the upper flybridge with an enclosure to make it an all-weather helm. 
The 450 took the 440's success and improved all the details. The updated design was one of the most popular boats Lagoon ever made. They eventually divided the lineup it the 450F, with the standard flybridge, and the 450S, with a "sporty" helm on the aft coachroof. 
Both are very popular boats and are sized right for world voyaging. They aren't without problems, however. Around 2020, many owners began discovering serious problems with bulkheads delaminating from the hulls. However, Lagoon has an official fix, and many boats have been successfully repaired. As always, get a good survey, research, and ask the right questions!
Lagoon 450s are currently listed for anywhere between $400,000 and $800,000. 440s are older and can be found between $275,000 and $450,000. As always, keep your eyes peeled for the less common and much more comfortable owners' version layouts with one huge master cabin.
Leopard Catamarans 42/43 (circa 2000-2007)
Leopard is another ubiquitous brand in the catamaran world. The company's newer models, like the current (2023) Leopard 45, have a forward seating area and a large opening door on the front of the salon. In short, they're perfect charter boats. Leopard habitually reuses their model numbers repeatedly, making getting the right model confusing. The newest Leopard 42 started production in 2020 and features the forward patio lounge. 
The Leopards included on this list are much older and lack this forward patio design. Instead, these original Leopards have a low-profile aesthetic perfect for ocean sailing. They're comfortable and functional. They're a little on the small size for world cruising but would be perfectly suited for a couple that wants the smallest boat they can get. 
The difference between the two models was only one thing—the 42 included a soft-top bimini, while the 43 had a hard top. Most owners have now converted their 42's soft top to a hard one. 
Leopard 42s and 43s from 2000 to 2007 are currently listed between $250,000 and $350,000. The 43s, which are a bit newer, go for just a little more. Since so many saw charter use, finding good examples with owner's layouts is hard. When you do, they're worth the trouble to bring home.
If you're looking for a bargain, the older Leopard 45 and 47 were remarkably similar in design. They are less common on the used market today, but if you find one in good shape, it's worth a look. 
PDQ Antares 44/44i
This boat started life built by Canadian catamaran builder PDQ. The design was wildly successful. However, when PDQ shut down, the hull molds made their way to Argentina and found new life. This is one of the few catamarans out there that is built for the specific mission we're addressing here—a long distance cruising catamaran for a couple or a small family. 
The Antares is built from the keels up to be reliable, simple, comfortable, and safe. She's not winning any races against the Outremers, Gunboats, or fastest catamarans of the world, but she makes up for it with her sturdy design and comfortable handling.
At 44 feet long, she's the perfect length for a voyaging catamaran. She has impressive bridgedeck clearance and can handle most anything King Neptune throws her way. Her fit and finish are above average—excellent, in fact—and her layout is supremely functional. This is one catamaran that must be on your shortlist if you're considering a circumnavigation.
Currently, two Antares are listed on the market, from $595,000 to $798,000. Only a handful of 44s are out there, and while the boat has been in production since around the year 2000, there just aren't many to choose from. Those that are out there are coveted for their build quality and seaworthiness, so they don't come cheap.
Catana 471/47
Catana is a French builder that makes performance catamarans with retractable daggerboards. These improve upwind performance dramatically and reduce your draft when gunkholing. Proponents of daggerboard designs will also point to their improved handling at sea, allowing the boat to slip freely down waves, thereby reducing the likelihood of capsizing in extreme conditions.
Catanas also feature a unique helm layout. Twin helms are located outboard on each stern, so you can pick your driving position for the best visibility, the best shade, or the best breeze. You'll be driving with the autopilot from the nav station at sea anyway. It keeps sailing a little more fun when you're out there for the fun of it. 
The 47 and 47OC (Ocean Class) are the newer versions of the boat. All versions feature Catana's uniquely strong, lightweight composite layups and distinctive asymmetric narrow hulls. They've got outstanding bridgedeck clearance and 
Catana 47s and 47OCs are listed between $360,000 and $700,000. The older 471 is a little harder to find. Catana has always been a higher-end, low-volume brand that makes fewer hulls each year than other makes. 
Fountaine Pajot Orana / Helia 44
Fountaine Pajot is the third of the "big three" catamaran makers. The French brand is often compared to Lagoon and Leopard, but their designs have always stuck more on the performance side than the bulky cruiser side. In the ocean-going length, their 44-footers are just about right. 
Regarding layouts and features, it's hard to imagine a more perfectly suited boat than the FP 44s. These boats are big enough to carry all your stuff and give you space to spread out. But they're also good sailors and stable at sea. They feature the preferred coachroof-mounted helm, which is raised enough to provide good visibility without being disconnected from the action in the cockpit. 
Oranas are currently listed from $295,000 to $468,000, while the newer and more popular Helias go for anywhere from $447,000 to $649,000. These were popular boats with private owners, and in charter, so there are usually quite a few available. 
Manta 42
Mantas are a well-built, American-made catamaran sailboat that went through several revisions. Overall, the hulls and layouts never changed from the early 38s to the last 42 Mark IVs. But the transoms were extended for speed and better handling, and the extra length of the later models makes them just right for a small ocean-going cat. 
Balance 482
Balance is a South African company that has made their business to produce a modern sailing catamaran for a new age of sailing. This isn't a legacy brand, so you aren't going to find one at a bargain price. Instead, these boats are being built on a semi-custom basis for owners like us who want to sail their boats around the world. 
The company describes the Balance 482 as a "trend-setting circumnavigator." It won Boat of the Year from Sailing World Magazine in 2022.  
HH50
HH boats are built in Asia as cutting-edge sailing catamarans for the owner/sailor market. They're designed by Morrelli and Melvin, one of the multihull world's top design firms.
These boats are also semi-custom, so you won't find many on the used market. They're known for their modern innovations, including a fold-down swim platform and an EcoDrive hybrid system. You can spec your boat with either mini keels (OC or "ocean cruising") or daggerboards (SC or "sport cruising").
The HH50 is the company's best bet for circumnavigating with a small family. There's also the capable, smaller sistership, the HH44.
Why Are Catamarans Great for Long-Distance Voyaging?
Catamarans are immensely popular for a few reasons. For one thing, they're some of the most comfortable boats for long-term living aboard. They offer lots of living space, storage, and tankage. They have panoramic views, with huge windows letting light and air into the open salon. Unlike classic monohull sailboats, they are not dark and stuffy at all. 
Catamarans also don't heel like monohull sailboats do. This is good and bad, but most people (especially non-sailors) prefer it. It means when you're sailing, you aren't at an angle for days or weeks at a time. Your stuff isn't constantly rolling downhill on the counter and falling out of the medicine cabinet whenever you open the door. They still move and rock on the waves, but the motion is always more upright than heeled to one side. 
There are a dozen other reasons folks prefer catamarans to monohulls for long-distance or long-term traveling. And, like all things in boating, every sailor is a little different. Some don't like catamarans and prefer a beefy bluewater monohull's stability and solid feel. Your mileage may vary, as the saying goes. 
Of course, the longest voyage of them all is sailing around the world. The typical downwind circumnavigation involves several long-distance passages and many months of hopping through remote island nations. The longest leg is typically from Panama or the Galapagos Islands to French Polynesia (The Marquesa Islands), a leg of at least 3,000 nm that typically takes 20 days or more. 
In total, a circumnavigation takes at least 18 months but commonly even longer. That's a long time to spend on any vessel, so the comfort of a cruising catamaran makes a lot of sense.
What Is a Cruising Catamaran?
A cruising catamaran is roughly defined as one designed to carry passengers and crew long distances. Obviously, this means it needs to be equipped with staterooms and heads, a galley, and a salon. But that also means it must hold enough fuel and water to keep its passengers safe for long voyages. 
The cat also needs to be designed to be stable enough for all of that to be used to capacity. Two to four people, plus enough supplies to keep them fed and healthy for months, weighs quite a lot. Then you add in spare parts, water toys, and other goodies, and it adds up. Catamaran speed and stability come from its lightweight design. If you make it too heavy and overload it, it will be slow and less stable in rough conditions. 
When you consider all of this, you'll come up with a minimum size for a catamaran to carry all the stuff you need for such a long voyage. Generally, the smallest cats in this class will be around 42 feet long. This is the right size for a cruising couple that doesn't often sail with others. A 44-footer will be a little more comfortable and make having occasional guests onboard a more pleasant experience. Once you get to 50 feet or longer, the boat is a bit large for most private owner skippers to handle. Costs start to balloon at this length and above, as well. 
What about a small catamaran? Many people have successfully done the trip in smaller boats, of course. Generally, however, these smaller cats are pushed to their limits in terms of load carrying capacity. In most cases, circumnavigators will take on extra crew for longer legs (this is sometimes even an insurance requirement!). The ride in rough seas is not as good in shorter cats, which tend to hobby horse more in a chop. So, overall, 42 feet and above is about the sweet spot.
Cruising Catamaran Pros
Comfortable Living Space
The huge salons and cockpits catamarans offer, with comfortable seating at big tables, truly improve your life at sea. The importance of all the light and air coming through those windows can't be underestimated—it's great at anchor when enjoying the sunset. But it's also great to have an interior nav station where you can keep watch from the comfort of the salon. In short, a liveaboard catamaran is one of the most comfortable options for any type of cruising.
Better Speed, Especially Downwind
Compared to monohulls of similar length, catamarans are nearly always faster. This goes for fast catamarans, sure, but also for cruising catamarans. This becomes very apparent when traveling downwind, something that most monohulls struggle with. And downwind is the preferred direction to travel on a sail around the world route.
Comfort at Sea
The lack of heeling makes catamarans the preferred choice for long distance sailing. When given the choice of doing a 20-day passage perfectly upright or at a 10-degree tilt, which would you pick? Even the saltiest of sailors has to agree that heeling over is fun for a while but gets tiring quickly.
Redundant Systems and Structures
With two hulls, two engines, two water tanks, two fuel tanks, two sets of bilge pumps, and tons of other redundancy built in, catamarans offer owners extra layers of safety. 
Cons of Catamaran Offshore Cruising
Expense
If all of this sounds too good to be true, it's because we haven't discussed the most limiting factor for most sailors—the cost of the boat! Catamarans are expensive from the outset. When juggling all of the factors with an around-the-world cruise, boat cost is the biggest. 
Catamarans cost more than monohulls for many reasons. They are larger, but even still, they often sell for more. One reason is their popularity. These boats are in demand. Far fewer examples are on the market than monohulls, and more buyers are looking to purchase them. So prices are high and are likely to stay high. On the other hand, Monohull prices are much lower because there are more monohulls out there than there are monohull buyers.
With any boat, there is also the cost of keeping it once you own it. The larger the boat, the greater your expenses will be. This is true for everything from maintenance to storage. Catamarans cost more than monohulls in nearly every instance. For maintenance, you'll be limited to facilities that can haul a boat with your width—which will be more expensive. You'll have two engines, which means twice the maintenance and twice the replacement cost when that time comes.
Choppy Motion
Despite all the plusses and the flat ride, plenty of sailors out there just don't like the ride a catamaran offers. You have to take one to sea to understand fully. A catamaran is light and tries to fly across the water, from wave to wave. It smacks each wave twice and always tries to come back upright after each impact. This leads to a choppy, jarring ride sometimes. 
A monohull is built heavy and is designed to slice through the waves and push the water out of its way. The wind pressure on the sails keeps the boat's angle steady (in most cases). So, a heavy monohull can ride quite comfortably in a chop, whereas a catamaran might feel like it's taking a pounding. Many heavy-displacement monohulls built for long-distance travel were designed to provide a soft, comfortable ride that allows the crew to rest. 
All sea conditions are different, as are all sailors and their expectations. So this is a personal choice as to which method you like better. And for every condition uncomfortable in a catamaran but smoother in a monohull, there's something smooth and lovely in the cat and uncomfortable in the monohull. The ocean is just like that.
What To Look For — Best Catamaran for Sailing Around the World
All cruising cats over about 40 feet are capable, and most have become proven circumnavigators in the past few decades. The right one for you simply comes down to the balance of cruising amenities versus performance. Fast catamarans are all the rage, but you'll have to put a price on exactly how much performance you can afford.
Best Cruising Catamarans FAQs
What type of boat is best for sailing around the world?
The type of boat best suited to sailing around the world is a well-built, long-distance cruising boat. Many sailboats fall into the camp, both monohulls and catamarans.
This question has a million answers. Ask every sailor who wants to go around the world, and you'll get a different one. And, once they've sailed around the world on that boat, they'd choose a different boat. The only rule is that there is no perfect boat. 
What is the best catamaran to sail Caribbean?
Catamarans are extremely popular in the Caribbean because their open-air living space allows cooling airflow. Their living space is supremely suited for the tropical environment—imagine living al fresco on the waterfront all the time! 
The right catamaran for the job depends on your group size and how long you intend to spend aboard. Full-time liveaboard couples prefer cats in the 38 to 44-foot range, while small families opt for something slightly larger. 
Are catamarans easier to sail?
Catamarans are easy to sail—but similar to sailing a similar-length monohull sailboat.  Beginners sometimes find them less intimidating because they do not heel and therefore seem more stable. However, monohulls are more forgiving of errors. Catamarans have large sails and rigging, and reefing early to avoid overloading the rig is extremely important on these boats.